Become a Frappe Partner
Join our partnership program and tap into the growth potential of our industry-leading ERP solution
Benefits of working as a Frappe Partner
When you join us, you unlock exclusive Frappe benefits.

Official partner listing
We are here to take care of you and make sure that you get all the attention you deserve.

Lead sharing
You will receive details on qualified leads looking to work with our partners.

Partner commissions
We offer a generous share of the deals to reward all your hard work.

Enterprise Deal assistance
Get that perfect closure to your deals with the Frappe backed advantage.

Exclusive training events
Interact with industry experts having excellent Frappe framework understanding.

Invitation to Frappe events
Get exclusive access to all our events and be a part of our vast community.

Partner webinars
Attend our webinars and keep yourself updated on new features and implementations.

Access to partner portal
Manage all your partners with a dashboard view through your personalized partners portal.
Partner Relationship Management (PRM) portal
Our Partner Relationship portal helps partners manage customers, track leads, resolve issues, access resources, and keep track of the partner credits. It's designed to make their experience with us even better!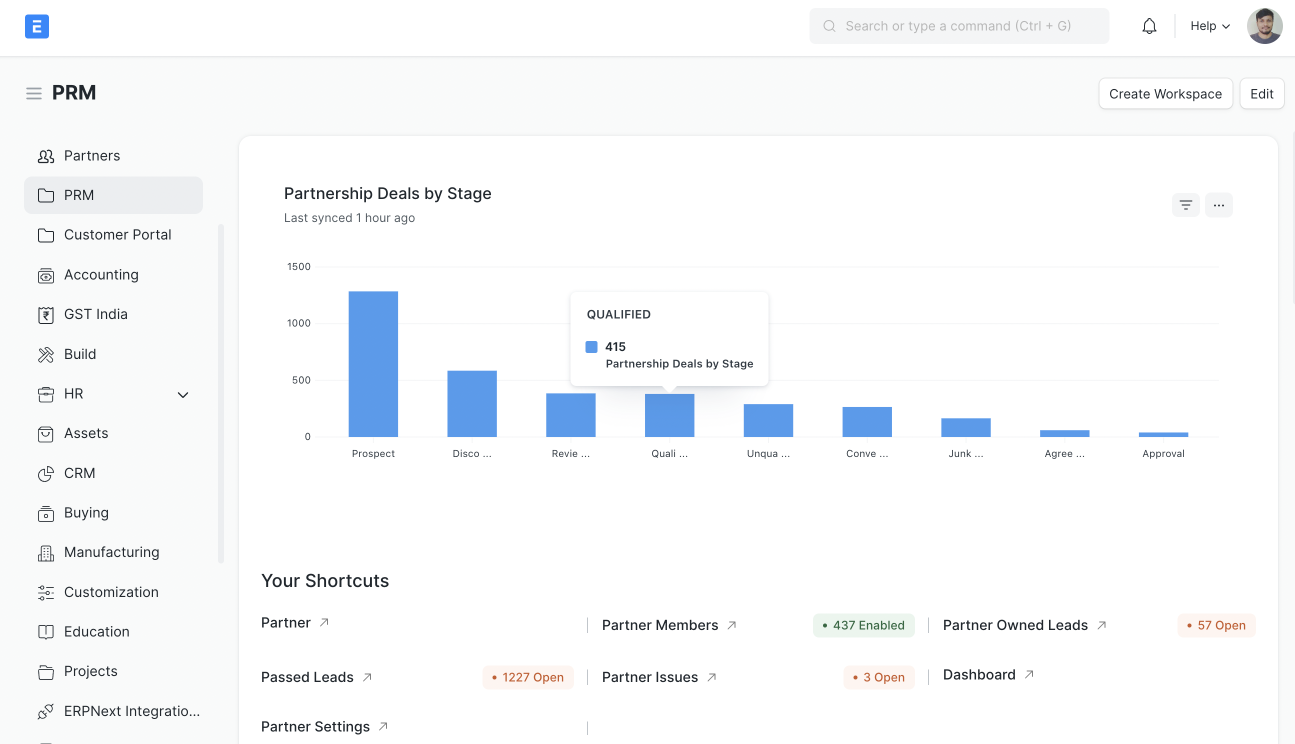 Here's how the partners start with us and keep growing!

Frappe Partner Plans
PARTNER TYPE
Entry
Bronze
Silver
Gold
Minimum Commitments
Partnership fees (in INR)
₹ 1,00,000
₹ 1,00,000
₹ 1,00,000
₹ 1,00,000
Partnership fees (in USD)
$ 1,450
$ 1,450
$ 1,450
$ 1,450
Frappe products (half-yearly target in INR)
-
₹ 2,50,000
₹ 12,50,000
₹ 25,00,000
Frappe products (half-yearly target in USD)
-
$ 3,200
$ 16,000
$ 32,000
General Enablement
Dedicated partner manager
Access to the partner portal
Partner evaluation and certification
Minimum certified consultants
2
2
3
4
Access to partner resources
Partner and SOP audit
Marketing Enablement
Permission to use Frappe logos (limited access)
-
Partner listing (subject to completion of partner certification)

Note: For Entry level partners the listing shall only contain the Name and the Location of the Partner. It shall not contain the contact details of the Partner.

Access to Frappe events and webinars
Sales Enablement
Pre-sales and demo support
Sales plan suggestion
Proposal
Deal closure assistance
Lead sharing
-
Partner commission on new sales
-
10%
20%
30%
Support
Partner support desk
Check the Partner Terms and Conditions here.