Frappe Local- Dubai 2023
November 25 2023, 18:00 IST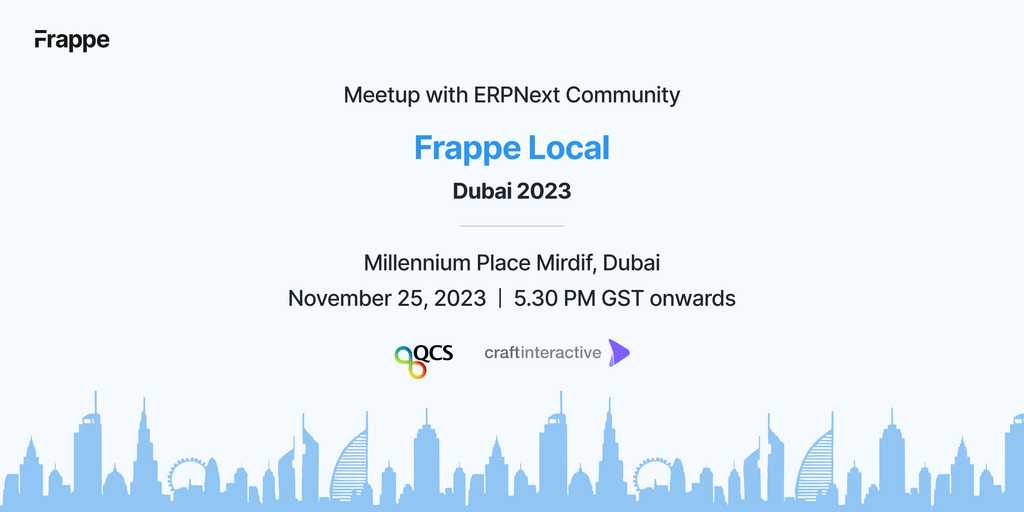 Join us for Frappe Local, a global meetup to support and connect the ERPNext community, and this time, we are coming to the Middle East.
We are excited to announce our next chapter of Frappe Local in Dubai, where Frappe will partner with Craft Interactive Technology and Quark Cyber Systems.
📍 Venue: Al-Multaqa Hall, Millennium Place Mirdif- Mirdif Dubai (Registration closed)
📆 Date: November 25, 2023
Why should you attend?
🌍 To network with the ERPNext community in the Middle East.
💬 To connect with the local Frappe partners.
🤝 To meet the creators and maintainers of ERPNext.
🚀 To learn more about ERPNext, its hosting, and security from the ERPNext experts.
Who will you meet from Team Frappe?
Umair Sayed, our VP of Partnerships, has been a part of the Frappe team since its inception. Over the years, he has been pivotal in mentoring various teams, including support, implementation, partners, and Frappe School. His journey with Frappe began when it was just a 10-member team, and he has witnessed its remarkable growth to a team of over 100 dedicated individuals.
Priyanka Kothari, our Partner Manager for the Middle East region, is dedicated to assisting partners in expanding their businesses using the products provided by Frappe. Her goal is to foster mutual growth and success for our partners and Frappe.
When our seasoned professionals gather in Dubai for the conference event, you can be confident that you will hear about our remarkable journey thus far. Additionally, you will have the opportunity to gain valuable insights into ERPNext and the entire Frappe ecosystem.
How to get there?
Since it is a 100% free event, all you need to do is register. You can join us at Al-Multaqa Hall, Millennium Place Mirdif to hear out the ERPNext experts and industry leaders and network with the community over dinner.
Schedule

| | | |
| --- | --- | --- |
| Time | Session | Speaker |
| 06:00 PM - 06:30 PM | Introduction to Open Source + Frappe + ERPNext | Umair Sayed |
| 06:30 PM - 06:50 PM | Frappe Framework & ERPNext | TBD |
| 06:50 PM - 07:10 PM | UAE localization - VAT, HR localization & readiness of corporate tax | Quarks Cyber and Craft Interactive Team |
| 07:10 PM - 07:25 PM | Break | - |
| 07:25 PM - 08:00 PM | Partner Talk | Craft Interactive Team |
| 08:50 PM - 08:30 PM | Partner Talk | Quarks Cyber Team |
| 08:30 PM - 09:00 PM | Frappe Ecosystem | Priyanka Kothari |
| 09:00 PM - 09:15 PM | Customer talks, Q&A, and closing remarks | - |
| 09:15 PM onwards | Dinner & Networking | - |
About Craft Interactive Technology
Craft Interactive Technology LLC was established in 2017 and has offices in the Middle East and India. The founders of the company are well-seasoned professionals and have strong working experience in various MNCs and played senior management roles in those MNCs. The company was founded with a vision to provide the best software solutions to various start-up companies, along with small, medium, and large enterprises. Our mission is to technologically be part of the growth story of the organization, along with the growth and stability of the overall economy and the country.
About Quarks Cyber-Systems
Quark Cyber Systems (QCS) has redefined digital transformation across sectors, from retail agility to oil and gas compliance, and from middleware efficiency to manufacturing innovation. Their decade-long journey has fostered over 100 client partnerships, proving their commitment to scalable, industry-specific digital solutions. As QCS navigates the future, its broad expertise continues to drive the digital frontier forward for businesses large and small.
About Frappe Technology
Established in 2007, Frappe Technologies is on a mission to liberate workplaces from expensive proprietary systems with its flagship product, ERPNext. Today, Frappe has evolved into an ecosystem of partners, community contributors, customers, and high-quality open-source applications built on the Frappe Framework.