Frappe LMS: The easy to use open-source learning management system
With Frappe LMS's open-source codebase and clean design, you can tailor the platform to your specific needs and enjoy hassle-free course management.
---
What is Frappe LMS? It is our user-friendly learning management system (LMS) that is completely open-source. You can create and manage courses, track course performance, and even communicate with your students effortlessly, all in one convenient place. It's like having your own personal assistant for online teaching!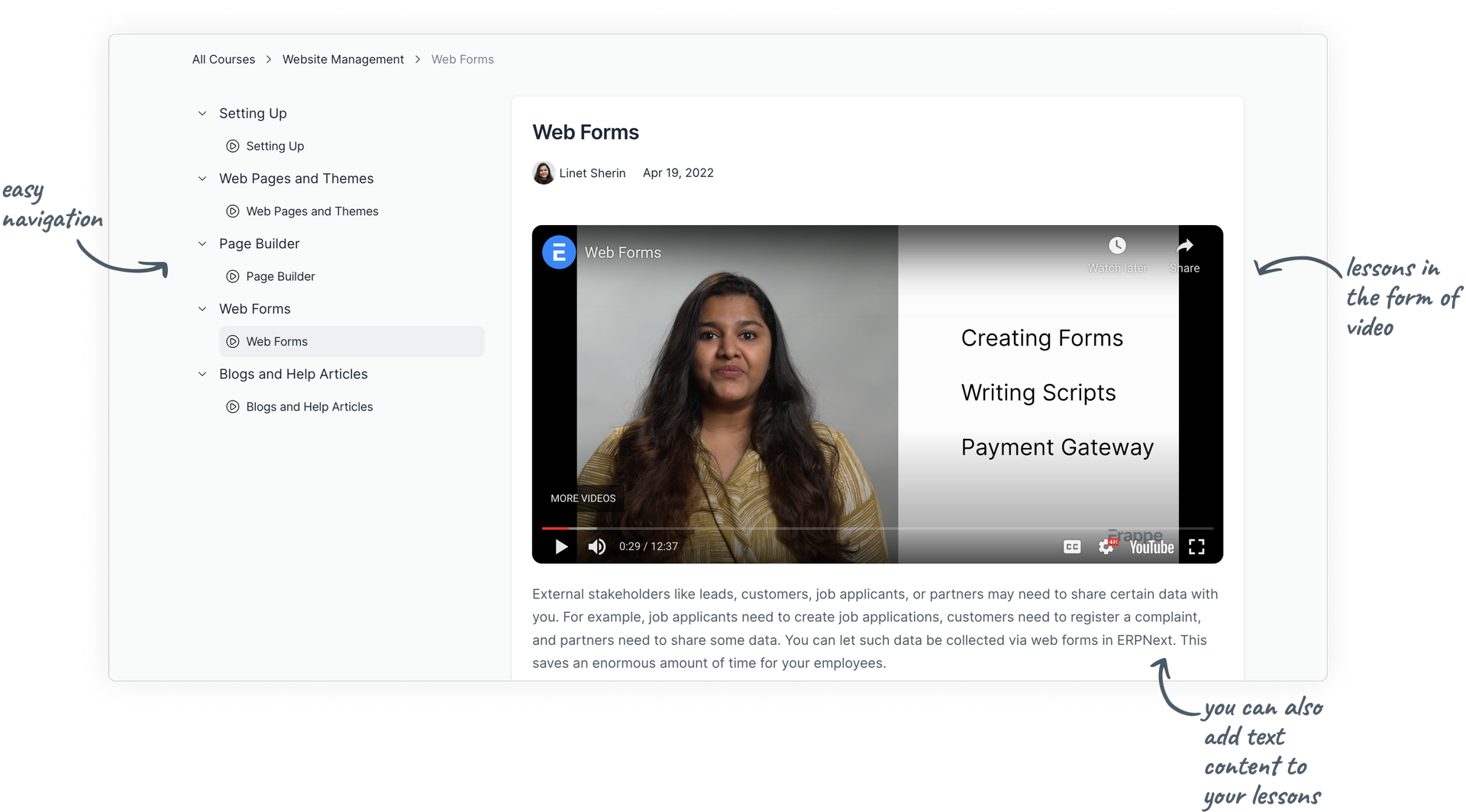 First things first...
Why should you be interested in Frappe LMS? 🤷
Launching an online course can seem daunting, but with the right tools and guidance, it doesn't have to be. With Frappe LMS creating courses and adding lessons (like articles, videos, quizzes, and more) is easier than it ever was.
Our team ensured to make the design distraction free — with a clean UI and easy-to-use backend, you can spend less time worrying about the tech and more time doing what you love, i.e., teaching!
Now if this sounds like the solution to your problem, we have just gotten started.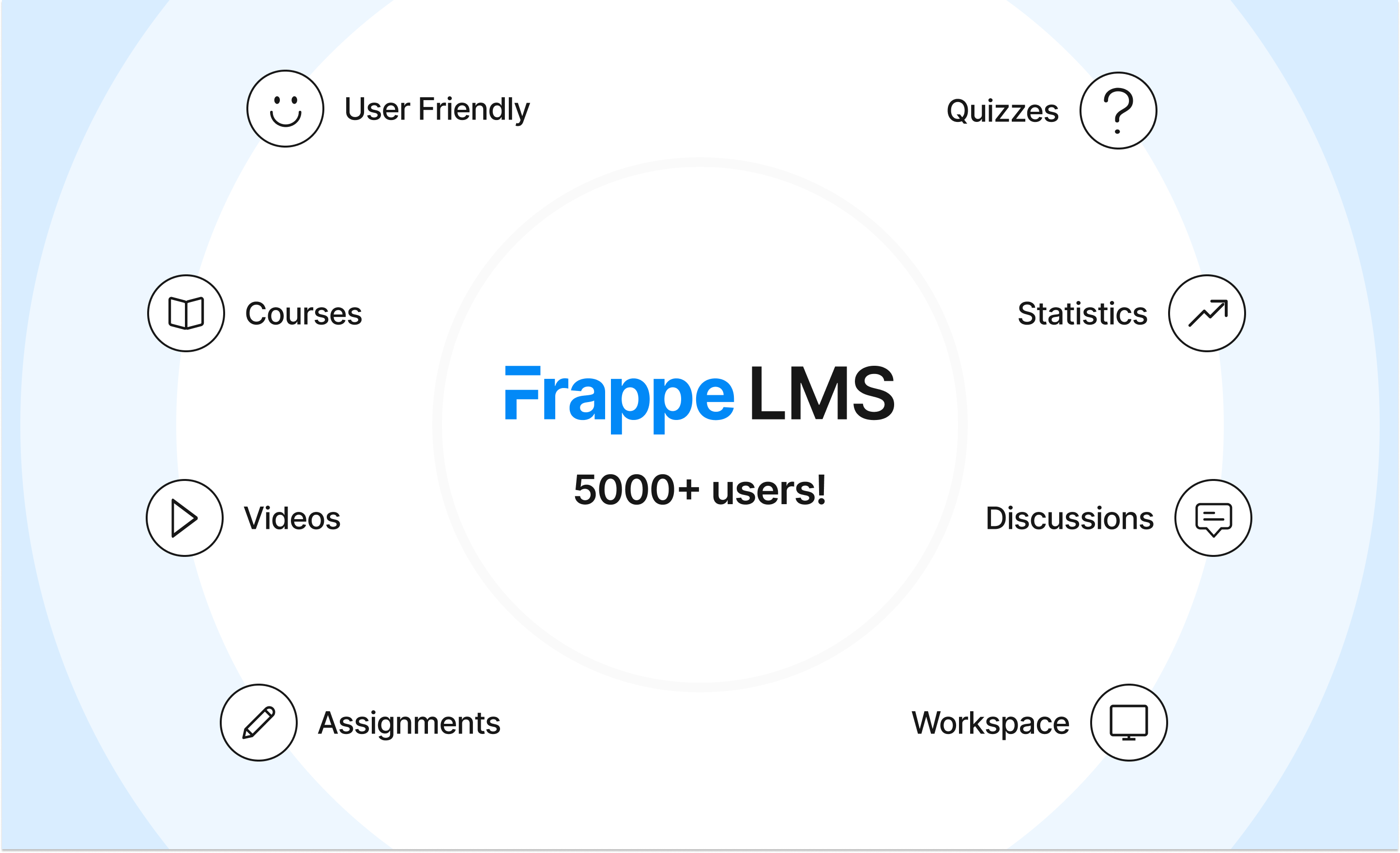 Why did we build Frappe LMS? 🚀
It all dates back to when FOSS United envisioned creating mon.school — a community-run platform that teaches programming to students for free, an alternative to all the platforms that promote unhealthy competition in the programming world. They wanted to create something where learning and sharing knowledge was the focus. Anand Chitipothu, a Python expert, was passionate about teaching and had already prepared a course for the platform.
The next step was to make an app for this platform. Frappe, being closely related to FOSS United, looked online for some Open Source LMS and found Moodle to be the most popular. Our experience with Moodle could have been better - the UI was dull, the interface was crowded, and we couldn't add simple components without getting lost. This was not the kind of LMS we wanted.
We decided to build our own LMS app, which is user-friendly and distraction-free. Jannat, the product owner of FrappeLMS, along with Rushabh and Anand, started working towards this cause, and within months mon.school went live. The LMS app used then got its own identity as Frappe LMS!
Why should you use Frappe LMS? 🤔
Now that you know how FrappeLMS came to be, let's take a closer look at what makes it so unique and how it could be the perfect solution to take your teaching game to the next level!
We understand that people in the online teaching ecosystem must have probably encountered a ton of LMS before, but Frappe LMS is a whole new ball game. Sure, other LMS might look to have all the features they need, but let's be real; sometimes, they can be a headache to use. You may end up feeling like you need a map just to navigate through all the 'next steps'.
To address this problem, we designed Frappe LMS's backend to be user-friendly, with clear and intuitive forms that make creating courses straightforward. Additionally, our clean UI allows you to concentrate on learning without being distracted by cluttered information. Let's show you how we have tried to make FrappeLMS convenient and the most user-friendly.
Clear and concise set-up guides for admins
If you're new to Frappe LMS, don't worry! The onboarding feature will guide you through setting up your first-course step by step. The clear and concise instructions make it easy to understand what needs to be done, and the onboarding header ensures you won't get lost along the way. If moderators are already familiar with the setup flow, they can choose to skip the onboarding altogether. This feature streamlines the process of getting started and helps users get the most out of the LMS quickly.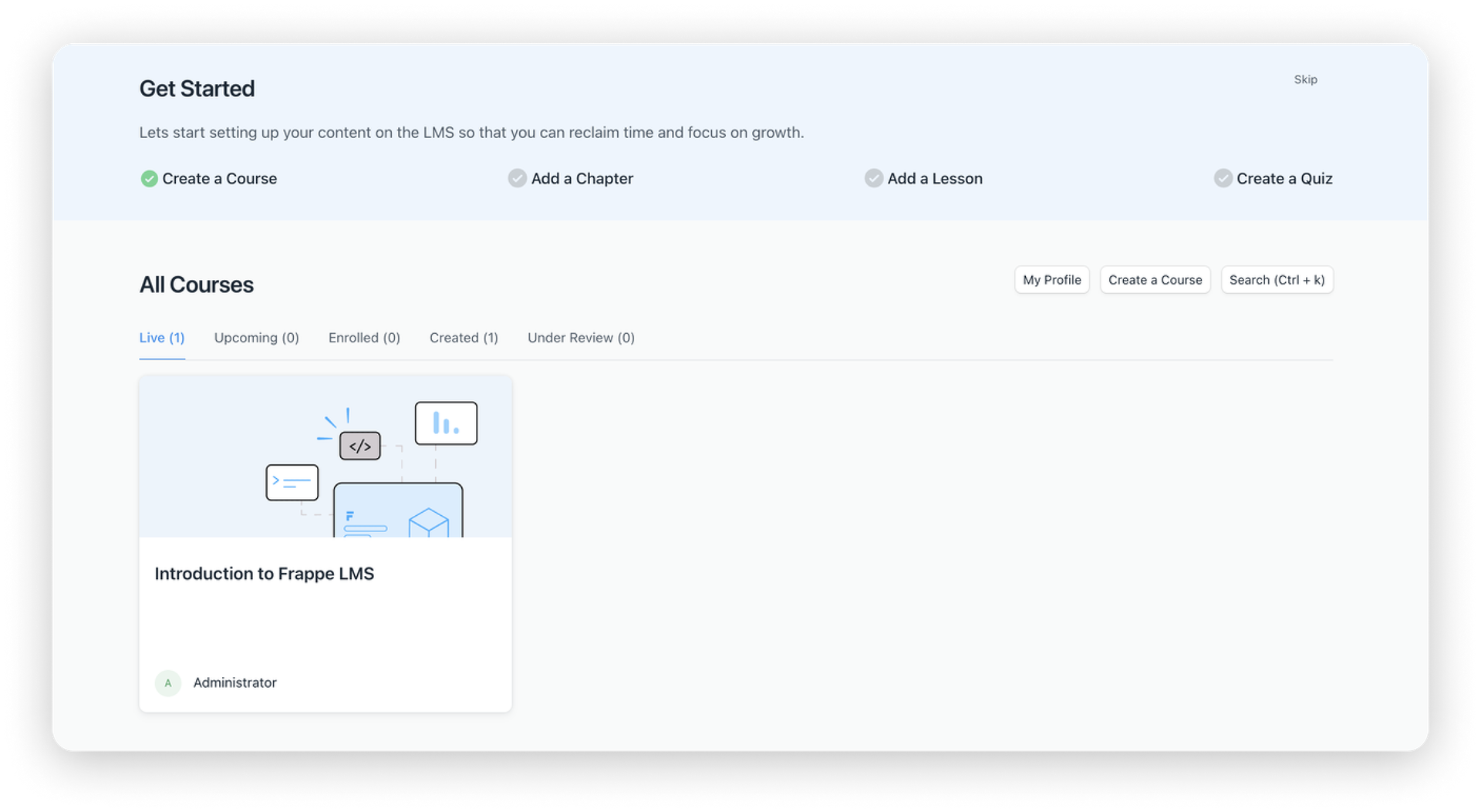 Hasslefree course creation and moderation
With the idea of ease and flexibility, Frappe LMS allows anyone with a Course Instructor role to create and edit courses directly from the website dashboard. You don't have to be an Admin and go through the backend to get things done. Plus, we understand that quality is important, so the Admin and Course Moderators still have approval rights to ensure everything meets their standards.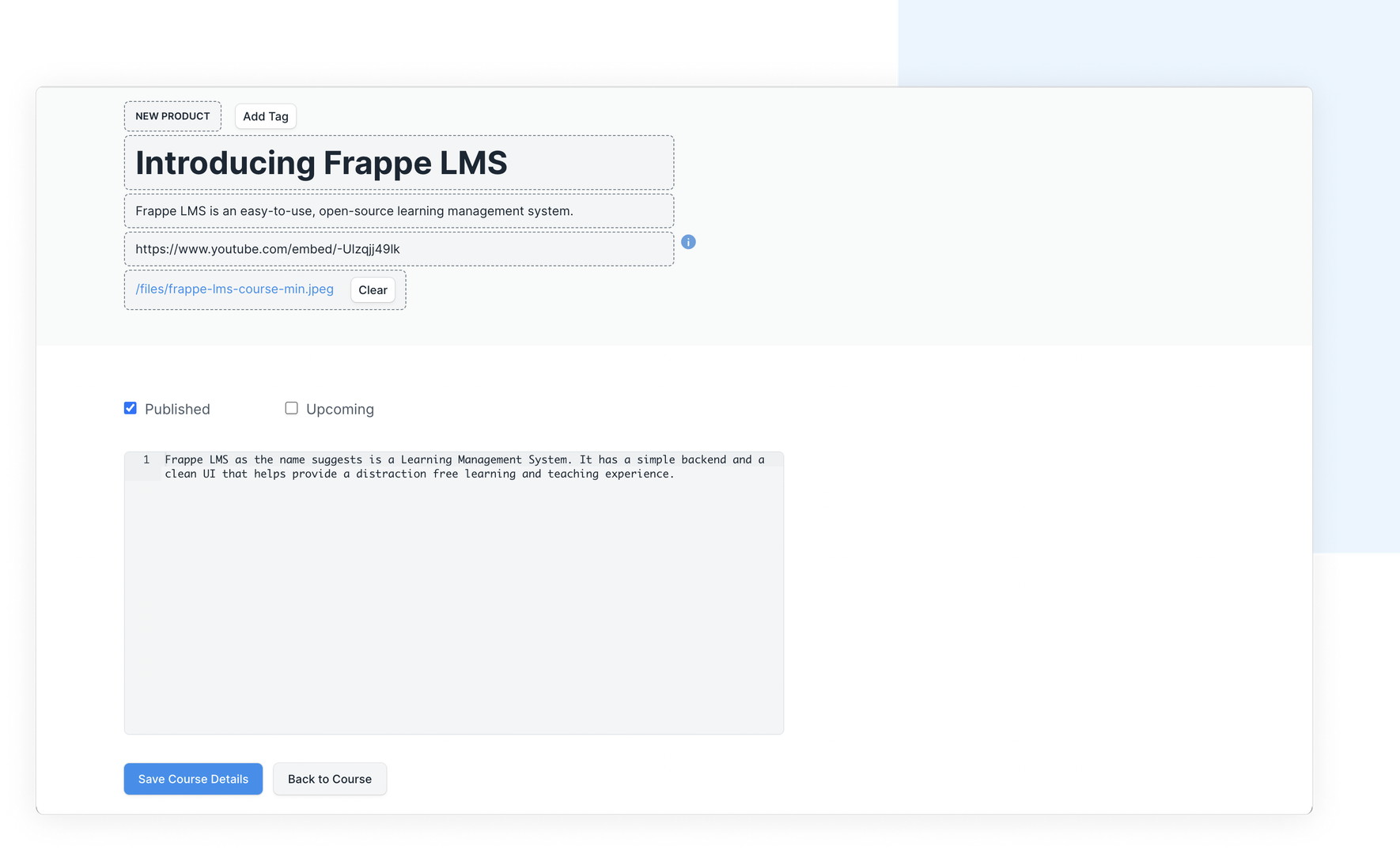 Engaging course composition
To help instructors create an engaging course that will captivate the student's attention and provide them with a comprehensive learning experience Frappe LMS offers a variety of lesson types, including articles, videos, quizzes, and more. By incorporating different types of lessons, you can provide a fun and interactive learning experience that caters to all your students' needs.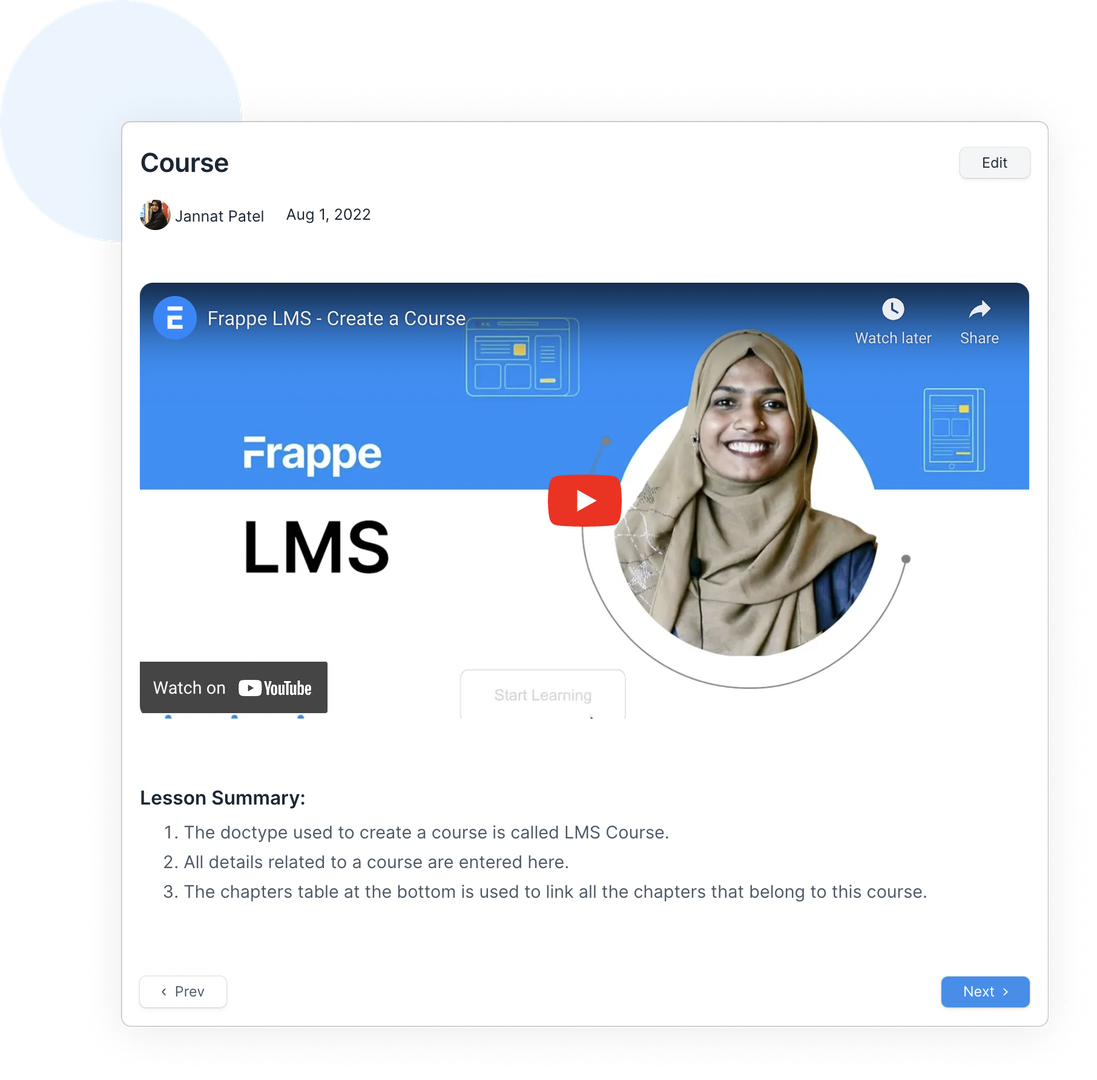 Effortless interaction between the instructor and the learners
We want to make learning as easy and fun as possible, so we have created a dedicated questions section for each lesson in our courses. You can chat with your fellow learners and instructors to get help. And to keep the students up-to-date with all the latest course discussions, we have a notifications tab in the dashboard. The instructors will receive notifications, too, so they can provide timely assistance whenever the students need it.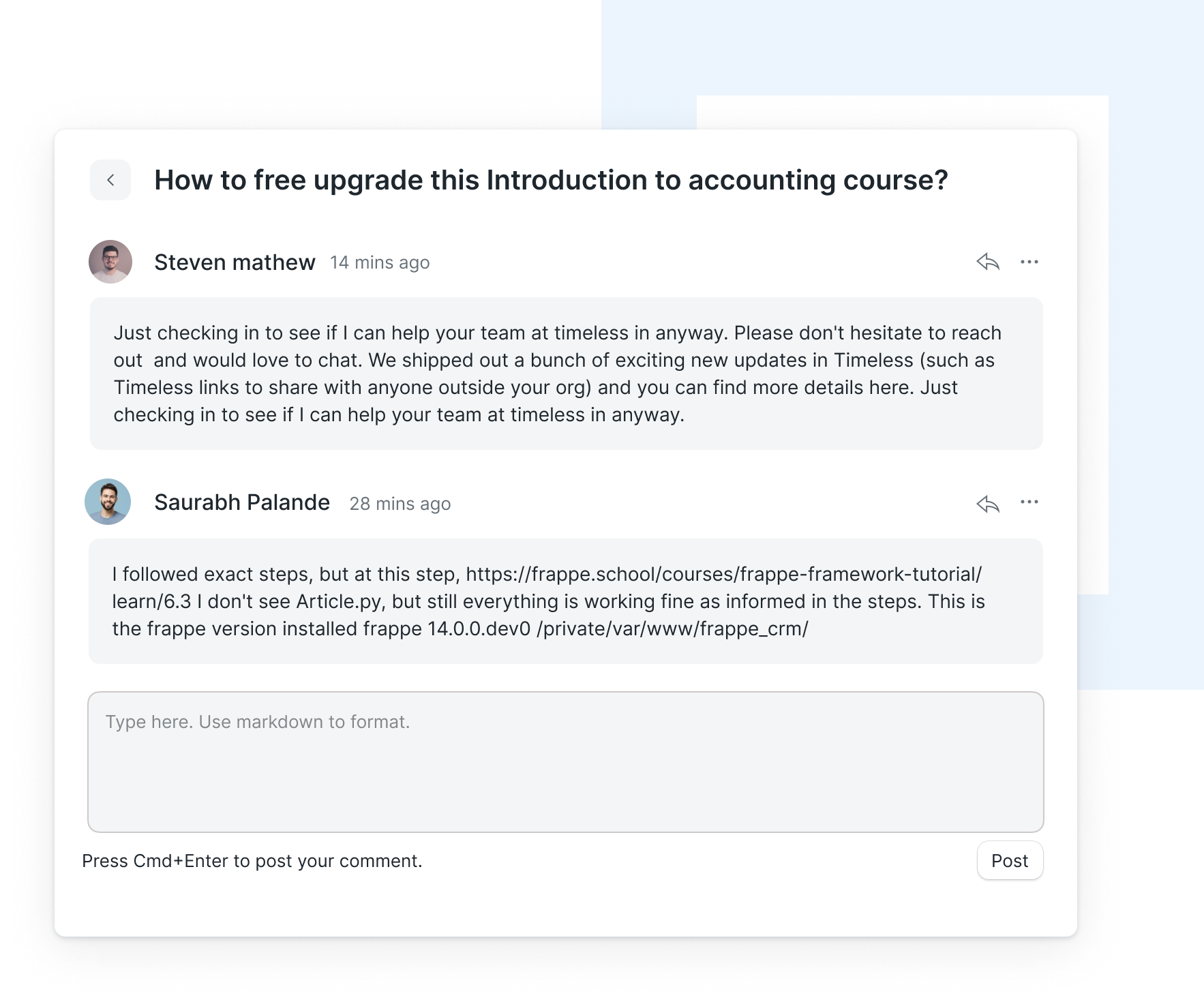 Insightful metrics to evaluate course progress and performance
The Statistical dashboard gives you all the data insights into user sign-ups, enrollments, courses completed, etc., and trends behind these figures through interactive graphs and charts. The best part is that this feature is now accessible to all users on our LMS, so you can see how your own activity compares to others.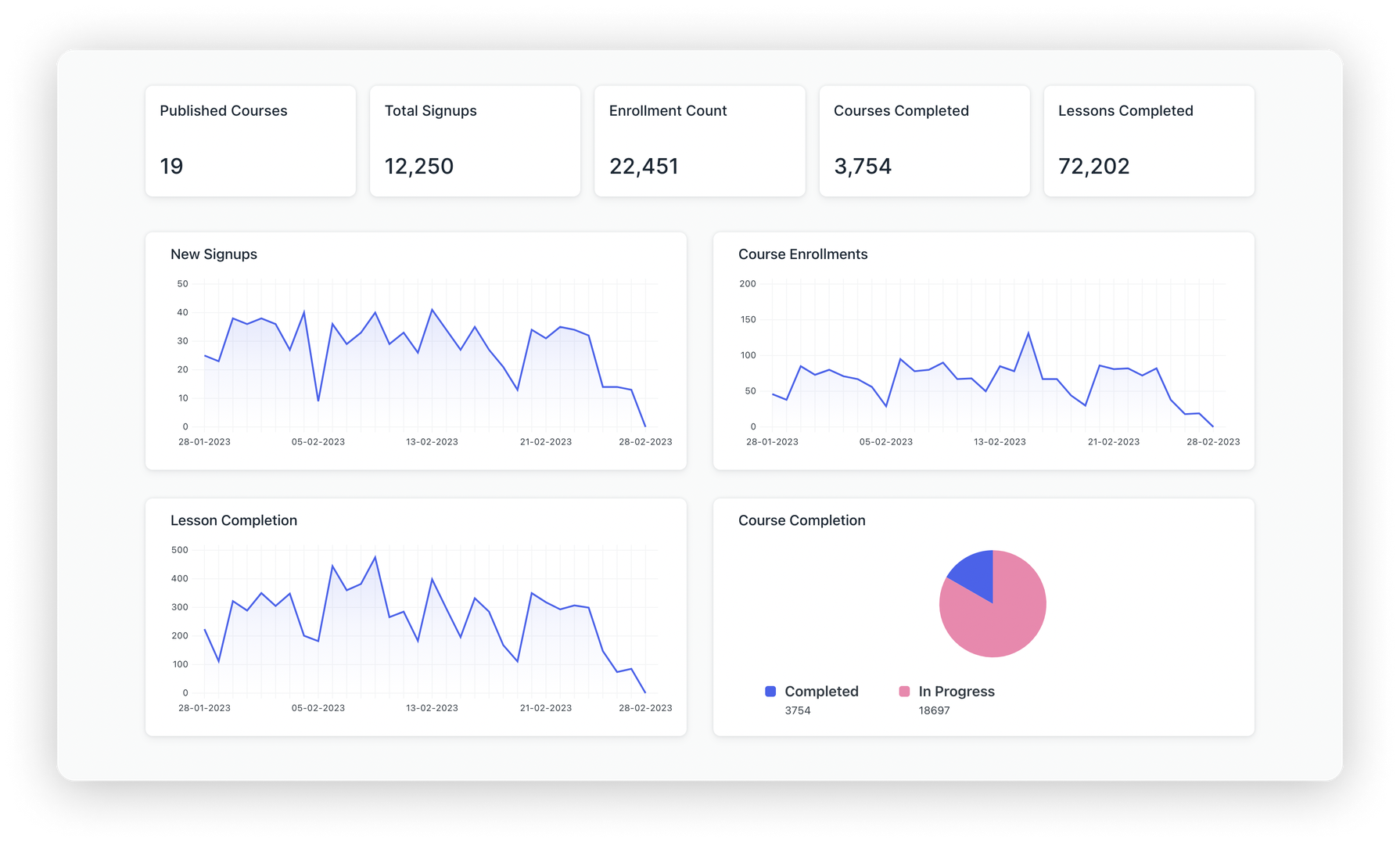 Helping the learners match their skills with the right job-fit
Frappe LMS has a feature for a built-in job board. This feature creates a hiring ecosystem that matches the skills updated on the LMS platforms. If someone is looking to hire talent, they can post job opportunities, and if someone is looking for a job, they can browse through the jobs posted by other users and apply for the ones they find suitable. We have made adding these job boards to your Frappe LMS App super easy using a doctype called 'Job settings'. So, whether you're an employer or a job seeker, the job board feature is definitely something one should check out!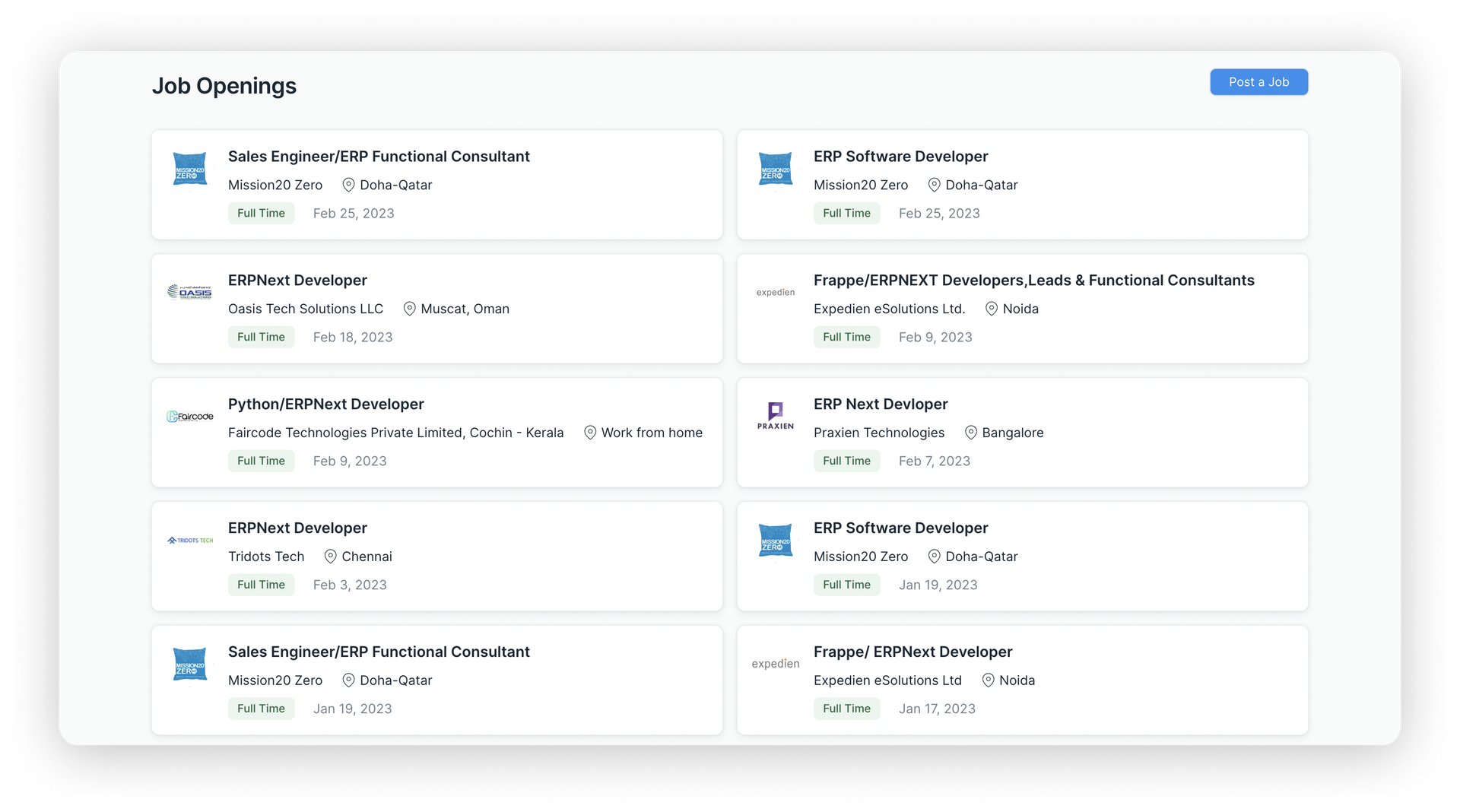 And these are just some of the many convenient features that Frappe LMS has to offer. Jannat makes sure to bring fresh new features every month so that our users always have new and exciting ways to improve the learning and teaching experiences. You can keep a tab in this space to catch all the new updates on a monthly basis. Or you could just make a local Frappe LMS instance from frappelms.com and explore for yourself.
Some successful implementations of Frappe LMS 💫
Frappe School
At Frappe, we practice what we preach. So we built Frappe School on our very own Frappe LMS. For people who don't already know - Frappe School makes learning ERPNext and Frappe Framework easy, fun, and effective.
Back then ERPNext was the Flagship Product of Frappe. ERP by nature, is a complex product. It is meant to solve difficult business problems. Even though ERPs have existed for approximately three decades, users still need help using them. And even though there was documentation available, people still kept reaching out to customer support for help with things they should've been able to handle themselves.
One day, during a super busy quarter, the Frappe team got together and realized there needed better resources for ERPNext users.. We saw the need for a learning platform that was all about ERP implementations for all kinds of users. And since they'd been working with ERPNext since 2008, they decided to create their very own learning platform and called it Frappe School. Now, Frappe School is changing the game by helping users unlock the full potential of ERPNext and other ERP systems. They teach practical skills and real-world scenarios to help you become an ERPNext pro in no time.

Frappe School has been around since September 2021, and we have already trained 100+ people, including our partners. It now has 18 courses, and we keep adding more to it regularly. You could also learn from these courses and become a Frappe expert too.
Mon School
Mon School is what inspired us to build Frappe LMS. Let's get to know what it exactly is - mon.school is a social learning platform that's all about connecting people and helping them learn how to code through high-quality content and mentors. But that's not all - mon.school is also built on Free and Open Source Software (FOSS), which means that anyone can contribute to it or even run their own learning communities.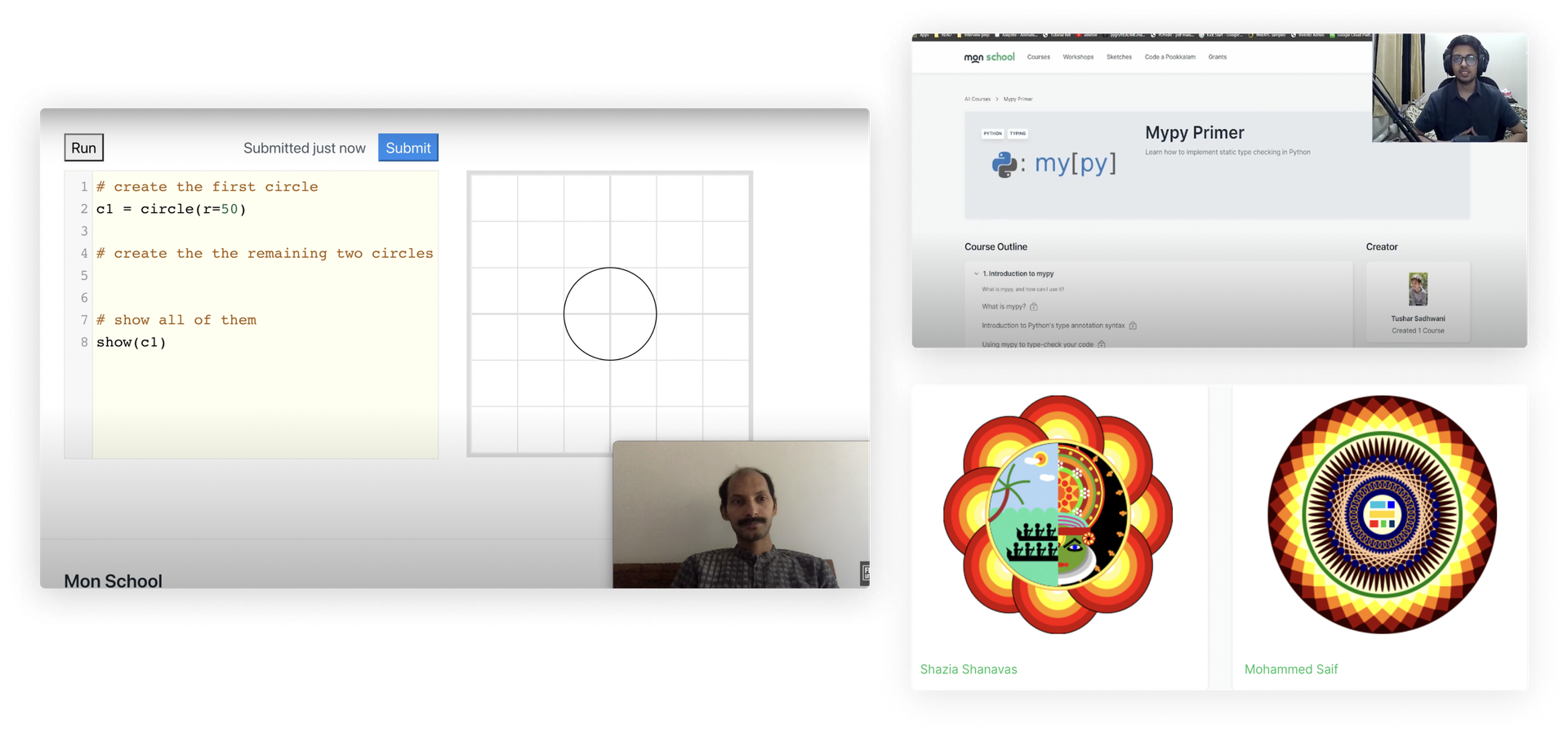 So, who is mon.school for? Well, the platform was first created to connect course designers, mentors, and students in engineering colleges all over India, with the goal of helping students learn coding in a collaborative and supportive environment. By doing so, mon.school hopes to create high-quality software engineers in India while also educating and initiating them into community-based development models (FOSS).
Speaking of FOSS United, it's a registered non-profit that was founded in 2020. Their mission is to build Free and Open Source (FOSS) projects and communities in India and beyond. FOSS United provides grassroots support to FOSS projects and events and invites industry patronage to support FOSS in India.
If you want to learn more about mon.school, FOSS United, or the more prominent Mon brand, be sure to check out their website out and learn from their courses. Mon School has already released 5 courses since their launch, and the learners have completed more than 45K lessons. And the best part is that the numbers keep growing!
TinkerHub
TinkerHub is a first-of-its-kind hub where anyone can come in and learn about the latest technologies and coding for free. Their team is made up of top-notch startup entrepreneurs and technologists from the state who have paved their way to success through learning and building technology. Their aim is to provide access to futuristic skills and state-of-the-art technologies through a community-owned network, and different segments of society and create abundant opportunities for networking and mentoring to foster innovation and maker culture.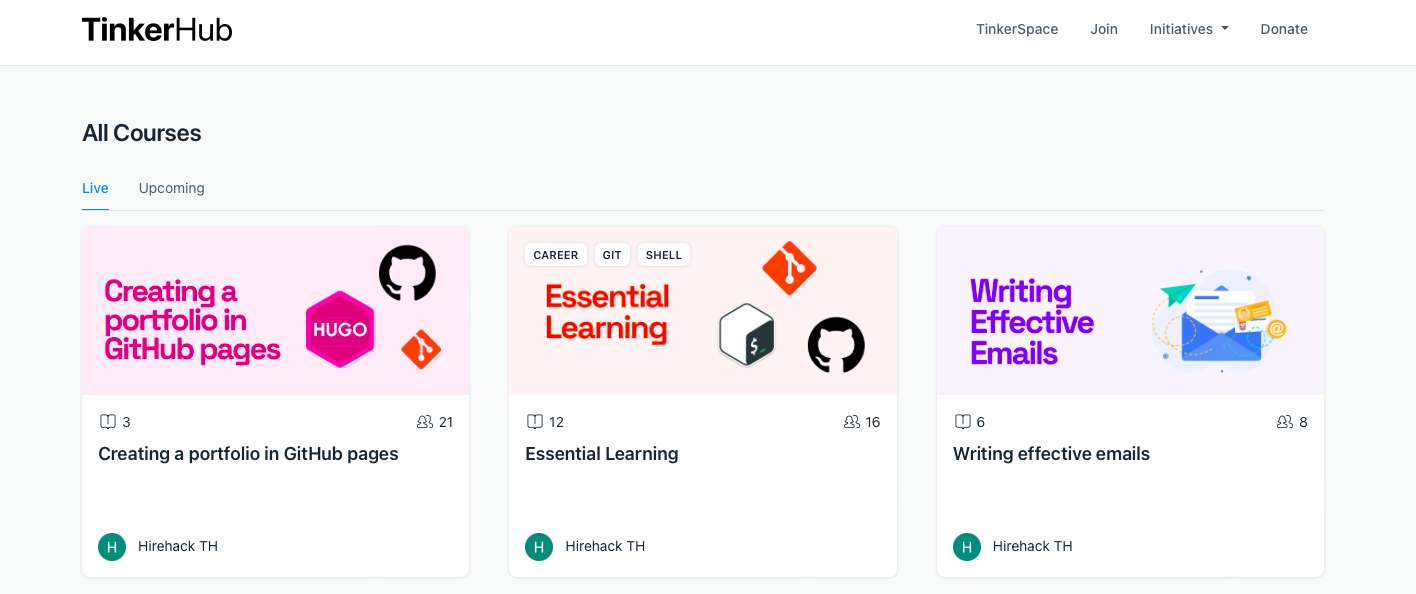 The learning platform of TinkerHub is built on Frappe LMS, and we are extremely proud to be a part of such an initiative and help facilitate irreplaceable skills among the younger generation.
The Bottom Line
Well, it looks like we have covered a lot of ground today! So now if you are an organization looking for a way to level up your employee training game, or maybe a company hoping to give your customers all the details about your products, or perhaps an educational institute in search of a centralized hub for all your curriculum content. Frappe LMS is a nifty little app that could makes it simply easy for you to create online courses and share knowledge with others.
We would love for you to check-out the GitHub repo of Frappe LMS and help us improve the product and make it a notch better everytime. Also, do star the app if you find it intresting!
---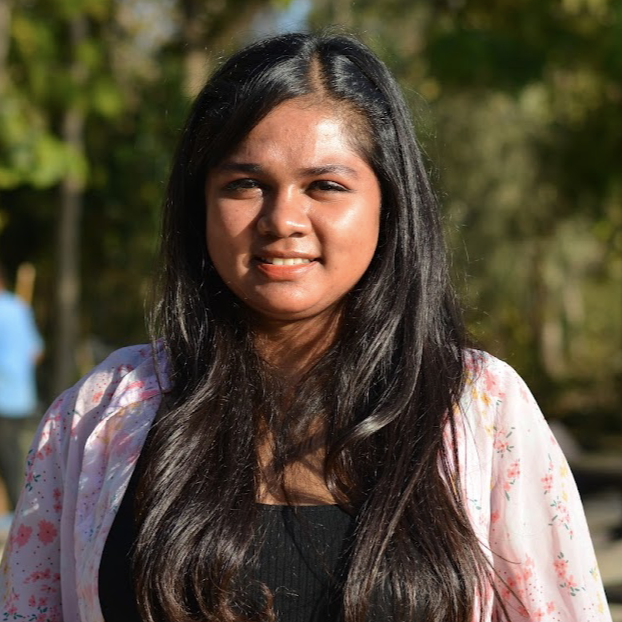 Product Marketer at Frappe