Demo Day - June 2012
This month onwards we are starting a new management system as we posted on the earlier blog where essentially apart from solving customer is
---
This month onwards we are starting a new management system as we posted on the earlier blog where essentially apart from solving customer issues everyone is free to work on any other thing they think is useful for the organization and product and we would all sync and comment on each other's work on the last Thursday of the month, that we will call Demo Day. There will also be a reward for the best work.
So we had our first Demo Day yesterday and it was great. Here are some of the take-aways.
What Worked
Everyone is usually so much into their own work that they rarely know, or appreciate what others are doing in the organization. This was a great opportunity to learn about other people's work.

Rewind the last sentence. Everyone is so much into their own "day-to-day" work that they even forget what work they themselves have done in the month. This is a great way to review one's own work.

Being in a business where most communication is over email or phone, giving presentations is a skill that is usually forgotten. Demo Day made sure everyone brushed up their presentations skills.

Demo Day gave an opportunty step back from their work and take bird eye's view of where we are as company and where we are going. You may think ERPNext is a startup, but even startups have a lot of different things happening.

This also gave an opportunity for everyone else to ask me a few tough questions - like how am I going to make sure we reach our sales target (I confess I was not prepared for such scrutiny).

We also shared stuff like what are our website analytics, how many visitors, how many downloads, how many signups, etc.

Everyone was energized by the work done by everyone else and seeing their team mates present, gave everyone the motivation to present better next time!
What did not work
The pizzas were awful (we are talking about you, Smokin' Joes). Next time there will be better pizzas or something else.

No projector: Since we never do any presentations, we don't have a projector in the office. We will correct that too. We will also see nice TED videos over lunch :)

The point system: Since we are a small team, I personally felt that the point system was not a good way because it involved judgement of work everyone may not be comfortable or qualified to do. So we will scrap the point system.
The Presentations.
Embedding the presetations made by Anand, Nabin and myself:
Anand
Nabin
Rushabh
---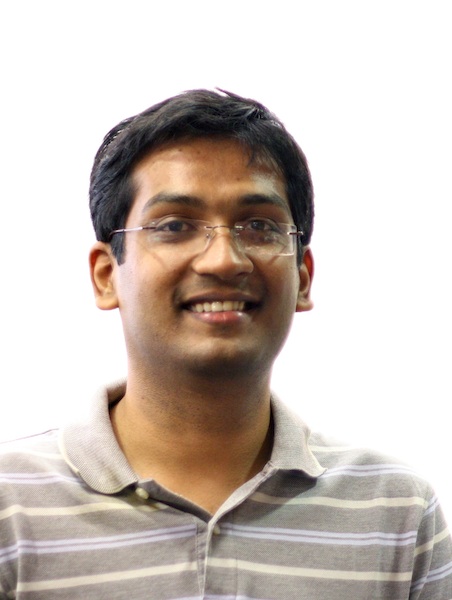 Rushabh is a software developer and founder of ERPNext. He usually writes about the startup experience, open source and the technologies he is working on.