Contributor of the month: Ankush Menat
Ankush is an Engineer at Frappe. He was voted the contributor of the month for October 2021. Here is the story behind COTM (contributor of the month) at Frappe.
---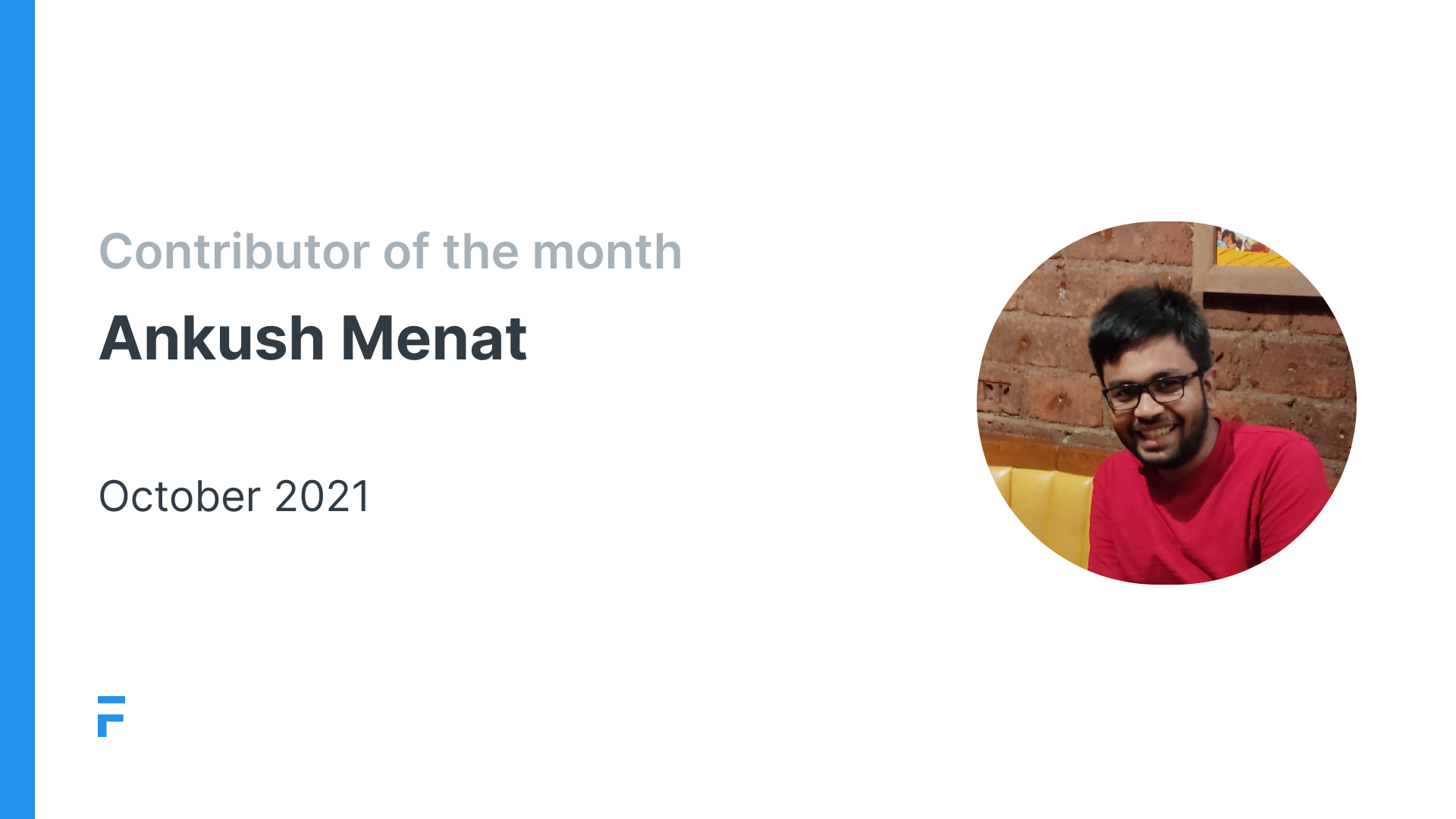 The first week of every month, there's an Open Day at Frappe. The team-mates present their performance for the past month, and share the roadmap for the coming month. For October, we had 9 presentations, some individual and some team presentations. Generally, the number of presentations and the audience are high but due to the long weekend, people were off for their vacation.
In one of the recent discussions at FLC (Frappe Leadership Council), the members decided to come up with the Contributor of the Month. Teammates will nominate the high performing member and choose the Contributor of the month. The reason why the team decided to come up with the COTM is to call out people who raise the bar and live Frappe's values. This could be their reward for excellent work in the form of nominations and voting. The winner shall be decided through a Telegram poll, and each teammate present on the call will have to cast their vote.
To add further and keep it transparent, anyone who falls under the below categories (from all the departments) will have to justify their performance through a presentation. Someone who has walked a little mile extra, and made an earnest effort shall be announced as the winner.
​​Getting a 5-star rating on all replies (excellence)
Taking on a challenging project (first principles)
Taking leadership to solve a long pending problem (long term)
Building an amazing product/feature/design (excellence)
Great sales effort - closing a marathon deal, getting kudos from the customer. (excellence)
Completing a challenging go-live (excellence)
Doing excellent training (excellence)
Writing an amazing blog post (excellence)
Driving organizational change through debate (democracy)
Contributor for October 2021
Since Ankush keeps on switching from one task to another, he made a time block for his schedule. It helps him keep a track of his work and he is able to complete the tasks within the assigned timeframe. To avoid overworking, he has started blocking the non-working hours in the calendar. At times, it leads to counterproductive or burn-out.
He had a significant contribution to showcase for September and October 2021.
On the Unicommerce front, he finished developments and documentations. It is now undergoing user testing. Unicommerce integration will provide seamless integration with many e-commerce platforms for ERPNext users.
Reposting related fixes was another major work. Slow reposting had plagued support tickets but it's now declining with a slew of performance fixes from the team. Two root causes were identified: missing indexes and repeat reposting. Reposting has become anywhere from 2x to 10x faster. This wasn't his work alone though, several other members of the team contributed to performance fixes including Deepesh, Saqib, Marica, and Rohit.
Ankush also contributed to Automated tests for reports which had very less test coverage. Another improvement in tests was major version-wise patch testing which will reduce patch failures. He removed 13k lines of dead code from ERPNext and a few dead or unnecessary dependencies.
Attached is the presentation by Ankush for the open day: Presentation
All work and no play...
This Jack tries not to let the dull moment take any space. Yes! Ankush is a mechanical engineer turned into a software engineer and is smitten by Interstellar and Lord of the Rings. To surprise you further, you will not find him on Facebook or Instagram. He likes to spend his me-time on Reddit and reading programming books.
This Diwali he took a chance to watch the classic cult, Sholay. For Bollywood fans reading this, try not to raise your brows. :p He also watched The Good place and Curb your enthusiasm, they were pretty, pretty, pretty good! You can find him blogging at https://ankush.dev/
Let the poll decide
Of all the people who presented their work, the first 5 top performers are nominated through a Telegram poll. Other teammates cast their votes and that is how the contributor of the month is finalized.
Since Frappe is an open-source company, the work and contributions are equally open. Monthly presentations give everybody a fair chance to showcase their work. Along with Ankush, there was Rohit, Hussain, Rucha, and Kriti whose work was appreciated by the teammates.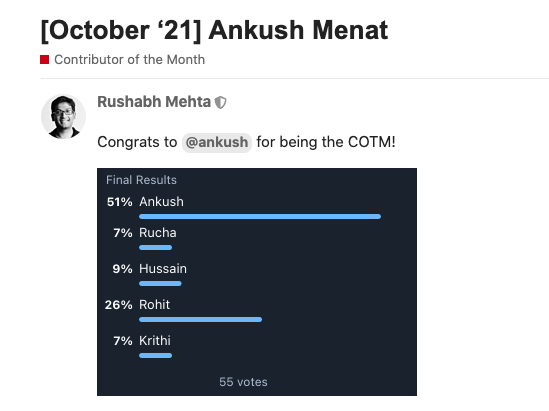 Words by the Contributor of the month
Ankush has few words to share on what it feels like to be titled as the contributor of the month, he adds,
"It was a wild ride from writing code "professionally" for the first time to becoming Contributor of the month. It was all possible because of the amazing team of Engineers we have at Frappe. We develop in the open and knowing that code your write affects thousands of users is a fulfilling and frightening experience all at once."
---