Reflections on Lonavla Offsite
My personal reflections on Frappe offsite trip to Lonavla between 2nd-5th August.
---
Coming back from IndiaFOSS 2.0 Conference and a few days extended Bangalore trip, I was sure that I didn't want to attend the company's offsite trip which was just coming in 3 days. Not because I felt I have interacted enough with people in the past week or I was tired of traveling. The idea was to just sit at home and clear pending work and just work more because I was energetic and inspired enough from the IndiaFOSS conference. Only after speaking to a few of my colleagues and knowing their primary reason for attending the company trip, I made up my mind to join the team on offsite.
Offsite
Frappe offsites are always fun to attend. We have lots of discussions, debates, sometimes fight, and fun. This offsite was no different. Kudos to the HR team for the entire trip from finalizing the location to arranging each session and making sure every member on the trip gets the opportunity to participate in each session and don't miss out on anything. I realized some part of the responsibility when Sheldon (HR) asked me to coordinate with the 2nd bus's driver and without any clue of how important a task that is I said "yeah, cool will do it". Only on the day of the trip, it hit me that I have to keep follow-up with the members who will be boarding the bus on the way to Lonavala, wait for them, and keep checking with the bus driver if it was okay to wait for more 5 minutes.
Spanning over 4 days and 3 nights, offsite started with the opening session where each one of the team members gives a brief introduction of themselves, which team they belong to, and what are their objectives on the trip or expectations. It's always nice to hear what motivates or brings people to come on the offsite. This time due to the flat growth and not many closures on sales sides and various other reasons, the opening session was full of members chanting out their concerns regarding their role, future/roadmap of the company with some exceptions like me where I, without any care, was here on the trip to just have fun, chat with the members, get insights about their work and how (if) I can help them.
Enterprise vs SMB Pricing
This session was important for most of the team members such as the support team, renewal team, and sales team. After Deepesh, Michelle and Rushabh, sneakingly introduced the SMB plans there has been a lot of chaos and confusion among partners and within the company itself. And It was very much clear why the confusion because at this point we had one hosting platform but multiple plan offerings. There was a clear need for distinct offerings between the two plans. What to support and what not to and how to move forward. I had the opportunity to sit for the last 15 mins of the session since I was busy with my support tickets and ISO tasks (closing NCs). Michelle has done a fabulous job of holding the company tight in every discussion, I didn't attend all the sessions but what I can say for sure is Michelle did. In the past one and half years, she has grown in her role tremendously. She is the perfect Chief Operating Officer (COO). I don't know what the role of a COO is but looking at her it feels like she defines the role of a COO.
I could see from the distance Michelle holding a marker in her hand and trying to answer every question being bombarded at her. Explaining and revisiting the bullet points to conclude the session on what to offer in SMB and Enterprise respectively. As a COO, it was her role to not give answers but to help the team find the answers on their own and help them with direction and that's exactly what she did. One will never find her content with her accomplishments, you will see her roaming the conference hall after every session asking each member did you attend the session? If yes, what's your feedback? Or laying somewhere head down because it is exhausting!! She is either energetic or tired and nothing in between.
Rushabh invited everyone for a movie night after dinner but I doubt anyone attended it. Everyone was in their own rooms or friend's room having fun in their own way. Some played dumb charades and not sure what others were doing. Maybe they all slept early since we had a trek early in the morning.
Trek
I don't remember when was the last time I went on a trek. I was excited and all pumped up for the trek. As we all gathered at 6:15 am in the hotel lobby, there were 22 members in the morning. Marching on a guideless trek with no trekking location planned we hit the road, Rushabh (as always) leading the pack. We walked and walked and walked a long road going uphill and then descending and then uphill again with no idea where we all were heading. Everybody was guessing or assuming that we were heading for a waterfall or maybe Rajmachi trek. At this point, we had walked for more than an hour and were still walking ahead clicking pictures of the beautiful sceneries. Really nature has its own way of flexing its beauty. Surprisingly nobody was tired or complaining about how far we have come and still walking. Everybody was looking forward to more surreal views to click pictures, see a waterfall or maybe a fort.
Finally, we decided to climb the mountain to reach the mountain top and experience the real trek. Aditya and Dinesh found the waterfall where we can start and soon some of us started climbing up. With no clue if we have a way forward at top of the stream we just started climbing, this time Dinesh leading the pack on the uphill journey. To my surprise, Dinesh was climbing the hill like walking on a straight road. Always ahead and leading others and guiding us with strong footholds and convenient ways of climbing. Surely everyone at Frappe has something unique to them and anybody can be a leader here given their field with confidence. Moving uphill was so dangerous on many occasions I regretted starting the trek since there was no clear path of going forward and impossible to go back downwards. Many times I was alone at the top and had nobody to shout and guide me ahead to help me how to move forward, all I could see is my team members coming behind me on the same path. I realize this is one of the times in life when you don't wait for someone to show you the way but make your own way forward. Somehow we reached a point where we thought this was enough of a trek for today and decided to find our way back home. Soon we realize we not only have to just reach the bottom of the hill and reach the road but walk back for one and half hours to the hotel. There was no strength left in our legs but sheer motivation to reach the hotel and take a hot bath was enough to drive me somehow forward. We were down to 18 people on our way back since not everyone stayed till last. Some of us went back to the hotel in between when they felt enough.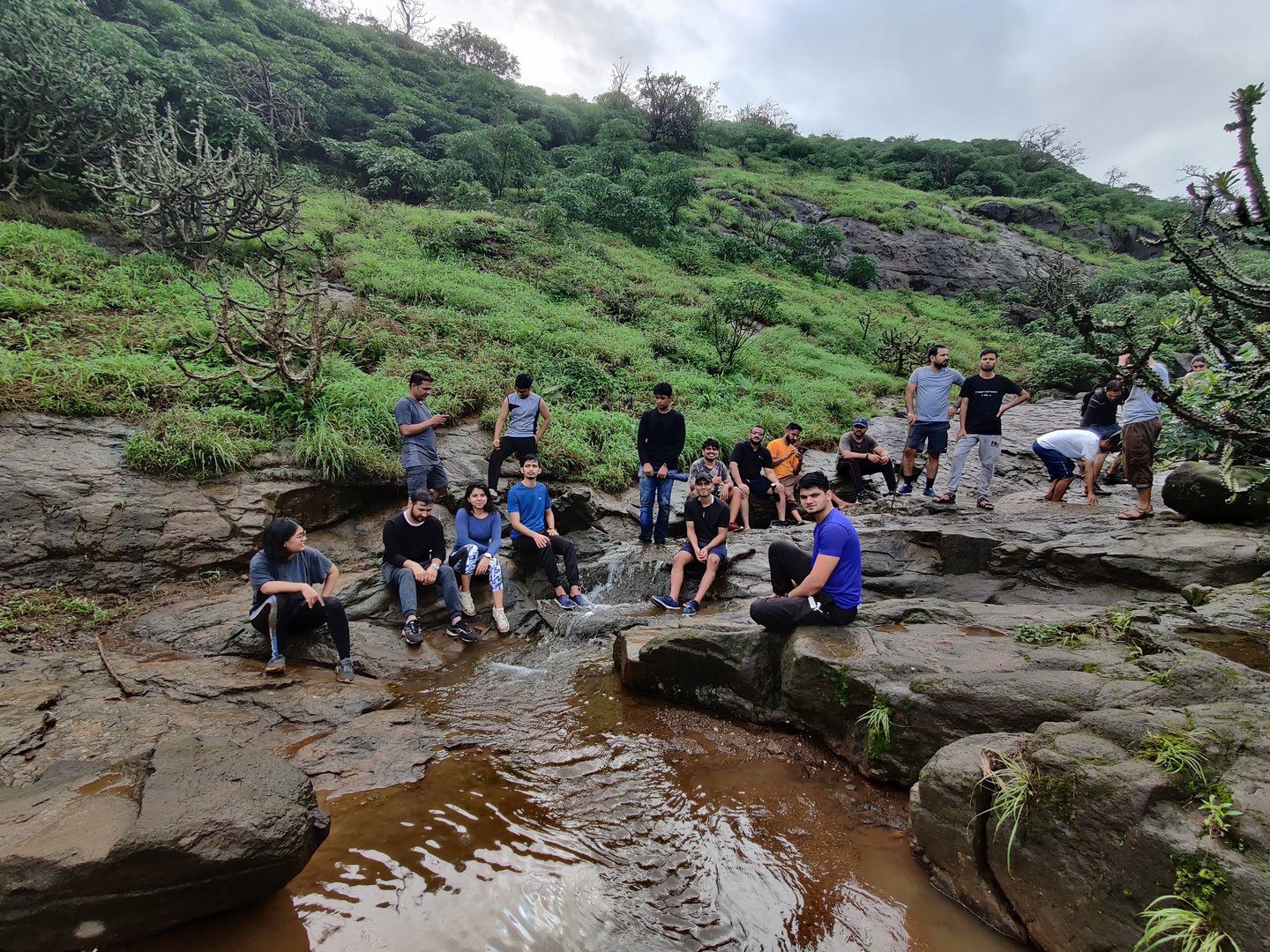 Day 2
After the trek, the day started with a few of us in the conference hall gathered around in one corner to talk about what's happening with sales, what's the hurdle, to have a real and honest conversation about our weaknesses and what can be done, to ignite the fire again and look more deep inside what we really wanted. Even if you don't belong to the sales team, the discussion was enough for everyone present there to reflect on their work. Was it enough what they were doing all along till that day? You don't need a leader or outside force to drive you. All you need is a voice from within and the confidence to speak out loud about what you are really aiming for. For the sales team, it was up to them to decide what they want to do, because NOBODY, Nobody in the company knows better than our very own sales team what the customer really wants. Sales is tough. Tougher than what 90% of us think but it's not impossible when you know what you have and what your customer wants and you know exactly how to bridge the gap.
I did not attend the feedback session by Ambrish (a non-Frappe citizen). The feedback session was all about how to give constructive feedback to each other. To be aware of others' feelings, to be empathetic while giving feedback so it can have maximum effect. Nobody wants their given feedback to just hurt someone and have no effect or be ignored. We give feedback to help each other. I don't have any major personal reason for not attending the session, it is also not that I am very skilled at this art of giving better feedback, trust me I am the worst at this.
Karaoke/Painting
In the evening, we all gathered once again in the conference room but this time not to discuss any serious company roadmap or solve a problem but to have fun. It was Karaoke time. Like last time at Malshej, we gathered to have fun, and unleash the bathroom singer. Surprisingly, the team size was smaller than at Malshej but the participation and number of songs sung were much larger. Many voices came forward to sing just to have pure fun. I never thought Faris can sing or he will sing but he did and twice. At the back, some of our team members who had arguably another art form took the brush in their hand and started putting their imagination on the sheet and coloring those rough sketches. Every time I see my colleagues doing these activities I am totally baffled by the talent they hold within them and trips like this help us to open up.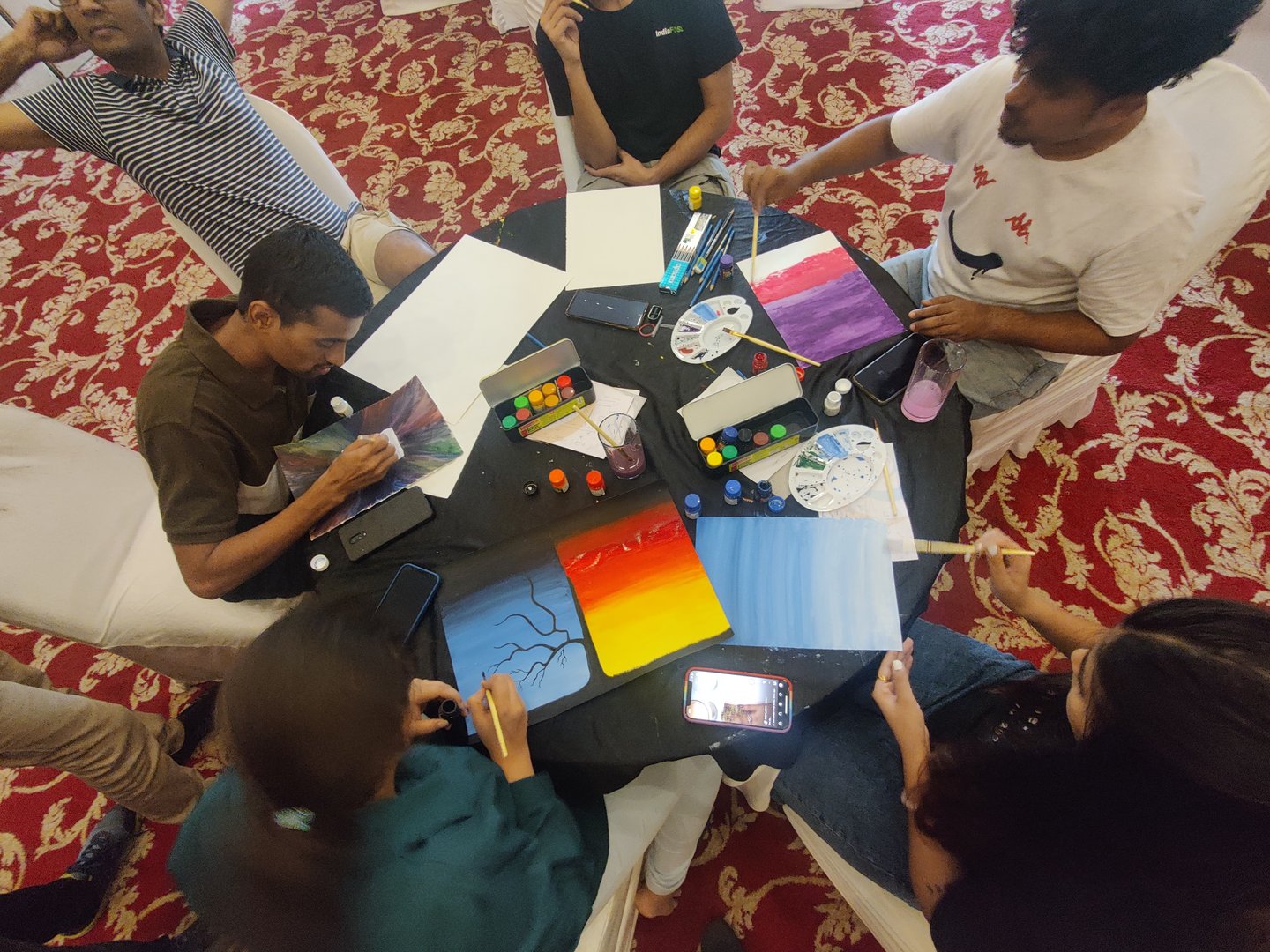 Day 3
In the early morning, as I was thinking that this offsite does not have that many sessions conducted, maybe we don't need those. Maybe everyone figured out a way for their concerns on the first day. Little did I know as the day progressed I saw the whiteboard which was blank till yesterday today had 7-8 sessions listed for today. At this moment we had our entire day planned including the closing session. Some sessions were added at the last minute but it saw participation.
I took the opportunity to attend every session planned for the day. Be it a marketing session, support session, debate on Pragmatism vs Idealism, planning for the conference, future of Frappe Cloud, or our flagship product ERPNext. I was part of these all. There was a lot of learning and a lot of participation. People who never spoke much before this offsite came forward with their voices to be heard.
Pragmatism vs Idealism
There is no doubt that this debate's two OG leaders are Rushabh and Kailash and their gameplan post was the one to encourage and continue this offsite. Surprisingly, many of the folks, even those who thought this was one of the useless debates, came forward participating and asking questions. Rushabh was right, many people like debates that doesn't mean everyone there will participate, they are there just to watch others debate and learn. While we were debating on the nature of pragmatism and idealism/absolutism, I am someone who exercises both. I live a principled life in some aspects of my life and am pragmatic in others. I don't know which cult(ism) I belong to but I think most of them do that. The debate saw many turns and diversions but in the end, this is how you can conclude it.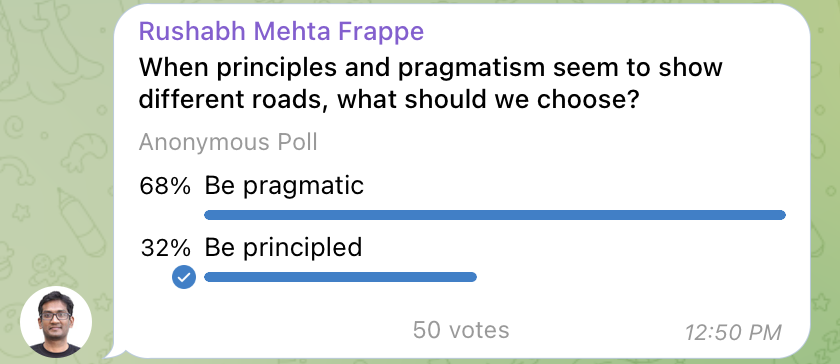 It will be really difficult to put the entire 3-day experience of the trip down in mere 200-300 words. The magic happens only at the offsite where the entire team gathers with the Frappe energy and the madness of Rushabh which somehow has become a part of each one of us and lives with us every day. Frappe is chaos. Let that sink in.
---