Frappe vs The Queen Of The Hills
Last month we had our annual retreat at Mussoorie and this trip has led the Frappe team to unveil a bolder version of themselves.
---

Pulling a late nighter
Since the flight was departing at 23.30 hours, we (a bunch of colleagues who stayed away from the airport), decided to meet at the office at 17.00 hours and then assemble at the airport together. While we waited, we ate burgers and anticipated how the upcoming trip would be. I am certain none of us had the idea it would break us to our very core and cause us to think.
When we assembled at the airport, I saw some other team members and their parents and missed mine. So I called them and told them that we had reached the airport and not to worry any more. Mom was like, "Sure." I don't know how she does it but even on a voice call, she can lace her words with sarcasm finely.
Sleeping awkwardly is one of my hidden talents
Once in the flight, I realised I was in one of the last rows where the most senior team members were sitting. At Frappe, we don't really care about titles, but I didn't want to end up sleepily drooling in front of them. Don't remember what happened because I fell asleep as soon as we were in the air. I remember the faint voice of Aditya's conversation about a warzone. I don't even know if I heard that right.
We reached Delhi airport around 03.00 hours and waited 45 minutes for the buses to show up. The buses that were to take us to Mussoorie. We speculated playing different games and which songs we'd play once on the bus, but all of us slept like babies within minutes of departure from the airport.
The burden of expectations
Life doesn't work out as expected every time. Sometimes, the burden of expectations takes over your head and you end up feeling sad about expecting anything in the first place. After we reached the hotel, we were told to freshen up and meet downstairs in half an hour.
I was in a room with 4 other girls and we took turns getting ready quickly so as to meet this deadline. And when we finally reached, nobody was there at the lobby. After another 45 minutes, other people showed up and we decided to explore the hills. While we waited, I got a chance to play chess again after 9 years.
I had left my scarf in my room so I told the others to hang on for a few minutes while I got it. They nodded but when I returned there were only 2 people waiting for me. We checked the Telegram group and found Rushabh's active location with the message, "Follow the leader." So we were a group of 5 finally and started off to follow, like
sheep
in a herd. I was a little mad at the ones who started off without us. And then, we did exactly what they did to us.
Amazingly lit church on the side of the Mall Road Street
With no respect or empathy of who was being left behind, we continued to walk towards Lal Tibba. I didn't realise it until I had already done it. On the path, we came across beautiful cafes and churches that were lit in contrast to the shade of the skies above.
It was past 7 PM, the path was dark and the moonlight was not doing a very good job in keeping the path lit, so Shivam and Marica did, they switched on the lights of their phones. I was burning with sweat and breathlessness. I removed most of my "wintery clothes" and kept splashing water on my face.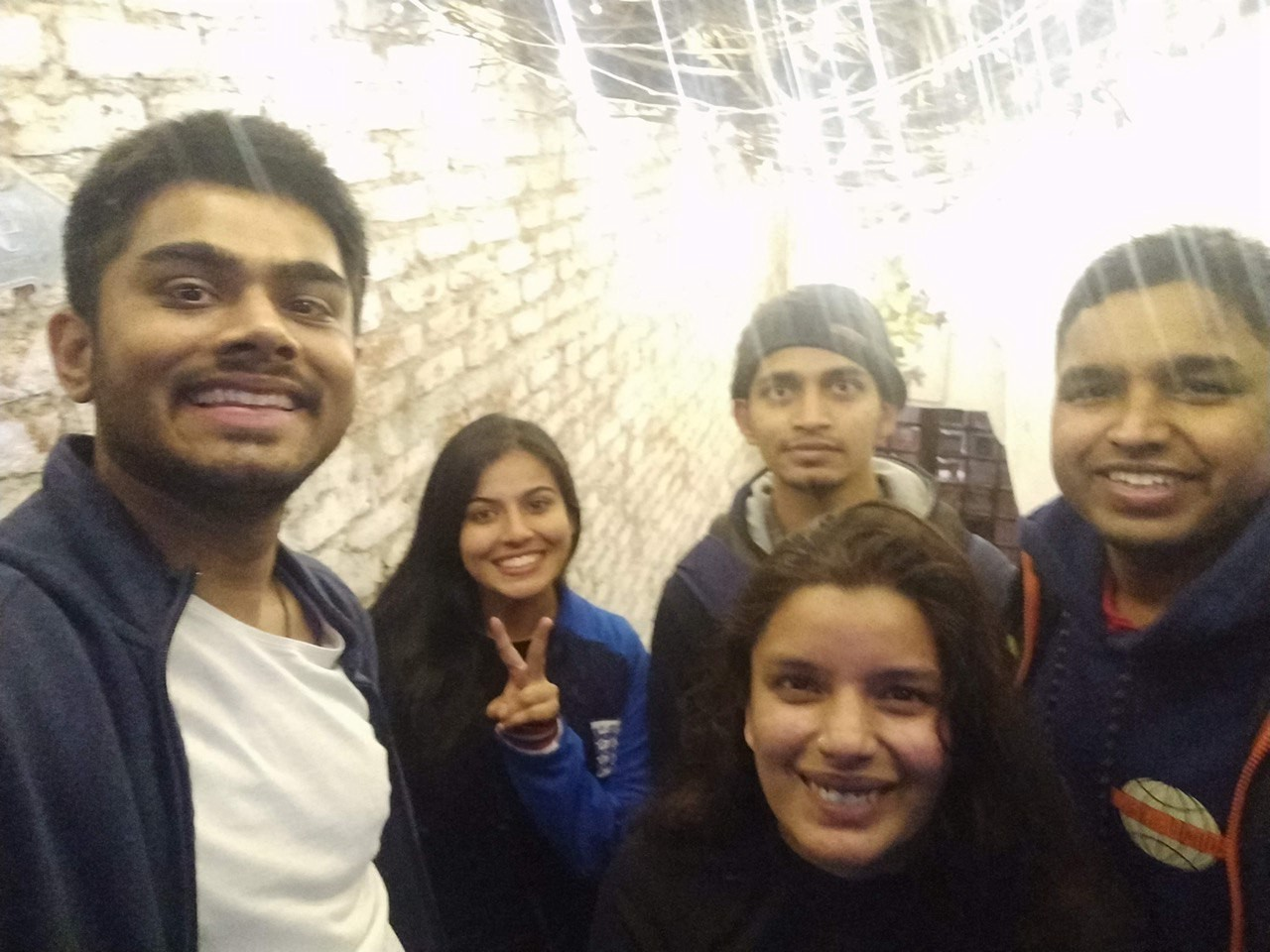 Outside a beautifully lit underground cafe
Eventually, we reached the point where our leaders were admiring the star-lit sky. It was astonishingly pretty, I admit that, but I was too annoyed to be in a mood for admiration of nature. I shared my annoyance with the team and Rushabh said that someone had to start and maintain a pace. Okay, but that just sucks when you're on a retreat with your team.
Maybe I was being petty, but I didn't understand the point of bringing out the team for an annual trip to test their physical limits like this. It was unexpected. And we were expected to engage with team spirit and not act sour. The burden of expectations becomes too heavy to bear at times like these.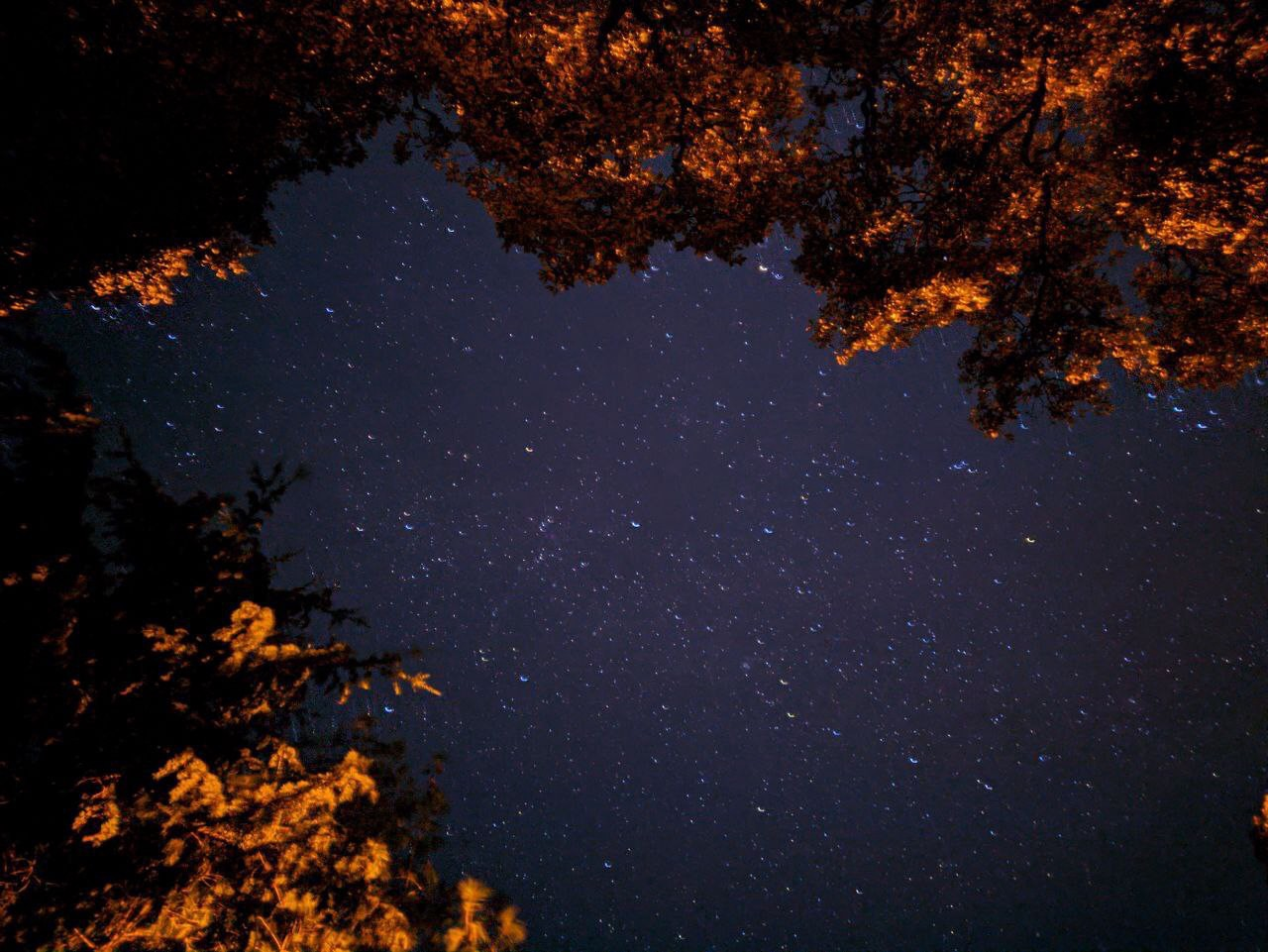 Star-lit view of the sky from Lal Tibba
In our team discussions that night, we had a petty fight over room allocations which could've gone down better. Ultimately, rooms were exchanged. I had decided to sort my stuff to be prepared for the next day but ended up sleeping as soon as I hit the bed.
The thin line between confidence and arrogance
We started out late the next day, some of us were doing Support for our customers, while others were either sleeping or having breakfast. Having a team of 40 on a trip and expecting all of them to be ready by 10 AM is hard. There was a breakfast buffet, and after that, we had only one place to visit for the day,
Company Garden.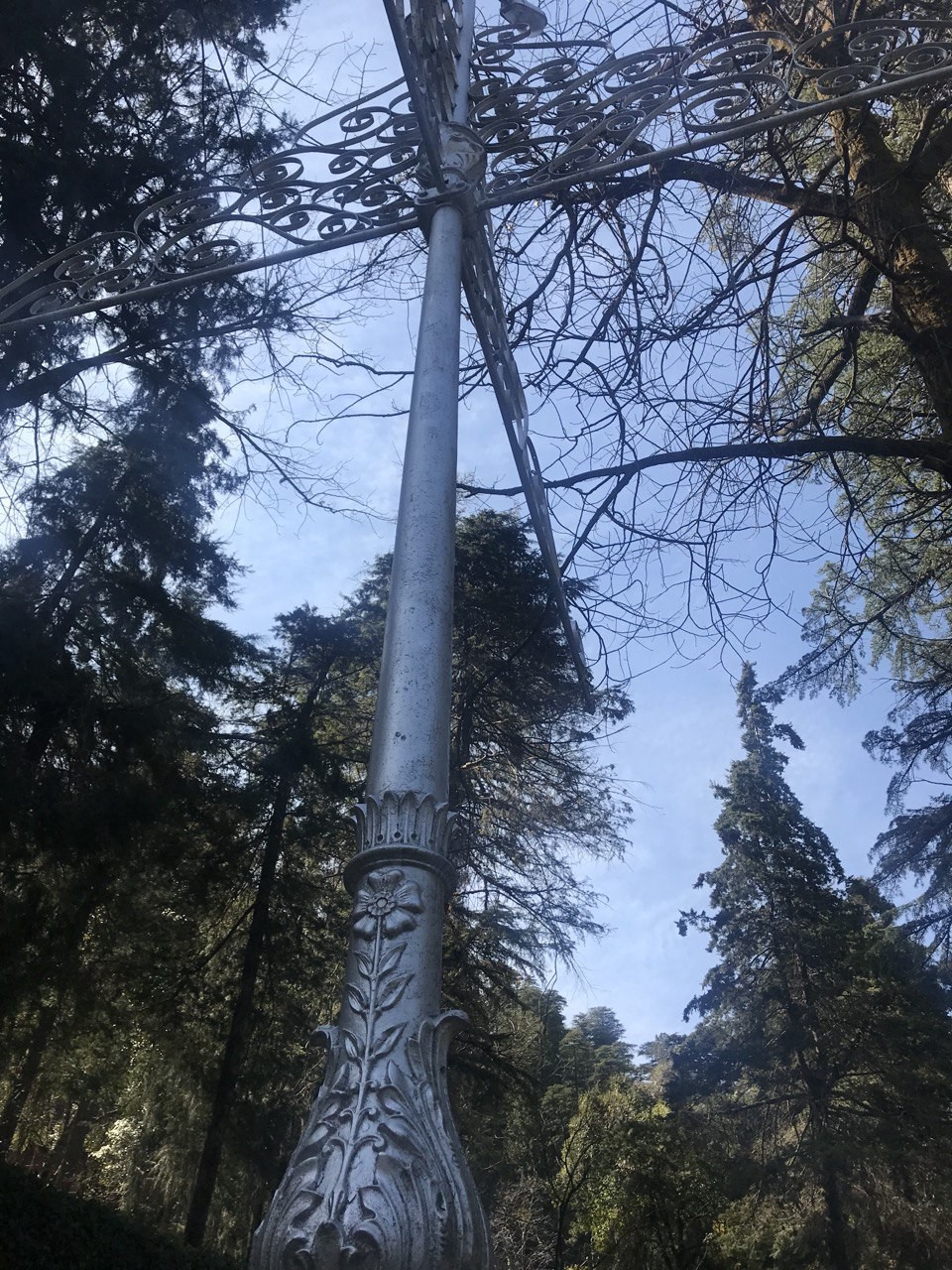 The infamous pole from Company Garden
The whole place sucked except for this pole, we speculated about how this must have been planned by the Scottish adventurer in 1806, at least that's what the time stamp on the pole said. As we exited the so-called garden, our other team members entered. We told them the experience was boring, but they chose to go ahead nevertheless.
After an hour or so, all of us were in the streets of Landour and at crossroads again. Some of us wanted to eat right away at the nearby restaurant, while some of us were feeling extremely adventurous and wanted to dine in a place that would inspire us. Rushabh remembered seeing an inn on the Lal Tibba walk which was Thai cuisine. We split into two groups again — not dysfunctional since it was okay to choose where one wanted to have lunch.
Our journey to Doma's Inn started and soon I was panting again. It's a miracle that I survived this trip without fainting on the streets. Doma's Inn was a cottage/restaurant and once there, I immediately fell in love with the place. The meticulousness of the place drove me crazy.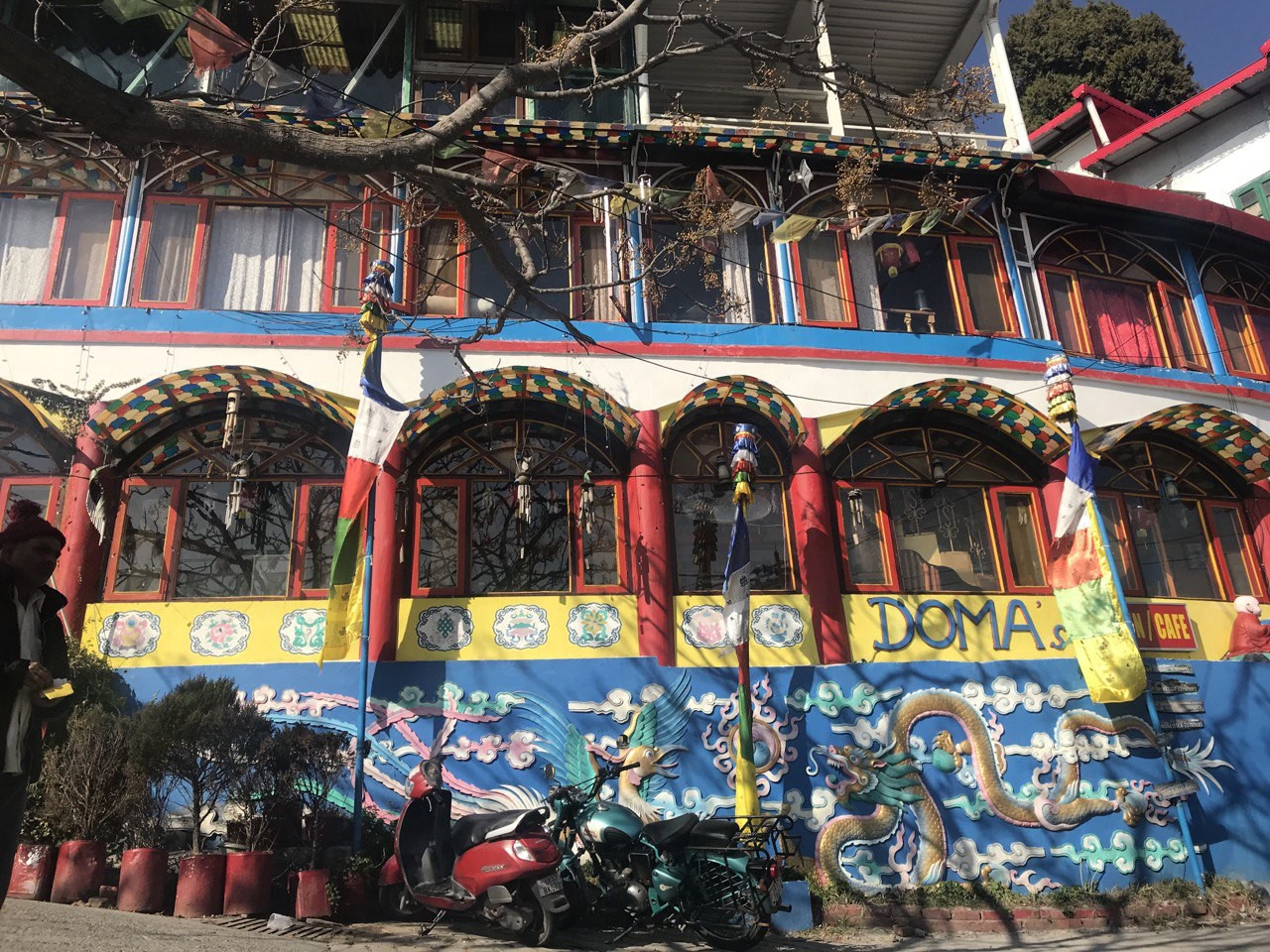 Doma's Inn standing mightily on Landour
There were artfully crafted designs on the walls and ceilings of the inn. The painting of a Garuda (eagle) on the roof of the entrance was beautiful. After googling about the inn, we discovered that it took six months of hand painting and revelry to make the place how it was standing today. The beauty of it all made the walk completely worth it. The food was delicious and heart-warming too.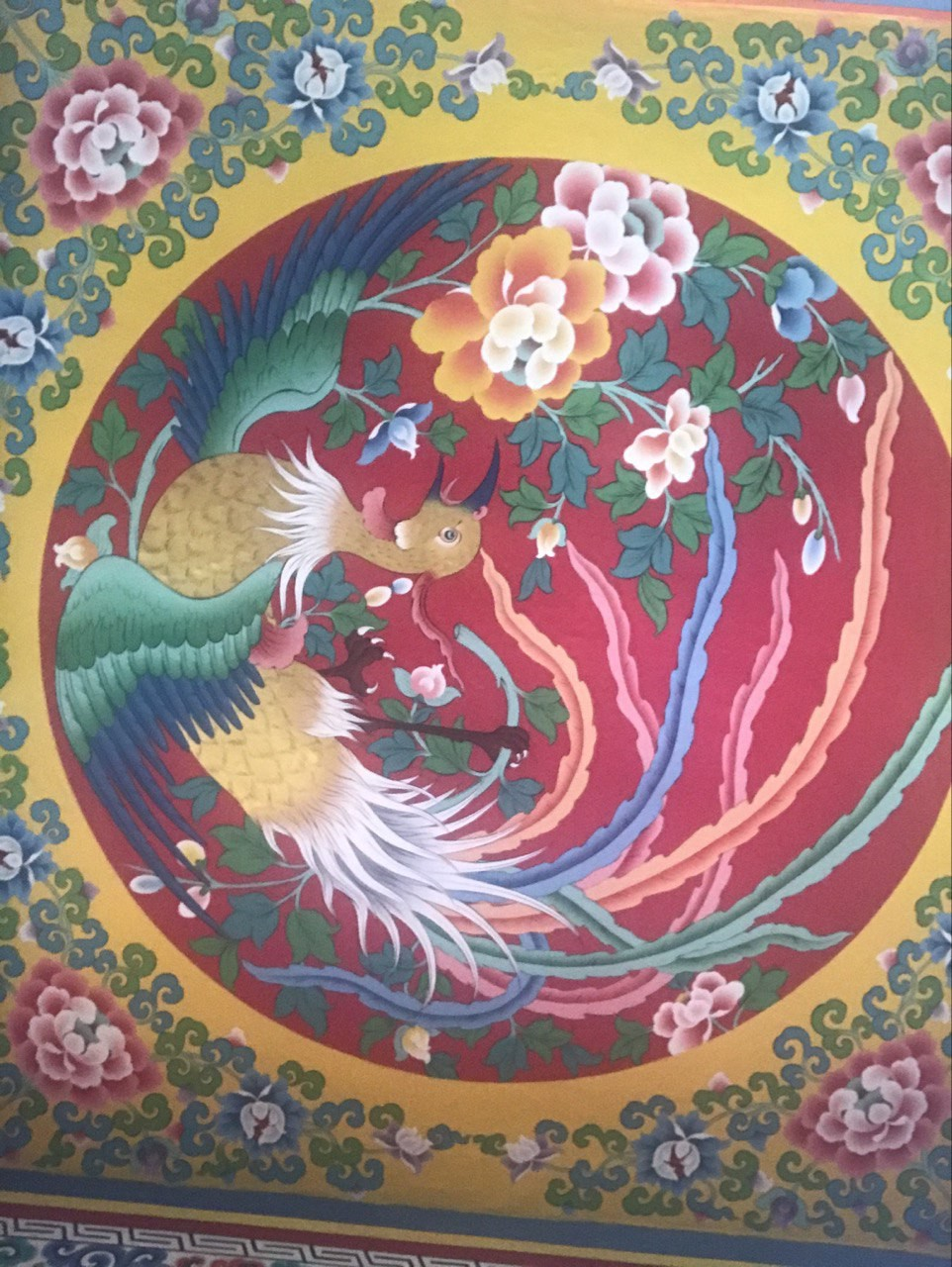 Garuda painting on the ceiling of Doma's Inn
After lunch, some of us headed back to the hotel while others continued to go to another cafe that was minutes away for coffee. I didn't particularly feel hungry after the meal. I wasn't in the mood for any more walking either, so I was in the group that headed back.
Once back, I had some tea and enjoyed the sunset. The elegant hues of blue and orange plastered across the sky was a view so breath-taking, it took away the pain that came with all the walking that we were doing.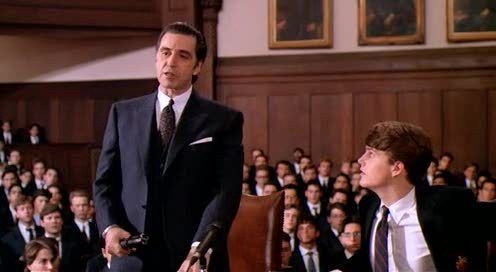 The trial scene from the movie, 'Scent of a Woman'

Shortly after dinner, we had another discussion, where the arguments took an ugly turn and it was a "one vs all" fight. Nobody had anticipated the frustration and disappointment that some of us had for a certain
arrogant
team member. It was like watching a
trial
. I even envisioned the trial scene from the movie, "Scent of a woman" where Al Pacino aka Lieutenant Colonel Frank Slider sides with the young, 'not-a-snitch' Charlie Simms.
Even though I was tired, it was hard to fall asleep that night. I kept wondering about the impact of one's actions and the
severity
of the consequences. I thought the worst was over, but I was in for more adversities in the following day.
May the forest be with you
The coldness of last night's discussion didn't cause much disorientation to us the next day. We were ready at 10.00 hours but it took quite some more time for all of us to assemble and we ended up leaving the hotel an hour later than planned.
It took us three and half hours to reach the point from where the Nag Tibba trek would commence. So when the itinerary was put up and activities were listed, we all ignored the complexity of the trek. The Nag Tibba Trek was divided into 2 parts:
Basecamp
(5 km away from start point) and
The Summit
(another 4 km from Basecamp). We realised how painful this trek was when we were 2 km in. There were 3 tour guides, and soon there were groups formed on the basis of pace, endurance and empathy.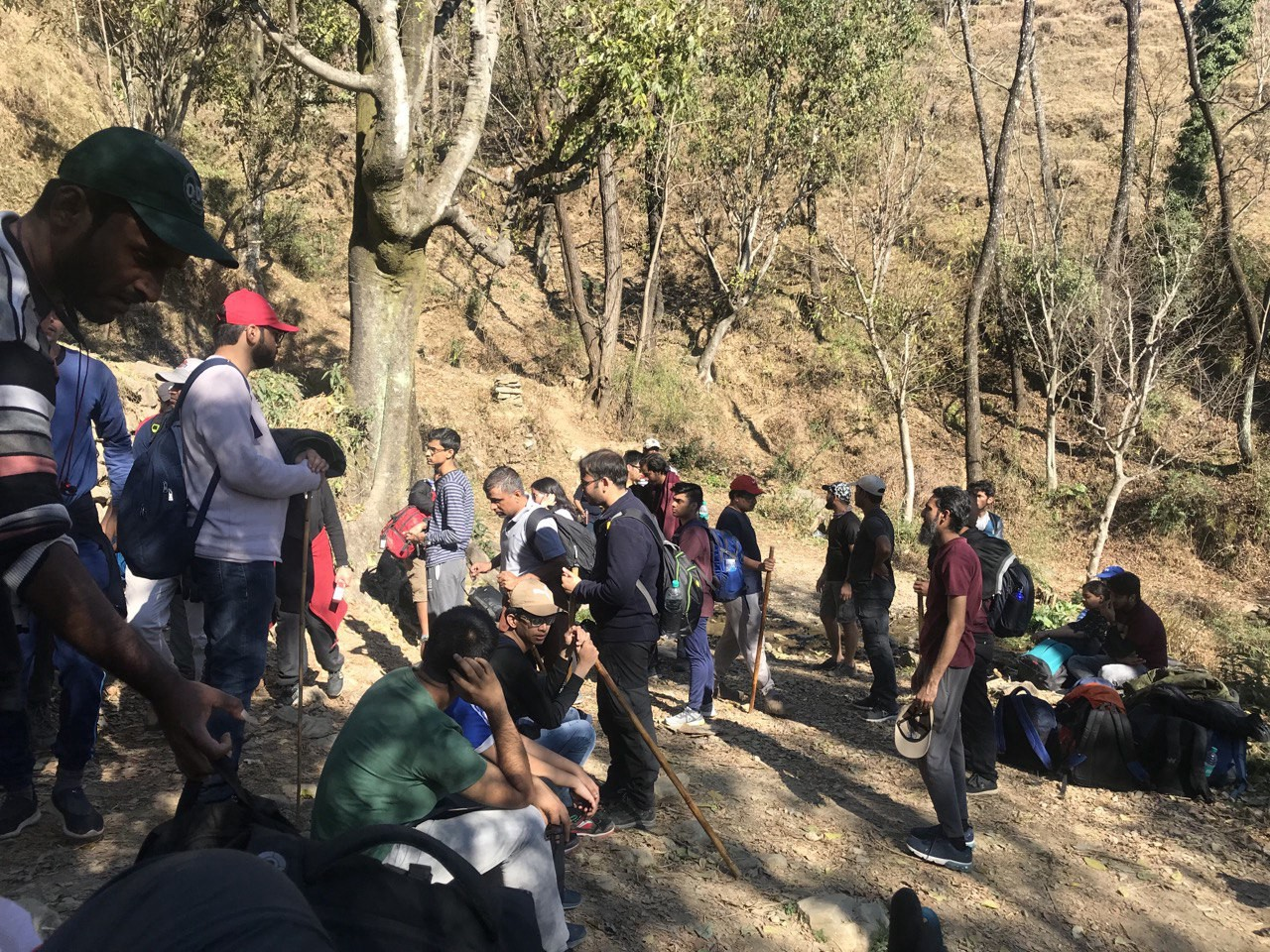 Lunch Stop during Nag Tibba Trek
That's right, empathy too. It's because many of us slowed ourselves so that we could accompany the ones who were lagging behind. It was team spirit, I guess. However, Rushabh was not in the mood for this. He kept screaming at anybody who sat down during the trek, "You don't deserve to sit. Keep going." "You don't deserve to carry your bag, carry yourself first." "Jai! Why am I seeing you sitting like this? Keep going ahead."
That's right, empathy too. It's because many of us slowed ourselves so that we could accompany the ones who were lagging behind. It was team spirit, I guess. However, Rushabh was not in the mood for this. He kept screaming at anybody who sat down during the trek, "You don't deserve to sit. Keep going." "You don't deserve to carry your bag, carry yourself first." "Jai! Why am I seeing you sitting like this? Keep going ahead."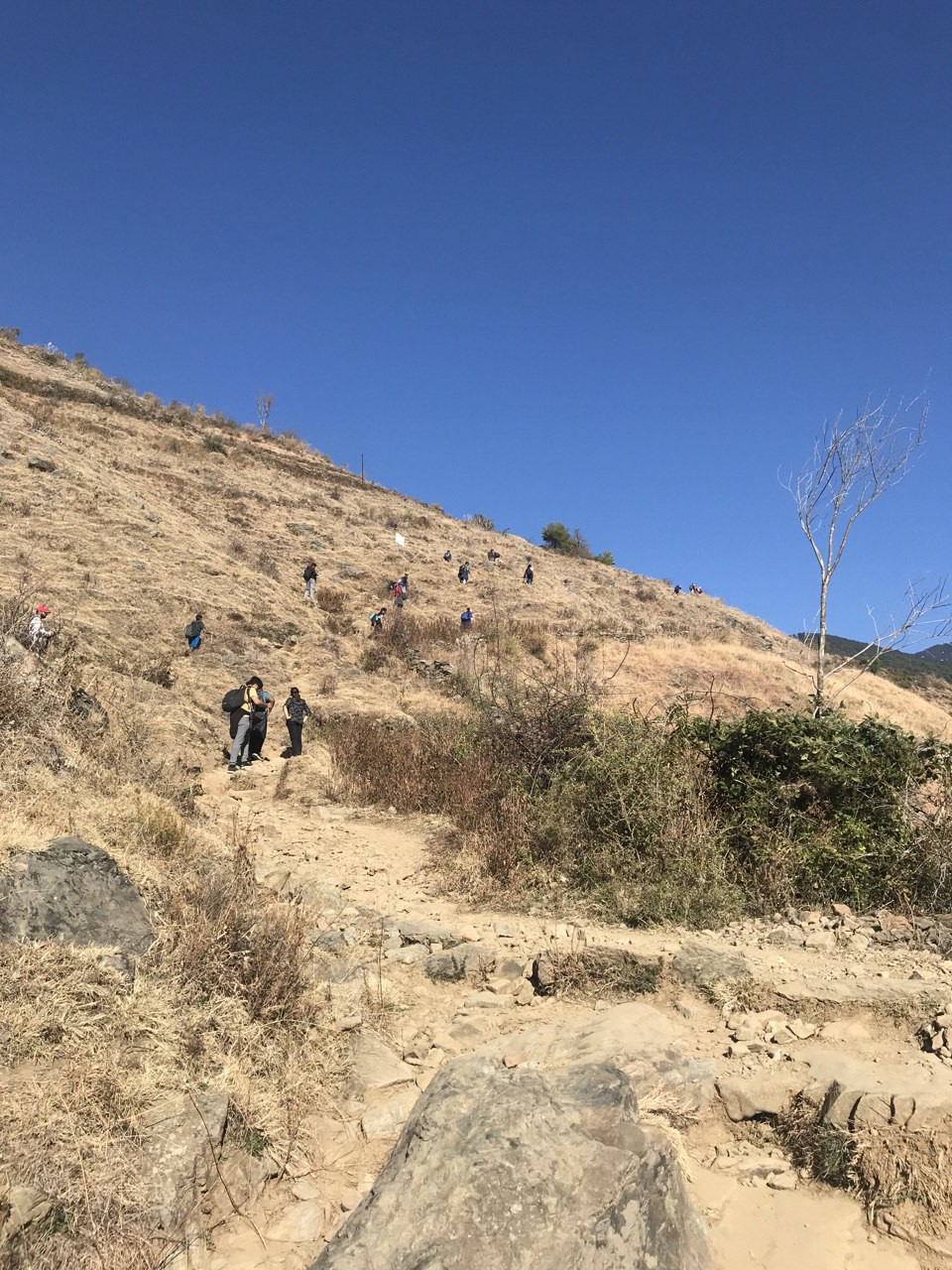 The steep slopes that drained out Team Frappe
As much as it was meant to be motivational, I ended up pacing ahead only to avoid being in his line of sight but failed because his endurance outran mine. Even though it has been so many days, whenever I feel like giving up or too drained to continue, I hear those words. It's like a call of not giving up hope no matter how hard the path gets. I also realised life will never be the same again.
It's a hill, get over it — Unknown
As we continued, occasionally stopping for siping water or resting, I admired the view. The scorching sun couldn't overcome the coolness of the winds. I wasn't exactly walking in a group, but there were people 10 steps ahead and behind me. But hey, the forest was with me. That's what kept me going.
I came across 2 different species of
wildflowers
, white and lavender. I heard the eerie sounds of the forest. The rustling leaves. The crackling of dry leaves on my path as I was going deeper into the woods. Every step ahead put me through a variety of feelings: sweaty, sore, excited, breathless. But I decided to continue, there was no way I could go back.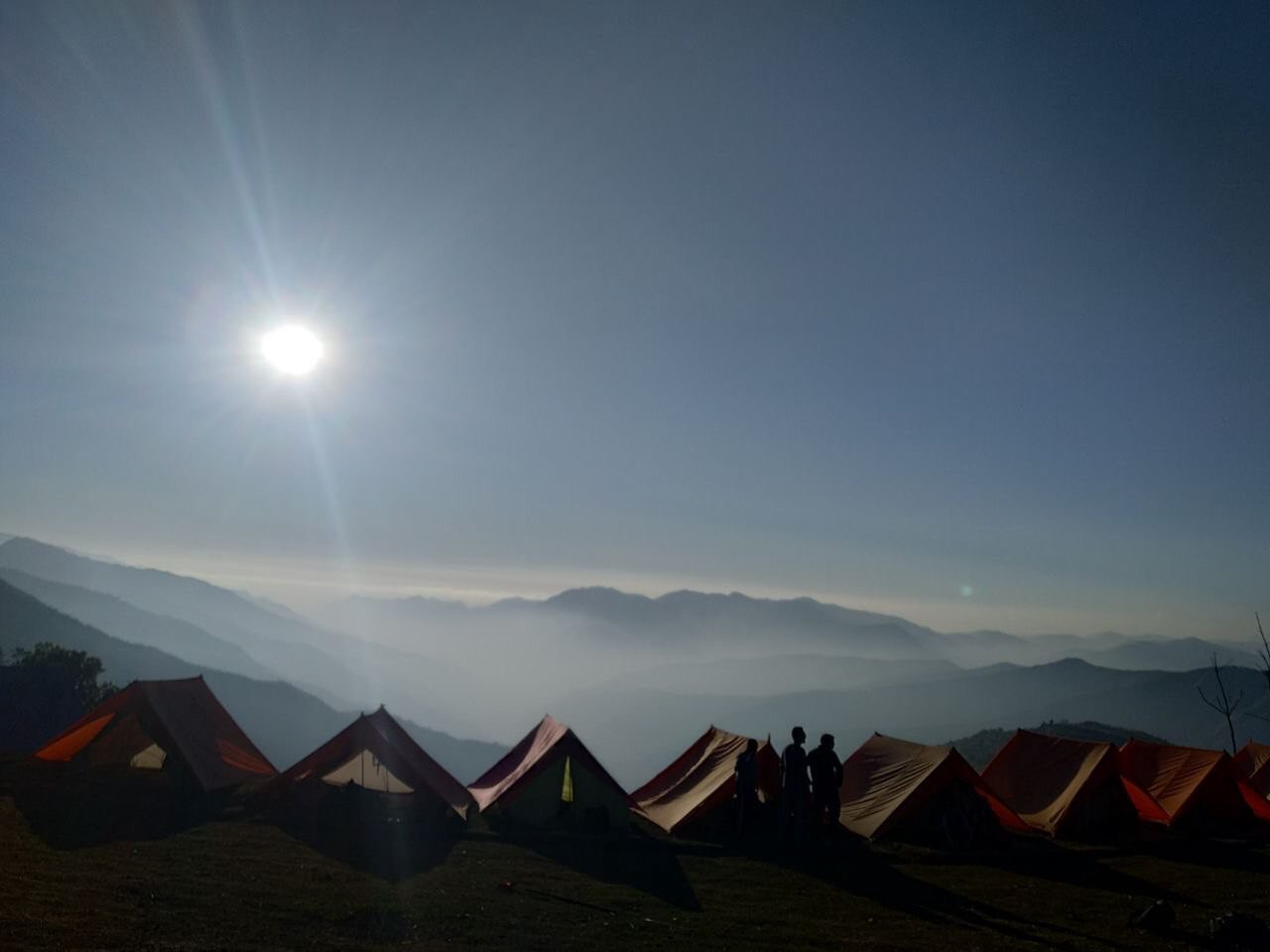 After reaching the Basecamp, I leapt out a cry of joy and pain. Because this was just a pitstop in the path, not the destination. The Summit was further away and I was at the crossroads:
To go or not to go
. In a moment, I knew that I want to go all the way. I didn't wish to give up at that point. The first group to reach Basecamp had already left towards the way up and I started to feel the fear of missing out the mountains that awaited.
What are men to mountains
Jane Austen first said it in Pride and Prejudice, and it couldn't be any more true. After the excruciatingly painful 5 km so far, 4 km still existed between me and the Summit. The point where one could view
The Himalayas
. It was starting to get cold so I scouted to the tent where my bag was, only to learn that my jacket was in another bag which Rushabh was carrying.
Rushabh
. Who had
not
yet reached the Basecamp.
I leapt out of the tent and found Umair & Nabin. Told them that we still had 4 more km to trek. They looked at each other and then at me,
"Jai, soch lo. Josh me kuch karne ki zarurat nahi hai."
I had enough strength to blurt out, "We've come so far, we can't stop now."
After a few more minutes of passive arguments, we started to walk towards the Summit with the second guide. After 15 minutes, I was panting again. But I wanted to reach the Summit, I wanted to see the Himalayas. So, I continued slowly. After some time, Rushabh joined us, and soon all four of them were walking ahead of me.
It was then that I realised that I had to do something about my endurance. People older than me are able to tackle this trek effortlessly, and here I was, a 25-year-old who was panting like a dog. Rushabh tried to encourage my spirits with his motivational quotes. He quoted Denzel Washington (once again), "What is pain?" "French bread." Pain shouldn't exist in your dictionary and if it does it only means that it's a type of bread.
I told him to pass the water bottle. After a few sips, I felt lively again. Only for another 10 minutes. We stopped where we found a snow-clad area, clicked some photographs and started to walk further. The camp guide said, "10 more minutes to the Summit" for 7 times, and we had still not reached.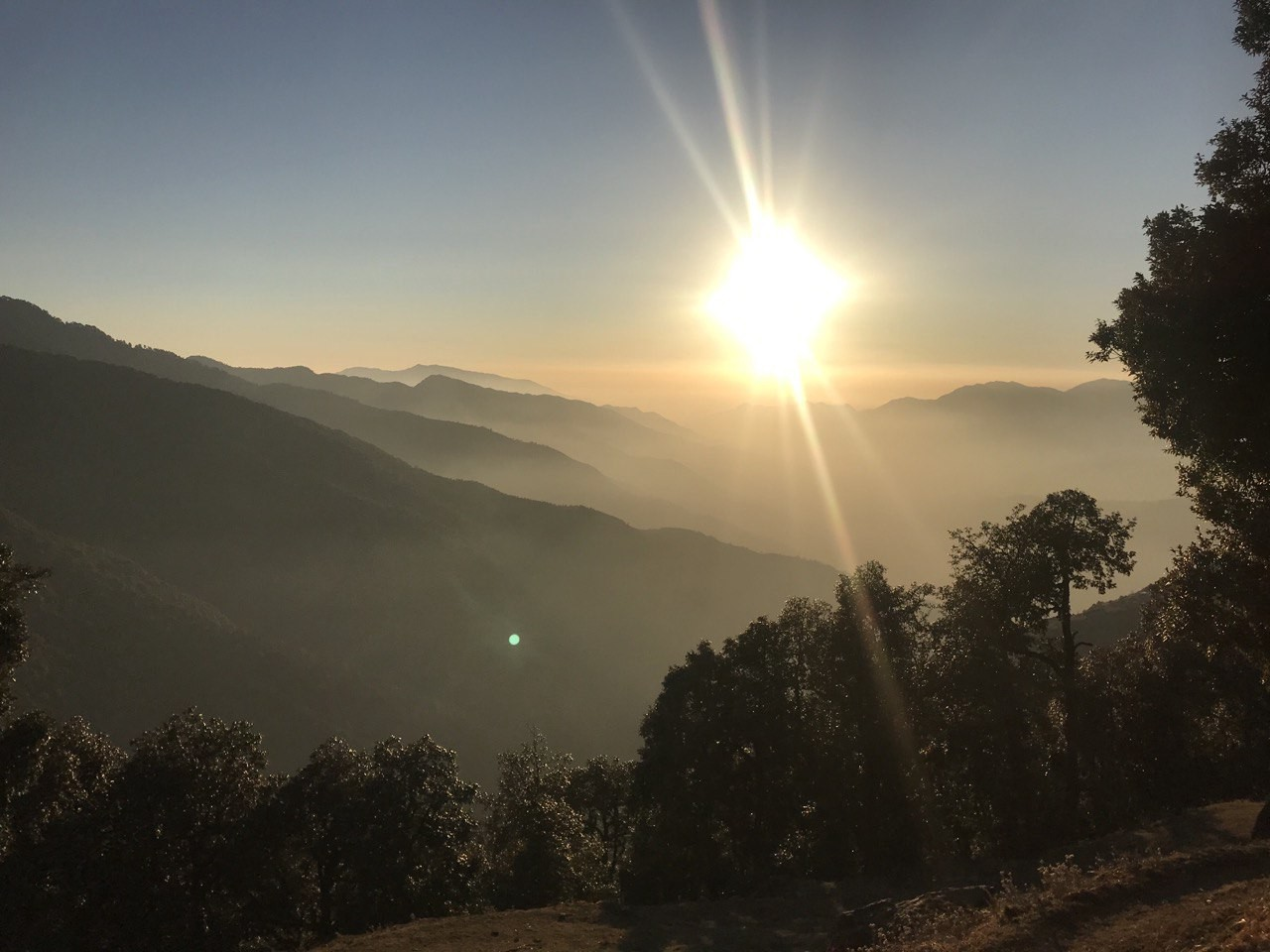 Sunset, just 3 km away from the Summit
The wind started to get chillier. I looked at the sky. At the edge of the cloud, there was a brilliant white patch, like a turning page catching the sun. The rest was dove grey with a subtle hint of purple-blue, just enough to announce the coming sunset. There was no art better than the one created by nature.
The forest was smoky and the sun's eternal golden-yellow texture looked as if it was sprayed across the trees. The fiery, golden orb was up in the horizon spreading its magnificent rays of light everywhere. It was that moment when I lost my mind and found my soul.
What are men to mountains, indeed?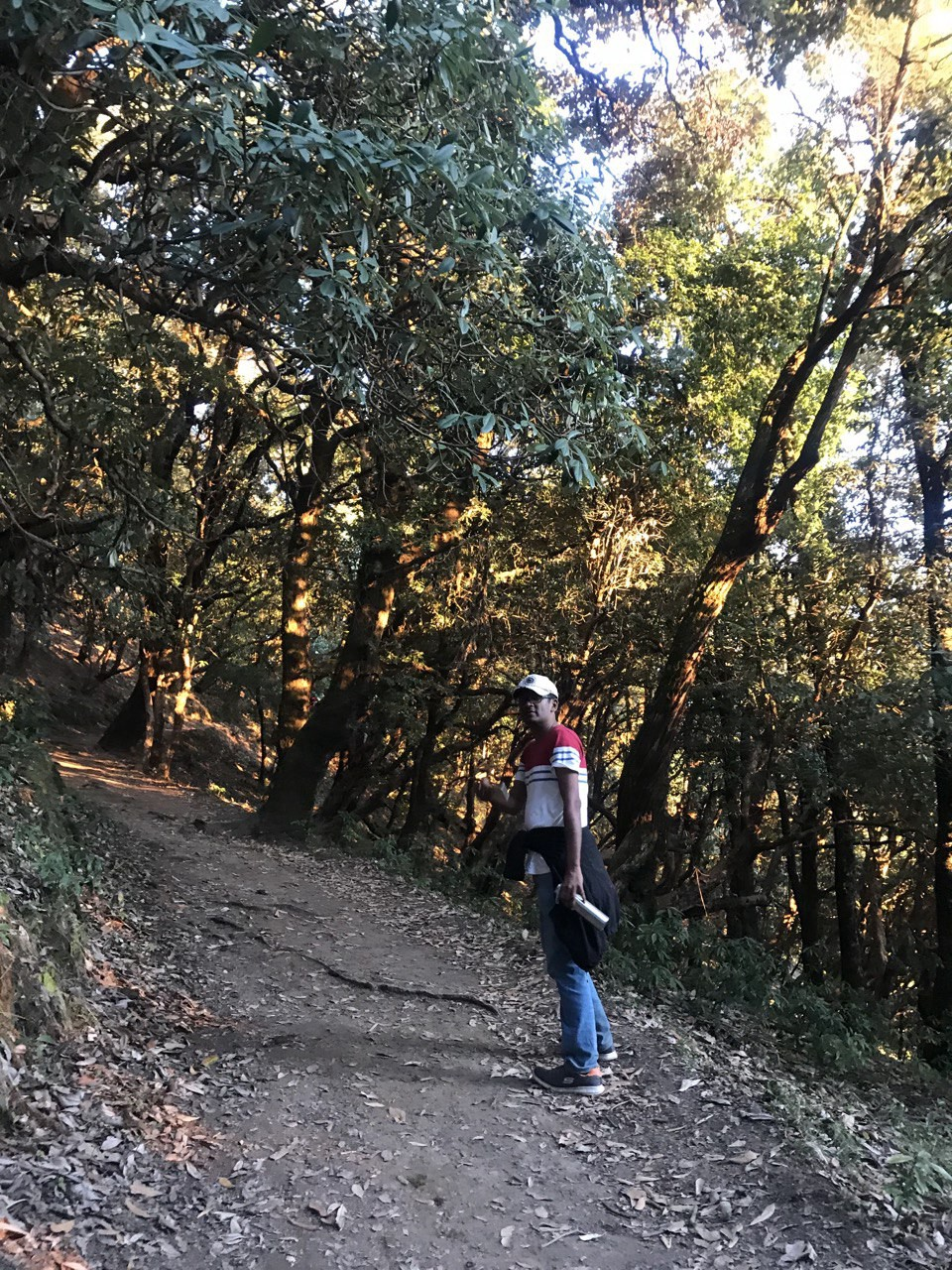 Rushabh beating me on the trek with his insane endurance
The cold wind was numbing my hands and I put on my pair of gloves. I also zipped my thermal jacket and we continued to walk deeper into the woods. It was starting to get darker and Rushabh was not very calm about it. It was dark enough to see the stars and oh my, there were many. I told Rushabh to look at the sky, just like he had during Lal Tibba. And he said, "Fuck the galaxy. Why are we still walking?"
I was wondering about it myself. That's when the guide shouted, "5 more minutes, come on." Even though we were tired, we continued to walk. And then we found our friends. After screaming "Frappe, Frappe" into the dark, we were all together again. The dogs that had started the journey with us were there too. Aditya shared how they had guided the path with their own shortcuts.
"Ain't about how fast I get there. Ain't about what's waiting on the other side. It's the climb." — Miley Cyrus, "The Climb"
After another 10 minutes, we started to walk down. No, we didn't reach the Summit. No, I didn't get to see The Himalayas. But it's not always about the destination or what's waiting up there. It's about the journey. It's about what you learnt along the way. It's the change of the scene. Life is about the joy that is found in
doing
an activity, not finishing it.
Wander often, wonder always
On the third night, there was not much engagement for a team discussion. Most people were tired from the trek. Most of them were already playing some games. We were a small group that was discussing the company's mission amidst all the other activities that were going on.
It was a provocative discussion and had us questioning ourselves about the role each of us played. We had been underestimating the power each of us brought to the table. This trip forced the Frappe team to push their limits, to come out of the comfort zone and embrace difficult situations with a smile on their faces.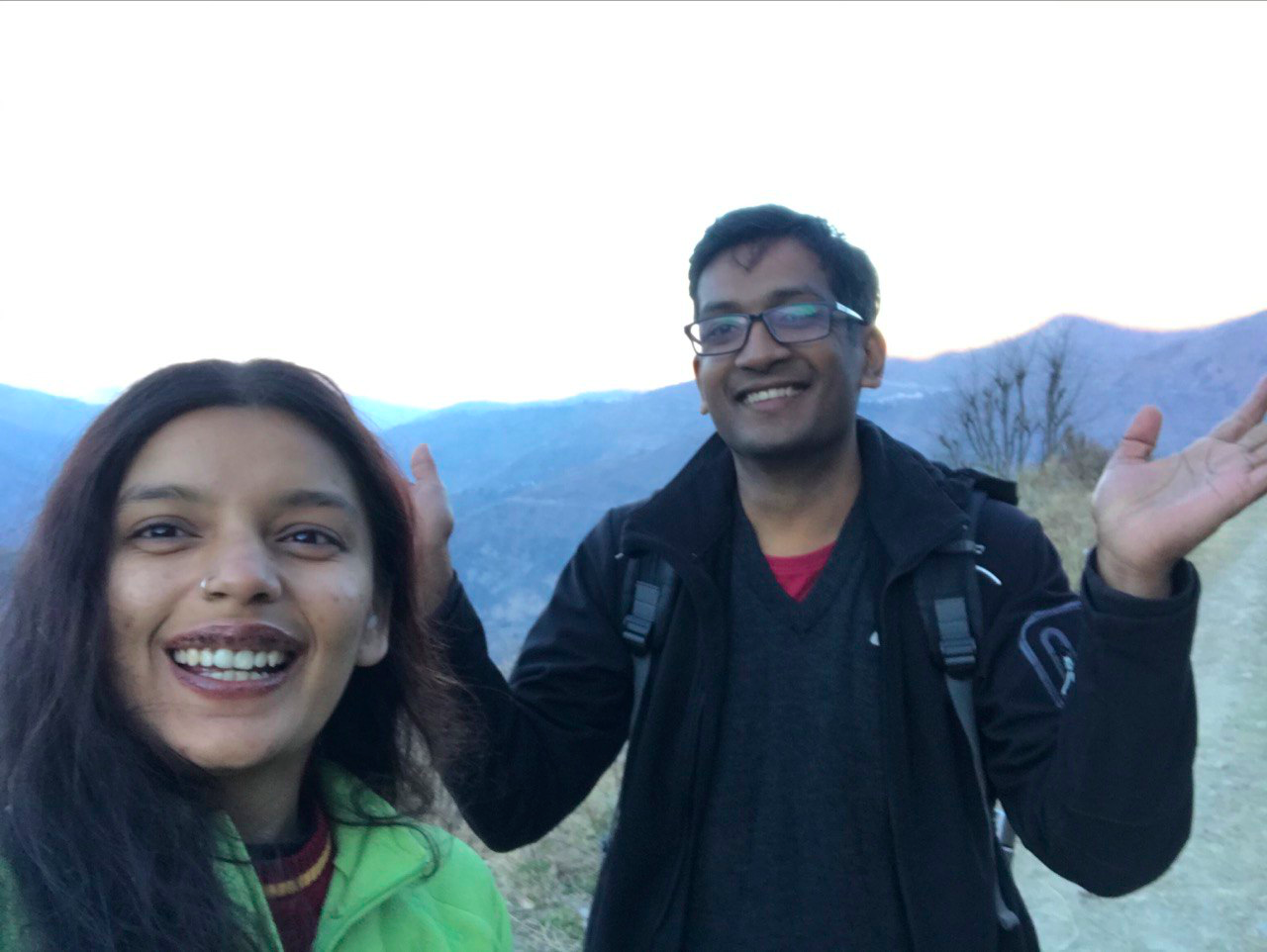 Me and Rushabh while descending from Nag Tibba
That is the best way to grow and we are all exceptionally lucky to have the world's best boss ever. He has created a platform for all of us to expand our potential and unlock a bolder version of ourselves. I thought that this trip had broken us as a team, but it only brought us closer.
After the trip, a lot of us felt disoriented. Maybe that was the point of it all. To leap out of the comfort zone. To identify hidden leaders. To accomplish our mission to change the world, and look awesome while doing it.
It's not an end, it's a beginning. We're not done but merely begun.
_____
---