Redesigned Salary Structure
The new improved way to create Salary Structure in ERPNext
---
Everyone loves to get paid, but few realize the hard work that goes behind making it happen!
Doing payroll is a major task for Human Resource department of any company. Recently in ERPNext, we have made some enhancements to make life easier for HR folks. We received a lot of suggestions from our users and identified common areas which needed improvement.
Formula to calculate salary compontents (example: base salary *.5)
Conditional expressions on whether a particular formula applies or not. (example: base > 12000)
Multiple employees having the same salary structure
---
Let us explore this new redesigned Salary with the help of an example.
Example Salary Structure
| Earnings | Deductions |
| --- | --- |
| Basic - 50% of Base if (base > 75000) | Professional Tax - 200 (if Employment Type is not Intern) |
| Basic - 40% of Base if (base < 75000) | PF - 12% of Basic + DA |
| DA - 5% of Base | ESIC - 6.5% of Base |
| HRA - 50 % of Basic | |
| Conveyance - 600 | |
| Special Allowance - 500 (if Designation is Manager) | |
Note:
Here base is the base salary which is sometimes referred to as CTC (Cost to Company) or it can even be Basic Salary or may be something else in other countries.
It will now be possible to draft such Salary Structure in ERPNext. Here is how you can do it:
1. Add Employees to Salary Structure
You can allot the same Salary Structure to multiple employees so that you do not have to create multiple salary structures. You can enter their base salary here and variable if applicable.

2. Add Salary Components to
the "Earnings" and "Deductions" tables
In the "Earnings" and "Deductions" tables, you can calculate the values of Salary Components based on formula or amount: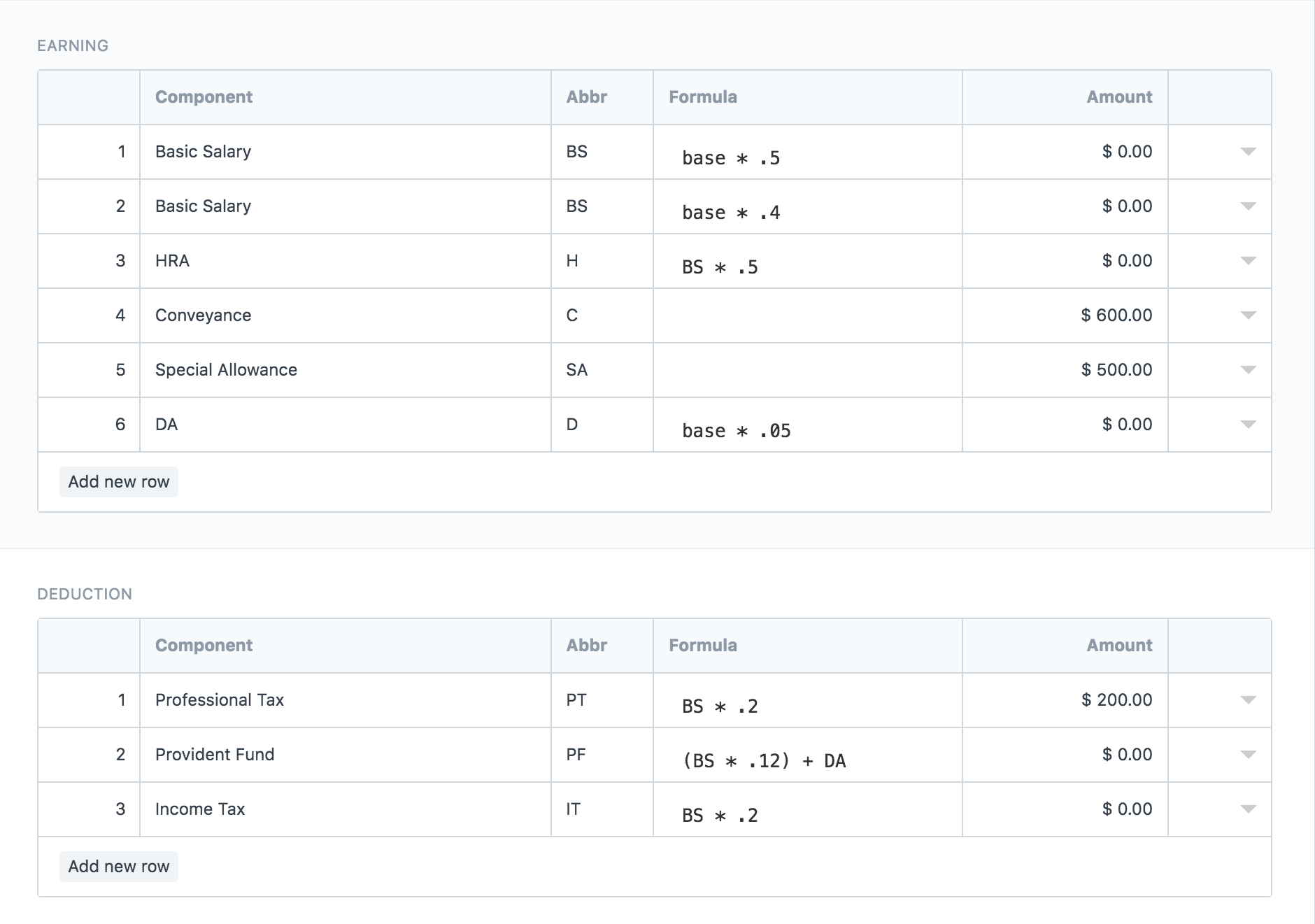 Writing a condition and formula are fairly simple. There is also nice Condition and Formula Help section towards the end of every component so that you do not have to wander somewhere else for help.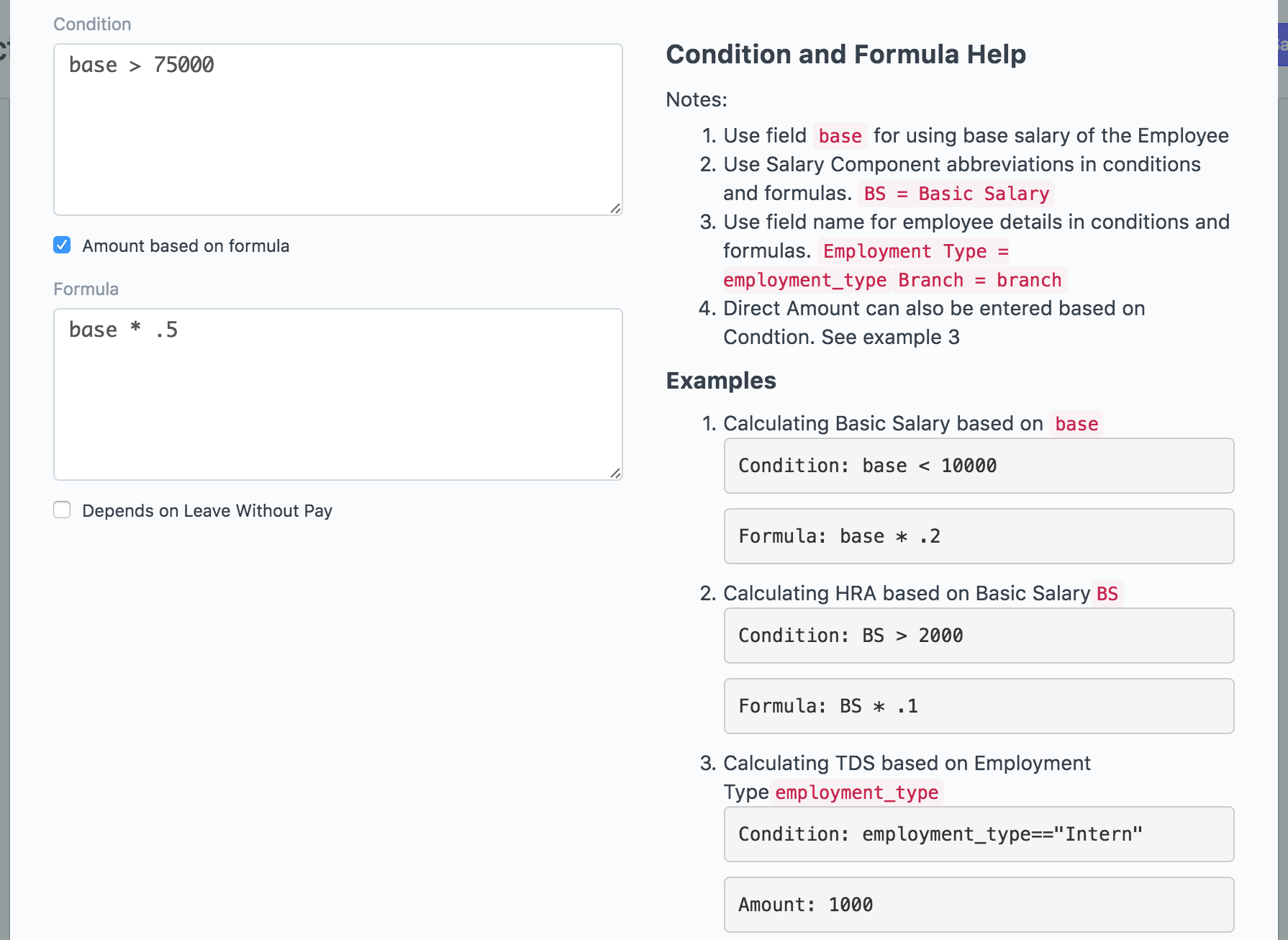 3. Preview Salary Slip
You even have an option to preview the salary slip on salary structure itself before creating it so that you can see if Salary Components are being calculated right. Please note that totals are calculated on actual salary slip only.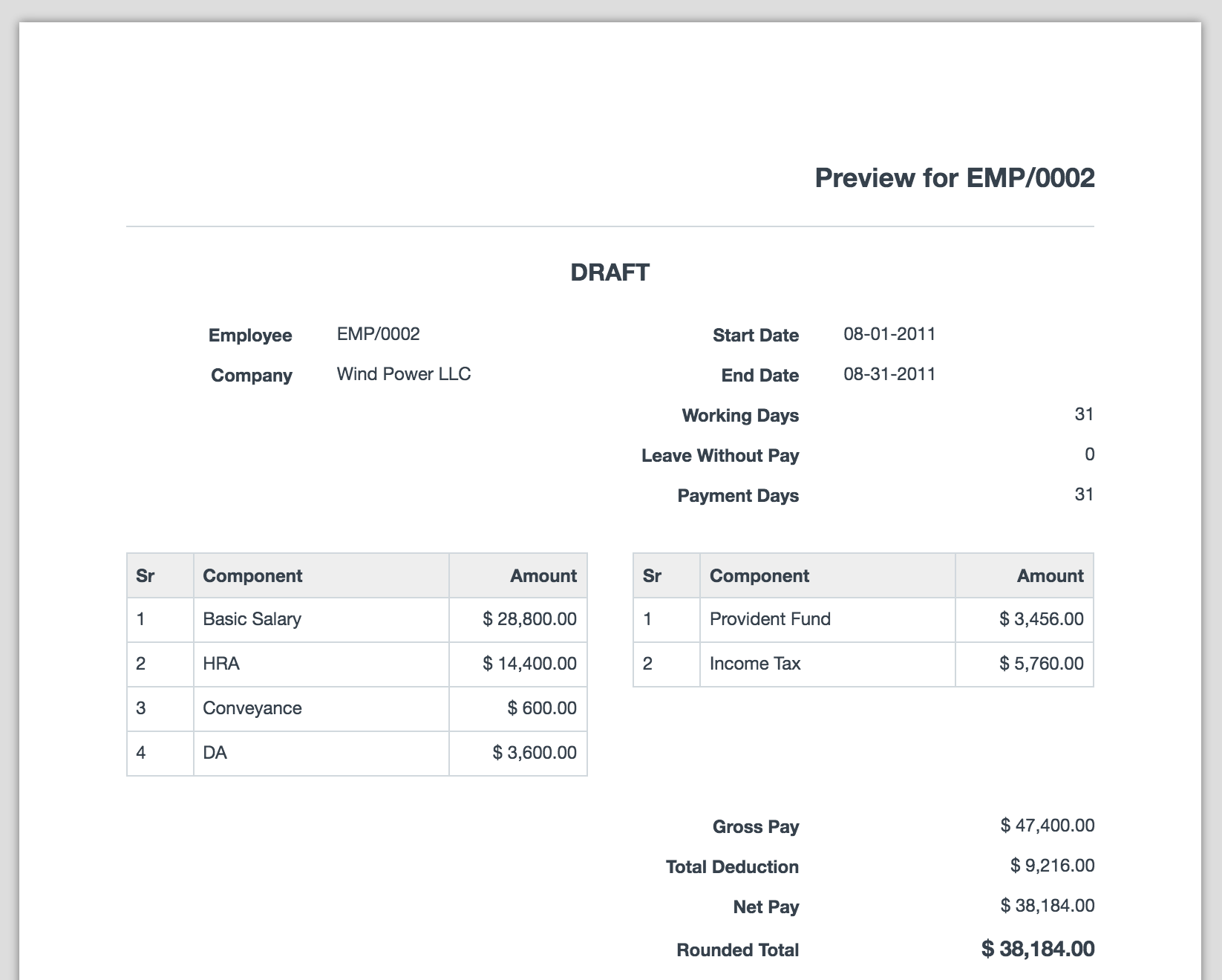 These new features will be released with ERPNext Version 7.1. We hope you will try out these new capabilities and even show them some love by implementing it in your company.
As always your ideas and suggestions are always welcome.
---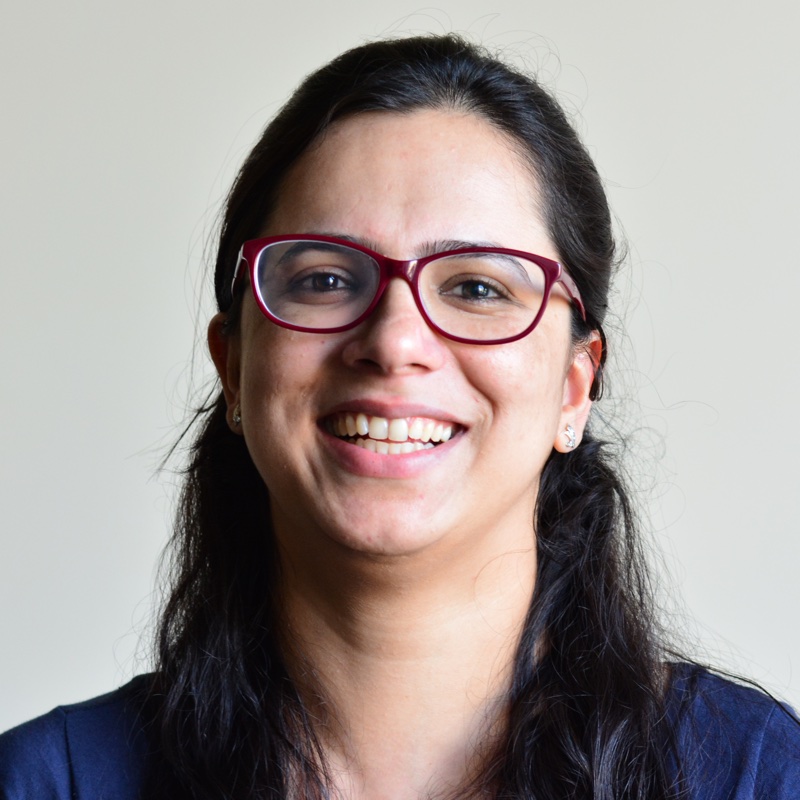 Kanchan is a full stack developer at ERPNext. When she is not busy with her one year old, she is always dreaming of the hills and apple orchards of Shimla.