Using ERPNext for Repair Services
Design thoughts to add Repair Services functionality into ERPNext
---
Business Case
Repair businesses generally require a blend of service & repair items to meet a Customer's repair needs.They also have a need to track items brought into the Repair facility without impacting inventory accounting.
Flow Diagram

1. Material Entry
Create Material Receipt Entry with zero rate to bring in the Item for repair into say a "Repair Warehouse". A generic serial controlled item ,say PC (for personal computer repair business) is created for this.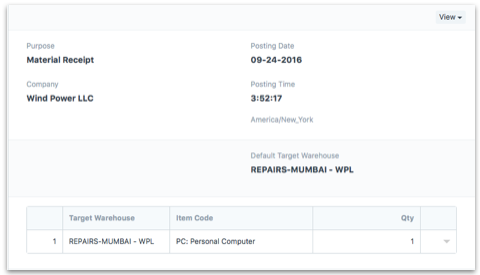 2. Repair Order
Introduce a new naming series in Sales Order for Repair (RO) and a new order type "Repair".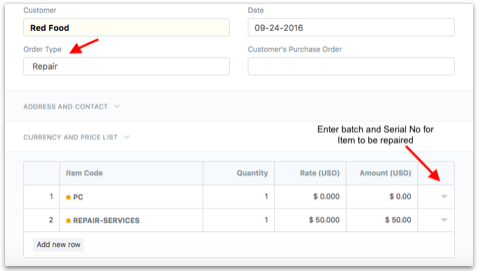 2. The Order type of "Repair" would bring in new functionality as stated
It would ask the user to enter the 'Serial No' of the serial controlled item which is selected for repair. In case the item is batch and serial controlled ,both would be mandatory for the user.In our example ,the item PC which was brought in for repair would need serial number entered in the grid details.
Any other items can also be added to the repair order. For eg: Repair Services or RAM etc.
Link field to add Warranty can be shown for Order Type "Repair". This can be pulled in from the warranty module if serial no of the item matches with an active warranty in the system.
Once the "Repair" Sales order is submitted a Repair project linked to the Sales Order can automatically be created or a "Make Repair Project" button can be shown on Submission of the sales order.
3. Repair Project
Repair project is created with the Sales Order linked to it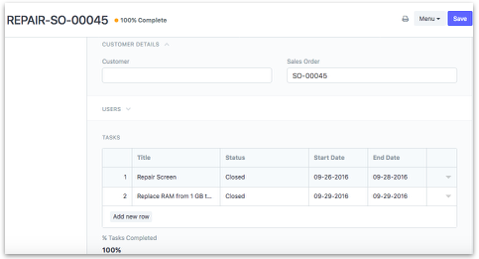 2. The benefits of linking a "Repair project" to a sales order are
The repair project would allow any Purchases or Material requests to be linked to both the project and repair order for tracking of costs.
Timesheets entered against the Repair project can be linked to downstream invoicing.
Link field can be added to the Material Request (Issue) form for selection of Repair Project or Repair Order.
4. Repair Invoice
When invoicing a customer for repairs ,the invoice can be created from the repair sales order and timesheet from the selected repair project can be pulled in automatically.
Checking update stock ,automatically decrements the quantity of the repair item from the repair warehouse.Alternatively ,a delivery note can also be created to handle this scenario so that the zero rate item does not appear in the invoice.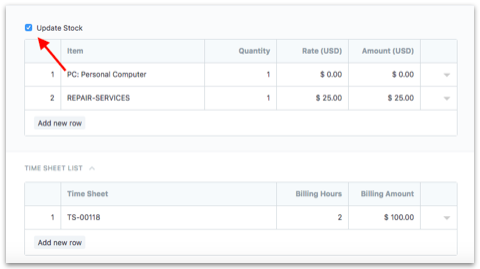 5. Reporting
A specific script based report would need to be developed to show the complete cycle of the "Repair Order".
This report should show cost and billing amounts associated with the repair project ,timesheet etc. linked to the repair order.
---
P
Pawan is an independent consultant who helps medium sized companies implement ERPNext. During his free time he likes to jog, play carrom and spend time with his one year old son.