Budgeting in ERPNext using Cost Centers
Its always a good idea to plan for expenses ahead of time using Cost Center Budgeting
---
"Darling! let's go to the R-Mall tonight and have a dinner there", I asked while talking with my wife during the office lunch time.
She replied with a joy, "Wow! that'll great. Any special occasion?"
"Oh yeah! my bank account credited by my salary. And remember to look up the specification of that camera we were thinking of buying", I told her.
"Remember the outstanding bill of our credit card, it's around 20k. We have not invested a single rupee in last three months. I think we should not go there and do not buy that expensive camera now", she replied sadly.
"That's ok honey. This is the only large expense this month and the camera is an asset for lifetime. And I promise, I will invest the entire amount after our monthly expenses", I told her to calm down.
-
That is the story repeats every month, I do not invest at the beginning of the month. Then I buy something costly, which makes my account empty. Recently I started to write down all the expenses in my diary. That gives me a fair idea about my expenses at the end of the month. But when I look at those figures, I am alarmed. I have nothing to do, except promising myself, not to do that much expenses from next month.
I guess its not only me, the same might true for a lot of people. It not only happens with our personal expenses, also applicable for business expenses. We do not estimate our expenses at the beginning of the month/year. We just take a call before doing an expense, which most cases biased by our urge for instant gratification. It is only at the end of the year, we realize that how much we have spent.
-
Above is true for "ERPNext" users as well, very small set of users use "Accounting Budget" feature to manage their expenses, just making a guess based on interests shown and queries raised by our customers on that topics.
Most of our users are from small and medium sized companies, do not have enough data/expertise/time to predict future expenses. If that is the case, I will suggest them to start based on last year expense figures.
I hope, that is not the case, and the issue is the usability of ERPNext. The budgeting feature is not easily accessible, there are no links in the module home page and no online help available. Sorry, we will try to fix those usability issues in the near future, but here is a quick guide to start using budget.
-
You can allocate a budget on any expense account, for a particular cost center.
To allocate budget, go to Accounts > Chart of Cost Centers and edit the cost center for which you want to allocate budget.

There will find a section called Budget, in the table, enter expense account and budgeted amount for the selected fiscal year.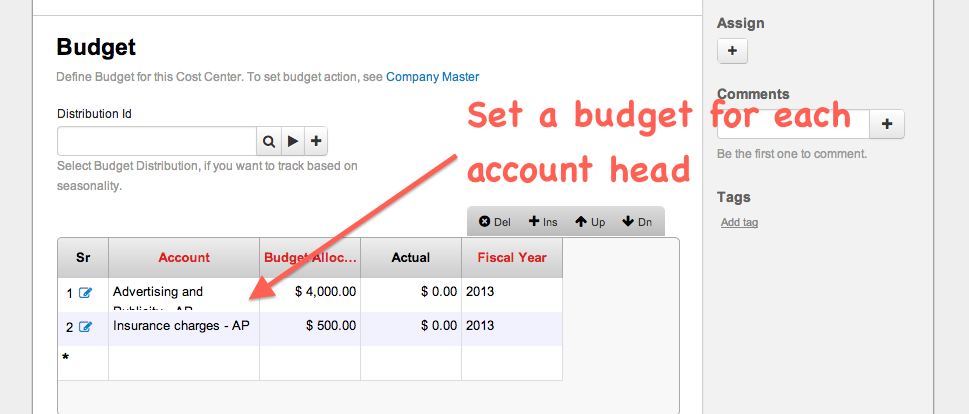 If you want monthly budgeting to account for seasonality, create "Budget Distribution" record from Accounts module home page and select that record in the cost center.
Great, whats next? What will happen when your expense exceeds the allocated budget? You can set that too, whether system should stop the transaction or leave a warning message or just ignore it. Set that instructions in the Company master.

Anytime, you can increase/decrease your allocated budget, and it can be restricted to a particular role/user as well. There is a report called "Budget Variance Report", in which you can check "actual expenses" vs "allocated budget" anytime.
Is not that cool? I am thinking to use "ERPNext", to track my personal expenses and get a control over them by defining a budget. If you are also planning to use it and face any problem, please mail us at support@erpnext.com or drop a line at our user forum. We will be more than happy to help you.
---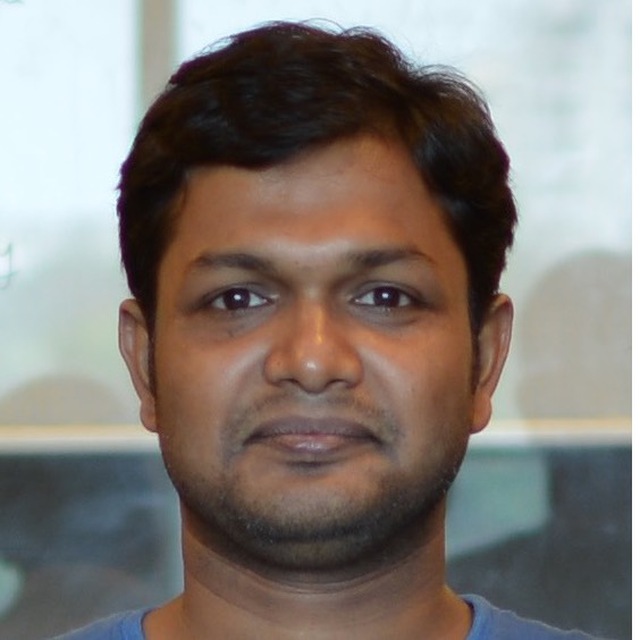 Nabin is a Software Developer at ERPNext and specializes in Accounting and Inventory.