The ERPNext Review (Continued)
Its not over yet! Continuing the parody review of ERPNext...
---
It's already been three months I have been evaluating different ERP packages. While other vendors are restless and follow up with me every week, ERPNext sales team looks least concerned. Not a single follow up call from them. But they were kind to extend my trial account twice and their chat support has been very helpful. I have decided to sign up with ERPNext!! And when I informed the same to other vendors, whose software I was evaluating simultaneously, they called ERPNext a Fake ERP?? What does that mean? Well, let me have a final call with Umair to close the deal.
Me: "Hello"
Umair: "Hello. ERPNext."
Me: "Hi Umair. I am ready to sign up.
Umair: "Great!! Do you need an Invoice?
Me: Yes. Send me a Invoice. Will you come over to my place to implement solution?"
Umair: "No. We don't make site visits. Our rock-bottom pricing doesn't allows us do leg work."
Me: "Ok. I trust your online support. But any discount possible?"
Umair: "Sorry. No scope for discount. Our pricing is Rock-bottom already."
Man, this guy Umair sounds like a robotic human. He has answer ready before I complete my question. But his advice about project champion has been helpful. My manager is quite ambitious, experienced and always shown acceptance to new software I try to implement. I have asked her to keep in regular contact with Umair and she managed to get the software functional in two weeks time. That was impressive.
-
I started adding employees in the system and assigned them roles as per their job profile. As always, they are restricted to adapt to new technology and switch from legacy software which is as good as religion for them. They find forms in ERPNext too lengthy and always have excuse of week internet connect ready when I ask them about uncompleted task. But when I passed through them, my purchase guy has already updated the picture of goddess in the background of his ERPNext account and Sales guy updated his daughter picture as profile pic. They had no usability issue in making Expense Claims and chatting on Messages engine of ERPNext!!
After setting up my Letterhead, this has become our ERPNext account. Two weeks gone and I see my Customers, Suppliers and Items data up-to-date in the system. Also, my users made couple of Quotations and Purchase Order and print formats are quite decent.
It looks like every other day I login, there is something new. And sometimes there are bugs too. When I inform Umair about it, he calls it an UPGRADE. Oh yeah!! He asks me to create Support Ticket. I wondered it must be a form like contact us which I need to submit. But it was even simpler. Just email your query on support@erpnext.com and system creates support ticket. Trust me or not, the response from ERPNext team to Support Ticket is as fast as an auto-response. Infact, couple of times, I miss took it for auto-response.
Also, it was via Support Ticket I started talking with other team-mates of ERPNext. Prakash would generally thank me for reporting the issue and assure that issue will be fixed in sometime. Nabin and Anand have no time to waste and their message is crisp and to the point. Fixed. Issue Fixed. Problem Fixed. its intereting that even the founder, Rushabh responds to customer's Support Tickets. Usually much faster than auto-response and his messages even more concise than the messages of Nabin and Anand.
Well, it's been around a month and my business is getting on auto-pilot mode. My users love the copy feature a lot and this has improved the response time to customer by huge margin. I can effectively manage my receivables and generate reports on my own. Right now, I am inserting images in items so that I can generate and maintain website within ERPNext, just like sample website Umair showed to me. He said website will be compatible to view in small screen of Mobile as well. I am just desperate to get it working.
And now, I am monitoring my business and activities of my employees via ERPNext while I am on family holiday, sitting under the beach side shack at Goa.
But I won't write a testimonial for them, until they drop a couple of emails requesting for it.
---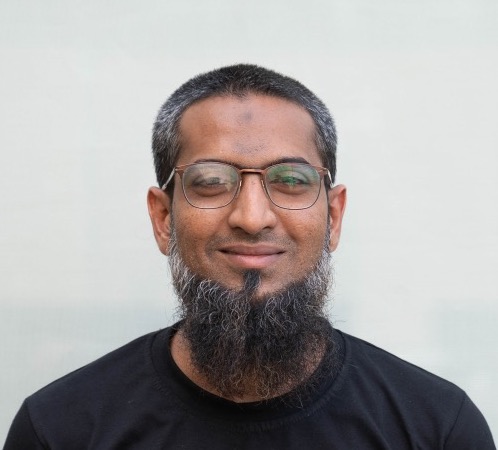 Umair is Frappe's co-founder, VP - Partnerships, and mentor for Frappe School team.