Inception of the Partner Success Program at Frappe
Frappe has initiated a new program to ensure cohesiveness within the expanding ecosystem. Let's know more about it in this blog.
---
Preamble
It has been just over a year since Frappe stopped all its services and started relying on official partners to deliver the same. Being a product company, Frappe decided to leverage its core strength of product development and maintenance. At present, Frappe has an array of products in addition to its most regarded flagship, ERPNext.
Providing partner-driven services was deemed as the best-suited approach to penetrate deeper into the market and enhance scalability. This will be a win-win situation for Frappe as well as their official partners. Frappe as an OEM can focus more on enhancing its current products whereas its partners can leverage the brand value of Frappe and take it forward to their respective domains and regions for business growth through scalability.
Need For Partner Success Cadence
The ecosystem of Frappe is evolving continuously as there are more than 100 partners around the globe. There is already a designated team to take care of the partner onboarding activities in an organized manner.
After getting onboarded, partners primarily aim to get settled in the ecosystem and draw the desired traction from target customers. Acquiring customers and delivering them required services becomes a priority for the partners. However, while doing so, due attention is not given to the processes while serving the customers. Typically, it has been observed that no conscious efforts are made by partners to revamp the processes even after getting settled in the ecosystem. As a result, the overall productivity of such partners may take a hit which will also impact the brand value of Frappe.
At times, it may get difficult for the partners to identify critical bottlenecks in their business processes and derive a solution on their own. In that case, Frappe will be willing to help its partners uncover any bottlenecks and propose a solution to resolve them.
Also, being a quality-conscious organization, Frappe wants to ensure that there is consistency within the ecosystem as far as the processes, quality of the deliverables, and customer experience are concerned. This will be necessary to portray the Frappe Ecosystem as a close-knit unit in the world of technology.
What Is Partner Success Team?
Recently, Frappe has formed a designated team called 'Partner Success' which will be working closely with all the certified partners to ensure seamless and consistent processes to enhance overall transparency and productivity.
Based on its own real-world experience of delivering ERPNext services, Frappe has drafted the Standard Operating Procedures (SOP). The SOP is intended to act as a bible for the existing partners as well as those who are getting newly onboarded. It covers a wide range of topics ranging from key facets of the ecosystem to best practices/guidelines about core pillars of the business. The SOP gets revamped to its next version periodically after more relevant content is generated.
The partner success team works closely with the certified partners to increase awareness about seamless and consistent processes. The team focuses on understanding the business model of partners, reviewing key processes to identify any gaps, and proposing a solution to get them fixed.
It has been realized that the growth and maturity of the partner network will be instrumental in the growth of Frappe as an organization.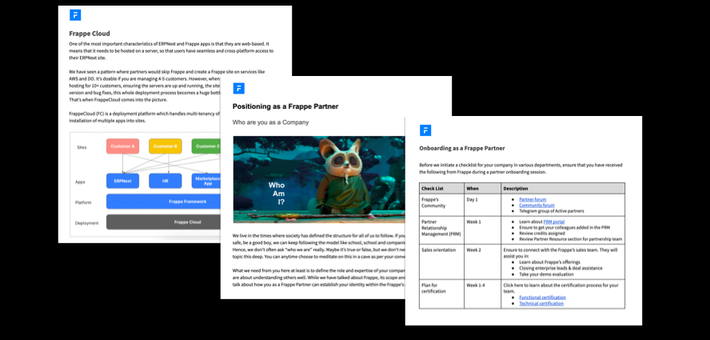 How Does It Work?
Since its inception, the Partner Success cadence has been evolving continuously. The entire process has been curated methodically. To conduct relevant activities, the team tries to have a face-to-face meeting with partners. Visiting partner offices and meeting them in person along with their team is the best way to communicate effectively. However, in the case of overseas partners, the same session is carried out remotely.
The team shortlists partners in advance who are to be contacted regarding this program.

The shortlisted partners are contacted to schedule an online/offline session with the team.

The SOP gets shared with the partners in advance after scheduling a session. They are requested to skim through the document before the session to make it more interactive and insightful.

On the day of the session, the team either travels to the partner location or connects with them online.

To break the ice, the participants often indulged in free-flowing discussions on a wide range of topics.

This helps the team learn more about a partner's journey to date, aspirations, strengths, struggles, and any inspirational anecdotes.

Then the participants start reviewing various processes and initiatives of core departments (Marketing, Sales, Implementation, Support) of the business.

Partners are encouraged to 'Show and Tell' their approach in handling operations related to these departments.

The Partner Success Team captures valuable insights from the discussions and records them for reference.

The team identifies critical gaps or gray areas and highlights them during the session.

After the session, an official report is sent to respective partners along with critical action items.

The partners are requested to assign a SPOC to each action item and assign a tentative timeline.

The Partner Success team arranges a review session after a quarter to ensure the closure of those points.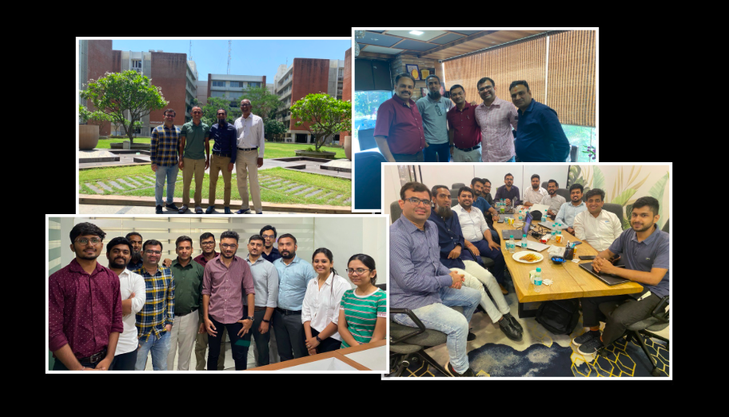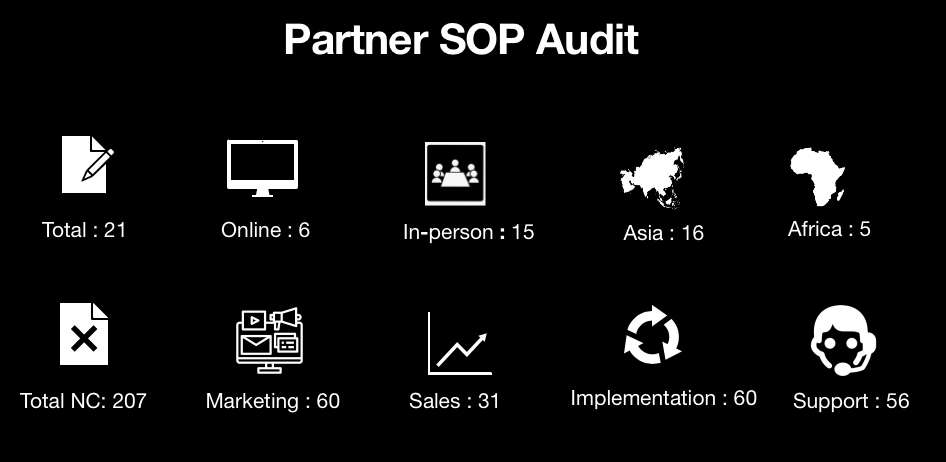 What Is The Outcome?
It's been more than a quarter since this initiative has been kicked off. Initially, it was a bit tricky to get the buy-in of the partners on this program. However, partners soon realized the importance themselves and started putting in efforts to adhere to the guidelines. In a quarter there have been quite a few partners like GreyCube, Indictrans, Hybrowlabs, Hard and Soft, Software@Work, Indiba who have seen adequate returns in terms of better transparency and enhanced productivity.
Many of the partners have received the initiative and felt that they would not have streamlined their processes to enhance productivity if there had been no nudge from Frappe. This program has encouraged them to uncover any bottlenecks within their processes and address them on priority. They have also gained valuable insights about managing their entire operations on a single platform for better transparency, integrity, and visibility.
The guidelines discussed during the session have helped partners make conscious efforts on the marketing front to penetrate deeper into the market. The program has also encouraged them to identify their target domains and market size to derive better business strategies. Insightful discussions during these sessions have helped partners realize the true worth of their efforts in the market. They can now have better strategies to identify the right customers based on their qualification criteria.
Through this program partners are made aware of a few simple but important activities such as the creation of marketing content, recording quotations in the system, having a well-defined project team structure, capturing milestone completion sign-offs, capturing testimonials from live customers, maintaining support data on a single platform with SLAs, etc. This program also provided a platform for the partners to demonstrate unique customizations and use cases handled by them.
Because of the enthusiasm and encouragement from the partner network for this program, Frappe is expecting more returns soon.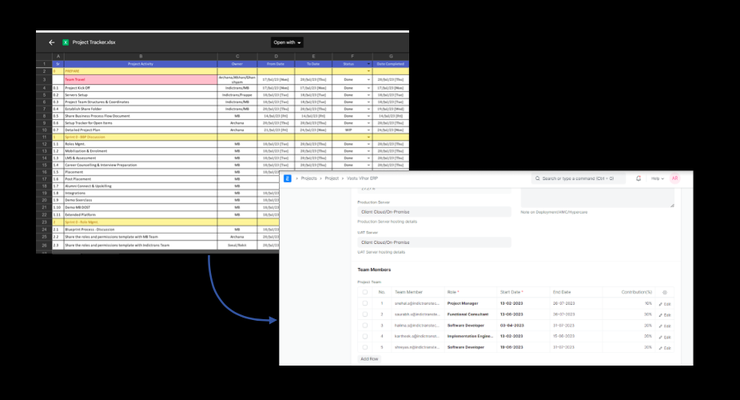 What is Beyond Audit?
Frappe is aiming to establish a closely-knit ecosystem through this program. In addition to the operational benefits mentioned above, the Partner Success team is also working to enhance the human touch with the partner network.
The team has already visited partners in Maharashtra, Gujarat, Kerala, Karnataka, Tamil Nadu, Delhi, and Chandigarh Tricity in person. Meeting partners and their teams in person was an enlightening experience. The hospitality offered by all our partners was overwhelming.
There has been a wide range of insightful discussions with each partner. It was wonderful to connect with each of them and learn more about their diverse backgrounds, life stories, struggles, aspirations, strengths, and weaknesses.
It was inspiring to meet half a dozen couples who decided to walk the path of entrepreneurship after working in the industry for quite a long. They are doing their best to have a perfect balance between their personal and professional life. There have been a few partners who decided to stop services related to other tech giants and focus more on ERPNext/Frappe these days. An ERPNext user becoming an official partner by establishing another business line can be one of the best testimonials on the power of the product. We learned a lot of stories highlighting the grit, sacrifices, and ambition of the partners.
Despite being so diverse in every aspect, all of them were aligned with Frappe and determined to make an impact on the community and target market. The information gathered during such discussions will help Frappe make more conscious and data-driven decisions going forward.
This program has indeed acted as a bridge between Frappe and its partners and it will continue to do so in the long run..
What Is Next?
The Partner Success team at Frappe will continue the activity for the remaining partners in the coming months.
In Frappeverse 2023, the team also unveiled the Partner Maturity Model formally which will be used for grading partners based on their adherence to the best practices/guidelines. The appropriate level from 1 to 5 will be assigned to the partners which will be a distinguishing factor among them. They will have an opportunity to enhance their level by rectifying the processes and closely adhering to the SOP.
As the entire cadence is in the process of getting fully evolved, stay tuned for more updates.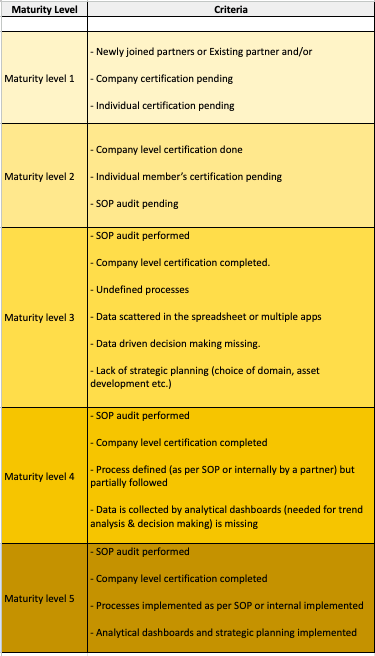 ---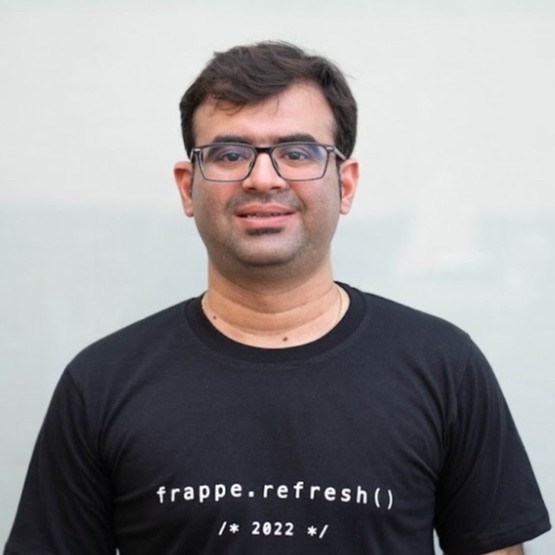 Pushkar Joshi is working with Frappe as a Partner Success Manager and works with partners in the ecosystem to help them closely aligned with Frappe. He collaborates with partners to spread awareness about having seamless operations to enhance productive. He aims to build a cohesive Frappe community thorough this initiative.