What you learn in Frappe / ERPNext Training
ERPNext Community Member Revant Nandgaonkar shares his experience on attending the ERPNext training.
---
I attended the developer training at Web Notes' office on 27th / 28th November. Here is my experience:
You can meet all the team members of Frappe and ERPNext during training. Each one of the team member is specialized in his domain. Pratik, Nabin and Rushabh were actively involved in training us. Ankit was not training us, he went through Frappe first aid when I faced problem with installation on my computer.
The training documentation and material is available online and there is a rigorous activity going on to get the training material online. So taking notes is not necessary for all things. You can take notes for your reference, not necessary to take notes from slides.
First day began with git command and the version control system. This is because of the free and open source nature of ERPNext and Frappe Framework. Any modifications you make to ERPNext source code, it is great if you to share the modifications as it builds a community. ERPNext makes everything free even the underlying open source Frappe framework. You MUST share your modifications (my view!).
App developed using ONLY frappe framework do not require to share the source. Yet, if modifications are shared it will be in sync with upstream upgrades.
All aspects mentioned on website under training program are discussed in detail.
Hooks,
JavaScript,
Python API,
Reports
HTTP API
Pages
Print format, etc.
During the training you can ask questions and it will be discussed in detail.
Key Points:
You learn about frappe framework
The training examples may be from Library Management app, ERPNext or your own business problems.
The training is just a beginning, you have to start frappe development on your own
Irrespective of training the community is noob friendly
Even after training is completed and you have questions or doubts regarding ERPNext usage or Frappe Framework development they will be answered on discuss.erpnext.com and github.com/frappe
Companies or individuals who wish to customize ERPNext or develop independent apps using Frappe Framework will benefit from developer training
Contributions create community
---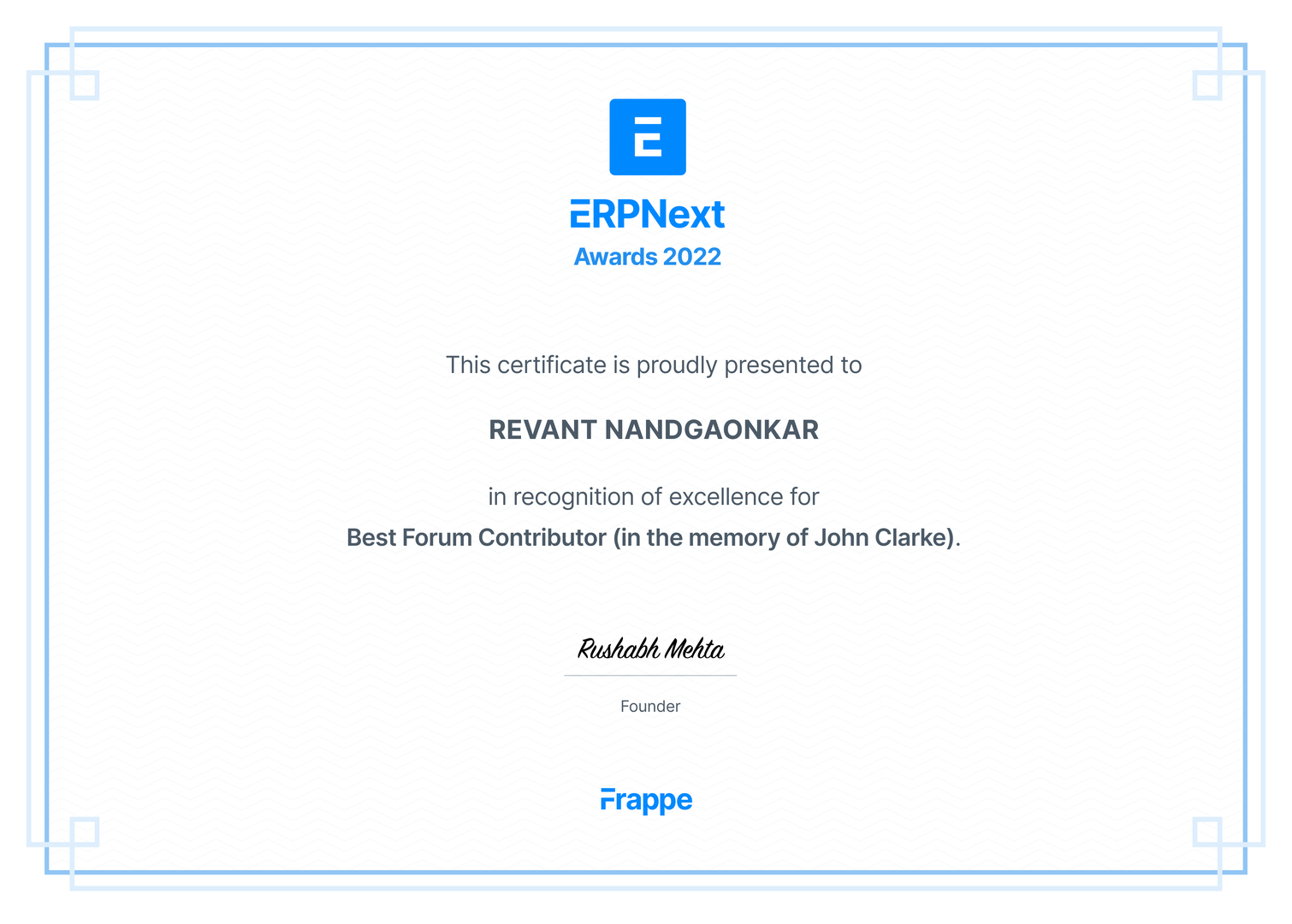 Revant (MBA Markerting) is a freelancer and ERPNext Consultant.