Frappe Refresh 2022
The first off-site of the year was nothing short of an adventure. I experienced revolutions happening in every corner of that big board room and it left me amazed.
---

This off-site was due in January, but due to omicron and travel bans, we postponed it to March. Sheldon, Reema, and Sydel - the HR team finalized the property at Lonavala. For those coming from other cities, they booked their flights, we decided on the agendas that we wanted to talk about at the off-site, and we were off to see strange yet familiar faces.
We checked in the hotel suite and as we gathered in the lobby, with our face masks on, we were trying to recognize each other through our voices. This was my first off-site. I have spoken to so many of my teammates via video calls and dug deeper to understand them personally and professionally for my content, that I had a slight idea of what their behavior and body language will be like. Our first handshake was warm and the first conversation in person didn't feel weird.
After we freshened up, we met in the conference room for the opening call. Rushabh being the perfectionist that he is, the seating arrangement was bothering him. At first, we had a classroom-like arrangement, where all of us faced the projector and whiteboard. He insisted we form a circle so that everybody can see each other. This arrangement was more comfortable and less awkward. We started introducing ourselves and expressed our expectations from this trip. For some, it was ticking off the tasks from their checklist, some were spectators, some seekers, and some turned to be revolutionaries.
There were twenty-six sessions planned by different teams. Many teams chose to collaborate and reduce the number of sessions thereby. The sessions were written on the board and left it for people to choose what interests them, they can attend it accordingly.
What's your vision?
It started with Umair when he asked all of us to reflect and write our vision, and if it also aligns with Frappe. If yes, then what is the way forward? Since we are free to choose what interests us at Frappe, how well are we aligned to that freedom? Because there will be times when you will be lost and hence defining that freedom is important.
Amit feels that Frappe is a teenage rebellion and it will mature over a while. On the other hand, Rushabh says that while we continue to excel in some projects, the rest are mere experiments and we have the potential to scale. There is a cohesive culture built in the Frappe ecosystem. Embedding the core values while we scale and not letting them slip away was one important thought to retain.
The flipside at Frappe
While the corporates practice hiding the budget and warn people not to disclose their compensations to their colleagues, at Frappe we discuss this openly. Appraisals are just around the corner, and one of the agendas was to discuss the same and set the process for 2022-23. Frappe allows you to pick your pay and justify it with an SOP (statement of purpose).
The debate was to consider the performance for the last one quarter, two quarters, or yearly performance. While many people raised their hands for two quarters, the Sales team and a couple of other teammates voted for yearly review. The reason is, not every quarter is the same for the Sales team, numbers vary and it takes time to qualify leads.
The Engineering team, on the other hand, came up with a well-defined framework. They considered parameters such as technology, system, people, process, and influence which were followed by sub-parameters that defined the qualities each team member should possess to justify their compensation.
After the team consensus, we mutually agreed to pick our pay, but this time the twist was pay bands. We defined levels and fixed a bracket for each band. Well, the team is now busy writing their SOPs and is forming a ballpark figure in their mind.
Entrepreneur anyone?
I've been watching Shark Tank India for a while now and needless to say, like many other commoners their deals and ideas provoked a loud thought in too many heads, left us inspired, and hungry to kickstart with some sane business, that can be called as "ours".
We had our own Shark Tank India moment when Rushabh and Mallika came up with the idea of starting with a Business Unit. For the past few months, we Frappers are discussing and debated over the idea of coming up with Business Units. Any team member interested in this concept will form a separate business unit within Frappe, can raise a request for additional resources required, and hit the ground running. The catch here was to invest half their salary and as the business scales, they get to enjoy the profit and equally bear the loss, if any.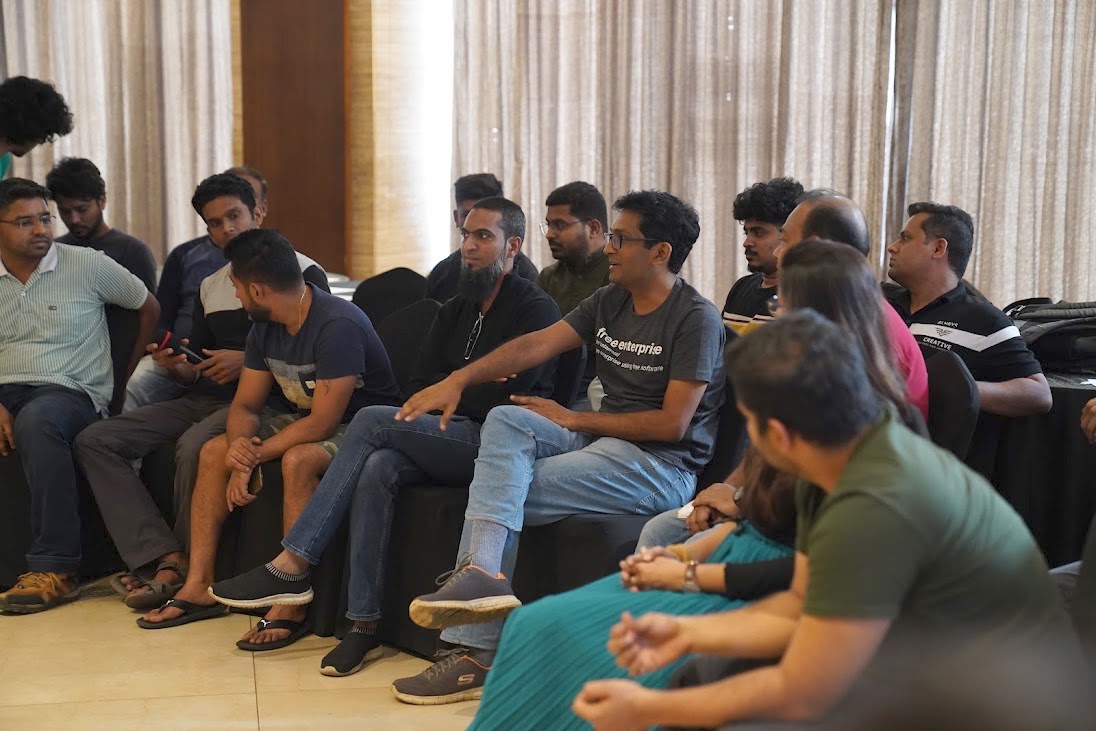 Mayank has already relocated to Bangalore from Mumbai and is spreading awareness on open-source software in the cafes and where not. Inspired by one of the judges of the show, he says "dhanda banana hai boss" (want to make business, boss). Coming from a Sales background, he aims at expanding the business in Europe.
Aditya was the most active person present on the trip. He has a history of writing Frappe Cloud and is making the numbers already. The powerhouse in a human form, that he was. He motivated too many of us and envisioned the growth for every department at Frappe. He wanted everyone to think big and believe in their potential.
Hussain took ownership of Frappe Cloud Marketplace and brought it to life, a few months back. He and Kamal were rooting to SAASify the product and make money out of it.
Ankita on the other hand is taking care of legal activities here and was excited to monetize the contract management app. This app takes control of all our contracts, keeps them in one place. One can access them instantly from anywhere, get automatically notified of key dates and tasks, and uncover insights about the financial health of the contracts.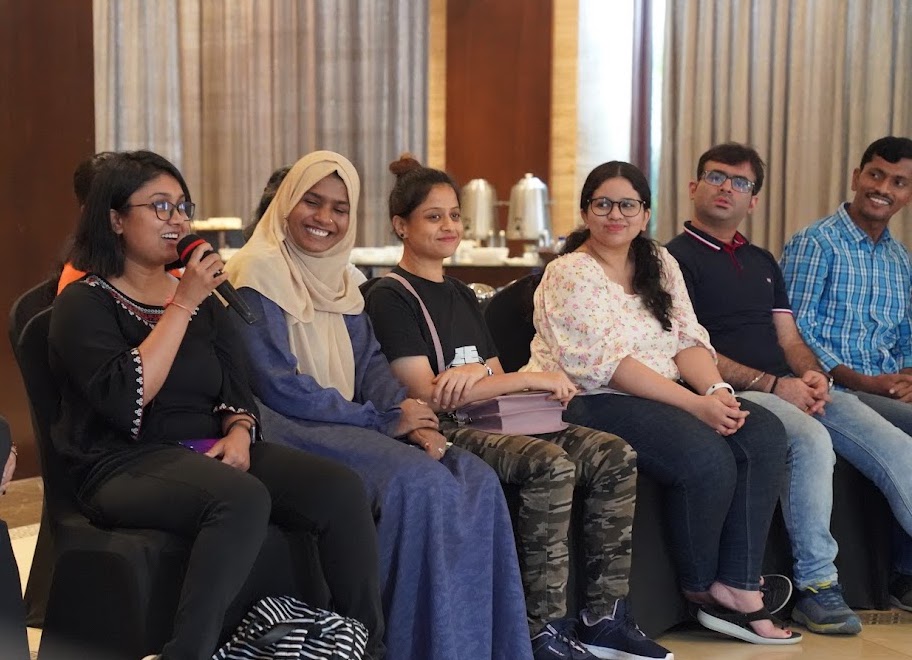 This discussion took the momentum and Reema mentioned that the recruitment team will start taking commissions on closing the positions for these BU. Along with everybody else, I too started wondering like uncle Scrooge because Marketing was the need of every department. ;)
This was a fair amount of autonomy with huge responsibility!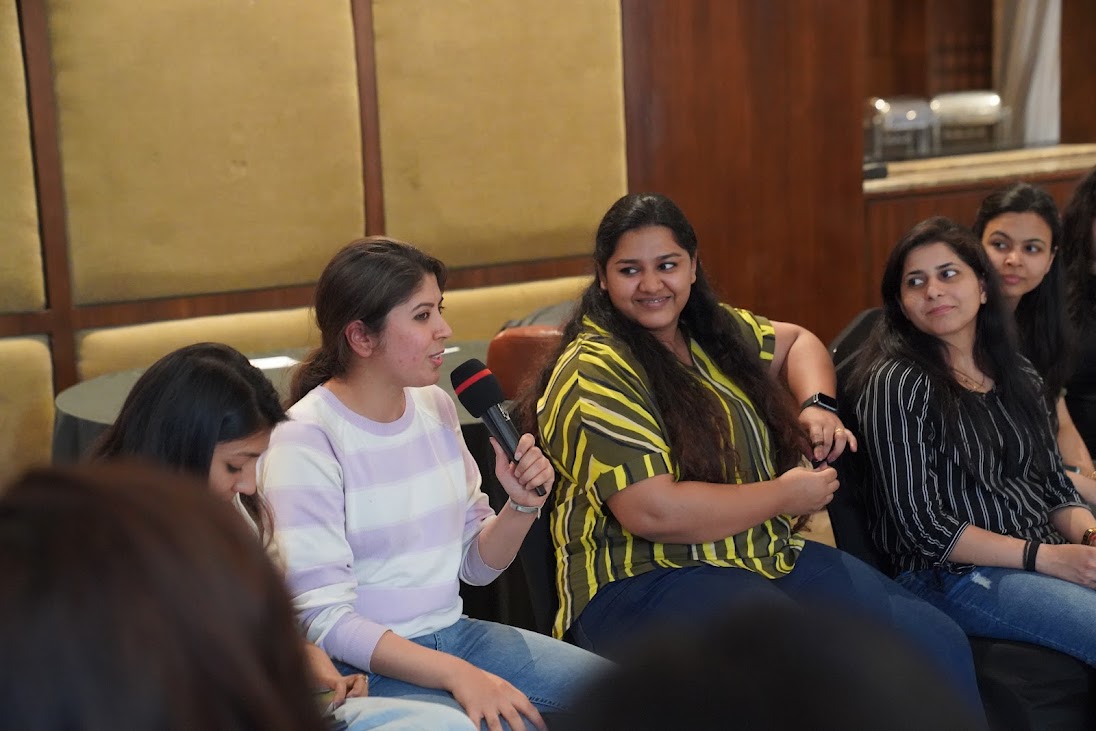 To scale or not to scale?
In every corner of that big conference room, teams were sharing knowledge. I was discussing with Umair and Ankita that all these sessions are important and interesting, and we just can't afford to miss out on any.
Mallika and the Sales team came up with a proposal to scale up the revenue and make it big. To date, the Sales team was setting their target and trying to achieve their numbers. Some people were in the favour of linear growth where we grow but slowly. Mallika came with a strong belief and with her heavy experience, she feels that we have the potential to scale exponentially. Everybody needs to put their best foot forward and she feels that together we can achieve the goal.
Nabin's experience is as old as Frappe, and he has seen the team grow from 5 to 100. He is skeptical of the strength, if we grow to a team of a thousand there are high chances that the culture might get diluted. And we are not in favor of becoming like any other corrupted corporation. Preserving the culture as we muddle through the thought of success is important.
We were actively hiring for a Sales leader for quite some time. And just like compensations, leadership hiring is kept under the wraps in many organizations. You explode the bomb on their day of joining and keep on looking at the facial expressions of their teammates when you introduce them. The beauty of open-source that I got to experience here is that even the interviews are open. At Frappe, when leaders are hired, all the team members are free to join the interview call (video or in-person) and interview them.
Anirban - The Sales Leader, was shortlisted right before the off-site, and he was also a part of this trip. During lunch, Abhishek, Harshit, and I were interrogating him and were trying to know him personally, understand his perspective on Marketing, and Frappe. It is always good to have some takeaways from experienced professionals, they teach us something in one way or another.
Fostering art
Any form of art that makes you feel like home is worth staying around or creating one. This time, it felt good to keep our eyes off the screen while creating art. I went to the stationery shop to buy paints and brushes for the first time after I left my school and nostalgia hit hard. I felt like a kid in the candy shop. During secret Santa we realized that we have an amazing bunch of artists at Frappe, they create art like a pro. The moment we started drawing all of us started talking about elementary and intermediate exams conducted in the school.
Anand seemed extremely excited about this session and he wanted one painting that had some impression of every teammate. He called out everybody to design something on that one piece of chart paper, and it turned out to be fun.
By midnight we were at dumb charades which left us mindboggling. The Ansari brothers (Faris and Saqib) gave us some real kick to laugh about that caused pain in the stomach and left us teary-eyed. Their actions and us trying to make sense of what they meant were fun.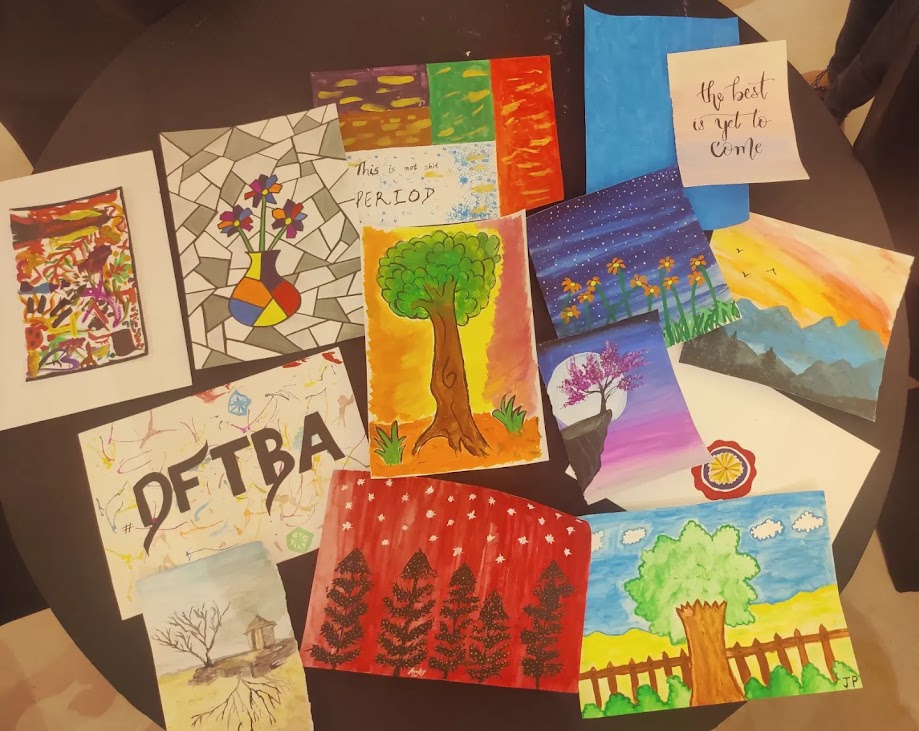 See you then!
Two days just flew by and we felt that the offsite should have been extended at least for three days. By the end of the trip, people felt emotional, some were quiet because their heads were full of thoughts. With so many discussions, all of us had a lot to process.
Many people were keen and sure of how they wanted to set the process way forward and make revolutions. During the closing ceremony, there were arguments and feedback given about the trip, some to the teammates, and some locked the vision straight up, wanting and waiting to execute it.
Moving ahead this is surely going to get messier, we will find ourselves in uncomfortable situations, we will fall, fail and make mistakes. Chances are, we will come up with a better solution and rise higher, only. Suraj, in his head, was already convinced that yes, it's an ocean of fire and one has to cross by drowning. :D I know it sounds filmy and Bollywoodish, but he wasn't wrong in iterating this.
Closing this on DFTBA, we Frappers use this term that says, "don't forget to be awesome". So yes we won't forget to be awesome and will continue to do great things.
---