---
In the last six months, we have really struggled as a company to come up with a culture that binds us all together. This is the fourth time in the last 10 years that we have hired new team members, and in the past three attempts, two have ended in failure.
By failure, I mean that we were not able to get new team members pick up the speed, quality and productivity of the rest of the team. We were not able to get them motivated and focused on the work like all else, and finally after six months, we had to let go a bunch of them. Our goal is to create a high performance team, and despite being a very purpose and autonomy driven organization, the new hires were finding it hard to buy this.
"People in Frappe are always happy, and I think this is a problem", one of my colleagues told me. This is because we don't believe in policing and monitoring other people and also don't believe in forcing someone to do things they are not aligned with. As long as we were weeding out bad behavior, it was okay to be happy and productive. But it was clearly not working as productivity
had taken a nose dive.
It felt that were in for another train wreck. If we have to grow, we really needed to fix this problem. The choice was to give in and do
what works in 90% of the companies, or make another attempt to build teams from first principles. But having seen the magic a small team of five was able to create when we build out the core framework and features, we knew that 90% of the companies don't get it.
What was it that made us tick
—
A few weeks ago, my
friend Ashok recommend the book
Culture Code, and it gave me some answers. The book has some great stories about high performing teams and makes some conclusions about building great teams. The conclusions were not all convincing, but the stories were great and it gave me the insight we were missing to build a high performance team. What the author pointed out was that:
Great teams are tightly knit: All team members have a deep understanding of each other.
Great teams align around a purpose: Team members automatically find their niche in the team and fill out a gap that helps the team achieve its purpose.
Great teams are highly motivated: Every team member tries to do their best intrinsically, and don't need external incentives or punishments to do their best.
Great teams are open: Great teams are fair and transparent in their working and are open to adapting and taking feedback.
On reading these stories of high performing teams, I reflected on my own understanding of my team and their understanding of everyone else. I realized that we were becoming a dysfunctional team. There were issues that were not addressed, there we problems that were not being identified and people had broken into their own separate "groups".
Going Toward Dysfunction
Some of this was my own behavior. Being the leader of the company, many times I did not explain the reason behind
wh certain decisions were being taken. For example, a few months ago, we had organized ourselves into smaller "teams". Unfortunately, these teams were not balanced, a lot of our deliverables, like customer support, was horribly broken and overall productivity was down. It was clear that this experiment had to stop. While I had a lot of individual conversations, I did not address this as a team, and when we had to discontinue the system, a there was lot of anguish.
There where multiple problems
Everyone failed to realize that support was an important deliverable for the team.
Everyone thought this was someone else's problem.
Everyone was surprised when the experiment was called off
While things were clearly broken, not everything was. At this time, we went on a company trip to Wayanad (again as a dysfunctional team). During the trip, I was hoping that spending time together, we would find some way to come together, or at least find an opening. I really wanted us to be an amazing company and wanted to do in a fair and innovative way. A great way to find alignment was ensuring that the financial benefits are distributed by issuing equity related compensation. But for that to happen, the team really had to
fee that they wanted to be part of an amazing journey. We had to find a way to open up.
It almost did not happen if it were not
for Aditya, who took it to himself to ask the tough questions.
Why do we exist
?
Team Discussions at Wayanad
Defining the Purpose
There are many reasons we do things at Frappe but they were not really defined and communicated to all new team members. The discussion that started during our trip, continued in the form of what we call now
Friday Forum. Friday forums are an open for all discussions where we understand deeply
what we do and
why we do it.
What is the ultimate purpose of what we do at Frappe? One thing became clear, we are motivated to
extra-ordinary products and service. There is no other reason for this other than art. Exceptional
art is an end in itself and there is great satisfaction in producing such art, whether its in product design, technology, code, communication or writing. Everything we aspire to do should be
excellent.
Another thing we defined is that we don't want to excel as individuals, but as a team, Frappe. Any person who interacts with Frappe products or services in any way should feel inspired by the quality, value and design of what we do. For this everything we do, whether its customer support, or product performance or documentation or sales interaction or partner on boarding, should be of the highest quality and integrity. If any one person fails, then its the failure of t
he entire team
.
One for All, and All for One
This is very hard because we do hundreds of different things. Maintaining an ERP product itself is a huge task and all surrounding activities are complex. How do we achieve and maintain such a level of excellence across all activities?
Friday Forums are really helping to fix these problems. The first task is that the entire team should be
aligned to this goal that we as Frappe are
one team. For this we need to align everyone's motivations to deliver this and ensuring that everyone in the team gets treated with fairness and respect.
Everyone must understand what is good quality and taste.
Anyone who sees a failing service, should call out.
Everyone should see that people close to them are performing well and if they are overloaded, how can help them.
Everyone should performance of their tea above their own.Everyone
feels the highs and the lows of success or failure.
New members should be mentored and trained.
A great example of this is a great football or basketball team. A good team
creates opportunities by great passing. Opportunities are created and capitalized in a fluid manner because each member of the team knows and can predict the moves of every other team member. That is why a great passing team outperforms one with better individual players.
The team that we want to make is also a self organizing one, so we will need to work towards taking signals from our team members. We will need doers, leaders, mentors, drivers, people to take lead one at a time. Our product is free and open source and our company is profitable, but there is a big room for improvement. A few things still need to be worked out, but we are getting there.
Once we have this worked out, then we will be unstoppable
---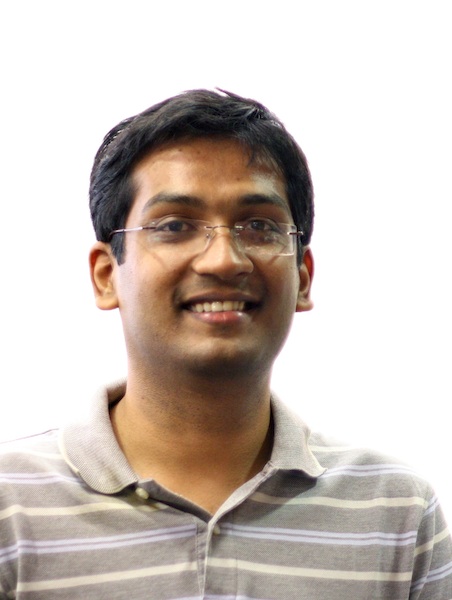 Rushabh is a software developer and founder of ERPNext. He usually writes about the startup experience, open source and the technologies he is working on.