A 40 Person Company That Runs Without Spreadsheets
Spreadsheets are the hidden glue that keeps organizations running smoothly, at Frappe we have something better.
---
Spreadsheets are the hidden glue that keeps organizations running smoothly. You can find spreadsheets everywhere from spreadsheets that track hot leads, spreadsheets that track project expenses, spreadsheets that track test results, to spreadsheets that track budgets and financial planning.
Why Spreadsheets? Or Not?
The attraction of using spreadsheets is easy to understand. They are incredibly easy to set up and use. Data can be copy and pasted instantly from one screen to another. Nifty tools will allow you to auto populate data. Formulae can be easily plugged in. Throw in some colour and formatting, and polish it off with a chart. And what you have is a wonderfully cooked spreadsheet.
A well cooked spreadsheet!
Spreadsheets help you stay on top of your projects, they help you win deals, they help you save your skin when the roof falls off. It is the ultimate, if underrated business tool ever. They make life really easy and organized. Companies that run on spreadsheets are extremely well managed. Wait. Is that true?
On deeper thought not all is well with spreadsheets too. For one, there are too many of them. And for each of them, there are multiple versions too. Which one is correct? Thankfully cloud based collaboration is kind of solving that problem. Then there is a problem of accuracy. Is the data updated? Are the prices right? Are the status updated? Who maintains them? And finally spreadsheets contain valuable business insights that remain in silos, locked up in private files across various user accounts. There is someone in your organization who desperately needs that data right now, but is at a loss. Each spreadsheet is structured differently too, so it may be hard to collate them at a later point.
Too many spreadsheets is like too much salt in your food. It kills the meal and leaves a bad taste. So how do we fix it?
No Spreadsheets
At Frappe, we have no spreadsheets. Well almost. To be honest, there will be a few spreadsheets here and there, but I would wager to say no more than 10 in a team of 40. I think that is quite an achievement. So how did we make it happen? Ok, well yes, there is ERPNext which comes pre-built with over 800 pre configured objects (or DocType in Frappespeak)
But beyond that, there is a superpower that is even more powerful. Yes, it's the low-code framework that powers our applications - Frappe Framework.
Frappe uses Frappe extensively to manage Frappe. Ok, I will skip the theory, and go straight to the use cases. All you need to know that you can configure "spreadsheet like" applications in Frappe with nearly the ease of spreadsheet.
Managing Releases
Software release management is hard. There are numerous things that need to be done before a release, like testing, documentation, etc etc. Each feature pre-release needs to be certified by a Frappe Consultant and typically there are 200 odd fixes and features that get pushed. So we track it via a custom DocType we call Release Checklist
Each test is then assigned and tracked separately. The test results and corrective actions if any are also tracked. This helps us makes each realease awesome!
Marketing Assets
Frappe has a fledgling Marketing team that is now focussed on creating assets for marketing. These are blog posts, videos, whitepapers, new web pages etc. Each asset needs to be planned, reviewed, published and there must be a way to organize that too. So we created another system for this (inspired from one of our customers actually, Martin Seibert of //Seibert /Media)
Did I mention you can create nifty dashboards on the fly too!
Employee Certifications
Frappe Consultants are amazing because we invest a lot in training and evaluation of each one of them. As a knowledge based company, retaining a culture of transmitting this knowledge to every new Consultant is going to determine how much we succeed in delivering value to our customers. So we rigorously track the proficiency of each consultant in over 37 topics.
Each consultant must get a 5-star rating to be a Certified ERPNext Consultant. This is tracked via Employee Evaluation and our certifications are called OWLs (Ordinary Wizarding Levels), inspired by the school where people fly.
Mentoring
As the Frappe Team gets larger and more complex, we need good mentoring for new joinees. For this we created a system where we maintain a list of Mentors, new joinees (or anyone) can apply for mentorship from any mentor who is accepting them and even mentoring sessions can be tracked.
Customer Success
Frappe's Customer Success team works with our customers to help them get more value from ERPNext, maybe even suggesting they make Custom DocTypes all the time. We could have tracked Success Calls via Timesheets, but we already use them for our consulting projects.
Monthly Planning
One of the things we have been learning of late is that great teams plan well. To help us plan we have concept called a Monthly Target. A Monthly target helps each person think of what they want to accomplish by the end of the month and then helps them focus on it during the month.
Conclusion
While writing this post I checked that we have no less than 67 custom document types! While each activity is a Task or Timesheet, in reality it has a lot more detail and structure that a simple Project Management tool easily misses to capture.
Over and above spreadsheets, we get lot of amazing things like:
Ability to assign something to someone
Ability to attach files and references
Ability to capture Energy Points (a way of capturing work done, topic for another post)
Visibility across activities
Structured data
Our customers always used to tell us that DocType is what makes ERPNext special. And to be honest, we have begun to appreciate this just of late!
Did I say making a DocType is almost as easy as making a spreadsheet? Well here is a quick video on how to make DocTypes in ERPNext!
---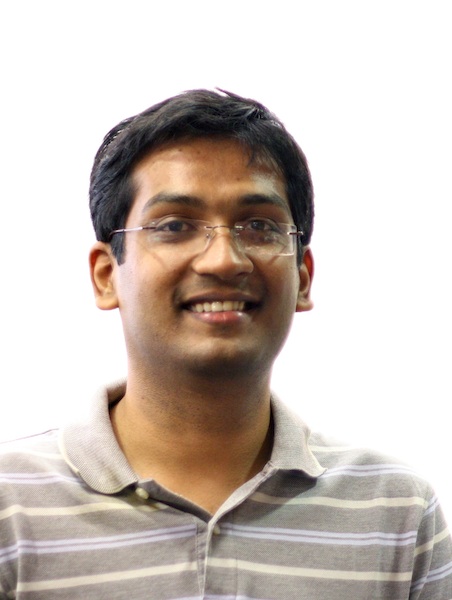 Rushabh is a software developer and founder of ERPNext. He usually writes about the startup experience, open source and the technologies he is working on.