This changes everything
The ERPNext Conference 2022 was a totally unexpected success
---
Looking back at conferences through the years, I have mixed feelings. These events were where we finally got to meet the "community", the users and service providers of ERPNext, both free and customers. Meeting people, chatting, exchanging ideas was fun. These folks gave us the energy and motivation to do better. But there were others, who (in spite of using ERPNext for free), came with a lot of expectations and demands without the willingness to contribute. Not to mention all the advice we used to get. This was energy sucking and at times heartbreaking, like how much more do you want us to do? There have been numerous fights at these events over the years around "contributions". Many people came to these events for doing business, forgetting that communities also require selfless contributions to sustain, specially in the early years. So I have always been ambivalent about them.
During the pandemic years, we had forgotten why we needed events where people can meet and exchange ideas. But we knew that it was time for another conference. So when Umair proposed that we should do the conference, it was immediately picked up by Palkan who had joined the marketing team. She had no baggage of the previous conferences and started to build this one with new energy and ambition. Palkan, along with Mahima, Faris, Sydel, Nishant, Sheldon, Vrinda and Ambareen went on to plan and execute the dozens of tasks required to host a successful conference right from the website to venue.
The first key decision was the venue. After checking out many venues, they decided to go with Holiday Inn at Saki Naka near the Mumbai Airport as a convenient location for the event. Saki Naka is a major crossroads of Mumbai (the word naka means intersection). On one side lies the airport, on the other side you have the tech hub of the city, on the east are the sea of "slums" for which the city is infamous. The intersection itself is covered with a massive concrete block on which sits the metro station, with people, cars and auto rickshaws buzzing underneath in Brownian motion. Right around the corner sits the Holiday Inn hotel where we conducted the ERPNext Conference this year. All our previous events were held at the Mysore Association, a community hall at the heart of the city, but since the community had grown so much, it made sense to up the game as well.
Once the event was announced, it seemed like everyone was waiting for it. Tickets got sold out within weeks and we had to release an extra batch with higher pricing to accommodate people who desperately wanted to attend. The excitement slowly started building up leading to the days of the event. Frappe team is also quite large now, so it was also an opportunity for us to meet along with the community. Our friends at Zerodha would also be there, and we had invited our families too on the final day. The thought of meeting so many people became a perfect recipe for social anxiety for me for weeks ahead of the conference.
On conference day, I took the metro to the event, listening to my regular podcasts, trying to tell myself that this is just another day at work. The conference team was already there when I walked in at eight in the morning. I found a nervous looking Palkan at the entrance as people were setting up the registration desk, checking the sound system and other arrangements. I was supposed to give the opening talk, and while I had given numerous talks, I still had a few butterflies in my stomach. In the previous evening, I had asked my wife to review it and she gave me some valuable last minute insights that helped me make my talk a bit stronger, so I felt more confident. Slowly people started coming in, first in spurts and then in droves, with lots of new and familiar faces. Until the hall was packed, I wasn't sure that everyone was going to show up. Vrinda and Kundendu were decked up in fancy suits giving the conference a very professional feel. Soon I was up on the stage talking about the state of the ecosystem and our plans for the future. After that it was a blur.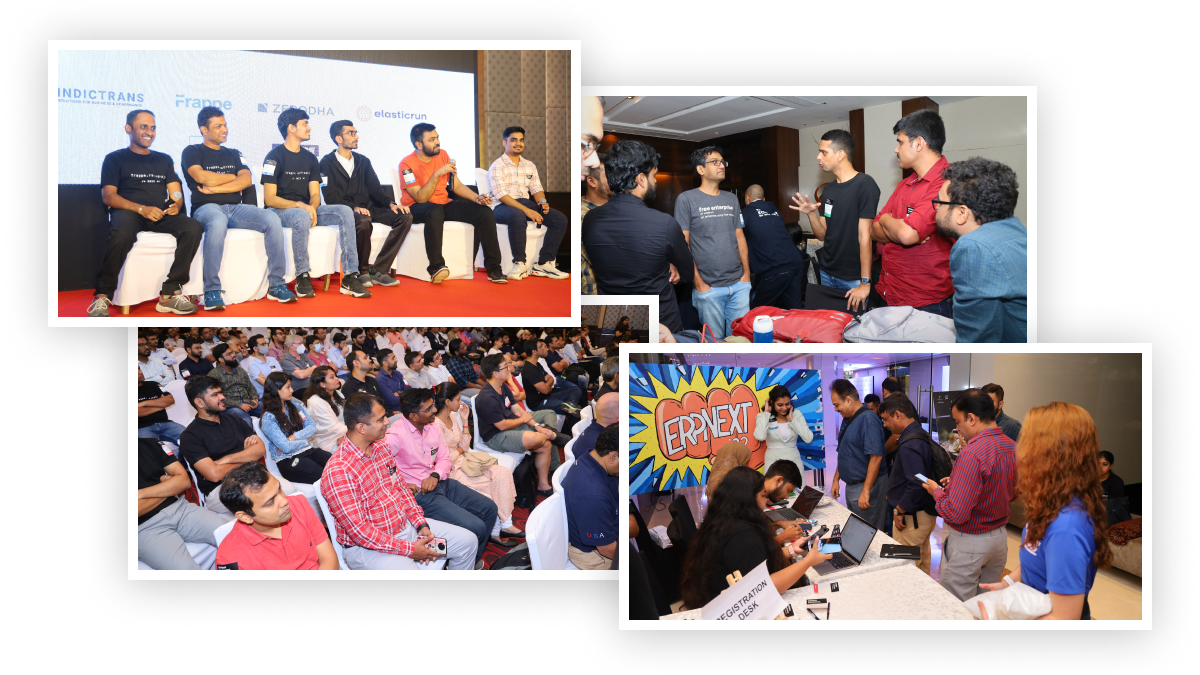 Talks
First let's talk about the talks, which are the center stage of any event. Many of them were eye opening and people spoke with great energy and polish. We had no idea how deep and wide the community had grown in the last 2 years. Here are some snatches that stood out for me. I missed quite a few talks due to networking but I do plan to catch them on YouTube soon.
Nabin talked about our experiments with planning and how they all failed. We finally resorted to splitting the monolith and letting each code-owner drive their product / module in their own way.
Nikhil Kothari showed some amazing stuff he had been doing on the UI side with Frappe + React. He not only did great work, he spoke with confidence and polish and represented the smart new generation of application developers, the likes of which we had never seen in the Frappe community.
Ankush was at his sardonic and witty best as he demystified how to tune Frappe for performance and shared a bag of tricks that helped him make Version 14 blazingly fast.
Elastic run team shared their experience with splitting the monolith into microservices and creating a multi-db environment in Frappe.
AVR Kumar from the National Dairy Development Board (NDDB) gave the most impactful talk of the event when he shared how they built a team of people to implement ERPNext at milk unions across the country and even won an international award for it.
Umair talked about the partner program and how Frappe is scaling up in close collaboration with partners. He spoke with humour and confidence. I felt really proud to see Umair grow over the last 15 years.
Hussain gave a visionary talk with Steve Jobs like swagger about how you can deploy a SAAS (software-as-a-service) application in 5 days in the Frappe ecosystem.
Aditya laid down the future of Frappe Cloud with a launch announcement for virtual servers instead of just benches and sites. He also talked about open sourcing Frappe Cloud and why 100% open source was better than 95% open source.
Faris explained the cool stuff he is building in Frappe UI and launched Gameplan - a team collaboration suite.
The most magical talk of the event was Hussain's demo of Saqib's "Insights" - a super slick business intelligence querying and dashboarding tool built on Frappe.
Nikhil from Zerodha and Shemeer Babu talked about how Frappe was helping non profits like the Robin Hood Army and India Labourline to help them automate their operations.
From the business talks, Mitesh Choksi's journey to being the "Best Partner" was inspiring and Hamza told us a delightful and breezy story about how his team implemented 18 customers in one month.
Safwan gave some breezy flash talks on his experiments with Frappe, including the experience of building a UPI app.
It was fun to see the Vora brothers, Sagar and Smit, share about how deeply they have thought about the GST and India compliance app they are building.
Launches
There were a bunch of product launches and major releases at the conference as well. Looking back this felt Applesque!
Energy
I must have chatted with hundreds of people during the three days. The feeling was overwhelmingly positive. Most people were excited and inspired seeing the level of activity in the Frappe ecosystem. The underlying reason was that everyone was already doing well and could sense that there was a lot of business going around. It felt like the rising tide was lifting all boats.
There was also a lot of talk around freedom and open source. People felt inspired by Frappe's cultural experiments that give radical transparency and freedom to all its people. More enterprise and business minded folks asked us about the "roadmap". This became a recurring question in the open discussions. To respond to folks, Hussain shared his story of coming to Frappe just to learn as an intern and then loving the environment of freedom and autonomy so much that he decided to stay back. He said the amazing work he did would not have been possible if he had to commit to a fixed roadmap. Ankush made an inspiring plea to all the companies in the audience to give their employees as much freedom as possible by ending regressive practices like biometric and facial attendance systems. Many people felt inspired by Aditya's move to open source Frappe Cloud by announcing that they will soon be making their closed projects open. We will look forward to those.
We also did a short awards ceremony to appreciate contributors across the fields in the community. Michael Pinkowski gave a touching speech remembering the kindness of John Clarke, in whose memory we gave the best forum contributor award to Revant. Ankush won the best code contributor award in the memory of Ranjith Kurungadam, who contributed to the health module of ERPNext and sadly passed away in an accident. Eby Mathew won the award for the best video contributor for his fantastic series of 50 odd videos on developing on Frappe Framework.
The energy never flagged for all the 3 days. Kailash and the Zerodha team showed up on the final day and we had several discussions around FOSS and ERPNext. There was a constant buzz during the event and people were networking, chatting, laughing, eating, taking pictures, making friends and doing business all at once. On the final day we also invited families of Frappe team members. While not many people showed up, we had a great time with those who did. It was fun to meet the parents of many of the young members at Frappe, some perplexed, some curious about whether a company like Frappe really exists. Seeing people with their families tells us so much about where each one of us comes from and deepens the bonds in the team.
The sheer diversity of the people, talks, discussions, approaches, and food was astounding and enriching. It felt that everything just fell into place. Social media was buzzing with people posting smiling photographs and having fun. The buzz will continue for a long time now. Adversaries have started to look at us with respect and frenemies have become friends. There is no denying that the revolution has begun.
Magic
There is the perpetual debate in open source communities on the primacy of code versus community. What is more important? Those who argue for code (like myself), say that everything exists because the code exists and is set free. Others say that code in itself is nothing unless people use it, give feedback and promote it. I have a new twist to this argument. A very senior gentleman (must be close to 60) Mr Chechani came to me and introduced himself as a chartered accountant. While sharing his ERPNext journey, he told me that he had started to learn code just so that he can build automations in ERPNext. While this sounds astonishing, I have heard this story so many times. Right from our very first conference, when Aditya Duggal, a mechanical engineer, told me he wrote hundreds of lines of code to Charles-Henri from France to Dhananjay from Sapcon. Code brings the community and the community brings code. It is a never ending cycle. Of all the things that make me happy, this feels magical, giving a diabolical twist to the code vs community debate. People feeling empowered to write code make their lives simpler.
The word "magic" was thrown around quite a bit. Magic is when you see things that you did not believe could exist. Rookie engineers building world class products. Companies giving absolute freedom to their employees. CXO level management from people who are barely out of college. Competitors laughing together and slapping each other's backs. Marx being remembered in a business conference. The folks at Indictrans winning the "Best Growth Partner" award. Our investor reassuring the community that buying Frappe services was not required. People coming forward and announcing that they will liberate their code.
So where do we go from here? Frappe has so far managed to balance the needs of business and the principles of open source quite well, but for how long will be able to do this? The conference started off as a business and tech event, but the final discussions all went towards the values and freedom. Some business folks may have been annoyed with the radicalism of free software and I am sure some free software purists would have been disappointed with business folks in the space. It will be interesting to see how this plays out in the coming months.
But one thing is for sure, this conference changes everything. While ERPNext is an amazing workhorse that thousands of people swear by, the super power is the entire Frappe ecosystem powered by the framework and it has overshadowed the amazing work done in ERPNext. The ecosystem is definitely bigger than ERPNext now. This journey itself has been unexpected and magical and we don't know what surprises the future brings for us.
And I, for one, will definitely be looking forward to the next conference!
---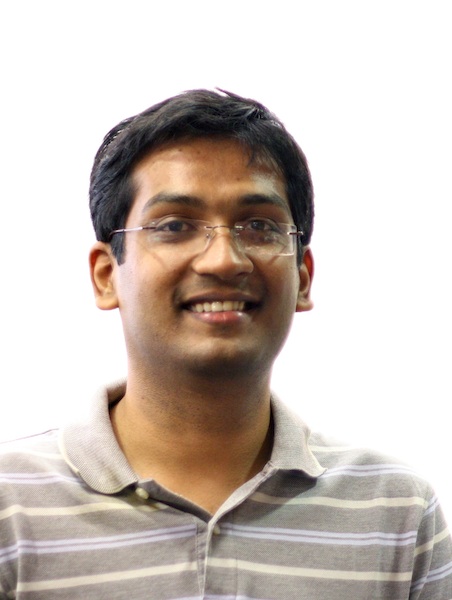 Rushabh is a software developer and founder of ERPNext. He usually writes about the startup experience, open source and the technologies he is working on.