Taking ERPNext to Jakarta and East Asia
Experiences from a wonderful trip to Jakarta, Indonesia for an ERPNext Training
---


Going to East Asia
Anton (Antonius Tara, food distributor and ERPNext service provider) has been a regular visitor the the ERPNext Conference in Mumbai, so when he asked me if I would come to Jakarta for a training event, I had immediately said yes. Anton had been the sole active member in Indonesia for a while, and community had suddenly come to life when Thomas (Thomas Lie, CCTV distributor and ERPNext service provider) discovered ERPNext and immediately decided to organize a meetup at his office. In the meetup they met up with Ahok (Suhendri Wijaya, a toy manufacturer and ERPNext enthusiast) and the three of them traveled to Mumbai for the 4th annual conference last October. Inspired from what they saw in Mumbai, they decided to sponsor the training event in Indonesia, and that's how we got started.

It was my first trip to East Asia, and Saurabh's first trip out of India. East Asia has seen a big transformation in the last 30 years, beginning with China's move towards a global capitalist economy. Images of East Asia's gleaming cities have traveled all over the world, and I was eager to see this with my own eyes. I was not disappointed by what we saw in Jakarta. While my hosts clearly thought that Jakarta was nowhere close to Singapore, to me it seemed like a modern city and global city, much more cleaner and organized than Mumbai.

A lot of our conversation moved around comparisons with India. Indian culture is very popular in Indonesia due to the influence of the 7th century Sri Vijaya empire which brought Indian culture and language to Indonesia. Indian movies, television soaps and of course, Bollywood superstar Shah Rukh Khan are very popular. The native Indonesians look a bit like Indians too. While most Indonesians are followers of Islam, their culture has a much milder influence of the Arabic culture.

The other big influence in Indonesia is that of the Chinese. Hundreds of thousands of Chinese migrated to Indonesia during the repression and economic distress of the Mao era and they form the heart of the Indonesian entrepreneurial community. While more Indonesian than Chinese now, their links with mainland China drive the economy of Indonesia. Also, the Chinese economic miracle has been felt in all parts of East Asia, with the Indonesian skyline dotted with hundreds of Hong Kong style skyscrapers.

From what I saw of Jakarta, it seemed much more modernized and advanced than India. Indonesia has a per capita income almost double of that of India and there is much lesser visible poverty too. While you can see layers of native Indonesian, Indian, Arabic, Chinese cultures, the most dominating layer is that of Western commercialism. Indonesia is rich with natural resources and Indonesians are consumers of the latest global brands and luxury goods.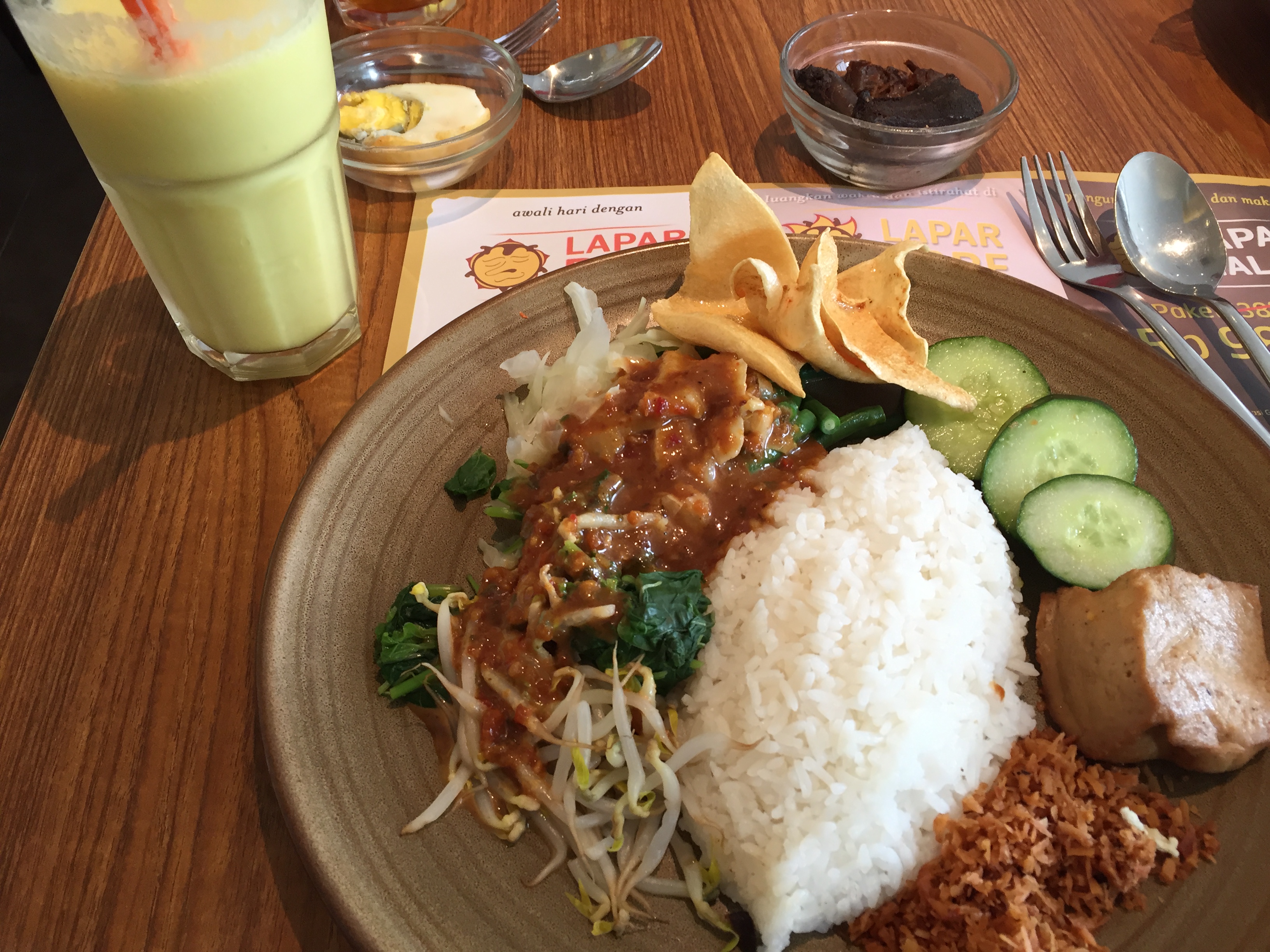 Local Javanese (gado-gado) salad with Durian mikshake
The Training
The three-day training was held on the 16th floor of a gleaming mall + skyscraper complex, with ten floors of parking space (where we got lost more than once). The place was loaned by Anton's friend Eric and his family who run multiple businesses and are actively looking to implement ERPNext.Participants had come from all over Indonesia, with a few from Indonesia's second biggest city Surabaya, and a few even from Bangkok and Kuala Lumpur. While we had advertised this as a developer training, a lot of the participants were users and were very interested to meet the community.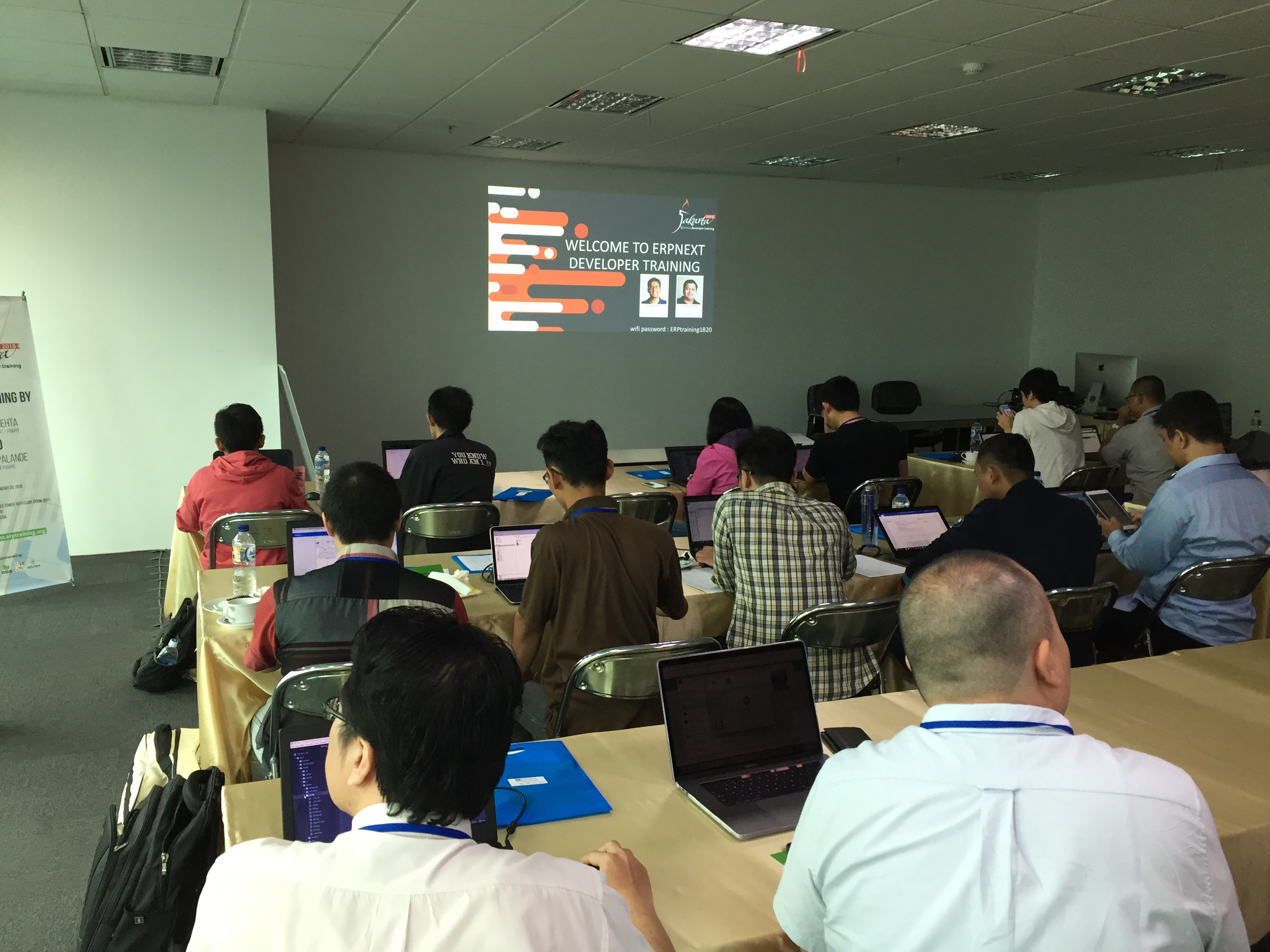 Ready to get started!
After introductions, we started off with an introductory talk about ERPNext, how it started and what are the goals of the project. ERPNext has come a long way from starting off as a personal project to a global open source community. Open source communities are very new Asia and those around a business tool like ERPNext are even rarer. For most of the participants, this was the first experience of participating in such a community.

It was also an opportunity to finally meet a lot of people who were active on ERPNext Cloud and the forum, and it was great to put faces to names. Bobby, who had been active in the forum for a while flew down from Surabaya, Kitti came from Bangkok and also it was great to meet cloud users like Deemas Lesmana and Abdul Aziz who had amazing stories share.

The training itself was a mix of developer introductions, user stories and mapping of functional scenarios. While open source communities are centered around software developers, for a product like ERPNext, there is also a great need for user communities. Mapping organization processes to an ERP system require some skill and understanding of the underlying structures. Such events can be very helpful for users to discover new features and get ideas on how to map their existing workflows using basic customization.
Customization and Contributions
Contribution has become a hot button topic in the community and most participants already knew this from the discussions in the last conference and the forum. People were trying their best to be careful so they do appear to be fully commercial minded. This in my view is a great beginning.

Open source is a very difficult model and under the current capital driven system, we are trained to hold back our competitive advantage and not share the knowledge. Open source goes against our instincts so it makes everyone unsure of the reason why they are doing it. Such events are a great opportunity for them to know that they are not alone, and there are many other people doing the same thing!

By talking with a lot of service providers, I have realized that doing big customization is not profitable to them either. Most users have little idea what they really want and end up making all the wrong design choices. The service provider then has to keep reworking until the user is happy, resulting in a long cycle of developer effort, that ultimately is dissatisfying.What really works for everyone is doing a vanilla (plain) ERPNext install and using it for six months before deciding on customization. At that point, whatever the user needs, is probably a core feature that would be wanted by many other users. The user is also much happier, because they would have already seen the value of using an integrated system and would be in a position to invest even more.
The Community
As Kitti pointed out, "You always get to meet great people at open source events like these". This was so much true. All the participants in the event were fantastic and very inspiring to meet.

The highlight was the event was Deemas, who shared his story about starting a new company while doing a day job, to becoming a fast growing 40 people company in just two years. He works as hard as Elon Musk, sleeping in his couch in the office or on a mat in the nearby mosque most of the times. He says he would not have been able to grow so fast if it were not for ERPNext, and uses almost all of the out-of-the box features.

This is the reason why ERPNext is a big need for small businesses. In story after story, we learn of resourceful entrepreneurs who value such a tool so much and love the simplicity of setting it up and using it.

The Indonesian community is absolutely fantastic. Our three hosts, Anton, Thomas and Ahok were very kind and gracious. In the four days, we packed a lot of sight seeing Jakarta too, visiting the National Monument, Old Town, talking a midnight stroll on the beach and having a drink on top of the city.

With their energy and enthusiasm, there is no doubt that the community will keep growing.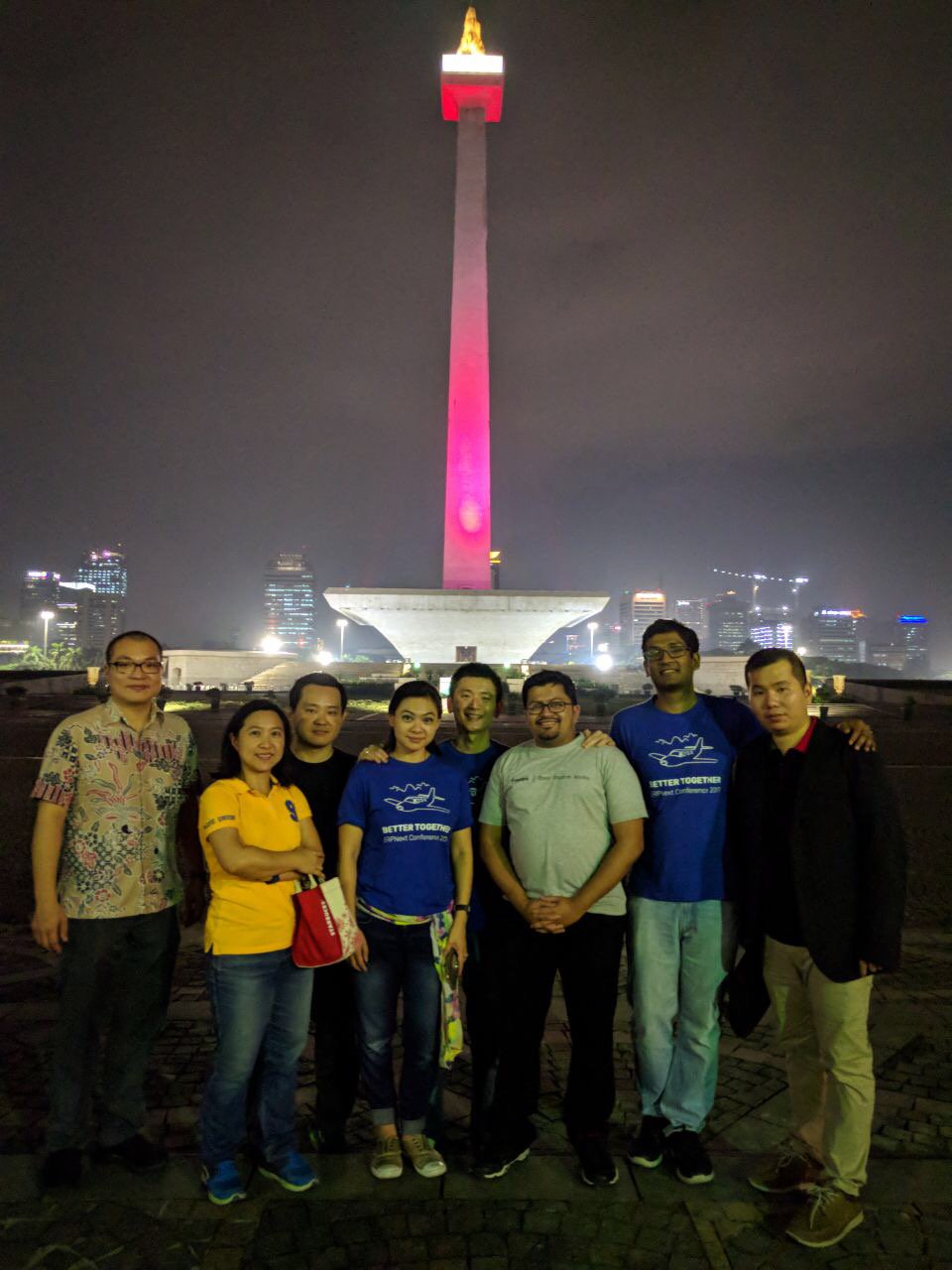 At the National Monument in Jakarta

As ERPNext spreads to more users, events like these also inspire others to start their own little communities. Bobby, Kitti and Saif are already planning to start chapters in Surabaya, Bangkok and Kuala Lumpur.

So if you missed out, don't worry, ERPNext is coming soon to a city near you.
---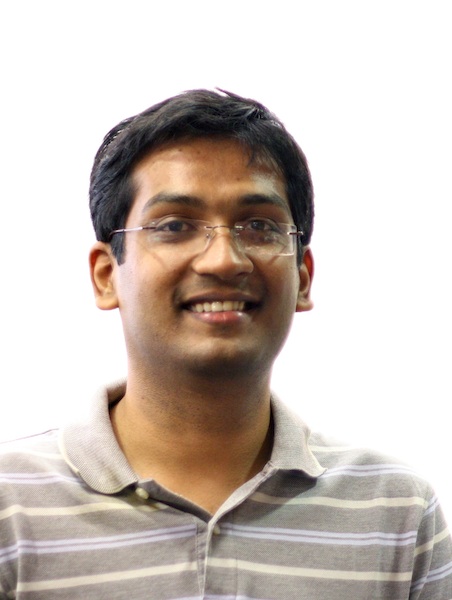 Rushabh is a software developer and founder of ERPNext. He usually writes about the startup experience, open source and the technologies he is working on.