MiniDebConf Experience
My experience at MiniDebConf '22 on 12,13 November in Palakkad, Kerala
---
I was scrolling through my Twitter feed on a usual day and I saw this post by a friend of mine that MiniDebConf is happening in Palakkad in November. I wasn't that excited but it was new information. I knew that The 2023 DebConf is happening in Kochi but didn't expect a MiniDebConf to happen this soon and that too in Kerala. As a user running Debian on my home machine I thought why not take part in this, might get some new insights on using Debian even better.
For those who don't know Debian, Debian is a GNU/Linux distribution(distro) which is also Free Software. Debian is a completely community-driven OS and Debian is used almost everywhere on servers and systems.
Fun fact: Ubuntu is based on Debian
A few days later Rushabh pinged me saying we should sponsor MiniDebConf. That was out of the blue and we sponsored the event. It made a lot of sense because we use Ubuntu in all our infrastructures and being an open-source company we are giving back to the community.
Later I even proposed a talk for MiniDebConf as it was more student-oriented and felt like a good opportunity to introduce Frappe Framework.
Journey to MiniDebConf!
Palakkad is 200+kms from where I stay. I had started my journey to Palakkad on the morning of the 11th of November by train, a day before the conference to reduce my anxiety and panic. My friend who is also a Debian Developer(DD) also joined me or vice-versa. Since I was a speaker, I was given accommodation at Malampuzha which is like 10km away from the Railway station.
We got to Palakkad around noon and firstly we met other Debian folks who came from Delhi for the conference, and coincidentally I met my colleague Nikhil who recently joined the FC team for the first time. We had a wonderful conversation on the whole of Frappe and Free Software and along with his friends, we went to have lunch. This was Nikhil's first time in Kerala and we made sure to make him try out some of the local cuisines he said he enjoyed it
Then my friend and I went to the place where the accommodation was arranged and it was a fun ride through rural Palakkad with lush green fields and even more trees. We reached Malampuzha not so long after. Malampuzha was a picturesque place with the Malampuzha Dam on one side and the valley on the other. It's a tourist destination and has a lot of activities for tourists to enjoy like a ropeway and the Malampuzha gardens.
We got to our stays and we worked the rest of the day. It was the same day Aditya talked about Servers in FC. I was supposed to have a mock talk with Faris but both of us were busy at any given time so I didn't get time to do a mock presentation so I had to practice it by myself.
The Debian community was kind of new to me, I'm used to Open Source communities where people I saw on socials were there in person but here I didn't know about anyone, except my friend who was 1 in 2 Debian folks I knew. But later that night all the community members who were staying at the same place came together and had an awesome discussion about Debian, politics, ethics, packaging, work, etc… These discussions were unending but everyone dispersed around 1 am. I who was a total stranger to the Debian community felt that the Debian community should be given more value and praise compared to the corporates out there and as a DevOps guy, I felt so much respect for these folks using their free time to do the things they do for the betterment of modern computing and society.
If you use Ubuntu and most of the software in Ubuntu is an "apt install" away is because of folks like these. They do stuff like these where the end users like us don't even have to worry about configs, dependencies, and all those things, these folks create magic in a sense.
Day 1
The bad thing about staying in Malampuzha is that there are no buses to the venue that was NSS Engineering College, but we reached the venue on time.
NSS Engineering College was built in the 1960s and the campus was lush and had a lot of areas to roam around and walk. The volunteers gave us the welcome kit with a T-shirt, food coupons, and an ID card. MiniDebConf went international as Debian folks had come all the way from Nepal to attend the conference.
My colleague Ruthra was also joining us at the Conference and he came from Chennai to attend this event. It was great meeting him again after the ERPNext Conference. We proceeded to the opening ceremony.
After the opening ceremony, everyone was instructed to move to Venue 1, which was away from the place of the Opening Ceremony. During this time, I met a lot of folks whom I had met back at IndiaFOSS in July.
The First talk was an introduction to Debian for new folks and it gave a lot more context on the Debian community.
The second talk was a bit more interesting. It was about running Debian on a phone. Abhijith showed the phone to everyone and it was fun to see a whole Debian system on a phone. Abhijith talked about writing new packages to make everything work. It felt like the dream phone of a hacker.
The next two sessions were simultaneously happening. One was a Packaging Workshop and the other was two talks. I went to the packaging workshop where the basics of Debian Packaging were being taught. It was an insightful session and hopefully, we'll see a Debian package of Bench.
It was lunch after these sessions and post lunch, we attended a workshop for contributing to OpenStreetMaps and another session for fixing bugs in Debian.
The Debian bug squash party was attended by me and Ruthra and Ruthra who had contributed to Emacs was keen to fix some bugs. The fun thing was that both of us took our office MacBooks to the event and it was awkward since we were at a Debian conference. We both learned how to look for bugs in Debian. Ruthra explained to me how the whole thing of "Pull Requests" works.
Before GitHub, people had to send patches for the issues on a mailing list or as an email, and the maintainers would pull these patches from the Email and apply these patches. It made a lot more sense to the work Pull Request.
Day 1 ended with rain and more conversations with the folks present there. It was easier for us to introduce ourselves since the Frappe logo was on the ID cards and we would point at the ID card and say "we work here".
After the venue, some of us went to Town to have a lot more conversations. We had a wonderful time out exploring the local cuisines and talking about software and side projects.
After the conversations, I went back to the place of stay, I practiced my presentation for the next day as I was going to do a live demo, and usually, that's where everything breaks.
Day 2
Compared to the two days I was there at Palakkad, Day 2 of the conference was Sunny while it was raining the previous two days. I was awestruck to see the beautiful hills and the valley from the place where I'm staying compared to the previous 2 days since visibility was reduced due to rain. The whole Malampuzha dam is a visual treat of itself. Later I found out that the reservoir is near capacity and the dam shutters were up. You could see the water rushing through the shutters like a waterfall.
Sabu, who is also a colleague of mine, drove 100 km on a Sunday morning to meet his teammates and for the conference. Sabu works on the E-commerce module of ERPNext(Webshop). Sabu and I had a conversation about philosophies and Frappe over breakfast and we went to the conference venue. Sabu in his free time contributes to Arch Linux with packages. If you've used Arch Linux, Bench will be available to install from AUR thanks to Sabu.
The First session was an open space where people talked about Free Software, Debian, Ideologies, and philosophies. The next talk was "Contributing to Debian" which was taken by Sruthi Chandran. She spoke about the importance of contributing to Debian. She talked about the importance of packaging applications for Debian. If a single application is packaged for Debian, it will be useful for all the 350+ Debian-based distributions using it, like Ubuntu, Pop OS, and many others. She also talked about Praveen who packaged 800+ applications to Debian and that number was mind-blowing.
The session after this was a discussion about the DebianIndia community. The whole discussion was dramatic and it reminded me of how discussions at Frappe are. It was a clash of ideologies and it was a thought-provoking discussion about the Ideology of using Free software and related.
Post lunch, it was my turn for the talk. I was going to talk about Frappe Framework and building a Conference Management app with Frappe Framework. It went pretty well. There were a few hiccups I had to go through like there was no desk but I had to sit down and do the live demo. But all in all, it was a good experience to talk at a conference.
There were a few more talks after this including one about building a Malayalam wordle and about GPG Keys.
MiniDebconf ended that day and I'm grateful for all the people who came to the event and shared their experiences.
Here is a photo of the Frappe-folk who came for MiniDebConf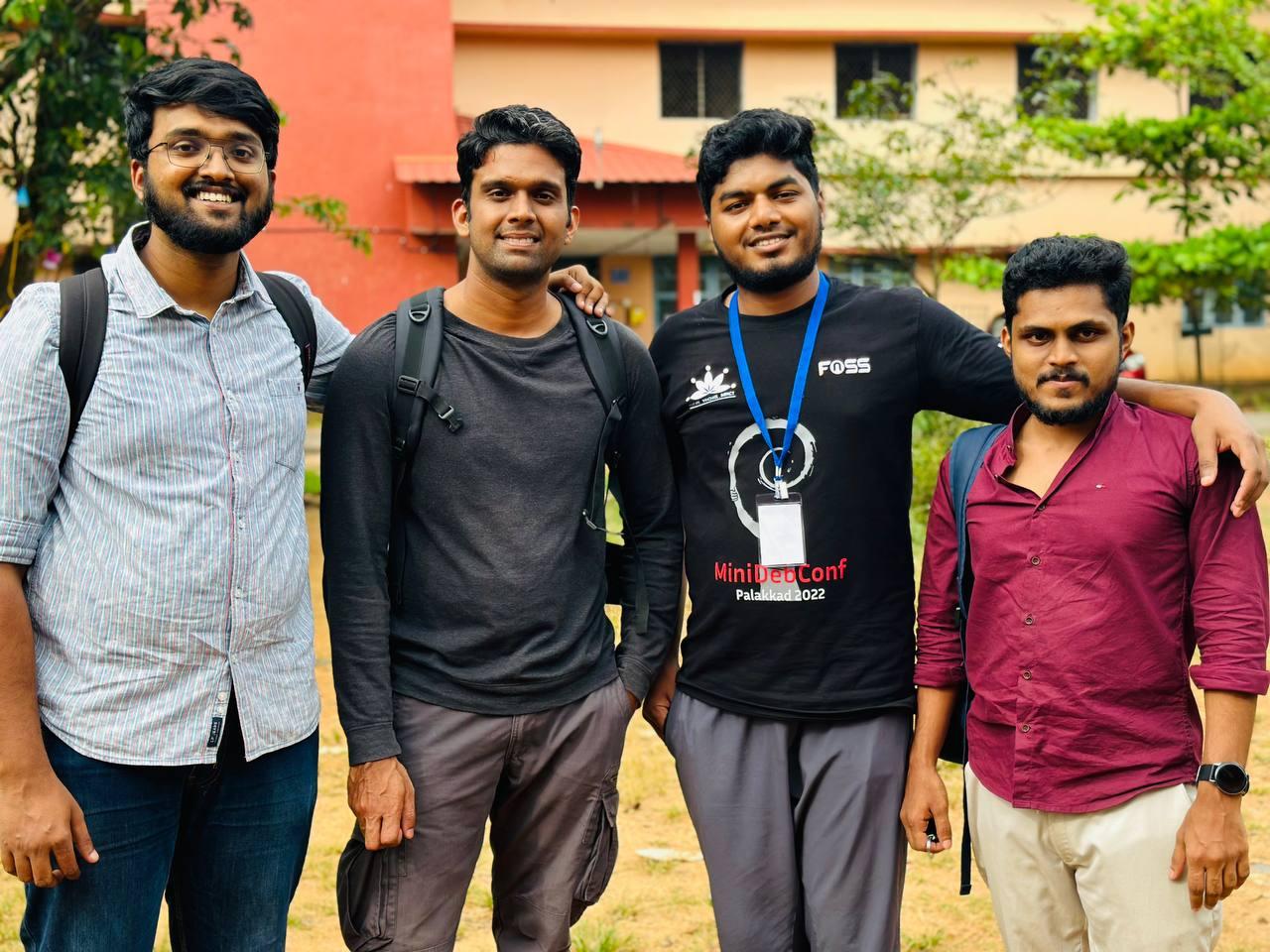 Later that evening, we headed home being thankful to the organizers for handling a conference with grace and for the volunteers who were in full swing for the two days . We're happy that Frappe could help you folks in organizing this conference. Also grateful for the folks who joined us there and shared their experiences and for the wonderful conversations!
---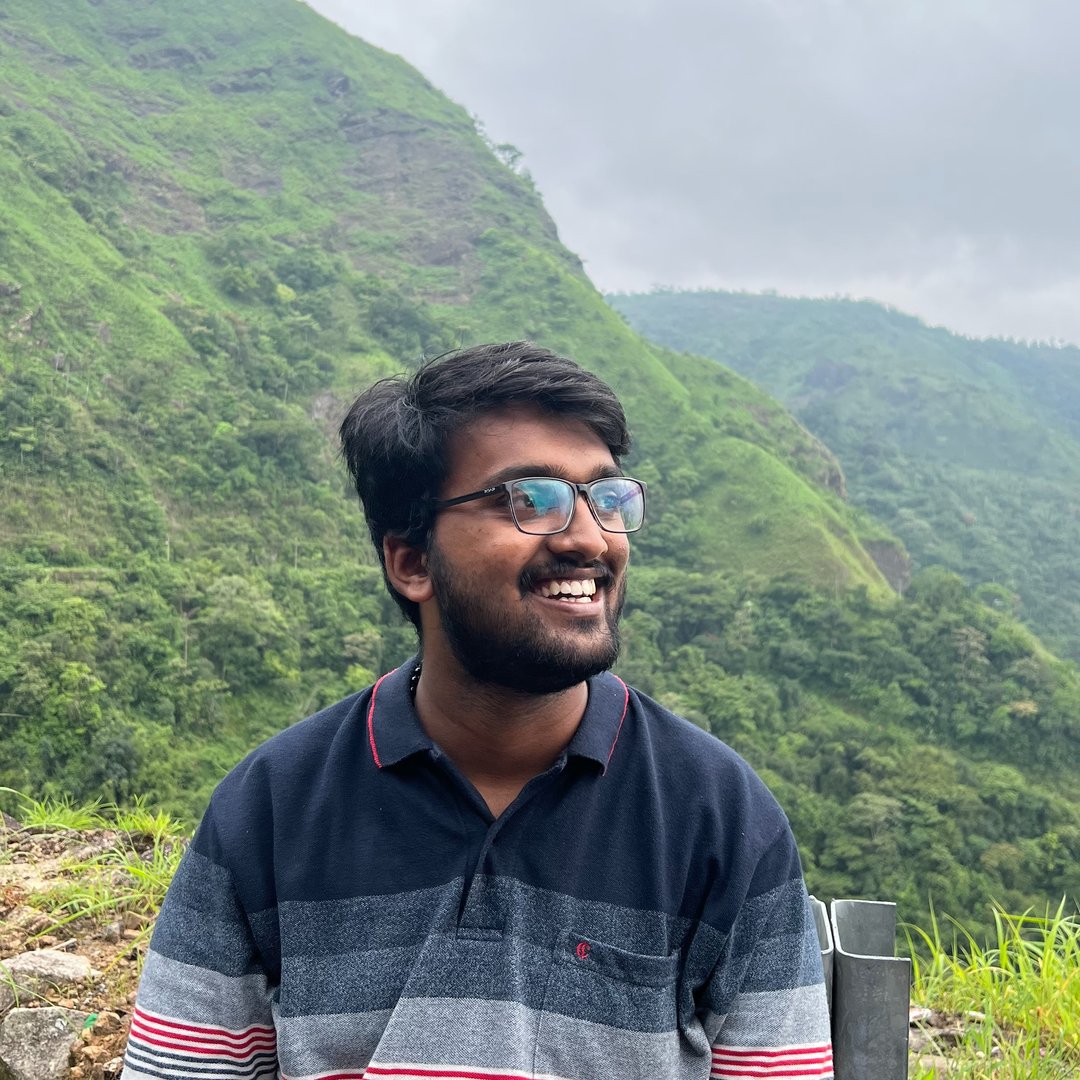 DevOps and DevRel at Frappe