From Average Joe to CEO
Bhavesh Maheshwari was your garden-variety Computer Science student. He spent his college days doing anything but coding. He is now CEO of his first tech startup and about to be CTO of his second.
---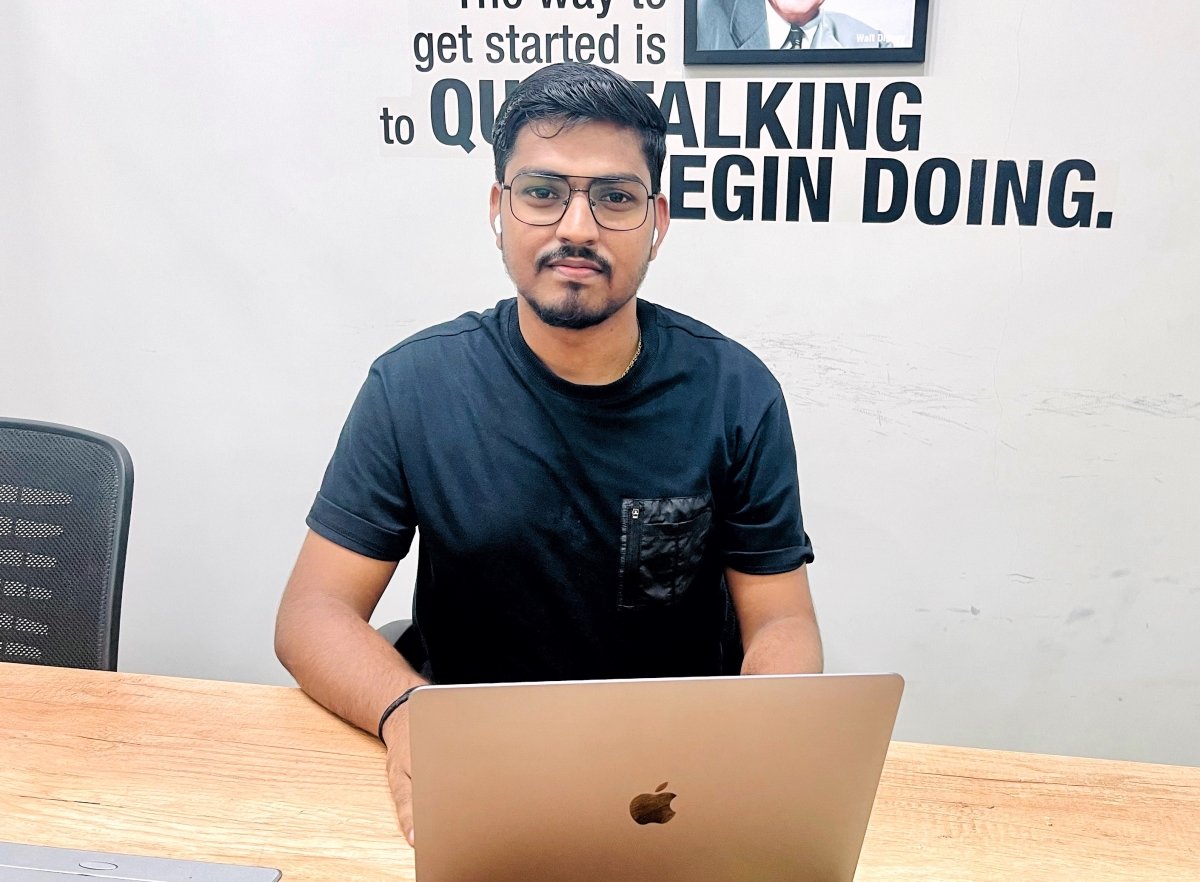 Bhavesh Maheshwari might just be one of the only people I've ever met that I'd actually describe as "self-made". By the time he'd used his first computer, he was already an adult. "I didn't even know how to switch it on, I had to ask the guy sitting next to me," he says with a laugh. But a diploma, a degree and three companies (two of which he'd built) later, he can't imagine life without his beloved laptop. "My friends call her my second wife," he says fondly. "I'd even brought her along for my actual wedding."
But this isn't a tale of love at first sight. Or second. "The diploma and the degree together took around six years and they were both in Computer Science, but they did nothing to spark my interest. I'd spent those years 'fully bachelor'—you know, chilling with my friends, going on trips, playing cricket, never really giving much thought to my future—and I'd even flunked an exam once. I was, by all accounts, a thoroughly average student."
How does one even go from that to building their third company in six years? "So my college roommate, Nilesh, was pretty into coding. We'd gotten lumped together for our final year project, so he started teaching me how to code. We started with web development. I learnt HTML, CSS, PHP (it was the twenty-tens). This also happened to be the time when I'd started thinking about my future—you know, final year things. I used to watch all these motivational videos, especially Sandeep Maheshwari's, and he used to talk about the importance of having a goal and working towards it. At the time, like most final year students, my goal was just to land a job with a fat paycheck. So naturally, I thought I'd apply for an internship."
And his plan worked, albeit slowly. The internship—in web development at Dharmik Infotech—turned into a full-time job, which he did for about a year till the monotony got to him. "I learnt a lot at that job, but we were just doing the same thing day in and day out. I was so bored that I actually started picking up small jobs on Fiverr and Upwork. I didn't even care if they paid well, I just wanted to do something."
But the moonlighting only helped so much. So one fine day, he quit his job with zero prospects in sight. "I couldn't even tell my parents what I'd done. How could I? I had no job lined up, no idea what to do next. But I had a massive stroke of luck the very next day. My old company used to use ERPNext, so I was quite familiar with the Frappe Framework by this point. And this was half a decade ago, when the framework was less known, so I was one of the only freelance developers who knew it well. So the day after I left my job, someone approached me on fiverr with a huge project. I was applying to other jobs then, I'd even applied at Frappe, but it was just like in college—I would ace the aptitude test, as well as the coding round, but my communication skills were not the best, so I never made it past the HR round. But this freelancing job changed everything. I ended up making an entire year's salary at my previous job in just two months."
Six months and several projects later, Nilesh came knocking on his door. He'd grown tired of his 9-5 and wanted to add a 7-12 to it, so he started joining Bhavesh at the co-working space he used to work out of. "Nilesh and I are so different, but in the best way possible. I'm assertive, but aggressive, he's calm and composed. I'm great at backend, he's great at frontend. He'd taught me how to code, now I was teaching him how to code in Frappe. He wasn't as sure about our partnership as I was though. He kept his job for another year, but eventually, our belief in the vision won."
This wasn't Bhavesh's first shot at establishing a business though. He'd wanted to build his own business ever since he'd started helping out at his father's supermarket in the seventh grade. And it finally happened in 2019 when a friend, Twajesh Gelda, approached him with an idea to start a company that delivered tea to offices on a subscription basis.
The company, named Chais24, was just about to break even 9 months in when the pandemic hit and all the offices had to shut down. "It was pretty crushing. We thought the idea had so much potential, and it was doing well too, but what can you do about it? You can't bring tea to offices if there are no offices."
His second venture, Nesscale, that he started with Nilesh, seems to have made up for it. "Oh, definitely. We're an eight member team now that primarily builds products on the Frappe Framework and offers ERPNext services. I only code on Frappe now, I've seen firsthand how much it's helped my business. The sort of projects that take me a month to complete on the framework, I've seen other people spend 6-7 months on. And it's not that they're not good developers, the framework just simplifies so much for you. You don't have to worry about managing the database or building APIs, the community and the DocType model just save you so much time. I've worked on over 70 projects on the framework and it's gotten to a point where if a client insists on using another framework, I just hire someone else to do it."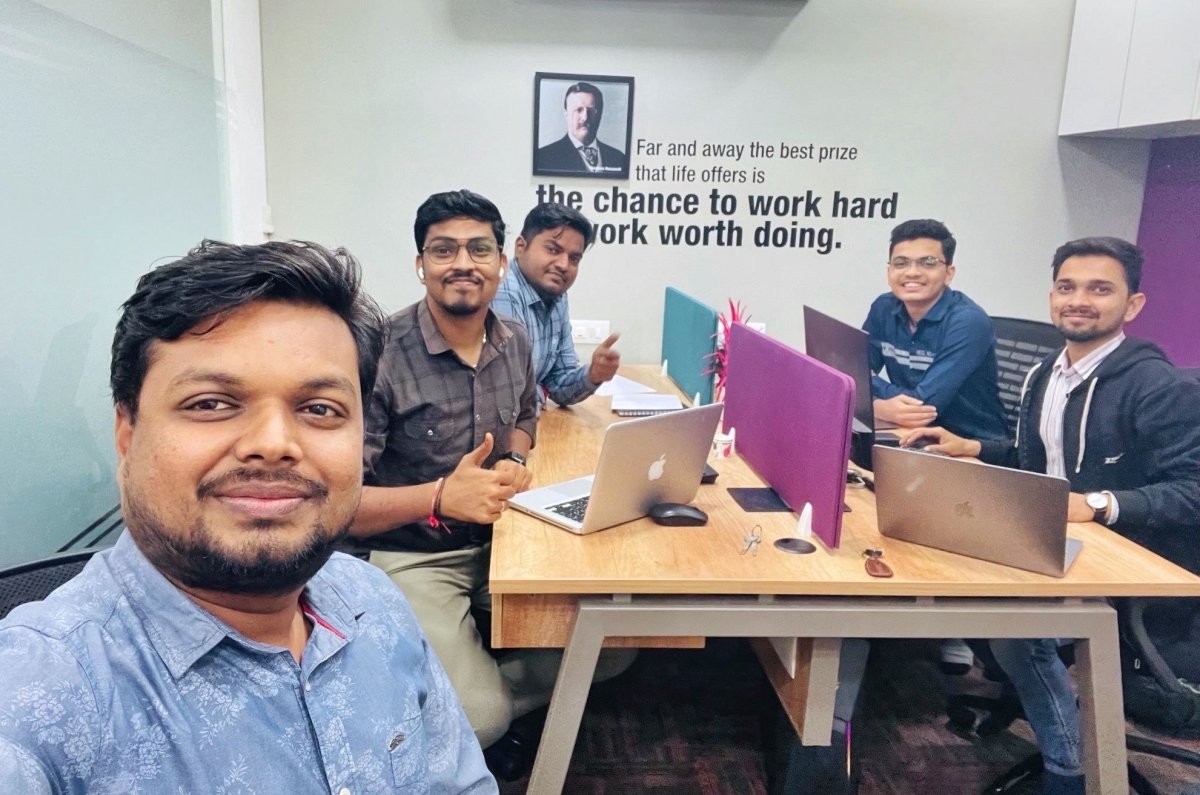 People of Nesscale
Bhavesh is currently working on the Employee Self-Service (ESS) app which aims to simplify HR processes. "Our team has the freedom to pick the kind of work they'd like to do and do it when they want to, but that introduces an obvious problem—how do we know that they're working at all if they can work at their own convenience? ESS was built to address that problem. Instead of having fixed working hours, our members can just log in whenever they want to start working. We figured other people would probably be facing the same issue, so now we've made it available on the play store and added a host of features like payroll management, leave management, activity boards—essentially whatever we could think of to make an employee's interaction with their company more seamless."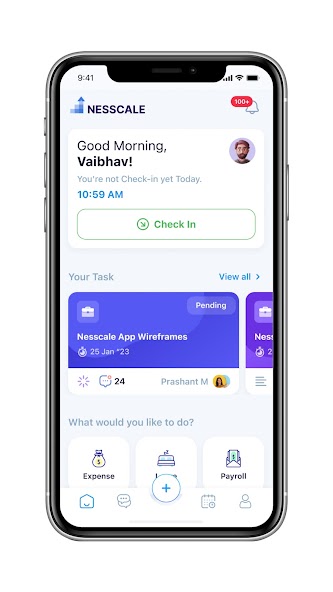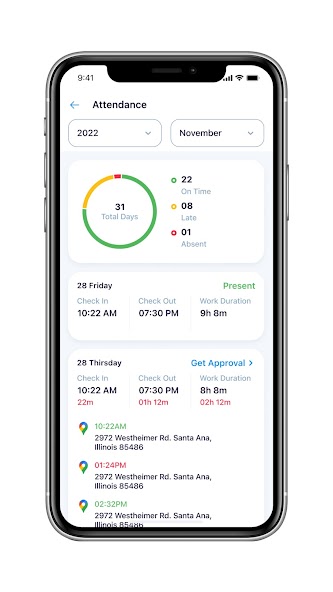 Employee Self-Service App
On top of running Nesscale, Bhavesh is also preparing to launch yet another venture with Prashant Agrawal, called Fullstock, which aims to provide a platform for kirana stores in Tier 2 and 3 cities to manage their business. "My father uses a similar app to manage his store, but he's not so great with tech, and I'm guessing he's not the only shop owner in search of a simple app to help manage their orders and inventory and everything. I wanted to build an app that anyone with a phone can use, even if they struggle with tech, even if they don't know English. We're launching Fullstock in Gujarati and Hindi right now, in addition to English, and we plan to include more Indian languages soon. But after all this, my parents still keep asking me how I make any money if I'm online all the time," he says with a laugh.
---