Frappe Local: Mauritius
Frappe collaborated with two of its partners, nVisionIT and New Indictrans, to establish a strong ERPNext presence in Mauritius.
---
One of our newer partners, nVisionIT, came up with a proposal to organize a local conference in Mauritius. They are an innovation-driven software development company in Mauritius, South Africa, and Australia, delivering professional software solutions for more than 22 years. Witnessing the business potential local entities hold, they felt the need for a platform to bring all of them together. This, in turn, would help the partners get more customers and add more value with the OEM's support. Well, this was a good opportunity for our partner team to help them bring this idea to life.
"ERPNext is not a well-known ERP system in Mauritius and South Africa. The ERPs mostly used in these markets are Dynamics 365, Sage 300, NetSuite, Oracle EBS, Oracle EBS, Odoo and Pastel Evolution. Being confident about the potential of ERPnext and the revolution that it can bring about, we decided to become the first official Frappe partner in Mauritius. As part of our annual marketing strategies, we host at least 1 on-site conference per year in Mauritius to reach out to potential enterprise and public sector customers, showcasing our products and services. This year, we decided to dedicate the conference solely to showcasing ERPNext and its benefits, with the support of Frappe and Indictrans.We targeted the top 100 companies in Mauritius, the CTOs/Head of IT of Public institutions and leads from South Africa to whom we reached out through Digital Marketing Campaigns and through our office in South Africa. "
- Varuna Bangaleea, CEO, nVisionIT
Collective expertise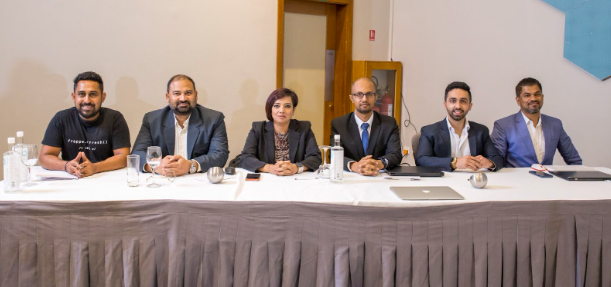 Image: Panel members: Frappe, nVisionIT and New Indictrans
Being a well-established entity in Mauritius, nVisionIT has a good understanding of the market and the people. To further bolster their technical and consulting expertise, they tied up with an experienced partner from India, New Indictrans. Bopanna G and Prabhat K, from the Frappe partner team, decided to visit Mauritius and meet up with the local community. All these three parties joined hands to establish a collaboration.
"The main idea behind organising this event was to come together (Frappe- OEM, nVisionIT - Local Partner, Indictrans - Execution Team, Gold Partner) and show our strength of coming together for better execution of ERP. How ERPNext is better than any other proprietary ERPs and to showcase the successful implementations in that geography. How strength of each team can benefit customers in faster and successful rollout."
- Kanhaiya Kale, Director, New Indictrans
The event
The in-person audience consisted of around 50 people who primarily belonged to government, semi-government, and private firms. The conference was also live streamed on YouTube for attendees around the world. These firms had revenues of over $10 million and have been using Oracle, Sage, and Microsoft Dynamics for quite a few years. This poses an intriguing question. Why would organizations that have been using ERP behemoths like these for years think of shifting to another ERP? This one-day conference primarily addressed the reasons behind it and how the collective expertise would help overcome their pain points.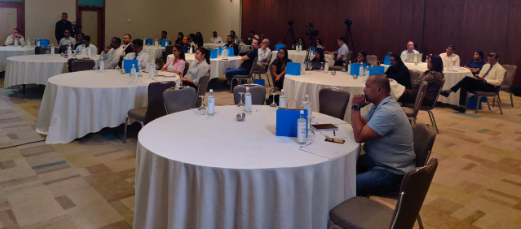 Image: Attendees present at the conference
After the opening words of Varuna Bangaleea, CEO of nVisionIT, our partner team shared the journey of Frappe, our vision and what ERPNext is.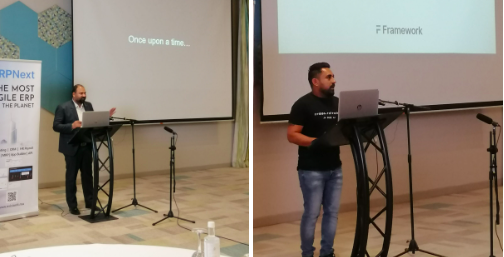 Image: Frappe representatives, Bopanna G and Prabhat K
Affordable Quality and Ease of Use
During our interview with the Frappe representatives, we gained valuable insights into their perspectives on the conference. They revealed that before the event, many attendees were unaware of Frappe's existence as a company. The audience was intrigued to find a company that does not charge fees for licenses. In contrast to other ERP providers, Frappe has broken the mold by offering an economical and more approachable system with ERPNext. This breakthrough made people realize that being expensive does not always equate to quality, and ERPNext proves that.
The other aspect that resonated with the audience were the low renewal costs. Not everyone can afford Oracle. Even if they can, it comes at the cost of limited control and independence over their own system. Frappe believes in empowering customers with their ERP.
Furthermore, Krishank Pawar, the Associate Director at New Indictrans, took the podium to present a comprehensive overview of the features of ERPNext. He spoke about several important elements, including the awesome bar, integrated modules, ease of use, customization options, and a scalable, low-code framework, which piqued the audience's interest.
Reflections on Frappe Local
Despite taking place on a Friday when attendees were winding down for the weekend, the event was well received for its informative and interesting content.
"The event was well organized. Also, the product is very user-friendly and highly customizable. "
- Laksha from the Independent Commission Against Corruption, Mauritius
Overall, the conference sparked a lot of thought among attendees about traditional ERPs that led to deeper observations and insights. So, what made us stand out? In simple words, free and open-source. All we had to do was explain our authentic side, the transparency of the product, and our collaboration. After the event, they found out that the 100 leads generated by the partner were interested in ERPNext as their ultimate solution (to reduce their cost of investment). Ultimately, this event was a win-win for both sellers and customers, as many attendees found a cost-effective solution for their business needs, i.e., ERPNext.
---