Frappe Bhutan Meetup
A journey to decipher a recipe to happiness, and to engage with the nascent Frappe community of Bhutan.
---
Bhutan, the place where they have figured out a formula for happiness. Really? Is something as abstract as happiness could even be quantified and measured?
The moment we finalized the trip to Bhutan for Frappe Local (a community meet-up), I started reading about it's culture. And my approach to understand a is culture, I read folk tales coming from that region. Dingphu Dangphu is an ebook which compiles folk tales from Bhutan. It had an answer in the very first para, as to what makes Bhutan a country which values preservation of the environment and culture so much.
Whenever I sent large stones rolling down the slopes for fun, my scientific grandmother would scold me, "After your death, the henchmen of the Lord of Death will hang those same stones on your testicle." The fear of testicle pain then restrained me from rolling stones that could otherwise harm humans, animals, and insects; destroy trees and plants; frighten countless invisible spirits; and disturb peace of the environs. This simple Bhutanese belief (or superstition as some would call it) is more convincing than science books in preventing the destruction of physical environment. - Dorji Penjore
After reading this, I was not surprised why Bhutan is the only carbon negative country in the entire world. Kudos!
The country has a population of eighteen hundred thousand, where majority lives in the capital city, Thimphu. They switched from absolute monarchy to constitutional monarchy in the year 2008. The king is still a Head of the State.
Though the country is small, it has all the ministries and institutions possible. Hence, a good chunk of their population is employed by the government. I mean, just imagine despite being small, they have to have consulates all over the world. Employment opportunities ;)
Frappe and Bhutan
Frappe & Bhutan goes back to 2015-16. I recollect conducting a sales call with the CDCL (Construction Development Corporation Limited). Like we were used to it, they ghosted us post demo, but made a surprise visit to our 2016 conference. Post conference, another governemnt funded IT company implemented ERPNext for CDCL. Post this implementation, the local partner went on to implemented ERPNext for host of other private and public organizations.
Frappe Partner
Nitin is a pure maratha manus from Loni, Maharashtra, India. He runs a Tally development shop from his home, though customers are mainly from Bhutan, Nepal and Bangladesh. An extremely humble and soft-spoken guy, but lacking the sheer energy a typical sales guy poses. I soon discovered that tech is his forte. To ensure 360 degree coverage as a company, he aligned with Netware. It's run by Karkey, a Bhutanese' citizen, system integration expert, and a well connected sales pro. To drive the functional side, they looped-in Yamuna who is a certified ERPNext consultant and a training specialist. This makes Netware a happy family of domain experts, ready to deliver successful Frappe/ERPNext implementation.
Nitin has a journey of 15 years with Tally, and has connected with Bharath Goenka (Tally's ex-CEO) on multiple occasions. Within Bhutan, he has been serving the Bank of Bhutan on Tally for about four years now. Since then he knew about ERPNext, being delivered by a local partner then. Of-late, Tally is losing ground to ERP solutions, so Nitin went about exploring ERPs and froze to ERPNext. His cycle of inquiry to becoming a partner was six months long. He anticipated that the moment he becomes a partner, the local partner will get activated, so he negotiated exclusivity for six months at-least. Smart guy!
Arrival
Paro airport is a piece of art, which depicts their cultural beautifully. It must be one of the most unique airports in terms of its aesthetics (p.s. I have not seen many airports).
We landed on Tuesday and reached the hotel at around four in the evening. These days, sunset happens at 5 pm. We rested a bit and met the host at the restaurant at 7 pm. It was a general get-to-know meeting, we planned in-person meetings with few prospects, talked aout getting traction for the Frappe Meetup.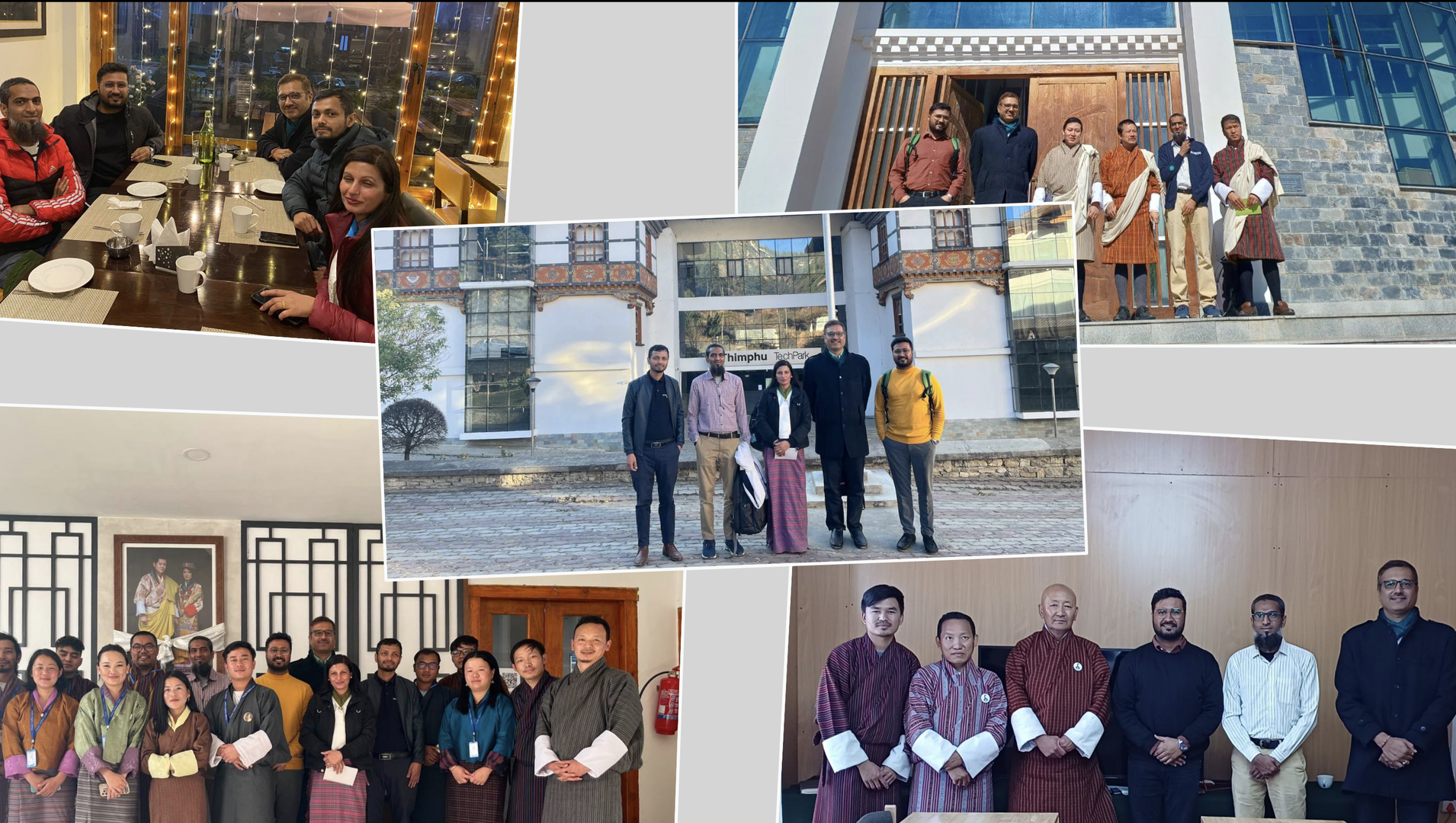 Post dinner, we strolled in our hotel's vicinity as temperature dropped to 4 degrees. Just saying, in Mumbai, 17 degrees is cold for us :)
During the in-person meetings, we received lots of respect as we represented OEM, and esp. me being co-founder (thanks to Rushabh once again).
Meetup Day
The meetup was planned at 5:30 p.m. By afternoon, there were 90+ registrations. The food was ordered only for 100, but Karkey suggested letting people come, as OEMs coming in their region isn't a regular occurrence.
I kept improvising the presentation till the last minute. As always, I followed the story format. For the walk-through on ERPNext, I set up a demo account using Druk Electronics as a sample company, with lots of demo data, and a website. Btw, Druk means Dragon, a very prevalent expression when it comes to naming a company.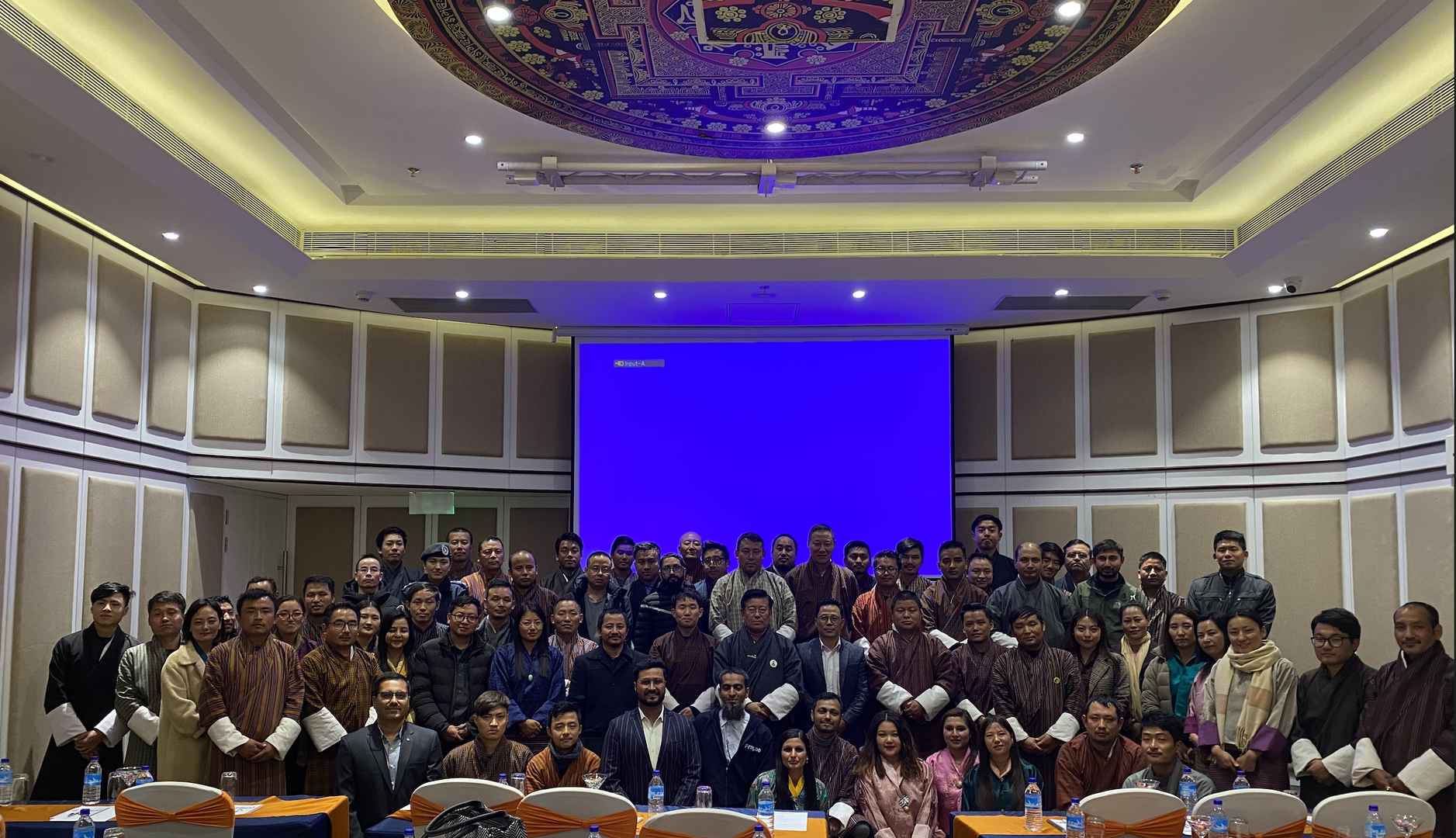 My presentation went smoothly. I felt comfortable after a few minutes, and could even include add-hoc stuffs. We tried impressing by using some local terms like Kuzu Zangpola (Hello) and Tashi Delek.
The audience were primarily IT enthusiast exploring open-source, and corporates who were speciaifcally using ERPNext or considering to use in future. So naturally, they were not so exposed to the idea of FOSS that much to appreciate it. Hence when I said, "we are the company with 100% open-source products", I was expecting claps, but there were none. ;) For me, the learning from was that we need to first deliver the value through our offering. Once they realise some, they will eventually understand the importance of FOSS, as compared to proprietary eco-system. In this sense, Frappe becomes a tool and a vehicle through which masses will be exposed to the idea of FOSS and appreciate the values.
As per the Frappe's culture, we also did open-mic. A community partner took the stage to share a story of a project where they used ERPNext as a backend for contact tracing apps made during the covid period.
By the time we ended, about 65 people had turned up, which was pretty decent given the overall community size.
Post meetup and some discussions, Karkay took us to a point from where the city's landscape could be seen. It being a Friday evening, there was party-mood across the city. He took us to Zong where the King's throne is kept. It was a beautiful scene.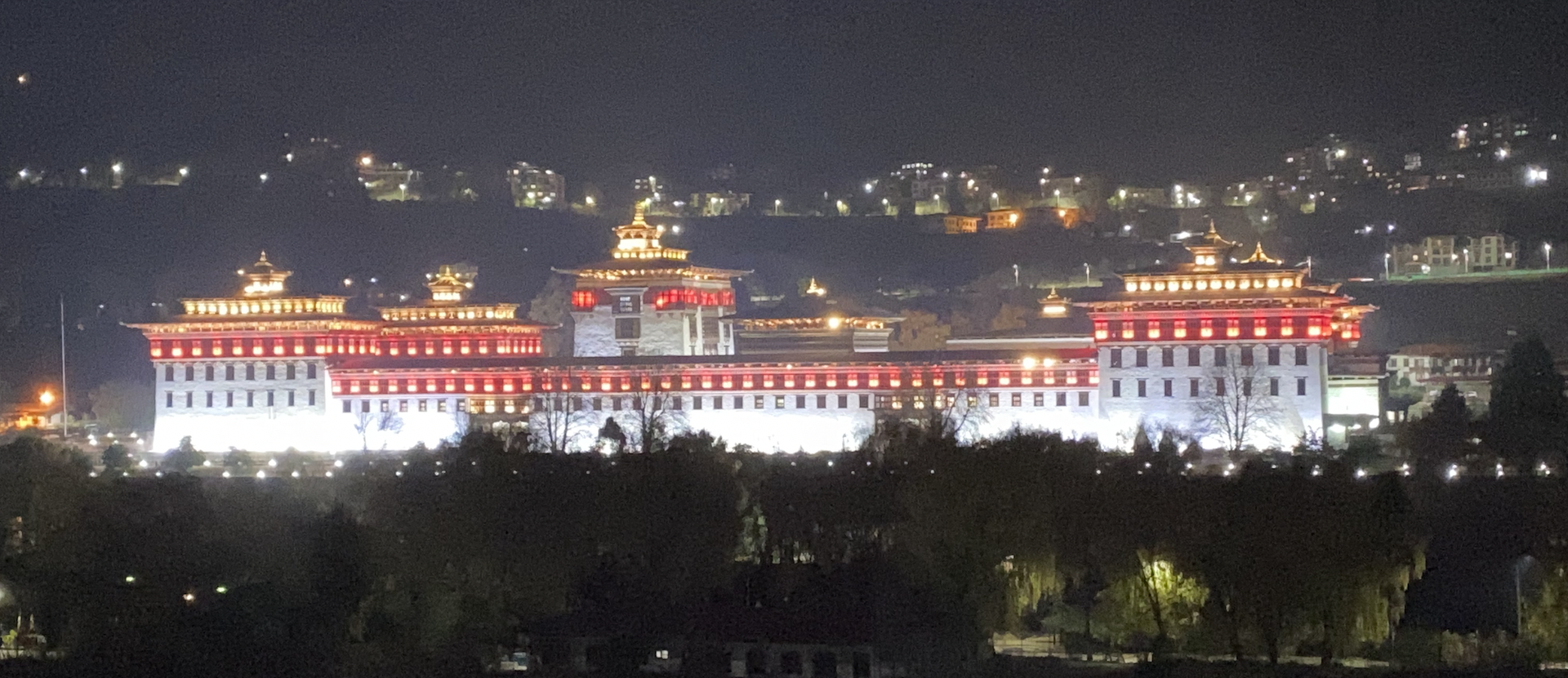 Trek to Tiger's Nest
We reserved one day for sight-seeing, and it finally arrived. We left for Tiger nest's trek at 8:30 a.m. and reached the base at 11 a.m. There were foreigners renting horses. We were accompanied by Deepak, a networking expert at Netware, and aspiring migrant for Australia. Super humble guy.
We completed the climb in 2.5 hours. Vaibhav started slow but then picked-up well. As always, descending was harder than climbing.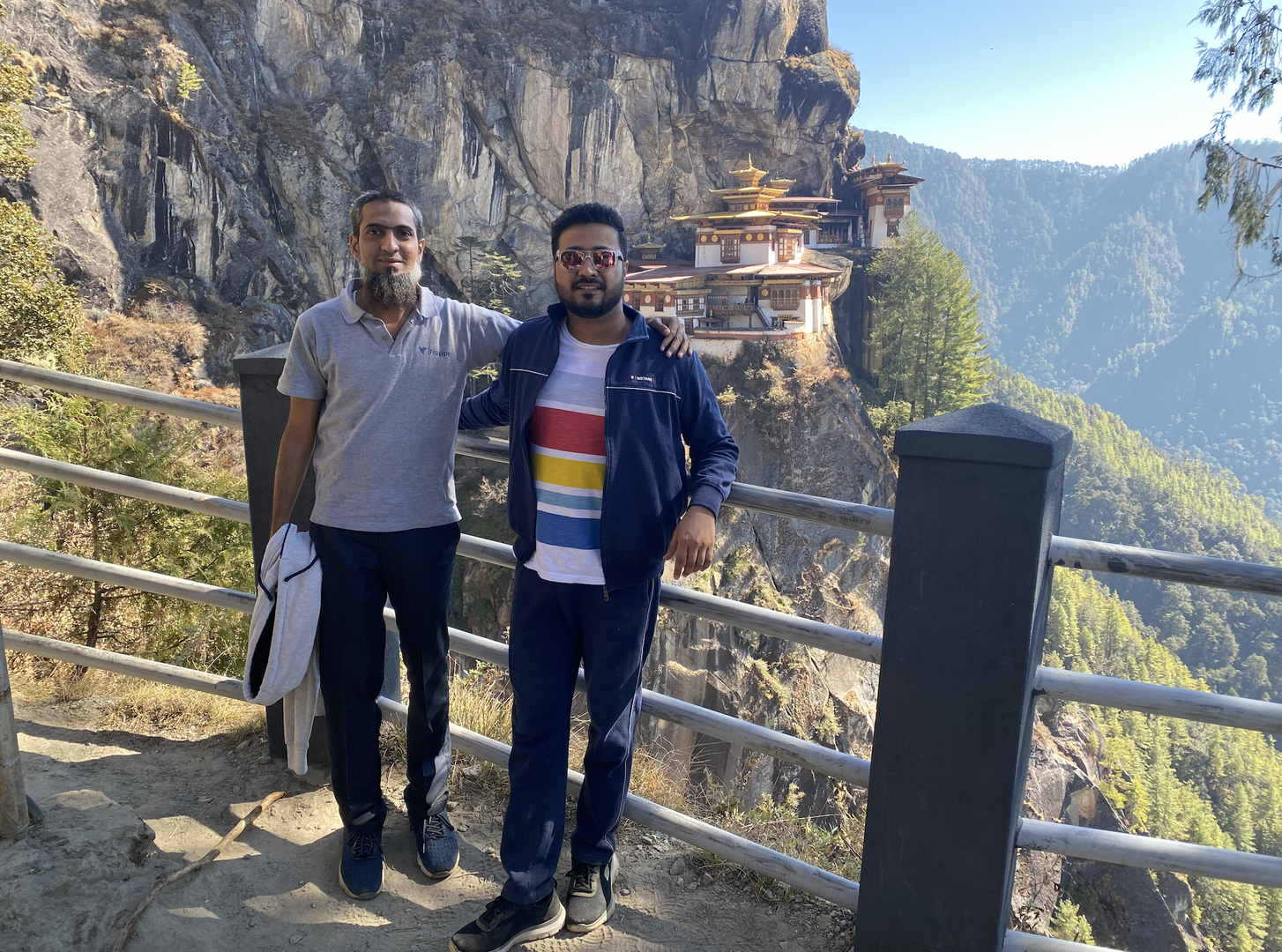 Understanding City & People
All across Bhutan, each building has to have a common exterior which brings aesthetics to the place. It makes you feel like you're in a different place, unlike metro cities back home which all look similar.

Apart from their national food, it's Indian and Indian Chinese is what Bhutenes eat, mostly non-veg. Pan chewing (and then swallowing) is something they do with extreme pride, even during business meetings.

You will find petrol pumps of BP, HP and Indian Oil in the radius of one Km, making you feel at home. The supplies come from India (of course). The rate of / ltr petrol is INR 80 #just-saying.

They play football. In-fact our hotel was right in-front of their actual size football ground. These days, they watch FWC on a big screen.

Females are the dominant gender in term of population and workforce.

Thanks to Bollywood, all of them speak Hindi to some extent. From Friday evening onwards, the mode of the whole city completely switches. You have Karaoke happening on large speakers, someone singing SRK's old songs. Alcohol drinking is very prevalent in their culture.

When they say, "we go down", it means they come to India for requirements like complex surgery, buying vehicle, machinery etc. etc.

At the outset, you see prosperity, at-least in Thimphu, though you have a working class who benefits from free education and medical service. But, not a single beggar is seen in Bhutan.

For a Friday prayer, I went searching for a masjid. I ended-up at sarv dharm prarthana sthal (a place of worship for all faiths). On a small plot, the Indian Army has constructed prayer halls for all mainstream religions. I saw a new side of the Indian Army where they are preserving culture, along with our borders. I was proud and thankful to the Indian Army in the same moment.

Just like we lose our cream talent to USA and EU countries, it's Australia for them.
Conclusively, it's a country which has preserved their cultural values, but is currently battling with capitalism to offer the alternate lifestyle, which offers what each surviving soul strives for.
Happiness.
---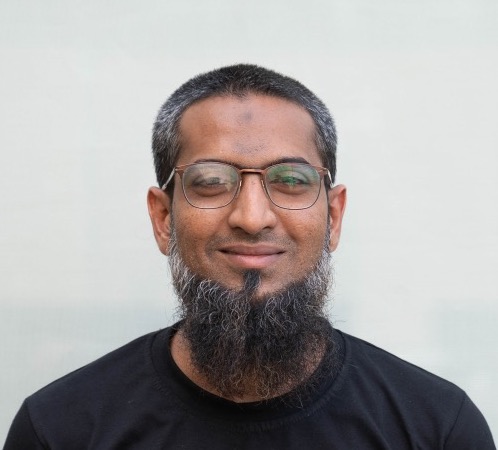 Umair is Frappe's co-founder, VP - Partnerships, and mentor for Frappe School team.