A glimpse into the high-spirited ERPNext Conference 2022
Amidst autumn we wrote spring on our palms, now watch us bloom
---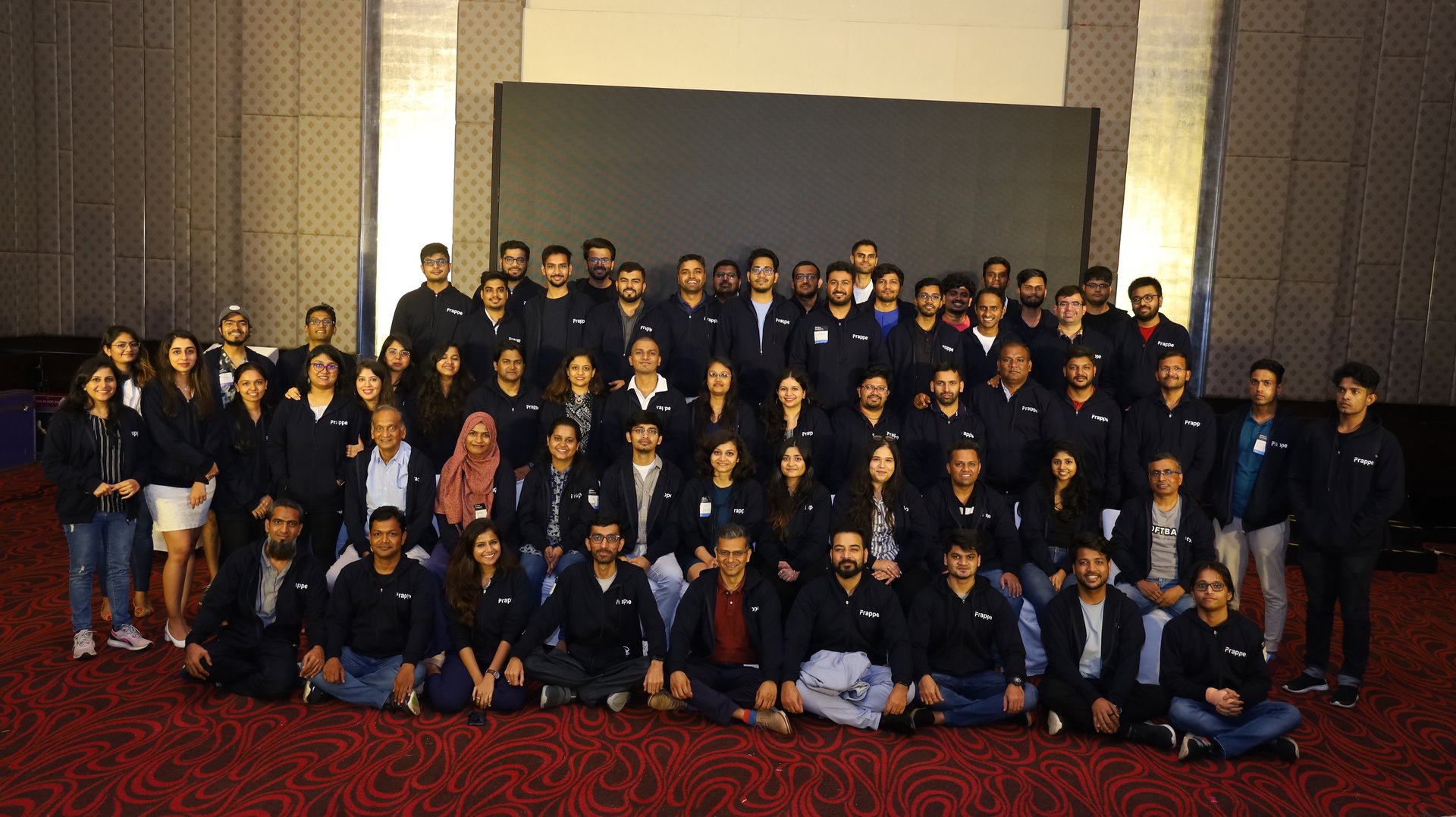 Have you ever gone to a magic performance and got completely immersed in the fantastic emotions on display? Or were you astounded by any of David Copperfield's performances, who was regarded as one of the greatest magicians of all time?
This ERPNext Conference was precisely the same, except for the fact that some participants had to fly from all over the world to witness the magic. Could be a little hard on their pockets but I am confident that it will pay off in the long run. :)
For months, Saqib, the third Ansari sibling, worked on Frappe Insights independently. In the meanwhile, he became unwell, and I recall paying him a visit to the hospital, where he was laying alone, impatient to be freed so that he could begin working on his unfinished project. He completed the project, Michelle utilized insights for official reasons and turned out that Frappe produced a well-crafted product, again. His health deteriorated again, and he was unable to attend the conference to announce the great launch of his heart work. Just in case you haven't sensed the unity of Frappe teammates, Hussain presented a demo on his behalf. Shadrak live-streamed his talk, and the audience praised each feature as Hussain flipped each slide. That is how the magic arose.
Umair proposed holding an in-person conference this year, and Palkan took the lead, creating a detailed conference plan well in advance. Other teammates volunteered for each assignment, ensuring that they organized a memorable event. Thirty-four talks were finalized, and they were all meticulously picked for the three days, developers, products, and business, in that order.
This was the most profound Frappe conference ever. Three hundred technology enthusiasts gathered under one roof to talk about ERPNext, Frappe Framework, Marketplace, Frappe Cloud, and other Frappe products. To me, it appeared to be a tiny version of Silicon Valley. With individuals discussing not only business but also their appreciation for the values Frappe holds in the most humble tone and how they had undergone life-changing adventures.
The sun rose from all the directions
The registration team sat at the conference hall's entrance, making sure they didn't miss any of the names of those attending the conference. The team created colorful stickers to assist us to discover partners, clients, coworkers, and other contacts more easily.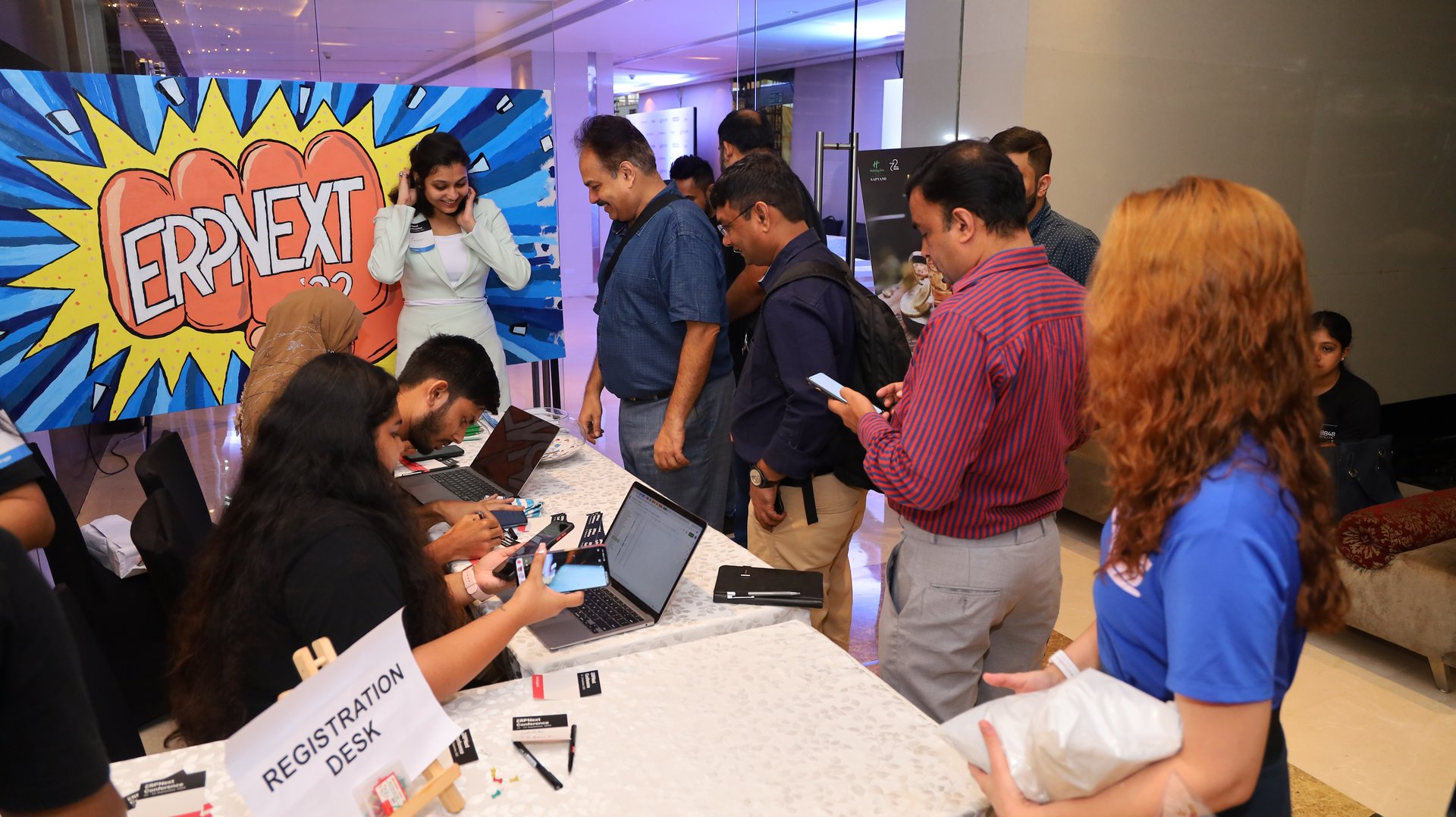 I could see the joy on people's faces as they entered the hotel suite. Many people were suffering social anxiety because they were used to working from home and only meeting others on occasion. This conference provided an opportunity for participants to acknowledge their social fears on stage while also attempting to break out of their cocoons. We observed folks from all around the world attending the conference. It was fascinating to learn about diverse races, languages, and cultures.
Let the feast begin
Our hosts for the event, Kundendu, and Vrinda M took the charge of the event and the day started on an energetic note. Rushabh was the keynote speaker, and he ran us through the history of Frappe and what it felt like to be working in the covid times. The highlight of the talk was the emerging power of ERPNext which has created a wave amongst the users of other legacy software. The participants gained a clear vision and got an assurance of heading in the right direction.
One of my favorite talks was the narrative told by the National Dairy Development Board team (NDDB). They provided an excellent illustration of the C2C (cow to consumer) concept and discussed the need of using ERPNext. This is one of the enterprise implementations which turned out well. This discussion made me appreciate the importance of storytelling and why it couldn't be conveyed any other way.
Shemeer Babu presented an intriguing story about assisting migrants by establishing an NGO called T4G Labs. He has assisted thousands of migrants, and ERPNext has enabled his new venture.
Umair had worked at Frappe for 15 years and made a thank-you speech on stage. I could see he was pleased and moved by his experience with Frappe. He expressed his gratitude to Rushabh, Nabin, and Prakash ji, as well as the team, for tolerating him throughout the years.
While several attendees questioned if Frappe is scalable for enterprise, Kailesh Nadh, CTO of Zerodha, took the stage and shared his experience with ERPNext and Frappe Framework. He also emphasized how the team is enjoying free software without having to pay Frappe anything.
Michael Pinkowski has been anxious to attend this conference for a long time. He is eager to support the sales team's success since he wants Frappe to expand in the US market. He expressed grief when he spoke about his buddy John Clarke, who passed away, and how they had planned to advance in their careers. They used to get along well over the correction of a flaw. In John's honor, we presented a prize to the forum's top contributor.
I was traveling with Nabin and Linet on my way back home. We were just talking about Hussain and Ankush's auras, both on and off stage. These individuals are yet to graduate, and the quality of their work is commendable. Hussain manages the marketplace and FC marketing on his own, while also designing and learning. I'm sorry, but does he have two brains? Rushabh remarked in a tweet that has our own Steve Jobs.
Ankush on the other hand is maintaining the Frameworks, cleaning up the shit on the repositories, and helping Frappe with new features, he is also one of the most active participants in Frappe debates, and yes he is a student too. He works on weekends. Not that anyone forced him, but sheer enthusiasm.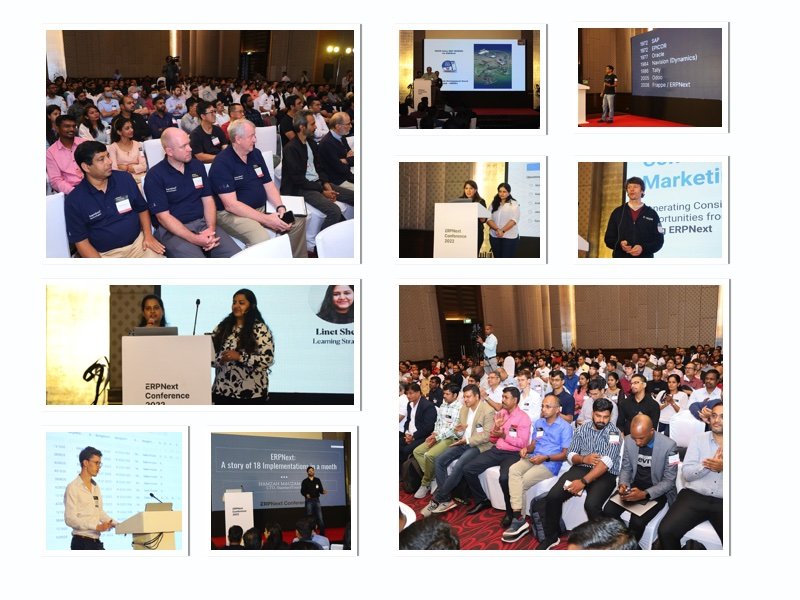 All hail simplicity
I've already interviewed a few of our partners and customers for success stories in the past. When I asked them why they picked ERPNext over alternative software, they always said the same thing: "We chose ERPNext because of its simplicity. The UI and UX are really engaging, and it allows us to effortlessly tackle difficult challenges."
Sailesh Khawani is an SAP veteran who has played with ERPs for over 30 years. In his conference presentation, he discussed his experience obtaining a preview of ERPNext and his interaction with the Frappe team. He had been considering joining Frappe's partnership program for some time, and one day he decided to visit the Mumbai office to meet Umair and Rushabh.
Sailesh, who comes from a hardcore corporate background, dressed up in a blazer because he felt it would be a sin not to suit up and meet the folks of ERPNext/Frappe. And, to his absolute amazement, he was astounded to discover the founders dressed simply, Rushabh in shorts, and Umair in a traditional attire offering him tea. They were fermenting ideas in a modest office space in the greatest metropolitan city.
During their conversation on relationships, Umair advised him to think about it and take his time before involving with Frappe. Sailesh, captivated by their simplicity, made up his mind in seconds and declared, "this is it, I'd want to proceed with the partnership deal."
Roadmap or magic?
Frappe's second name is "magically chaotic." When the new products were launched, there was a lot of excitement among the participants to get their hands on them. The discussion erupted immediately following the AMA (ask me anything) session, during which individuals came forward to voice their feelings about Frappe and its products.
With great power freedom comes great responsibility. Freedom is one of Frappe's basic principles, and it is so deeply embedded in teammates that we cannot imagine working in any other way than by picking what we want to focus on. Participants were a little weighed down by this concept since their worst-case scenario is that the product developer leaves work halfway through and there is a divergence from the product's intended roadmap. A partner or consumer would select a product solely based on its quality and endurance. In the meanwhile, if they discover a flaw, the client will take the case of a partner, which will eventually influence his credibility and directly impair his balance sheet
On the other hand, some of us at Frappe have a roadmap prepared for us internally; it's just not public. While some colleagues like to operate without a plan and know how to slay their game, they also fulfill the features requested by people on the public forum.
Magic worshippers weave their dreams quietly here. They'd be missing for a time, then reappear, generating the enchantment that leaves us speechless.
While Frappe's colleagues were demonstrating the products, participants suggested features such as monitoring timesheets, working hours, and face-scanning to track employee attendance. Ankush called them out not because they asked for things that would aid them, but because they were stifling people's excitement by placing them in a cage. Ideally, keeping track of attendance implies that you have set a boundary for your staff and they must operate within specific constraints. The horse-blinkers won't let them think outside the box or give them the flexibility to work on whatever project they desire.
Set your software and people free, and watch the magic happen.
Following this argument, several people stepped forward and pledged to open source their product; others also reconsidered eliminating the attendance requirement. So, I'm interested in how any of them made the decision.
Rushabh conducted a Twitter poll this morning to determine what the community prefers between roadmap and magic. And it turns out that the majority of them chose "Roadmap". This, I assure you, is not something that all of the Frappe colleagues believe in, but it's food for thought, and we'll have to see where things go.

Making memories
How can one go away from an event packed with people hungry for knowledge? During the three-day meeting, Rijul, Reema, and I volunteered to record the videos. It was exciting to engage with folks in person for the first time. Their conference experience was fascinating to learn about, with so many anecdotes about open source, FOSS, and Frappe. I recall one gentleman who was concerned about his appearance and insisted on taking a photograph with his cell phone, which made him seem thin. We all had a good chuckle over it.
The weather was magnificent in the morning as I drove to the conference hotel. The roads were wet from the rain last night, the pleasant perfume of some woodlike scent, and the sun perched in a half smile. It was wonderful, and it is precisely how I want to remember this conference. Pure, warm, and magical.
---