Talks from ERPNext Conference 2016
ERPNext Conference is an yearly event where ERPNext community gives talk over ERPNext feature and how to take product forward.
---
ERPNext Conference is a yearly event where ERPNext community members give talks over ERPNext features, customizations done around it and discuss how to take product forward.
Rushabh Mehta on Foundation, Cathedral and Bazaar
Rushabh initiated his talk with a welcome note and an update on registration of the ERPNext Software Foundation, which is just around the corner. His presentation was designed around famous essay from Eric Raymond's, 'The Cathedral and the bazaar'.



Community Talks
Basawaraj Savalagi on ERPNext Implementation at Selco India
Basawaraj is an ex-SAP expert, experienced on large scale ERP implementations. He talks about how he found ERPNext and evaluation experience in line with expensive ERPs. He was a protagonist in implementing ERPNext at Selco India, a social enterprise who does projects in the rural parts of India where people live off the electricity grid. Their products and projects helps in conserving electricity from the sunlight.
Currently ERPNext is used in about 45+ branches of Selco. They are actively using it for managing purchases, handling complaints and tracking projects.
Aditya Duggal on Deep ERPNext Customization at Rohit Industries
Aditya started his journey with ERPNext as a system user, with no expertise on the technical front. The scalability of Frappe and ERPNext as a platform has encouraged him to learn programming from scratch. He talks about features he has developed himself on Frappe and ERPNext.
@
max_morais
, you have a surprise here!
Andrew Togniolo on Extending ERPNext for the Enterprise
Andrew is from IAG Group, Australia. They have been doing extensive customizations in ERPNext, mainly around ease in navigation and data filtering. They are one of the active contributors of features to the ERPNext repository.
Dominik Ottenbreit on how Community can Contribute
Dominik is a promoter at ESO Electric, Germany. In the last one year, he has scaled team of ERPNext developers from one to five. Dominik talks about how the community can contribute in different forms to make ERPNext better.
Vivek Digambernath on Building Career around ERPNext
Vivek was another ex-SAP in the house. He talks about his journey of starting with ERPNext as a freelancer. Vivek has done about 30+ implementations in the UAE region alone. Given his enthusiasm towards ERPNext, Rushabh fondly referred his talk as a TED talk :)
Eric Delisle demo Awesome Cart developed on ERPNext
Eric is a serial entrepreneur and visionary from Florida, USA. His demonstration of Awesome Cart, developed on top of ERPNext was just awesome. Wait, there is more to it. Eric made that demo in a yoga position. Don't miss this!
Tony Ta on Building Successful Client Relationships
Tony Ta is a founder of Cloude8, Singapore. He kept the momentum going after Eric. He talks about best practices for understanding client's requirements and implementing ERPNext in phases. They have also done localization of ERPNext as per statutory requirements of Singapore.
Jay Ram on Enhancing Manufacturing Module
Jay Ram talks about implementing a manufacturing module for an organization when things are not organized in the best of its form.
Hisham Farid on Replacing Enterprise Solution with ERPNext

Hisham talks about his experience of implementing ERPNext for one of the leading glass products manufacturer in Egypt. In his last implementation, he replaced Oracle with ERPNext for a company having 20,000 employees.
Revant Nandgaonkar on Custom Applications on Frappe Framework
Revant is founder of MN Technique, Mumbai. He and Gaurav presented custom applications developed on Frappe Framework.
Antonious Tara on Building ERPNext Capabilities
Antonious talks about his evaluation experience compared to other open source and enterprise ERPs. After enrolling, he was able to do custom ERPNext projects for his own company and clients. Currently Anton has a team of 5 engineers dedicated for ERPNext customizations.
Rohit Sharma on ERP Implementation Challenges
Rohit talks about what are the challenges in the ERP implementation, and how service providers should tackle them. He suggests that we should not see it just as a implementation of an ERP solution, but takes it as a project of change management.
Kanhaiya Kale on Future of ERPNext
Kanhaiya talks about interesting projects like ERPNext - Quickbooks Integration. He also suggests that ERPNext foundation should offer certification on Frappe/ERPNext, thereby, develop resources for the ease of Service Providers.
Team Talks
Nabin Hait on Roadmap of ERPNext
Nabin talks about who drives ERPNext and what is the future road map of ERPNext.
Kanchan Chauhan on ERPNext Community Statistics
Kanchan presented important statistics from ERPNext community like no. of ERPNext Service Providers, hosted ERPNext customers, global reach of ERPNext to state a few.
Umair Sayyed on Feature of ERPNext Version 7
Umair talks about new ERPNext features Offline POS, Payment Entry, Cheque Print Format and Collaborative Project Management Tool.
Rohit Waghchaure on Feature of ERPNext Version 7
Rohit talks about new features like Timesheet, Tree structured Warehouse master, Budgeting and lot more.
Faris Ansari on Latest UI Upgrades in ERPNext
Faris talks on latest UI upgrades in ERPNext like Heat Maps, Mobile UI and Gantt Chart.
Neil Lasrado on ERPNext Schools
Neil, the conference manager, talks about how we started with ERPNext Schools and who is using it currently.
Shreyas Patil on Self Hosting your ERPNext Account
Shreyas talks on self hosting your ERPNext account, and what other alternatives you have, like hosting with us :)
Saurabh Palande on Bench Central and Reseller Plan

Saurabh explains how bench central works for managing multi-server and multi-site environment of ERPNext. Must watch for the community members interested in a referral model.
We had many interesting discussions on how to take ERPNext forward as a community. To learn more, check
Learning from ERPNext Conference 2016
.
---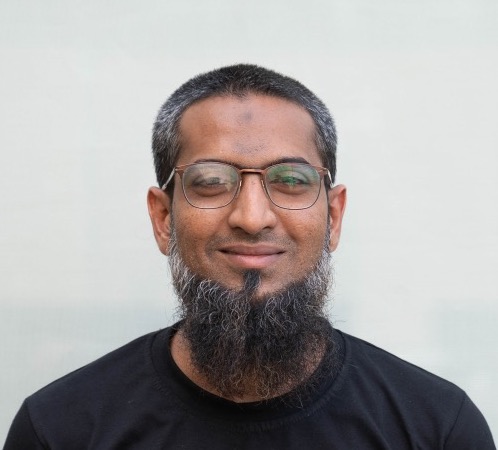 Umair is Frappe's co-founder, VP - Partnerships, and mentor for Frappe School team.