Re introducing ERPNext Hosting + Support
A look at the new ERPNext Hosting + Support plans and our pricing experiments through the years 2010-2022
---
Pricing for free and open source product support is a particular challenge. People generally don't expect to pay for anything (free software), so the expectations are really low. Over the years, it has been a challenge to design the right kind of support offering with the aim of providing great support to our customers and ensuring sustainability of the project itself.
Pricing has always been something we have never really got a grip on and we have run numerous experiments over the years. As we launch our new pricing, here is a quick recap of our pricing experiments and how we got here.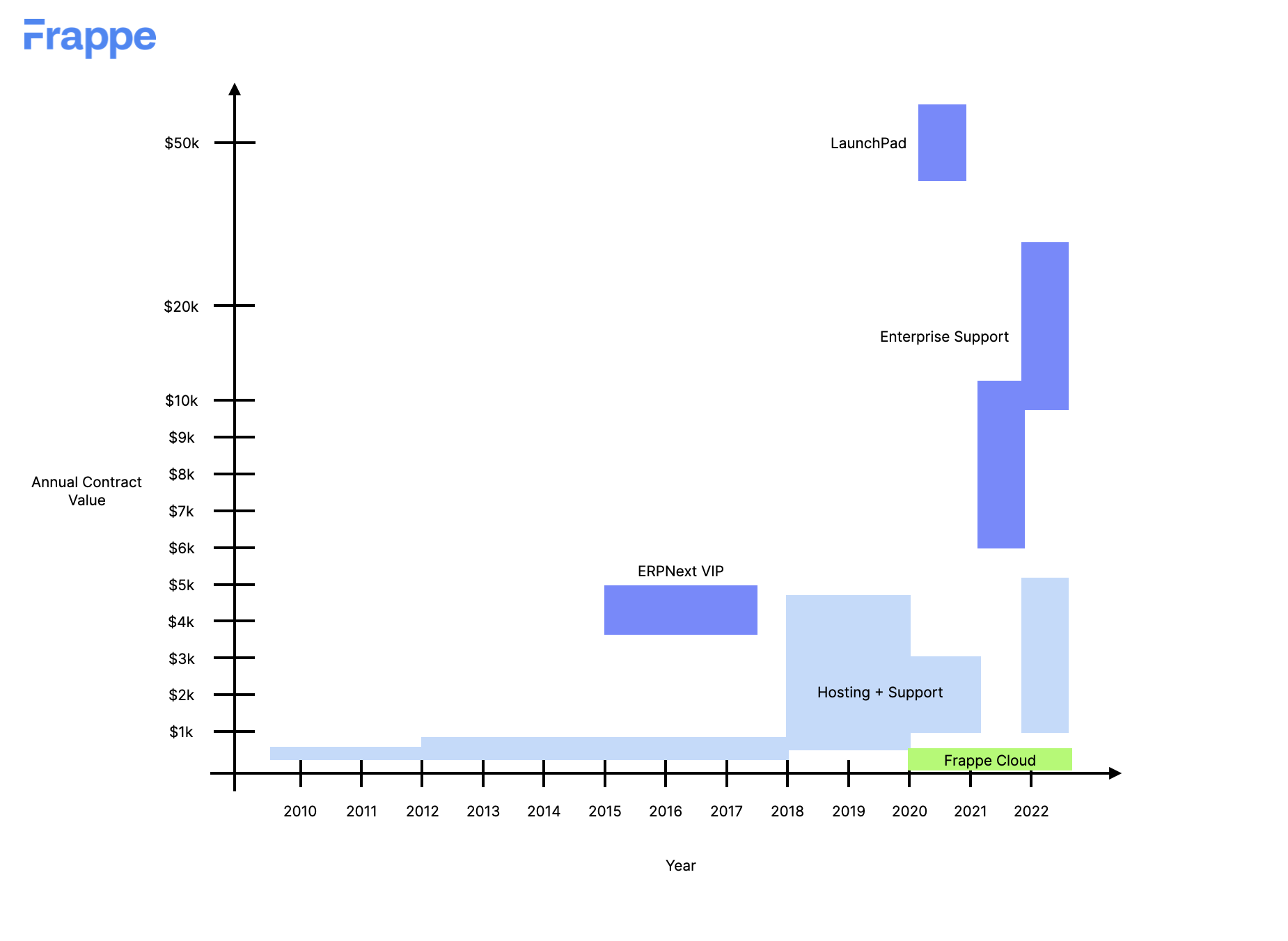 ERPNext Pricing 2010-22
Version 1 (2010) - Monthly Per User Billing
When ERPNext was launched in 2010, we started with a simple price of $7 per user per month. This was at the absolute low end of the market. We had hoped that with such low pricing, we would attract a large number of small companies who needed more than just an accounting system to something that was a lot more sophisticated and robust and helped them in managing their orders and purchases. We persisted with this pricing for maybe 2-3 years and while it brought us our first set of customers, it wasn't really working for us. Just from the top of my head, the top 3 problems were:
Subscription billing was not still easily available - so we had a "credit" system where the customer paid upfront (any amount) and a monthly charge would be deducted.
ERPs were hard to implement for small businesses, so while there were a lot of signups, they weren't able to put in the effort required to migrate from their accounting system.
It is very hard to convince accountants, they don't like to change their accounting system (like Quickbooks or Tally), so while business owners want an ERP, their accountants usually put them off.
Version 2 (2012) – Annual Plans
In the 2nd iteration in 2012, we ended our monthly billing in favour of a simple, flat billing at $99* (single user), *$299* (5 users) and *$599 (20 users) annually. These plans still attracted the same of audience (small business) but worked really well for us because:
It was a lot simpler
We got paid upfront for the full year.
Customers were a lot more invested in using the product.
Point #3 was a revelation. We did not anticipate that by paying a bigger amount, customers showed a lot more keen-ness to implement the ERP. It was easy to see in hindsight that money brings attention. Our annual plans seemed to be classic and while we had many different tiers over the years, this remained "bread and butter" revenue for us.
Version 3 (2015) - ERPNext VIP
Inspired by the Wordpress VIP plan, we introduced a new VIP plan for $5000* per year that included 50 hours of consulting and development. An unlimited user option for *$3000 per year was also added.
This was a reflection of the fact that we had started attracting companies that were willing to pay us more than a few hundred dollars and our first indication that the market for ERPs in the mid segment would be far more lucrative than the one serving very small companies. We continued to bill for our older customers on the 2012 plans.
Version 4 (2016) - Launching Central
In 2016, the new version of our multi-tenant platform (Central) was launched and this helped us get more flexibility in how we could configure sign ups and plans. In 2017, we introduced more tiers based on the same annual payment plan, but for slightly more users.
10 users - $499
15 users - $599
25 users - $899
50 users - $1499
100 users - $1999
1000 users - $3999
In 2018 and 2019 we rationalized this again into 3 plans (Basic, Standard and Pro). Things more or less remained constant on the support front. Our consulting team did everything from sales, onboarding and support, and we called them full stack consultants.
Version 5 (2020) - LaunchPad, Cloud 2020, FrappeCloud.com
While we were getting inquiries from larger companies, 2020 was the first time we started addressing two separate markets, one for mid-sized and larger companies and one for smaller companies. We also lauched a brand new hosting focussed product "Frappe Cloud".
LaunchPad:* We started to think from the perspective of the companies we were trying to serve - these were now not mom-and-pop manufacturing units but multi-million dollar corporations that needed a solid ERP system with high volume of transactions and complexity in their workflows. This is when someone threw a number of $50,000 and it made sense. So we started with LaunchPad plans with *$50,000 aimed at larger companies, and we even closed a few of them at this price.

Cloud 2020:* To address smaller companies, increased our base price to *$1000 per company per year with bundled onboarding as a part of the Cloud 2020 plans. These plans were a moderate success, we were able to attract good quality of customers, but the pricing for them was too low as they started but could not sustain.

FrappeCloud:* Quietly, we also launched FrappeCloud.com - a pure play hosting service without support, to address the open source community's need for affordable, managed hosting for Frappe and ERPNext, with plans starting as low as *$10/month for unlimited users.
Beginning from 2020, we started understanding larger companies a lot better. They needed a lot more support, implementation and customization. We decided the "middle" zone was the worst to be.
Version 6 (2021) - Enterprise Support + Partner Engagements
2021 was a COVID year and we went back to a per user model for enterprise support. The gap between Cloud 2020 and LaunchPad was just too big and we realized that if we have to go to enterprise we have to price it as the market expects us to price - that is per user.
We started pitching a price of $300 per user per year for enterprise customers mostly driven by sales. This was the first time we had a functioning sales team and we started qualifying customers based on their ability to pay. We decided to leave out the smaller customer for partners who could use Frappe Cloud and provide support to the SMB customers.
Version 7 (2022) - Unlimited Users & ERPNext Support
Most of our inbound customers still came back from the open source funnel and pitching a per-user pricing was becoming a challenge as we had said in the beginning that people come to ERPNext looking for a bargain. This year we decided to ditch the per user model and go with a module wise support for unlimited users starting at $10,000.
This year we also finally shut down our 2015 cloud platform (Central) and migrated to the new platform (FrappeCloud). FrappeCloud is very superior to Central because we were able to launch and manage custom apps and marketplace. This again opened up a gap in our pricing, so we are back with ERPNext.com Support plans for SMB!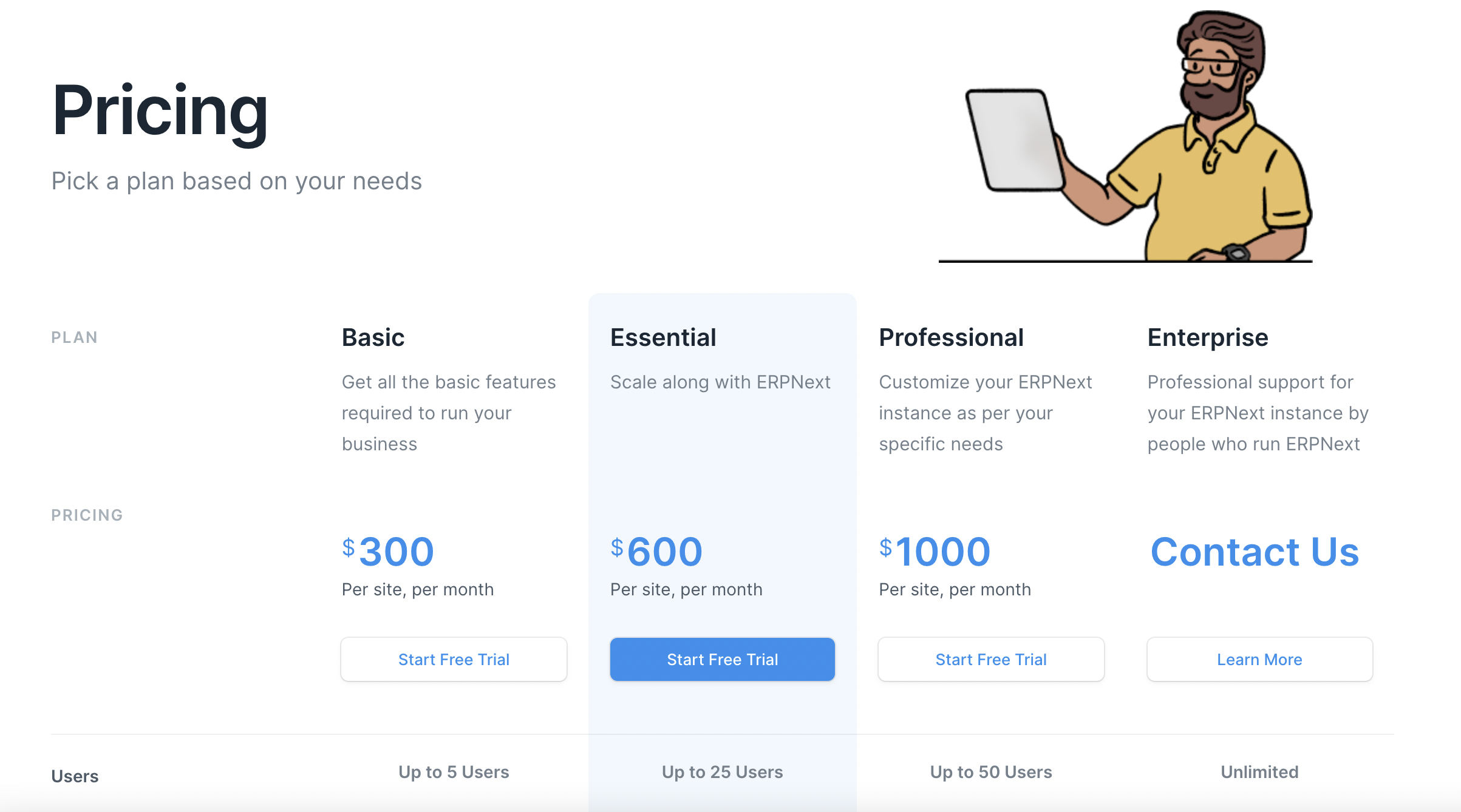 New ERPNext hosting + support plans
Conclusion
As Steve Blank says "a startup is a search for a business model" and over the years we have tried various options to find the right fast growing model for us. While we do grow at an average of 50% every year, it's been "slow" compared to many of the fast growth SAAS startups we have seen out there.
In the last couple of years, we understood larger companies better and realized that we need a strong ecosystem to address them while we as Frappe focus on core product support and hosting. Hopefully this time we are wise and chastened, or are we? Only time will tell. To be honest we don't have a lot of idea about it, as we address a lot of different markets and their needs while we look for the "hockey stick" growth curve.
While you are here, don't forget to checkout our new Support + Hosting plans at ERPNext.com
---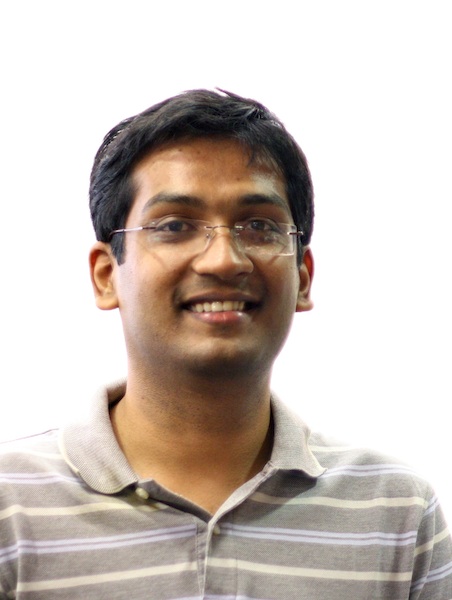 Rushabh is a software developer and founder of ERPNext. He usually writes about the startup experience, open source and the technologies he is working on.