Introducing ERPNext Support for Frappe Cloud
Want to set up an ERP at just $50 per month? Read this blog to know more.
---
Implementing an ERP always comes with its fair share of challenges, and when coupled with a heavy bill, only adds to the problems. But what if you'd get the entire product (for free) along with hosting and support for unlimited users at just $50 per month?
ERPNext has been a 100% free and open-source ERP from day one. With the introduction of Frappe Cloud, hosting of ERPNext has been as accessible as $10 per month. However, so far, this did not include product warranty support. But well, here's some great news! We have recently introduced a new plan, specially designed for small businesses starting at $50 which bundles product warranty.
Why the price change?
We have always aspired to promote open-source through Frappe Cloud and ERPNext in every business. However, we realized that small and medium-sized companies require more than just hosting; they need the assurance of product warranty to ensure their business continues to function with minimum disruptions. This pricing change goes beyond offering hassle-free hosting. Now, with Frappe by your side, you also get bug resolution support with a dedicated SLA all bundled with the hosting. We also wanted to move away from user-based pricing to help businesses control their expenses as they scale and drive the last-mile support through the partners.
Pricing Plans
ERPNext pricing is now as simple and straightforward as it gets.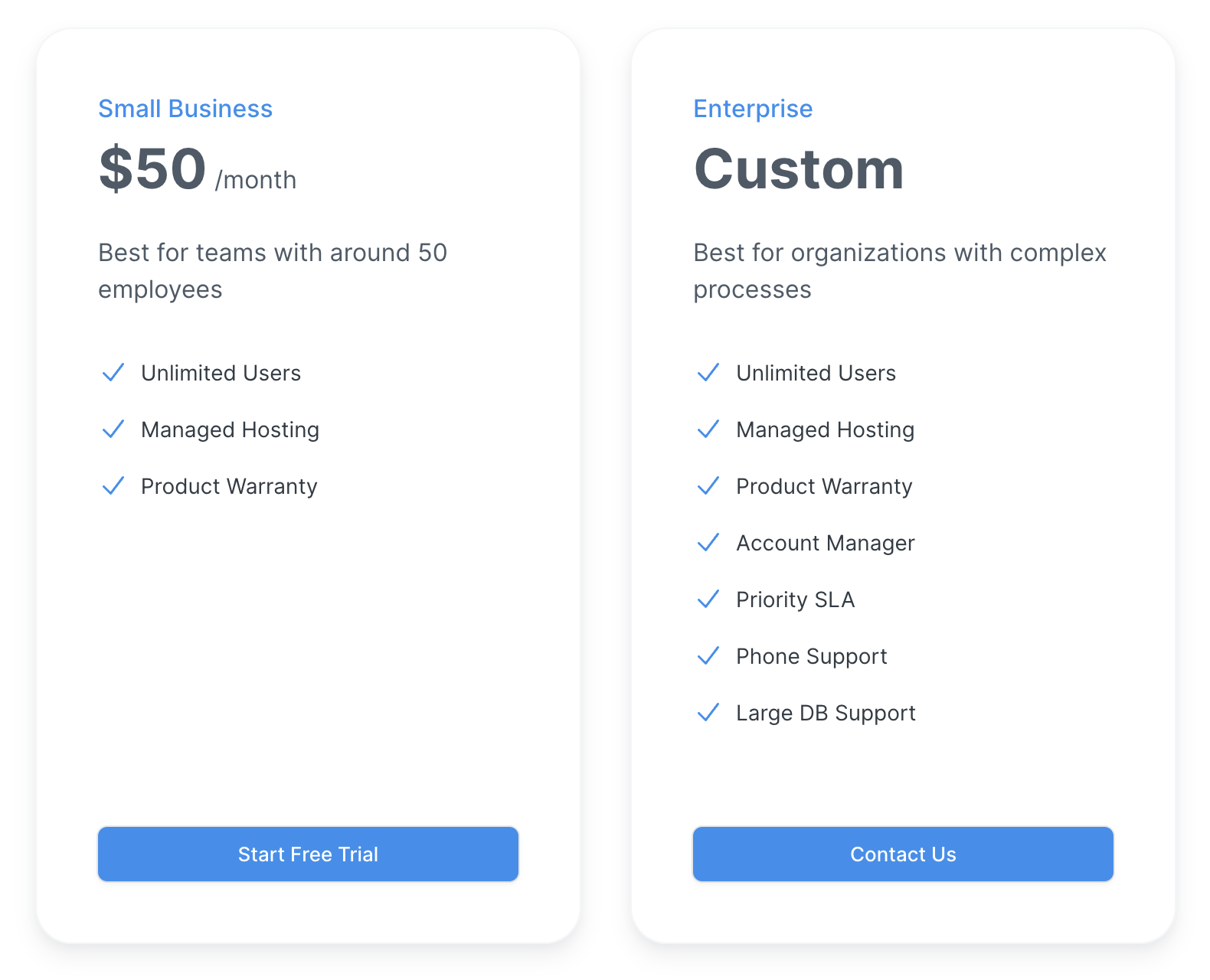 Small Business
If you are a small business looking to implement an ERP to automate your processes, then the ERPNext Small Business plan is the right choice for you. You will get unlimited users and managed hosting along with product warranty support for ERPNext and Frappe Framework at just $50 per month. Product warranty support includes replicable bug resolution and critical issue fixes.
Enterprise
If you are running a business with slightly complex processes and need scalability support, then go for the Enterprise plan. You get everything offered in the Small Business plan along with large database/scalability support at a tighter SLA. Not just that, you also get an Account Manager from Frappe to help you get started with ERPNext. Interested? Drop us a message and we can take it from there!
But how do I implement ERPNext?
This is where most businesses get stuck. We often hear of failed ERP implementation stories and that is mostly when you get them implemented through someone who isn't well-experienced with the product and familiar with your business processes. If you're looking to get started with ERPNext, we suggest you connect with one of our official partners who will map your business processes and suggest you the right workflows to ensure a smooth transition from your legacy systems.
Frappe HR pricing
There's also good news for HR users. If you install the HR app on sites that are on the $50 and above plans, you are also eligible for HR product warranty. If you are looking only for an HR solution, then you can also install it as a standalone product. Check out Frappe HR and sign up today!
I'm already using Frappe Cloud, what's new?
Great! If you already have a site on the $50 and above plan, you can now reach out to us on our Support Portal to avail product warranty for ERPNext/HR along with hosting support. And if you are on the $10 and $25 plan, the hosting support still stays! This is applicable for both shared and dedicated servers. To know more, check the Frappe Cloud pricing.
What changes for our existing customers?
If you are one of our older customers and have purchased support on the user-based pricing we've got you covered. Since you have been associated with Frappe for a long time, and have been our loyal customers, you get enterprise-grade functional support too with a dedicated SLA along with product warranty and hosting on your older plan. So if you do not look at increasing your users in the near future, then you are already on the right plan. If you are a scalable business and would prefer the new pricing, you can migrate to the Small Business plan. Raise a support ticket with us and our team will help you make a smooth transition.
TL;DR
We've introduced the Small Business plan which includes a product warranty along with managed hosting starting at only $50 per month. We want to serve every business through open-source products and this change helps us get one step closer to our mission. To sum it up, as a user, you now have the following options:
Use ERPNext for free but host your site with us on Frappe Cloud at plans lower than $50 per month. No product warranty included.
Use ERPNext for free, host with us, and get the product warranty at just $50 on the Small Business plan.
Use ERPNext for free, host with us, and avail of premium product warranty along with performance and scalability support on our Enterprise plan. You also get an Account Manager to ensure your implementation success.
If you install Frappe HR on your site on the $50 plan and above, you get HR product warranty for the same price.
For all of the above plans, get ERPNext and HR implemented with the help of our official partners.
Install ERPNext and Frappe HR for free and self-host it.

We believe that with this new pricing, Frappe Cloud and ERPNext are no longer just solutions, but enablers of growth. Ready to embrace the future of ERP?
Take a free ERPNext trial for your business today!


---