The Frappe Newsletter - September 2022
October 28, 2022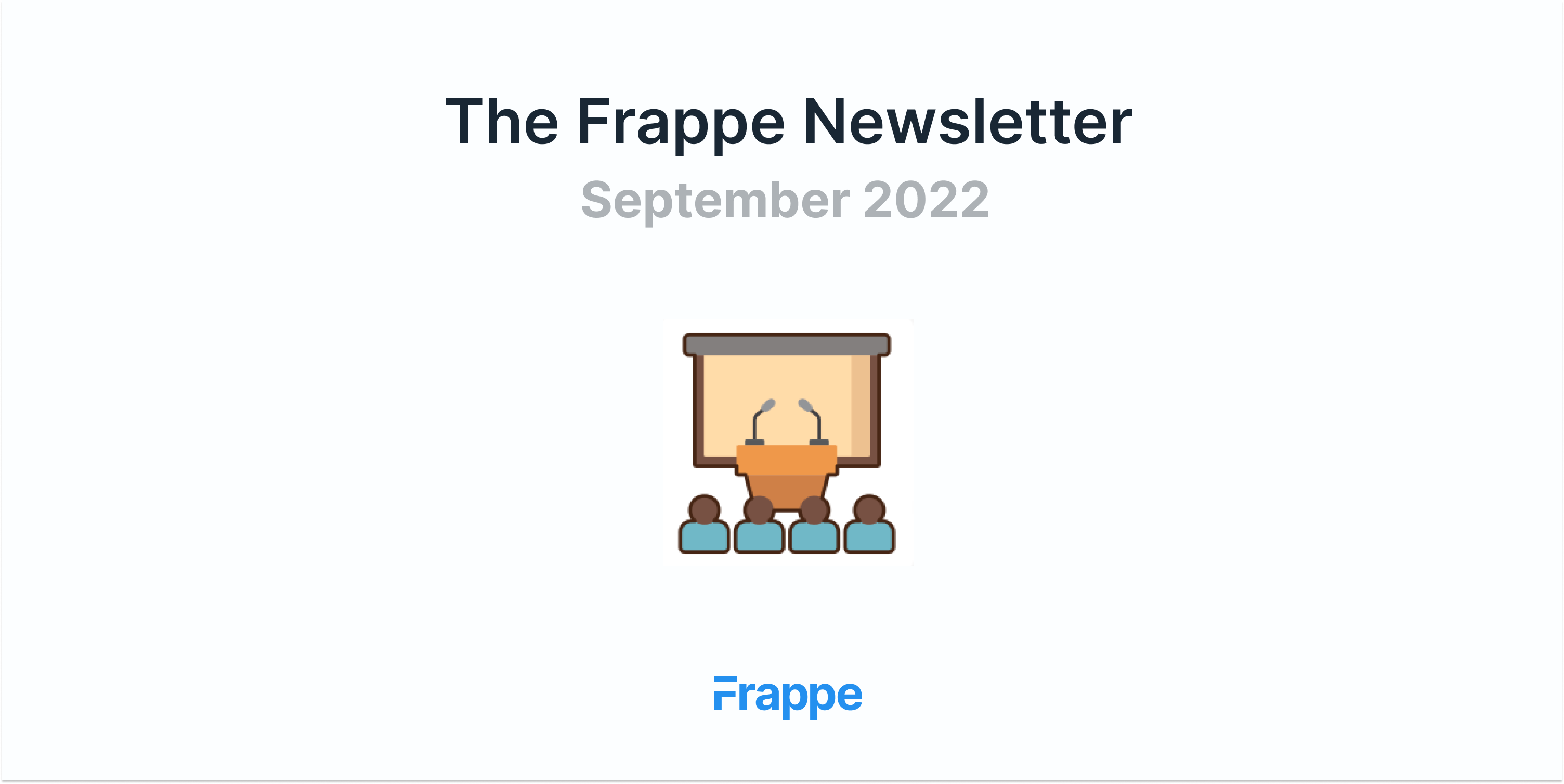 Apologies for the tardiness, we've had an insane month here at Frappe. We painted murals, put together a world-class conference, met people from all across the world, launched enough products to put Apple to shame—you get the gist. But let's not waste any further time and dive right into our month's highlights.
Did I mention our amazing conference?
If there's one thing the pandemic had taken away from us that we'd sorely missed, it's the ability to connect with people in person. To meet kindred spirits from different walks of life, to have spirited debates that almost grudgingly end in consensus, to share ideas that prompt you to reconsider worldviews you'd never thought needed reform. Now that we've all started to slowly and cautiously step out of our cocoons, we thought it was time to take a break from the onslaught of online events we've all grown accustomed to and create an opportunity for our community to get together in person. Palkan rose to the occasion and put together the 6th edition of our annual ERPNext Conference with aplomb. People flew in from around the world to make the event a huge success. In case you missed it, check out Ambareen's account of the event and Rushabh's blog on how this year's conference changed the game.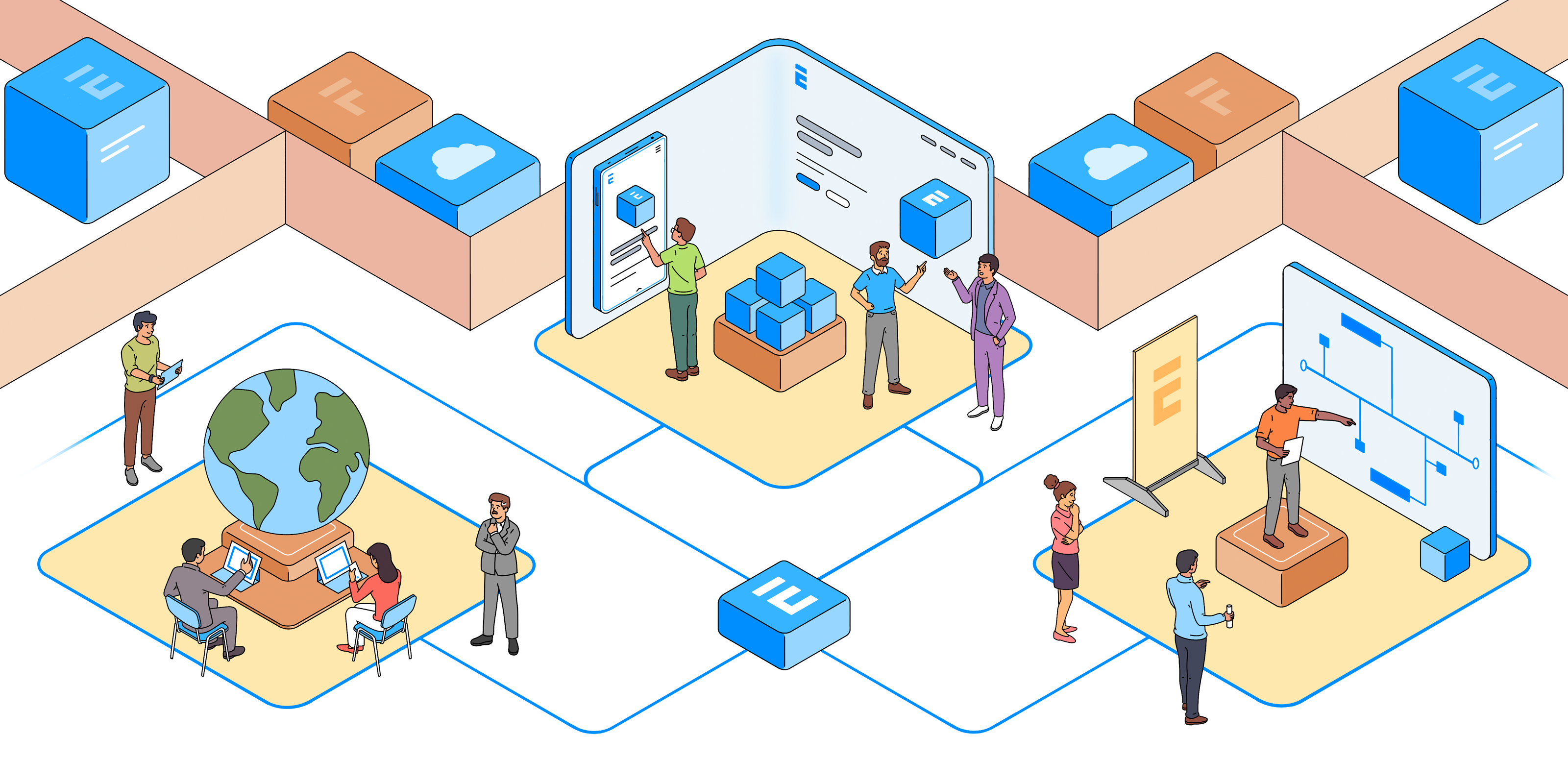 Making a mural together
The conference was the picture of sophistication—the halls were fancy, hung with cloud-like chandeliers, the hosts were all decked up in formal dresses and suits, the speakers were poised with aesthetic presentations. Which is fitting, for a tech conference, but Frappe is all about the young and scrappy. So the night before the event, the team met up at the office, got our hands dirty and painted a mural together. Amidst all that finery hung this little piece of Frappe.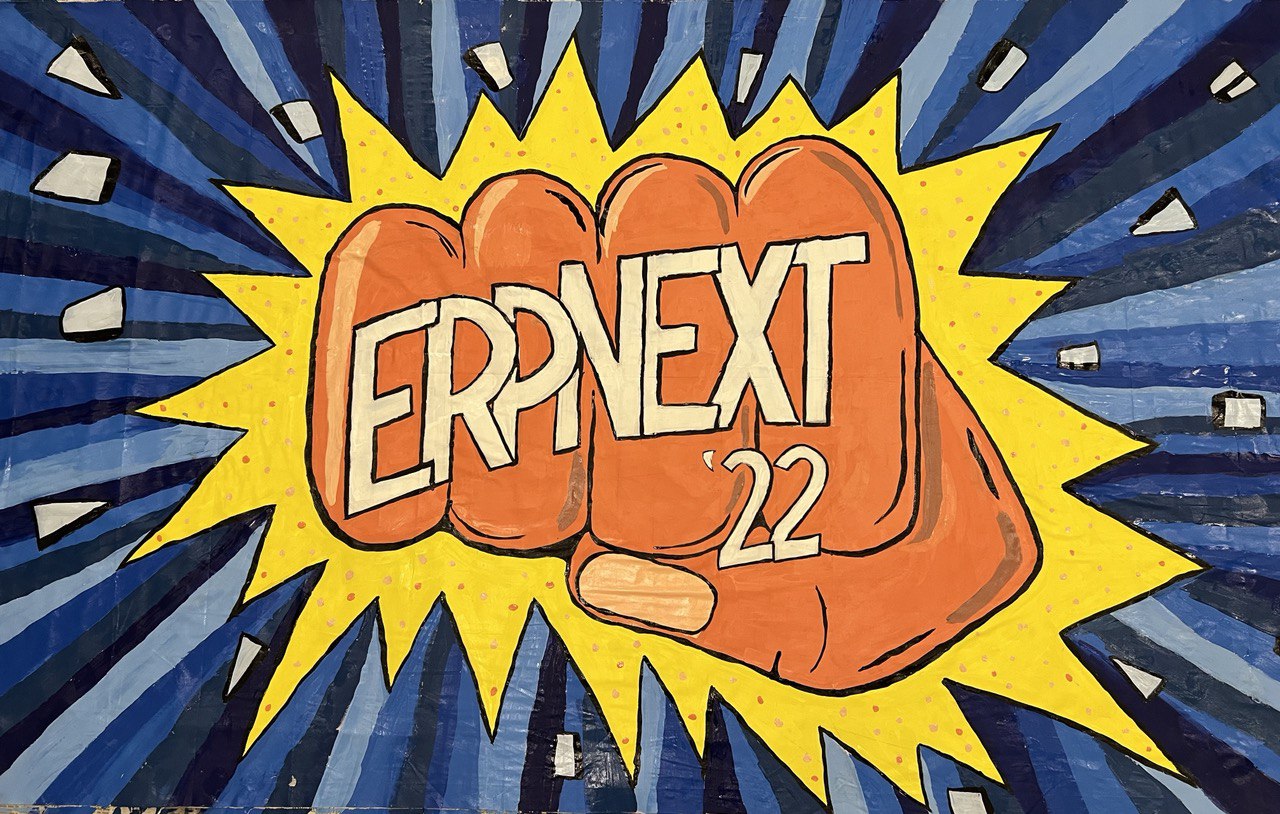 Teaching people how to build Frappe apps
On the days leading up to the conference, Faris and Ankush, along with a guest instructor, Raffael Meyer, CEO of ALYF GmbH, taught participants how to use the Frappe Framework to build cool apps with minimal coding. Although we hold training sessions frequently and have a wide array of courses on Frappe School to walk you through the fundamentals of using the framework, this was the first time we were holding one offline. Check out this link to learn more about the certification.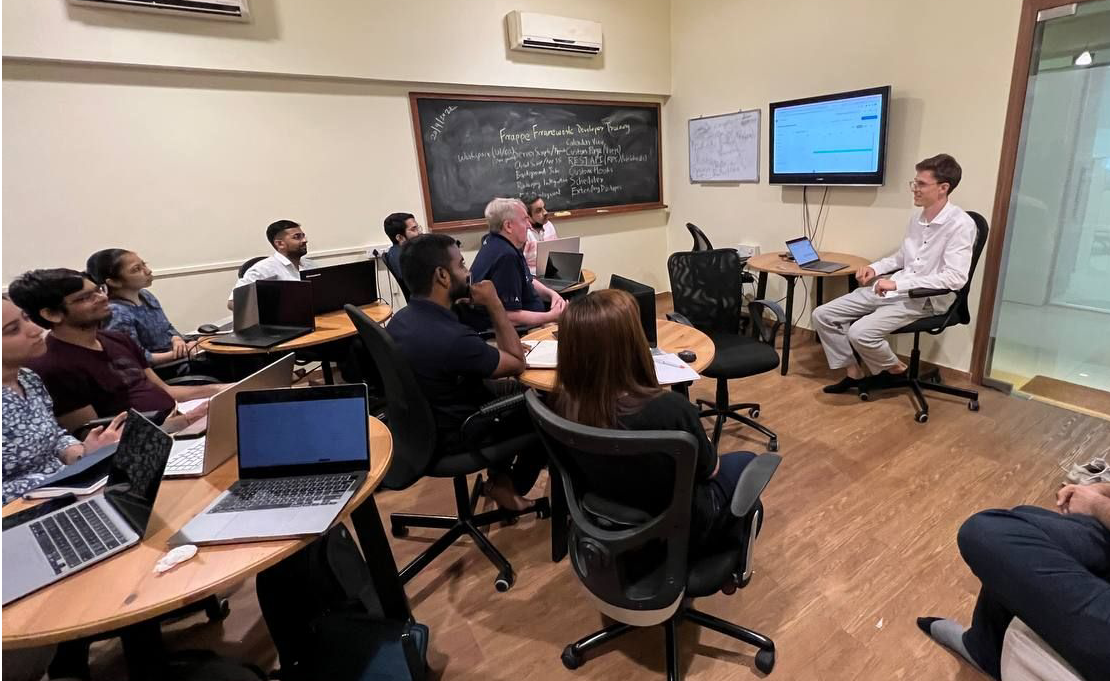 Product launches galore
When you think of a developer, you'll probably conjure up an image of an unwashed man in a hoodie, sitting hunched over too many screens, too socially awkward to share what he's up to. But our devs don't shy away from the spotlight. They put their showmanship on display for us every month during Open Days, and last month, they did for the rest of the community as well. This year's conference saw not one, not two, but four devs launch their products right on stage.
Honouring our best contributors
It never fails to amaze us, how committed our community is to giving back. It doesn't take more than a casual scroll through our discuss forum to understand this. So on the second day of the conference, we decided to honour some of our community members and partners with awards recognising their outstanding contributions.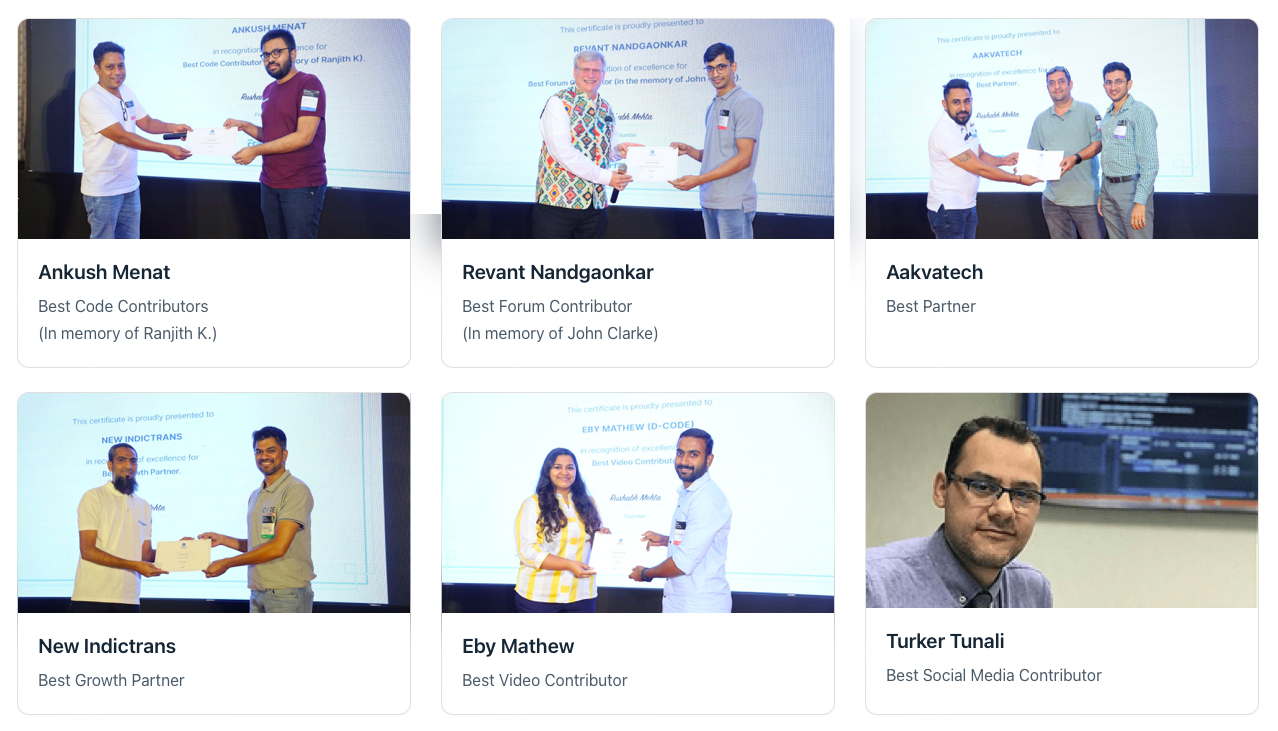 Meeting everyone's families
On the final day of the event, after the stage was taken apart and everyone had left, the team invited their families to join us for dinner. It was almost like watching a BTS video of their lives, meeting the people responsible for moulding such truly awesome people. The less socially adept of us awkwardly waved hellos and politely greeted the families of our friends, while others zoomed around, charming the mothers and playing with the children.
Is it even a Frappe event if it doesn't end with a debate?
Our team is unconventional in more ways than one. When Nabin announced that our devs don't follow a roadmap, a sizable fraction of the audience was displeased. Our plan (to have no concrete plans) made perfect sense to us. When you have an engineering team this gifted and self-driven, why bog them down with restrictive deadlines and inflexible milestones? Those on the business side of things warned against this approach, stating the difficulties it poses for them when trying to sell our products. But while setting the cash registers ringing is important, Frappe cares more about building innovative products, and for that, we must trust our engineers.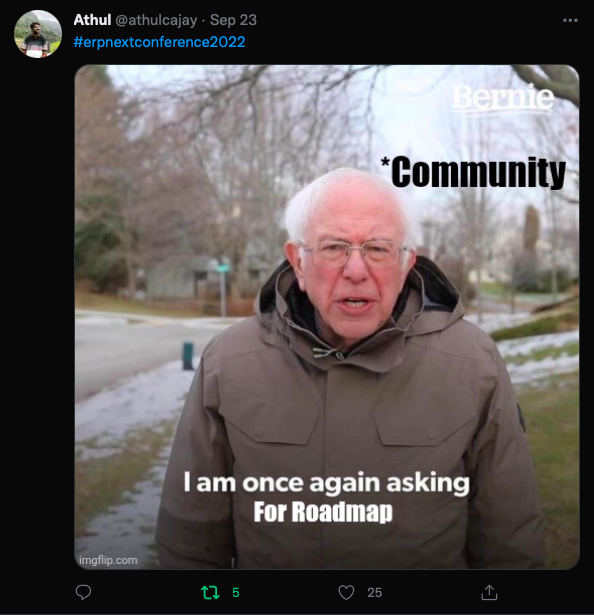 Frappe Framework hit 4k stars!
In other news, our labour of love, Frappe framework, finally hit 4k stars on GitHub, serving as a gentle reminder that sometimes, good things take 17 long years to get the attention they deserve. (But maybe don't make us wait 17 more years to hit the next milestone and head on over to frappe/frappe on GitHub and show us some love?)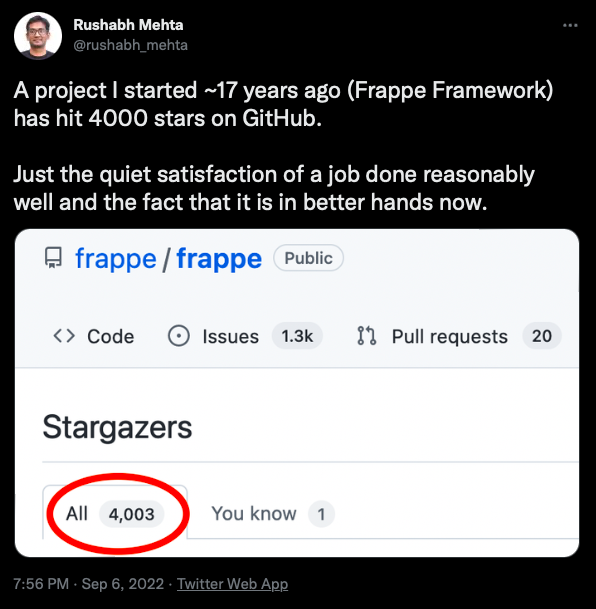 Frappe School updates
In case you were feeling sad about missing our training on building apps using Frappe Framework, check out this new course on the framework by our award-winning contributor, Eby Mathew.
If you're a healthcare provider trying to figure out how to make the most of our healthcare module, do check out this new course on healthcare management by Linet Sherin.
Say hello to our new partners
Last month, 3Q Space LLC from the US, Havenir Solutions GmbH from Germany, Data Value from Egypt and Dipane Technologies Pvt Ltd and NestorBird from India joined us to become Bronze Partners. The Frappe partner program is designed to help our official partners close deals faster, provide guaranteed support and assist in OEM branding. To understand more about it, check out this blog by Umair on how our partnership model evolved and the benefits offered by it today. In case you'd like to become a Frappe Partner yourself, check out this link.
ERPNext Updates
Rangsutra is a modern enterprise in the distributed creative manufacturing industry supported by Fabindia. Check out this blog by Ambareen to find out more about how they used ERPNext and Frappe Cloud to digitize their system and streamline their data.
In case you're still on the fence about becoming a Frappe Partner, check out this blog by Ambareen on how Accurate Systems chose to partner with ERPNext and their journey so far.
We're hiring!
If you've liked what you read so far and are looking for a job, don't forget to check out our open positions. Here's some encouragement.
---
Okayy, that was a little longer than we intended it to be, but hey, like I said, we've had a busy month. In case you think someone in your network would like this newsletter, don't forget to share it with them. If you haven't subscribed yet and are wondering how to, here you go.
Cheers,
Ganga