The Frappe Newsletter - November 2022
December 30, 2022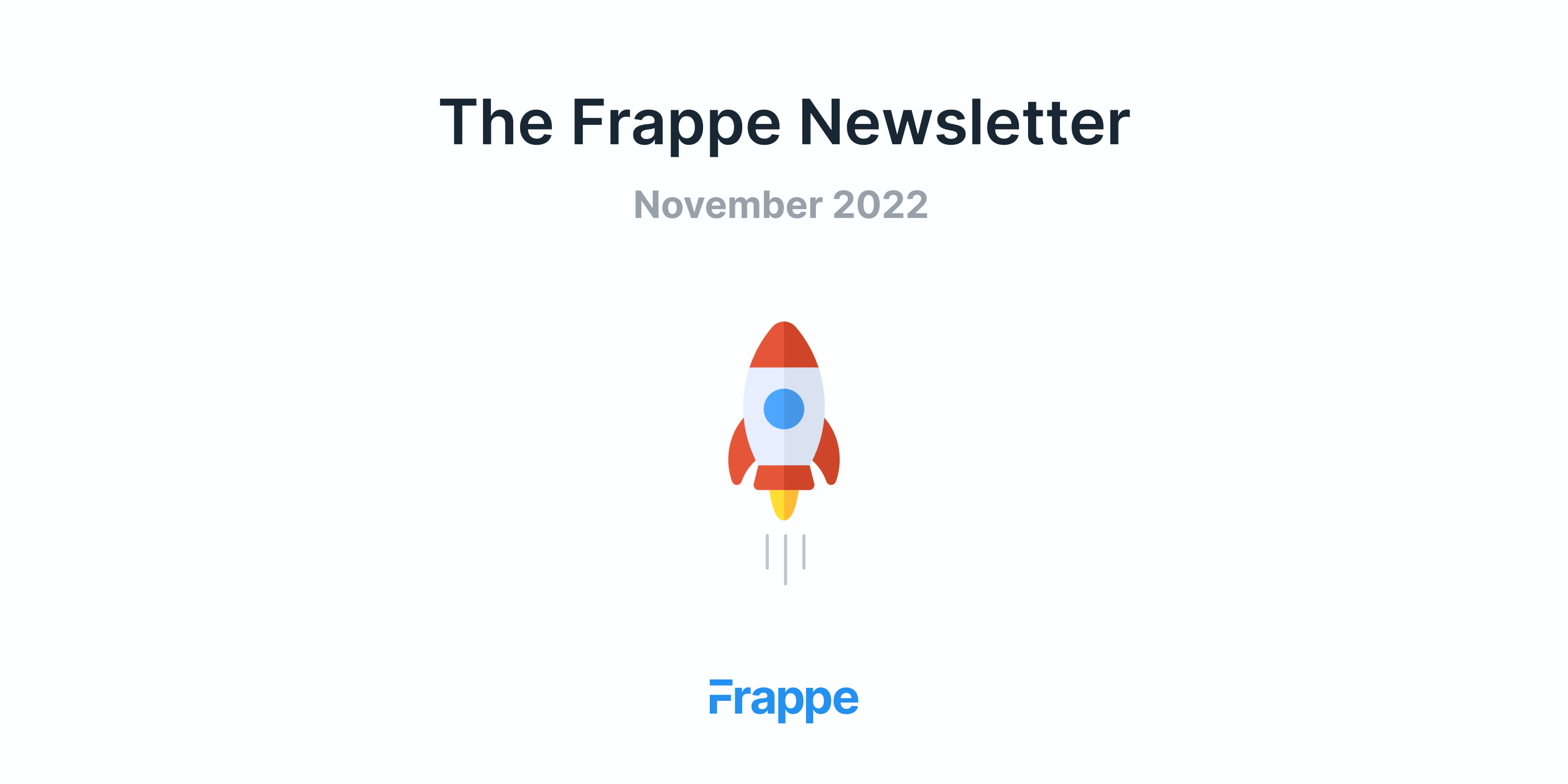 After all the Diwali dhamaka in October, Frappe members kept their spirits high and worked hard to bring you many exciting updates.
Learn with Frappe School
As the Frappe ecosystem is growing, so is the curiosity of our keen learners. Apart from the 30 participants who took up the ERPNext Certification Course this month, another batch of 28 participants was coached by Hussain, and Rohit for the Frappe Developer Certification Weekend Course. In all, November bagged 2 Certification Courses, 58 learners, and many newly certified Frappe users! 🚀
If you missed the previous batches and the FOMO is creeping in, do not worry. You can sign up today for the upcoming ERPNext Certification training starting on 11th Jan 2023.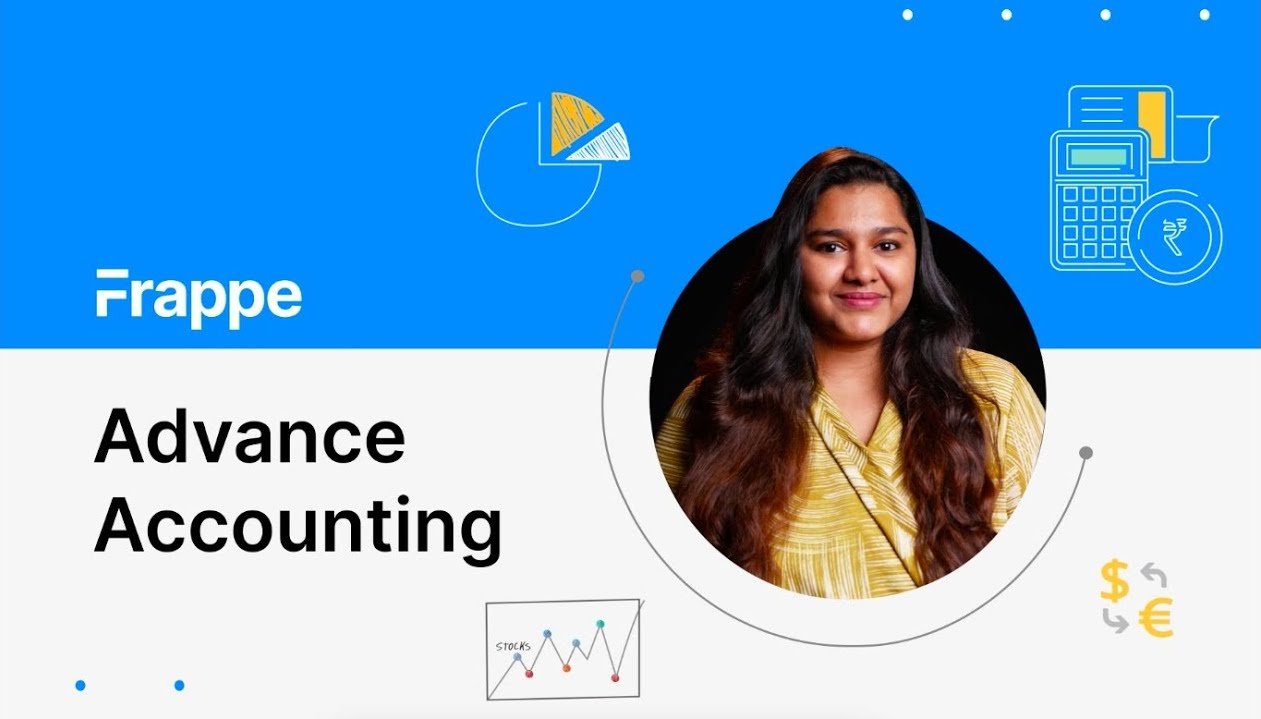 A new course, Advanced Accounting - Part 2 is now available with 7 new chapters on Frappe School. Learn from the course and become an expert of the accounts module.
Build with Frappe Incubator
Frappe aims to have an ecosystem that builds amazing products and not just provides services. We have been working towards that aim and today we have an entire Marketplace with over 70 amazing open-source Frappe apps listed on it. To encourage more contributions and empower the community to do so, we bring you the Frappe Incubator Program.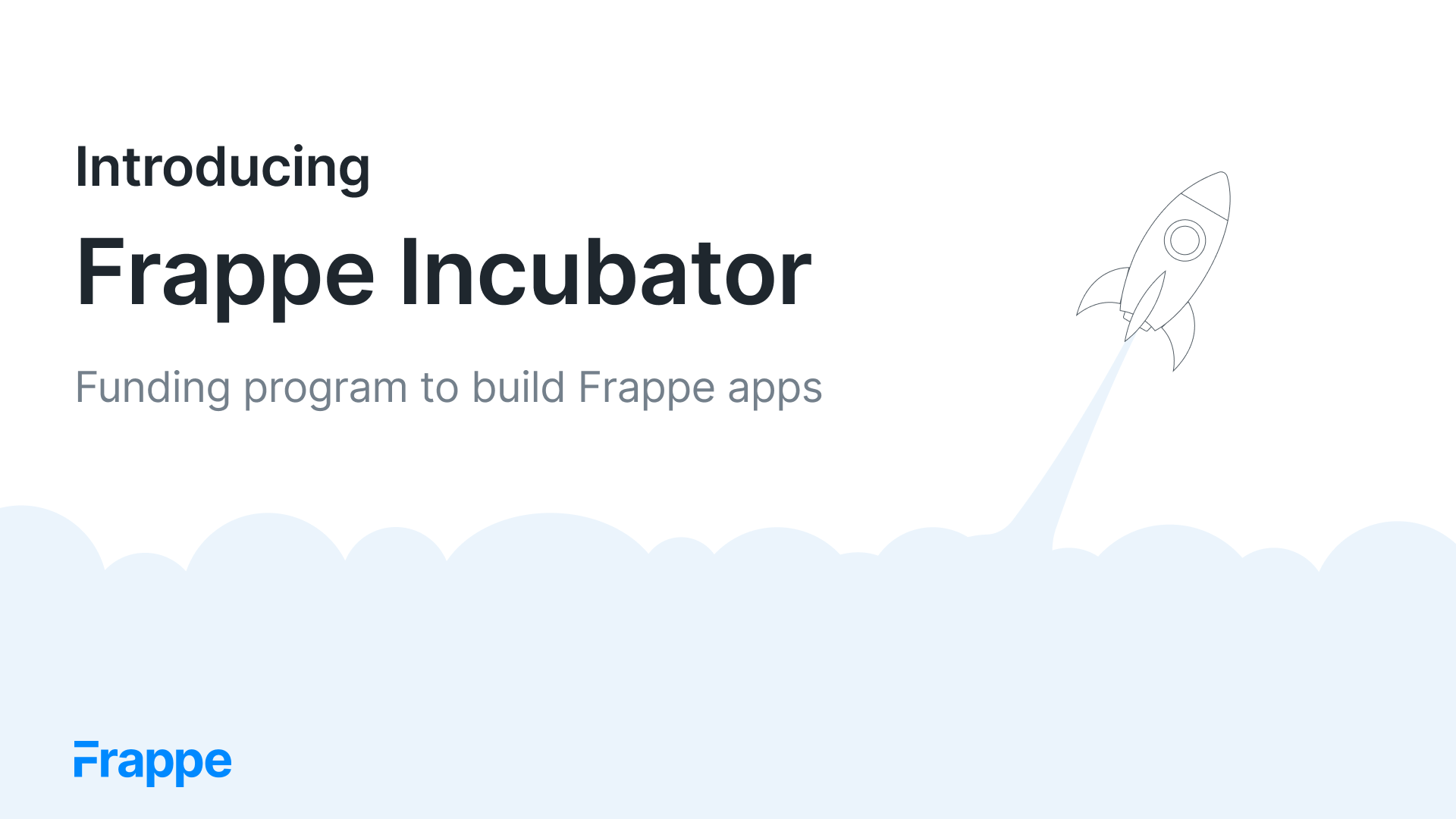 Every year, up to 10 projects would be funded with INR 10L or USD 10K and nurtured with marketing and design support by Frappe Incubator. Learn more about Frappe Incubator from the blog here and sign up to take off with us today!
Grow with Frappe Cloud
Frappe Cloud is constantly growing and the team behind it will stop at nothing when it comes to making their customers' lives easier.
The new offerings on Frappe Cloud have been carefully crafted to provide more flexibility to customers in terms of control over performance (in case of a single site/server) and multi-tenancy (in case of multiple sites/servers). Apart from this, there are many additional benefits like users can access all FC features without a Paywall etc. Watch the webinar recording here 📽️ and learn more about it.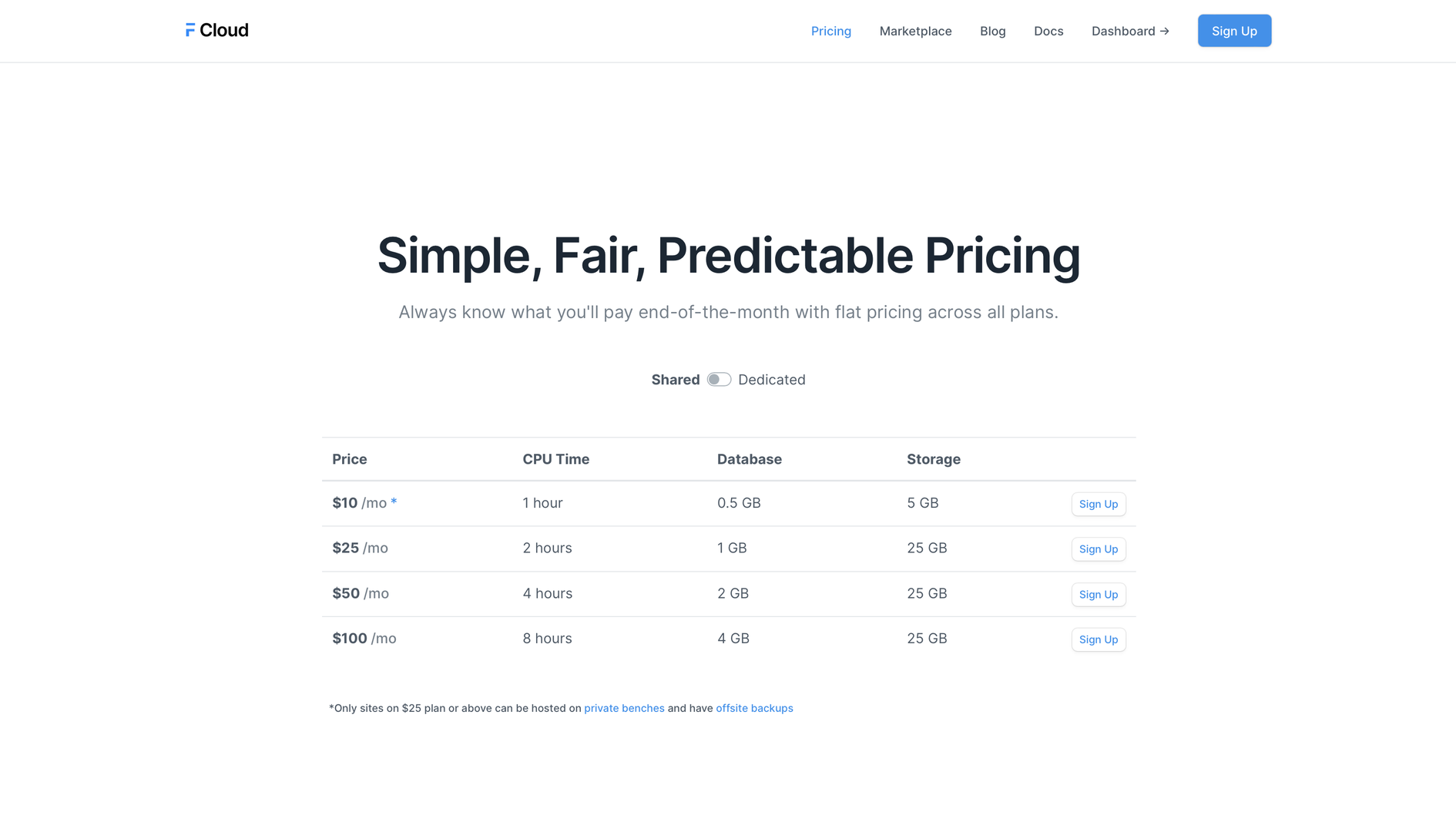 With such amazing benefits and support from the Frappe Cloud team, Frappe hosts all its apps and sites with Frappe Cloud. Cast your vote response on Discuss and let us know where you host your Frappe apps/sites.
11 quick and riveting Frappe updates
The ERPNext Dev team at Frappe is on 🔥. The Github issues are down to 205 from 900 this month and if you count the feature request too, then the number is down to 1125 from ~2000. We Invite the entire community to race us down to zero!

Frappe hit 98% SLA fulfillment 🥳 The dedication and determination of our support team (Hardwardhan, Twinkle, Sanjay, and Shubhechchha) to resolve customer issues and make them happier are taking SLA numbers to new heights.

A small but significant achievement for Frappe Press as it reached 100 Github Frappe hosting stars 🌟 Excited to see what the journey ahead unfolds!

Frappe has cleared its ISO surveillance audit 💫, thus continuing the ISO Certification.

Frappe LMS 📚 has come up with a list of cool new features from Onboarding, improved course list and profile page to statistics section, refactored assignment module, and much more. Read more from the blog here and try them out today!

We are proud to announce that our partners, Anther Technologies and Phamos completed their certification this month! 🎉

We also welcomed 4 new partners to the Frappe Partners family 💃: Xurpas is a silver partner from the Philippines where as Arkay Apps from India, VV Systems Developer from Tanzania and Prilk Consulting from Netherlands are our 3 new bronze partners

Frappe is going to Bhutan 🇧🇹this December to connect with the local ERPNext community there on December 9, 2022. If you are in Bhutan, register and meet us at Frappe Local - Bhutan 2022 in association with Netware Solutions.

If you missed out on the amazing Frappe Insights demo 📊 at the conference, here is a second chance. Saqib Ansari will show us how to create some cool reports and charts seamlessly in our December Webinar. Register today and attend the webinar on 14th December at 3 PM IST.

Frappe writers have shared some stories in these amazing experience blogs ✍️: MiniDebConf Experience by Athul, The Team Frappe Cloud experience by Hussain, and Case of Hybrid Work Culture by Umair.

Read this detailed tutorial by Hussain 💡 and learn how to employ the power of Virtual Doctypes to create MongoDB powered DocTypes.
---
You are now all caught up!
Check out the new job openings page to work within the Frappe community or join the energetic Frappe force by applying today!
If you are in awe of ERPNext, help us spread the word by leaving your honest feedback here or share the newsletter with a friend and have them subscribe with us.
See you again next month!
Team Frappe