The Frappe Newsletter - March 2023
April 3, 2023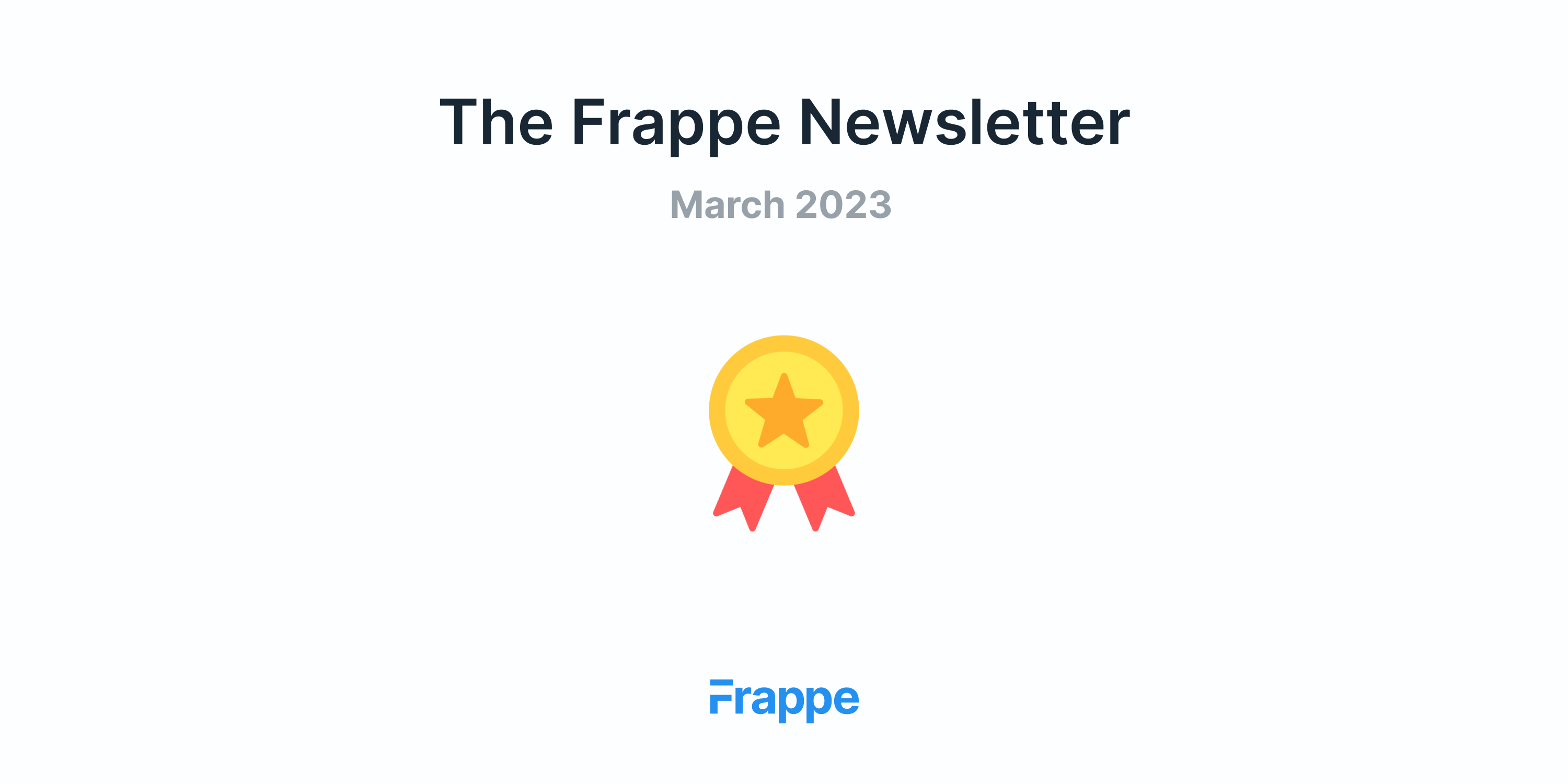 Apologies for the late arrival, we got carried away collecting stars! Frappe HR and Frappe LMS hit 200 stars each on Github. And even better, ERPNext crossed 13K + stars on Github too. 💫
Time really does fly when you are busy building something amazing - much like at Frappe. As this financial year comes to a close, here are some befitting updates from us for the month.
Product Updates
Frappe HR taking the Spotlight
We conducted the Frappe HR webinar this week and can't be happier about the overwhelming response and the interactive session that it turned out to be. Rucha - the Product Owner of Frappe HR, walked everyone through the new updates since its debut last year at the ERPNext conference. If you are hoping to revisit the session, then subscribe to our Youtube channel. We will be uploading the video soon!
For new folks, here is a quick recap. Frappe HR was initially a part of the ERPNext modules and was later separated as an individual app and is now a part of Frappeverse. Frappeverse is the collection of all our products, tools, libraries, and services - do check them out!
Also, don't forget to visit GitHub for Frappe HR and star us there.
Create custom invoices with Frappe Books
Print Templates - with this cool feature for Frappe Books, you can create personalized print templates for Invoices and other entries. To get started, one simply needs to navigate to the Print Templates page under Setup or use the Quick Search function.
Frappe Books comes with a few preloaded templates that you can either use as they are or duplicate and customize. The Template Builder tool will then allow you to edit the template to your liking. Read up on the documentation here and try it for yourself.
Here's a 30 sec clip of the 30 mins where Alan - the Product Owner of Frappe Books, built a Print Template from scratch using Frappe Books' Template Builder.
Frappe LMS - keeping the momentum going
Adding a preview video to your course just got easier- so you don't have to mess around with the whole YouTube iframe source. Just follow these quick steps: go to the video you want to use as your preview, click the share icon, and copy the last parameter of the URL. Then paste it into the Preview Video field and you are done.
On another exciting news with crossing the 200-star mark on Github, Frappe LMS is now on Twitter too. Follow us and keep a tab of all the cool updates there!
Frappe Insights for MumbaiFOSS
Frappe Insights is our completely free and open-source software built on Frappe Framework that helps businesses easily create reports and charts, which will help you track important metrics for your organization. Saqib Ansari - the Product Owner of Frappe Insights recently, gave a talk at MumbaiFOSS last month. Watch the video and find all the updates.
Check out Frappe Insights on our marketplace and try it! Give us all the feedback you have and star us on GitHub if you like what Saqib's been working on.
Community Updates
Say hi to Frappe's first Indian Gold Partner
New Indictrans Technologies became Frappe's first Indian Gold Partner. Over 14 years ago, New Indictrans started by providing e-governance services before transitioning to ERP-based services for both private and public sectors. They partnered with Frappe on a project for Knight Frank in 2010 and later became a Bronze Partner in 2020.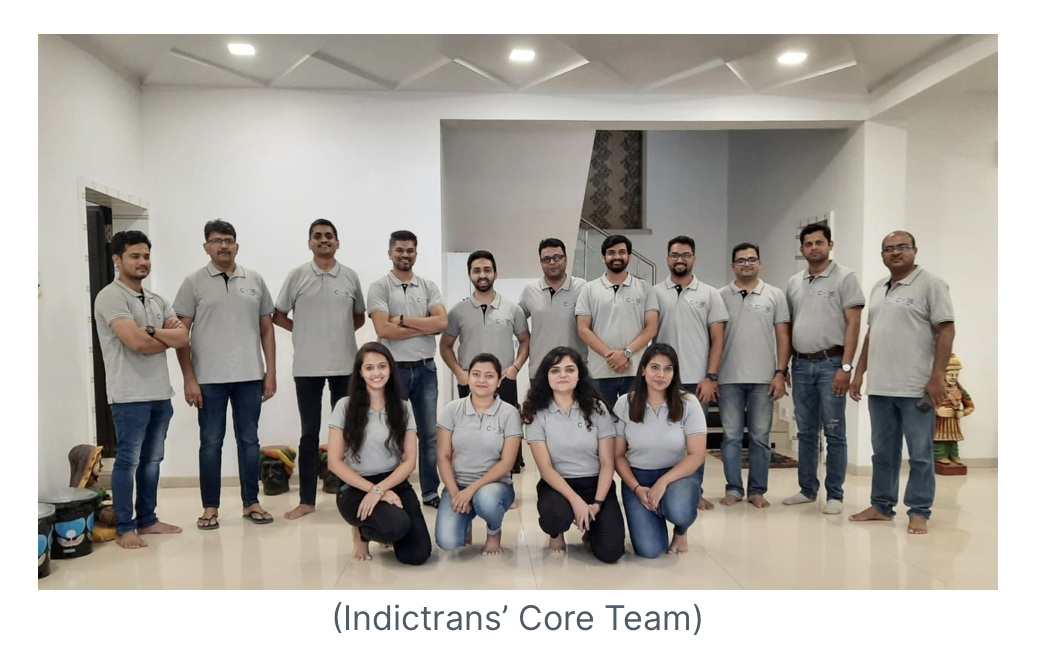 The team's growth and commitment led them to become a Silver Partner in 2022, and they were excited to take on the challenge of becoming a Gold Partner. It was a challenging journey, but they made significant changes to upgrade the quality of their services and customers.
Read the full story here.
New Partners On-boarded:
Frappe Partners family is now 3 more partners stronger - Prestige Saudi Company Ltd from Saudi Arabia, Quark Cyber systems FZC from UAE, and iMORPHr Ltd from the UK have joined our squad. What's even better? a whooping number of 11 existing partners got certified this month. 🥳
Check out our updated partner portal on frappe.io and find a partner who could help you with your business needs. If you are already our partner, we would love to hear your thoughts and experiences with us!
Knowledge Sharing
Have you heard about the frappe-js-sdk?
Frappe-js-sdk is a helpful library that makes it super easy to interact with the Frappe REST API in your JavaScript applications, whether you're working on the front-end or server-side services using NodeJS. In this article, Hussain explains how to set up a new Frappe site on Frappe Cloud and get your API keys, which are necessary for doing CRUD operations with the SDK. Plus, there's a step-by-step guide that shows you how to use the Frappe JS SDK in a NodeJS project. It's a great resource, so be sure to check it out! ✌️
The Readers Corner
Check out the ERPNext Implementation Journey of Precihole Sports in a conversation with Azhar - the co-founder of Precihole.
Read up on the story of how Frappe LMS came to be. Also, do check out the app for yourself at frappelms.com.
---
That's it. You are all caught up!
ERPNext is now listed on SourceForge - check us out there and add a review if you love using the app.
We are also conducting a ROI survey to assess how ERPNext has impacted businesses and we would love to hear from you. We would appreciate your participation in our survey to help us understand the benefits and drawbacks of using ERPNext. Your responses can help us improve this software and make it more useful for businesses.
If you liked this newsletter, don't forget to share it with a friend and subscribe if you haven't already. If you would like to join our team, explore our open positions here and say hi to us.
Cheers
Anupama