The ERPNext Newsletter - March 2022
April 6, 2022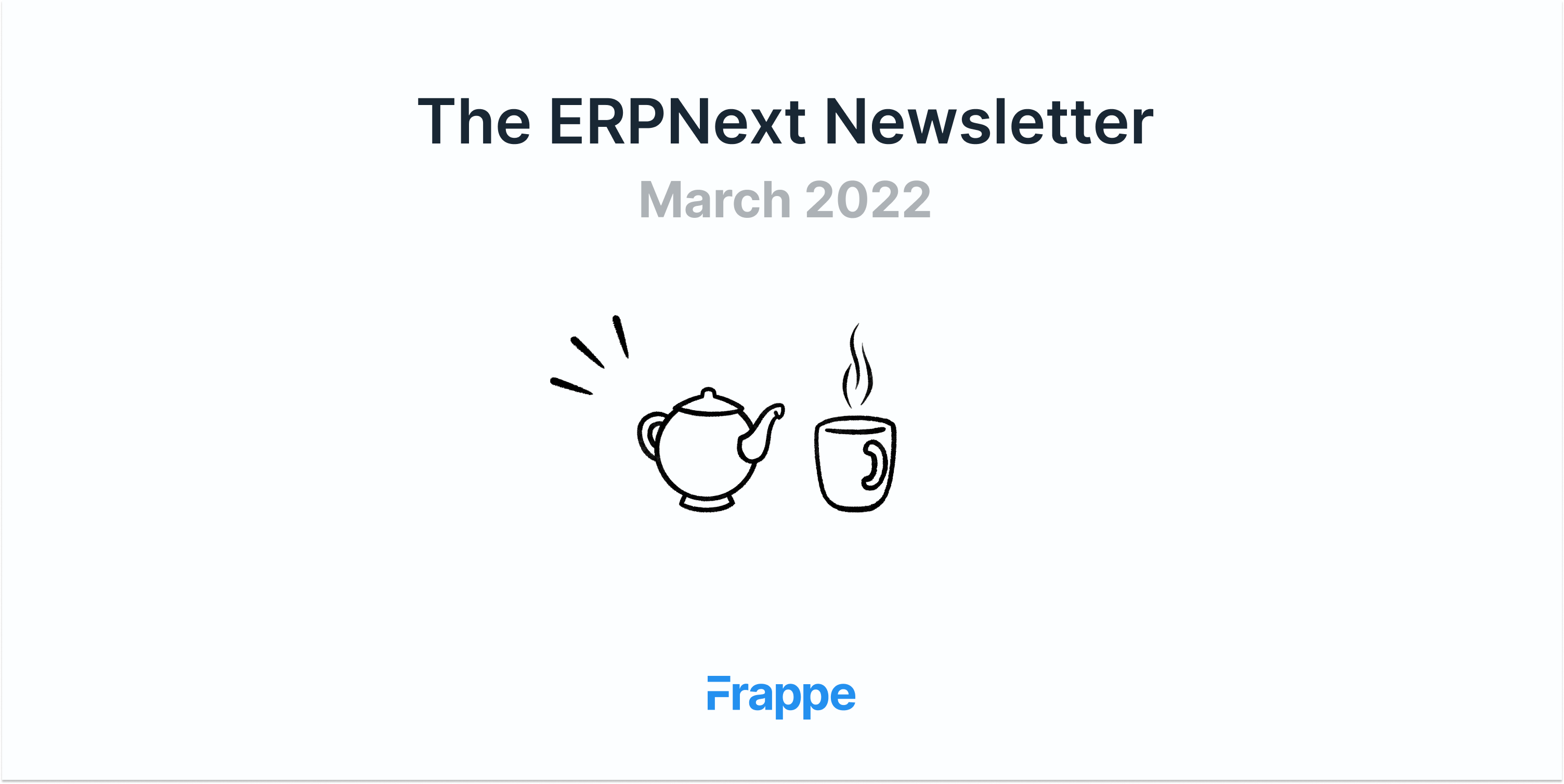 Hello!
Hope this letter finds you well!
I generally tend to avoid talking about politics and war because it creates a lot of negative energy around. But how does one escape from reality? The state that Ukraine is in, our heart goes out to them. I am equally astonished and inspired to watch them moving from strength to strength and building themselves from nothing.
Last week Mayank from the Sales team got an email from a prospect residing in Ukraine, they wanted to deploy ERPNext for their system. We were glad to lend them a helping hand, and equally proud of their determination. Hope they find peace and harmony.
The financial year is just about to start and we have started making business plans and targets for 2022-23. The team is working on new products, designing a new performance measurement system, discussed on the pay bands. And yes, our first off site of 2022 turned out to be amazing!
Frappe Cloud Marketplace
Hussain worked on bringing paid apps to the Marketplace. It is a platform to share the Frappe apps publicly with the Frappe Cloud community. It makes it very easy for the Frappe Cloud users to add apps onto their Frappe site. Developers can list free or paid apps for other users to use. Read this blogpost to understand more.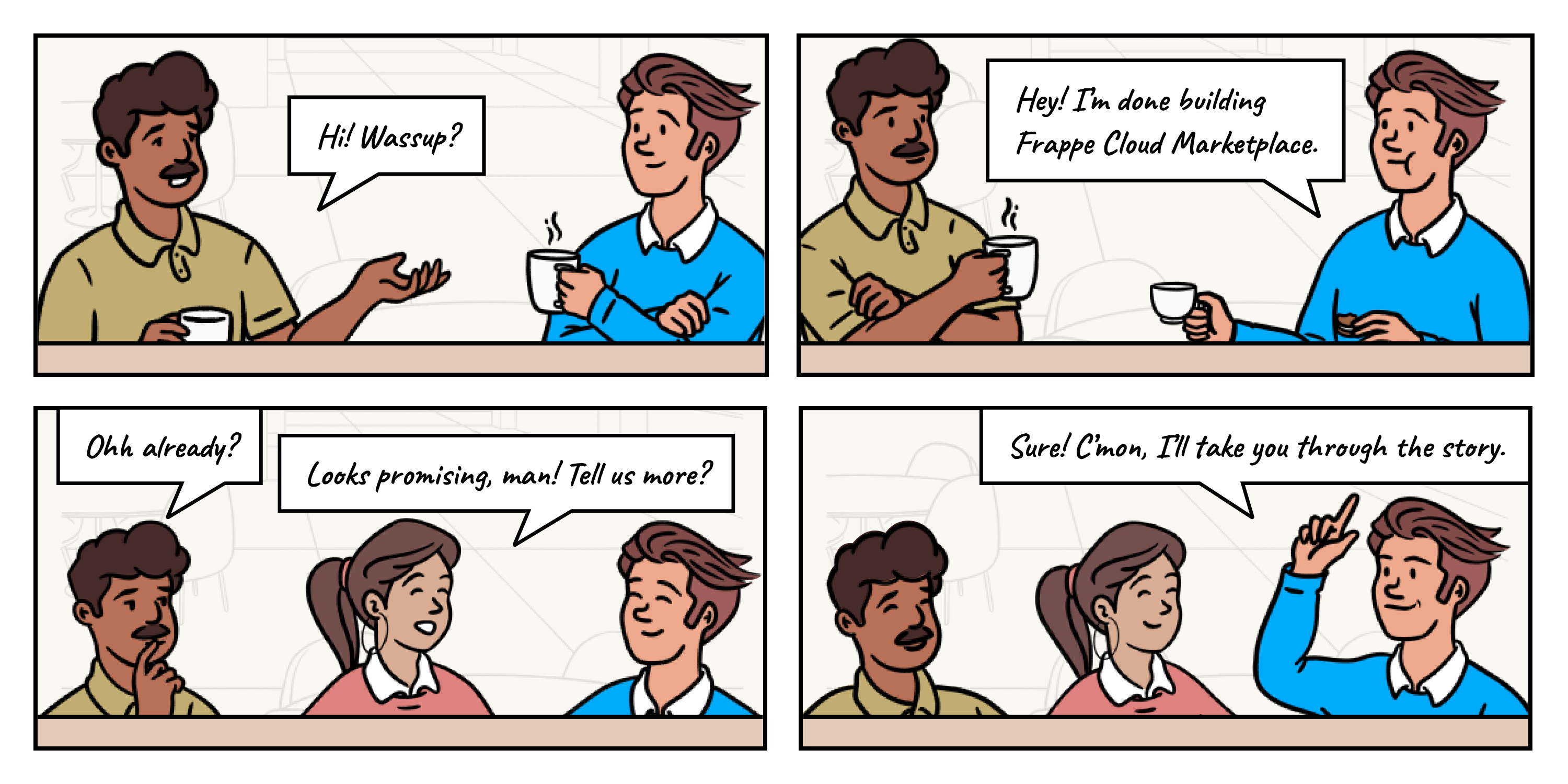 Video content to your rescue
In order to digitize your organization, it is vital to have an ERP that is cost effective and less complicated. Similarly you would not want to get you hands dirty on expensive servers and opt for a Cloud service rather and avoid paying high consulting fees. Having a local partner presence helps you implement ERP easily. To answer your queries, the team rolled out a series of video tutorials on our official YouTube channel.
Our Frappe School team is making learning ERPNext easier. They have released several courses all the way from Basic Accounting to Module wise courses on the Frappe School website, you can check them out here.
Of strategies and revolutions
We kick started with the first off-site of the year and it was nothing short of an adventure. I experienced revolutions happening in every corner of that big board room and it left me amazed. Read the full story to know more

Let's Saasify
One of the strategies the team came up with during the off-site was to build a SAAS platform on top of Frappe Cloud. All the individual apps built on ERPNext can be monetized subsequently.
Blogpost corner
Contributor of the month
Every month we host an open day where our teammates showcase their work through presentations. There are both individual and team presentations. Based on the presentation and work done, nominees are picked for the 'Contributor of the month' award. And based on the maximum number of votes that any nominee earns, the "Contributor of the month" is selected. Rohit was voted as the contributor of the month. This short blog post will give you some context.
Frappe Anti Values
Rushabh penned down his thoughts on values and anti-values at Frappe. It speaks of transparency, freedom and chaos at Frappe. Read the full blog here.
Release notes: ERPNext and Frappe Framework v13.20.0, and v13.21.0
The highlights in the release notes include some enhancements for ERPNext Features and Frappe Framework. You can read this blog further to understand more about bug fixes and new introductions. Release notes 13.20.0, and 13.21.0
From HR's desk
Welcome on-board
We have two new additions to the Frappe family, Rahib and Elthiya.
We are hiring
The HR team is looking to close various positions at Frappe. Please refer to the careers page at Frappe if you're interested in joining us.
Cheers,
Ambareen S
Think someone would like this newsletter? Go ahead and share it.
Click here to view our previous newsletters.
Tell us what you think about the newsletter. Revert to this mail to submit a response.