The ERPNext Newsletter - January 2022
January 7, 2022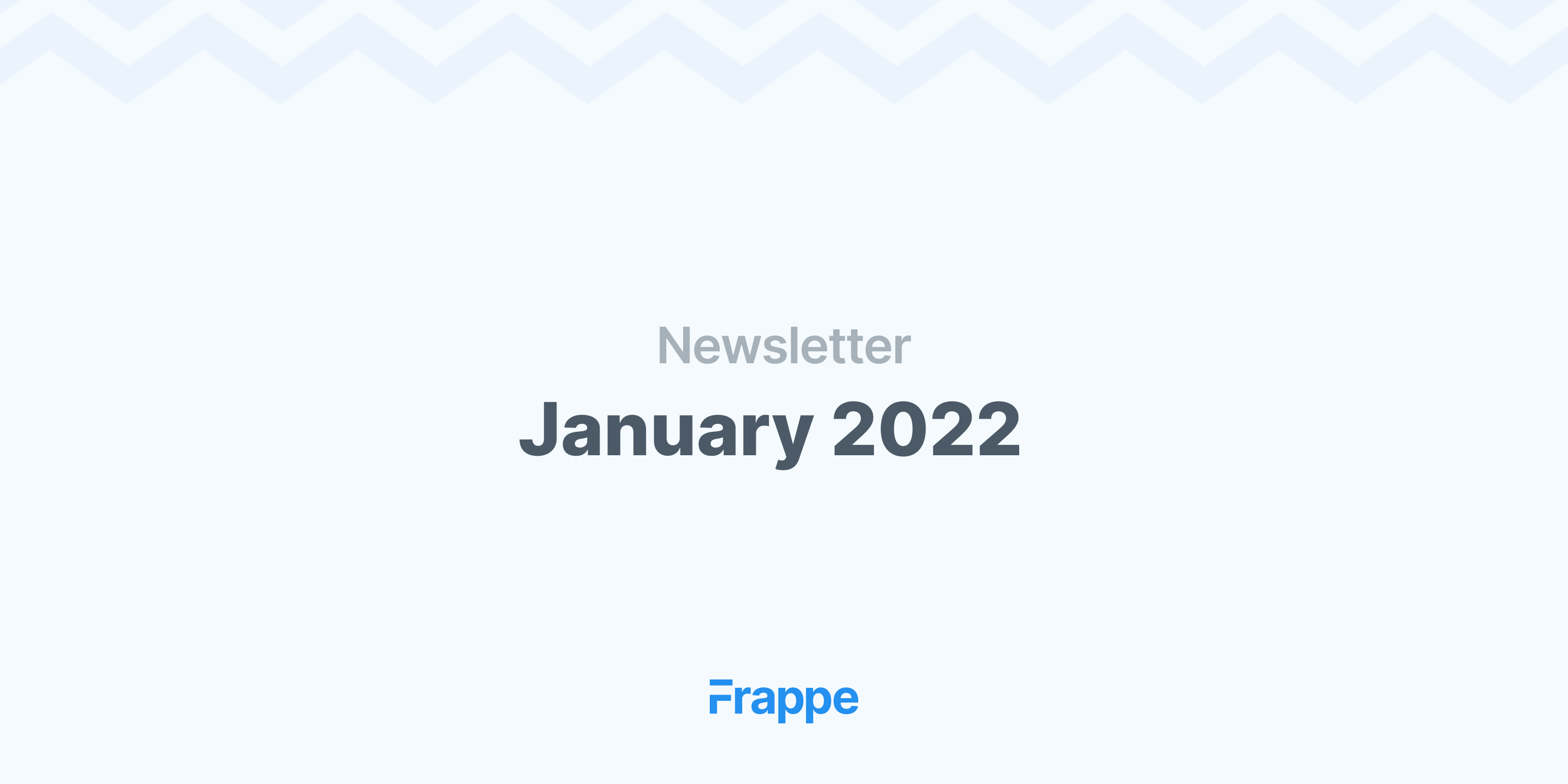 Hello!
I hope this mail finds you in good health! Team Frappe wishes you a happy and prosperous new year! Let's all have a healthy year filled with innovation, joy, and light. As the new year begins, we've started to reflect on our goals from the last quarter and are aiming to set achievable goals for the upcoming quarter.
Last month we saw a plethora of activities happen at Frappe. We are officially an ISO 9001:2015 and 27001:2013 certified organization. One of the biggest moves for Frappe in 2022 is to introduce a new pricing model. Frappe Cloud is GDPR compliant. Alan brought Frappe Books back to life, Rucha worked on setting up the Partner Relationship Management process for the Partner Team. Dharmesh shared his first on-site experience with AL-Farsi, and we even chose our contributor of the month!
We decided to dissolve the Frappe Leadership Council and instead initiated an open FLC. The team rolled out Release Notes for v13.16.0 and 13.17.0. Indictrans went on to become an official partner and we covered their journey. Another blog we've posted is based on Prakash ji's experience and the evolving systems at Frappe. We also played Secret Santa and made personalized gifts for our team members.
Here's a closer look at the last leg of 2021.
Frappe Books
Alan released the new version of Frappe Books, an accounting app for small businesses and freelancers. What further differentiates Frappe Books from ERPNext is that it is completely free to use and operates as a desktop app as opposed to a browser. For further information on the enhancement of Frappe Books, you can visit the ERPNext Discuss forum.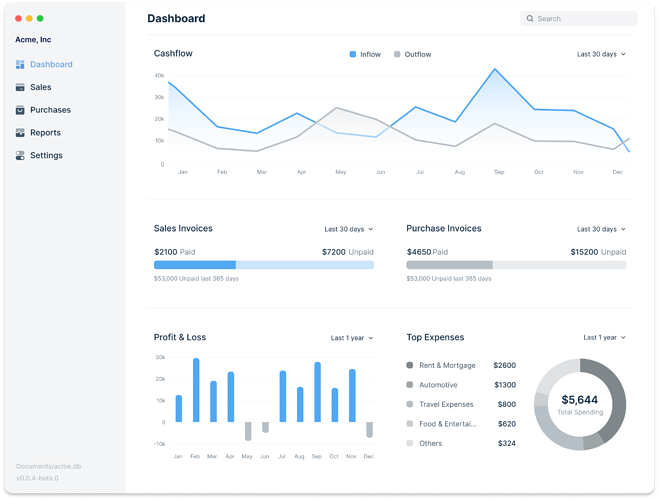 (Preview of Frappe Books)
GDPR Compliance
Frappe Cloud, our hosting business vertical, became GDPR compliant with Legal taking charge of getting this compliance done. The legal team is now working on GDPR compliance for ERPNext and then Frappe School. With this, we can onboard clients from the EU region.
Formulating open FLC (Frappe Leadership Council)
Last year, we elected a committee for FLC that would seal the big decisions at Frappe. This committee was chosen by Frappe team members based on their experience and enthusiasm. Later on, the team realized that non-FLC members should also be a part of the decision-making process, and hence we dissolved the FLC committee. Now every Tuesday, we have an open FLC meet and in alignment with the first principles of Frappe - Democracy, people are free to express their views and opinions.
Frappe is an ISO 9001:2015 and 27001:2013 certified organization
It gives us immense pleasure to announce that we are officially certified by ISOQAR for the quality and information security systems. Since early 2021, we, at Frappe have been implementing Quality and Information Security Management Systems across all our units. The team's hard work has finally come to fruition.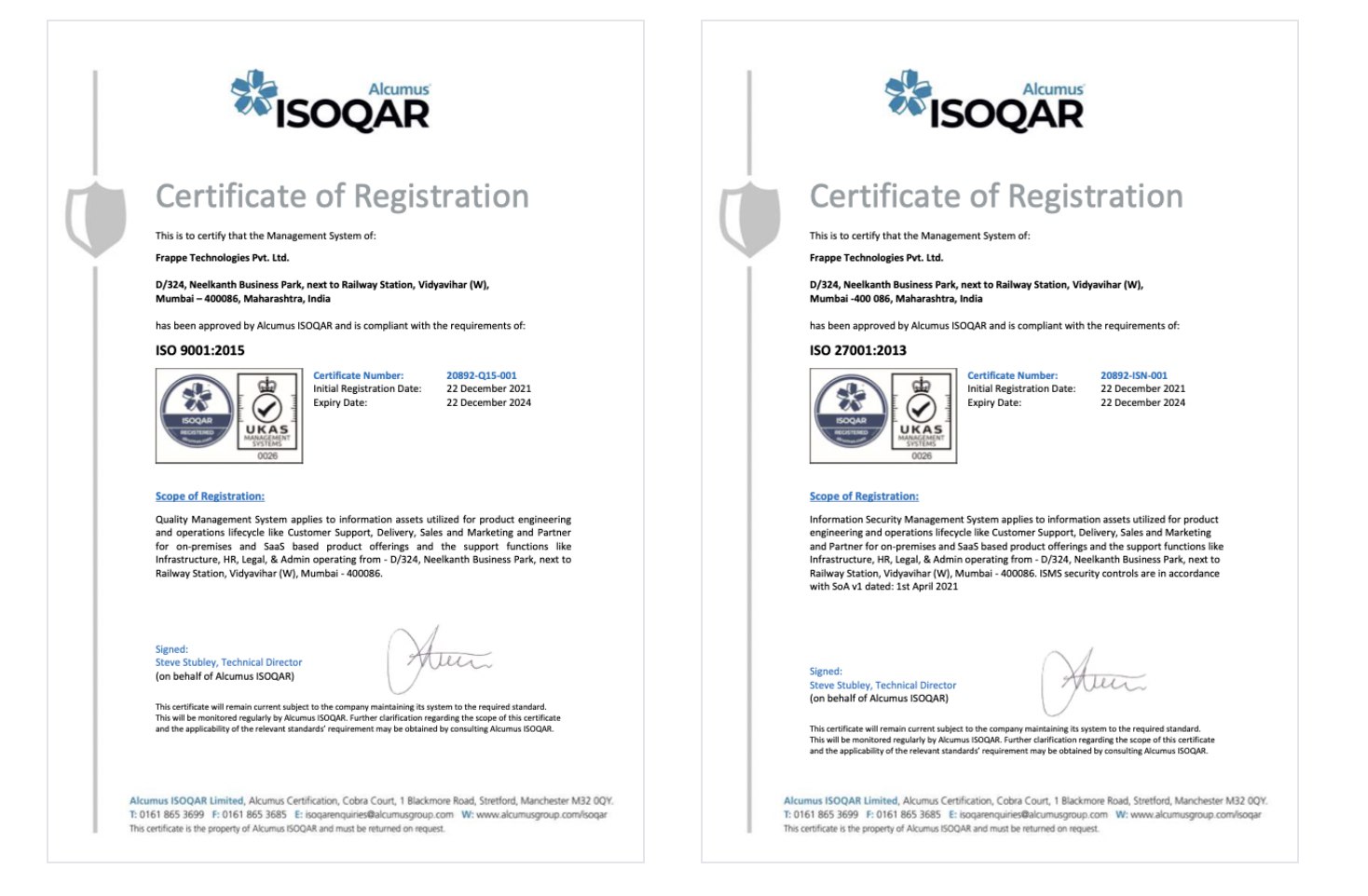 (ISO 9001:2015 and 27001:2013)
Release Notes v13.16.0 and v13.17.0
The highlights in the release notes include some enhancements for ERPNext Features and Frappe Framework. You can read this blog further to understand more about bug fixes and new introductions. It contains updates on discussions template in website, icon picker, option to disable notifications, etc.
Find more updates here: A highlight of what's new in ERPNext and Frappe Framework.
New Pricing 2022
Switching to the new pricing model will one of the biggest and challenging moves for Frappe in 2022. We've decided to move from the per-user pricing and came up with flat pricing. With this pricing, we hope to reach out to a lot more customers than we could. Here is the new pricing calculator. Rushabh wrote a blog post on Rethinking B2B Software Pricing. Take a look.
Implementing ERPNext at Al-Farsi
This year Dharmesh Chitroda from the consulting team, got an opportunity to implement ERPNext at alfarsi.me, a leading healthcare company in the Sultanate of Oman in Muscat. He shares his first on-site experience and narrates the implementation story. Check out the story here.
The journey: From an Accountant to a Co-founder
Prakash Ji is a Co-Founder at Frappe. This blog post covers his journey from being an Accountant to Co-Founder and the evolving systems at ERPNext. Read this story to understand his journey.
Indictrans converted from being a service provider to a partner.
Indictrans is ERPNext's oldest independent service provider. Last year they officially became a Frappe Partner. Kanhaiya Kale and Gupteshwar Joshi helped us with great insights on their collaboration with Rushabh. Read this story to know more.
Partner Relationship Management App
Rucha successfully developed an app for Partner Relationship Management. This is a useful tool for Partners and Frappe to collaborate and manage lead sharing, approvals, credits, support, projects, etc. It will help and strengthen the partner ecosystem.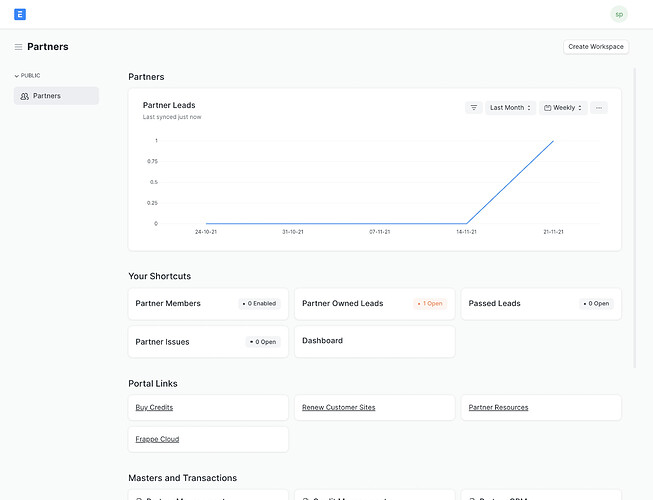 (A snapshot of PRM)
Contributor of the month
Every month we host an open day where teammates showcase their work through presentations. There are both individual and team presentations. Someone who has walked the extra mile, and made an earnest effort will be announced as the winner! The votes are given based on the performance. Michelle was voted as the contributor of the month. This short blog post will give you some context: Contributor of the month: Michelle Alva
From the desk of Artists at Frappe
Everyone was surprised by the hidden artists at Frappe. Christmas was more of a personalized affair this year. We thought of sending handmade goodies to our teammates and the idea was a hit. The team ensured that they put little extra effort and give a heart-warming surprise.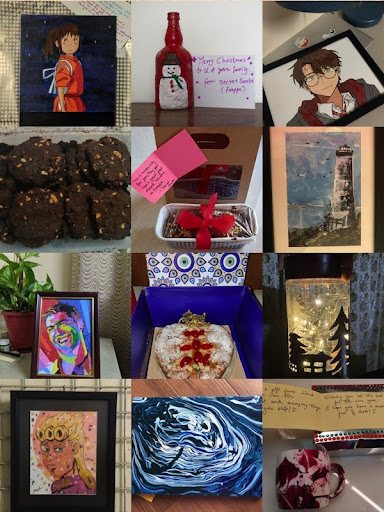 (Art created by Secret Santa)
Year in review at Frappe
Palkan proposed for a "Year in Review" at Frappe. She collated all the significant events from the whole past year and invited the team to talk about their achievements. She collaborated with Nishant, Rushabh, Hrithik, and Foram. Together the team put up the 2021 review, take a look here.
---
Cheers,
Ambareen S
ERPNext.com
Think a friend/colleague would like this newsletter? Go ahead and share it. The ERPNext Newsletter