The Frappe Newsletter - May 2023
June 5, 2023
.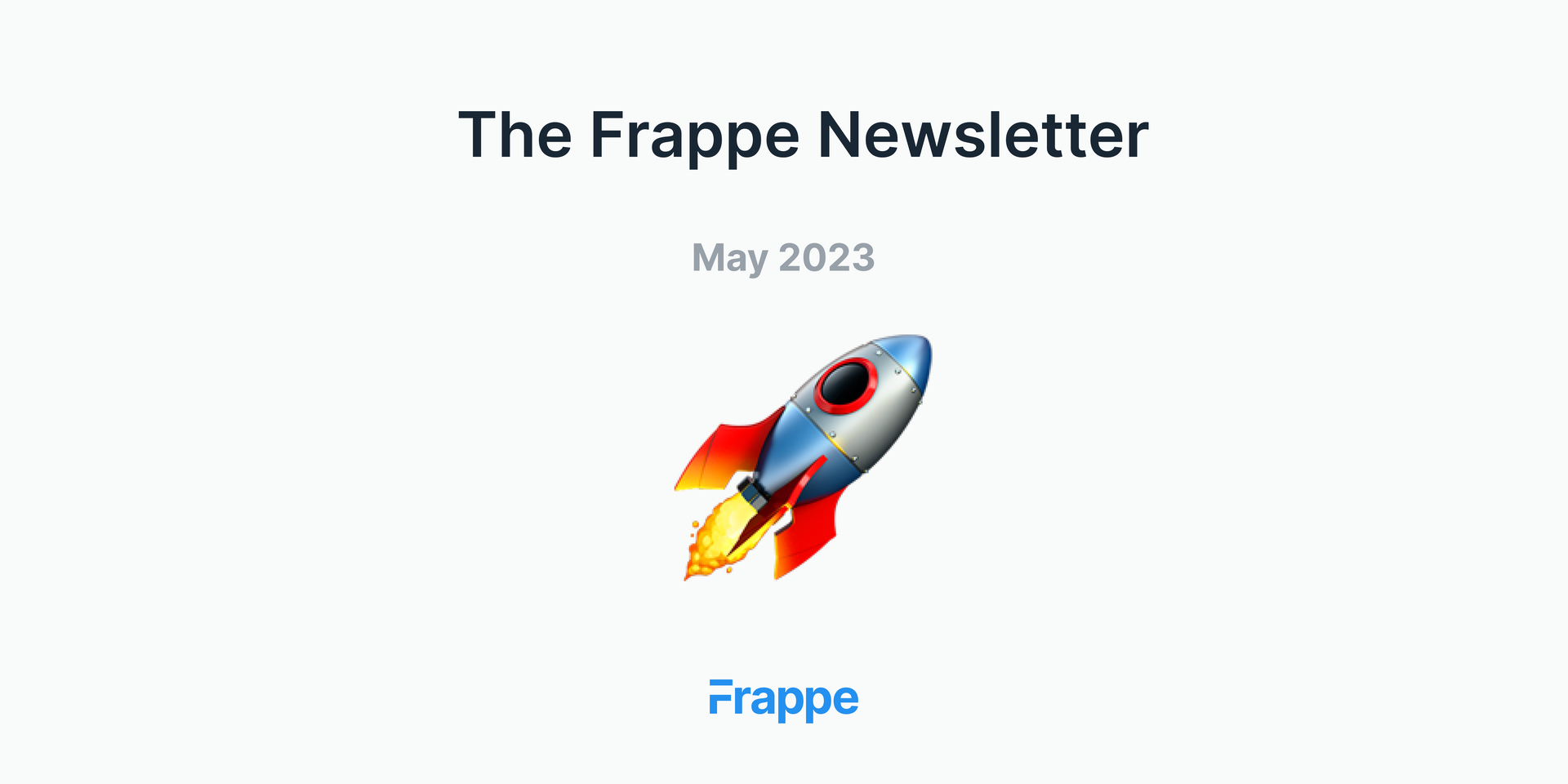 .
May has been exciting for us as we hit 5K+ stars for Frappe Framework on GitHub. 🌟
We are also launching Frappe LMS on Product Hunt and are counting on your support. Show us some love by clicking that 'Notify me' button and be among the first to catch us on the big launch day. In another exciting news, get ready to mark your calendars – the preps for the highly anticipated Frappe Conference 2023 have already kicked off at our HQ, and all the details will be out on our Social Media soon.
Now let's get into our monthly updates. 
What's new in Frappeverse?
Frappe Cloud is here with some new features!
Frappe Cloud is amping up with a few new cool features, and the best of them all is "Bring Your Own Device" (BYOD). Now, you can bring your own servers or virtual machines to Frappe Cloud! We are currently beta-testing this feature, and if you want to know more, stay tuned for our feed on the upcoming webinar in June about it. It's going to be epic!
Also, we now have new "Child Teams" feature on FC, which makes it easier for our Partners to organize user access to sites. They can create child teams for different customers, and all billing information can only be redirected to the parent team.

Create visual workflows using the Workflow Builder
Workflow Builder is like having a virtual playground where you can create workflows in the most fun and visual way possible. Just drag and drop states like puzzle pieces, and connect them to make transitions. It's also easily customizable with the option to update properties from the sidebar.
You can count on Shariq to keep the curtains moving and the updates flowing regularly for this. Check out the Workflow Builder issue on Git Hub and learn more.

New simple UI for Frappe LMS course creation 
The latest update for Frappe LMS brings a total transformation to the course creation and customization process — we have made it even more simpler for you with the new and cleaner UI. Now, with the new menu bar, you have all the tools at your fingertips to create more engaging courses. Add videos, quizzes, and even flow charts in the form of images to level up your content. Check out this video and see the new UI for yourself.
There's also a slightly new look given to the certificate page. You can now directly download certificates in the form of PDFs so that you can share them easily with employers and colleagues.

Join us for the Frappe Insights webinar
Much like all of our Frappe LABs products, Frappe Insights is developing and becoming more of a stable App at a much faster pace. For folks who don't know much about Frappe Insights — it is our very own analytics tool that will help you get detailed insights into your business.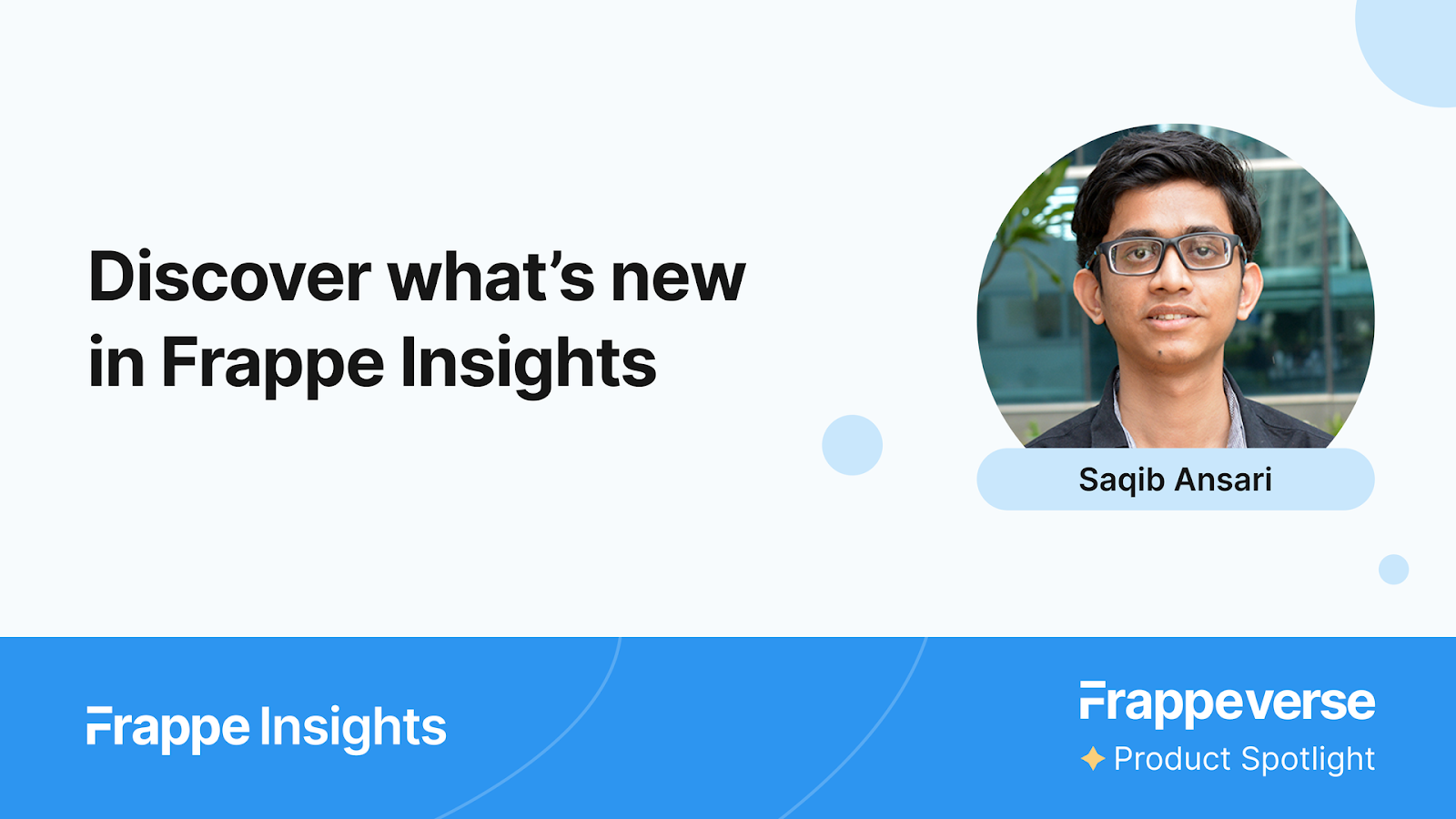 We will be conducting a webinar on the 15th of June where Saqib, the product owner of Insights, will walk everyone through the recent updates and help you understand the use cases better. Register now to stay in the loop.
Here's a heads-up on what to expect!

It's raining fresh releases for Frappe Books
Frappe Books released a new version, V0.14.0, last month! This update includes some awesome improvements, including the long-awaited support for serial numbers. Now, if an item is serialized, we make sure to keep a special record for each unit of that item. This helps you easily identify where each unit is located and gives the lowdown on its inventory status. Check out the documentation here and get started.
And the updates don't end here – Alan is already here introducing V0.15.0 with some more fixes and improvements. Check out this tweet for more insights!

Get certified in Frappe Frapemwork!
We will be hosting our upcoming batch for the Frappe Framework certification starting on June 8th, 2023. This online training and certification program is specifically designed to equip you with the knowledge and expertise needed to excel in Frappe Framework development.
Here's a quick look into the topics that await you during this thrilling training program:
Building Custom Apps:

Starting from the fundamentals of a DocType, we will guide you through the exciting process of creating your very own custom apps using the powerful Frappe Framework.📚

No-Code Tools:

Discover the endless possibilities with Frappe's incredible no-code tools, including REST API and Webhooks. Unleash your creativity without the need for extensive coding knowledge.💡

Low-Code Tools:

Explore Frappe's user-friendly low-code tools, including Client & Server Scripts, empowering you to build robust applications quickly and efficiently.🛠️

Building Portal Pages and Web Views:

Immerse yourself in the world of portal pages and web views within the Frappe Framework, enabling you to create captivating and interactive web interfaces.🌐
This is just a glimpse of what's in store with the certification program! By participating, you'll unlock your true potential and take your development skills to the next level!

#BuildWithHussain
Hussain is on fire with his intuitive "build-in-public" series! In the latest live session, he got his website buildwithhussain.dev to life. Check out the full session here, and don't forget to hit that subscribe button to join the building sessions and never miss out on more interesting live sessions to come.
Hussain also hosts "Work Hours" with Faris on the same channel, where they get together and build a bunch of amazing stuff. And all of these are as interesting as they can get. 

Know all about ERPNext + ClearTax
Let's talk about the integration of ClearTax with ERPNext, a match made in tax heaven! 
Why is this so awesome, you ask? Well, imagine skipping the hassle of downloading JSON files, doing bulk operations, and generating e-invoices from your dashboard. With this integration, all that time-consuming stuff becomes a thing of the past!
But wait, there's more! 🌟 By hopping on board with ClearTax and ERPNext, you'll unlock the power of AI – Think automated reconciliation of GSTR 2A and GSTR 2B. 
Now, here's the scoop: We're hosting a webinar with 8848 Digital to showcase this seamless integration and highlight all the incredible features and benefits. Register to learn everything about it so that you can tax and relax.


Frappe Partners squad getting stronger
Frappe's Partner squad is growing stronger, and we are excited to welcome SCOPEN from France, ID Designs from the UK, Addons LLC from UAE, Archimedis Digital Private Limited, and Solufy Pvt Ltd from India to our team. And a big shoutout to Xurpas Inc and CO FLOWORKS for becoming certified with us too. We're grateful for their partnership and excited about the opportunities to come.

Check out these blogs by Frappe folks!
Psst! Here's a bonus watch for you from our YouTube channel on our third season of PYOP at Frappe.
That's it from us this month. If you liked this newsletter, don't forget to share it with a friend and subscribe if you haven't already. If you would like to join our team, explore our open positions here and say hi to us.
See you next month
Anupama