The Frappe Newsletter - December 2022
January 3, 2023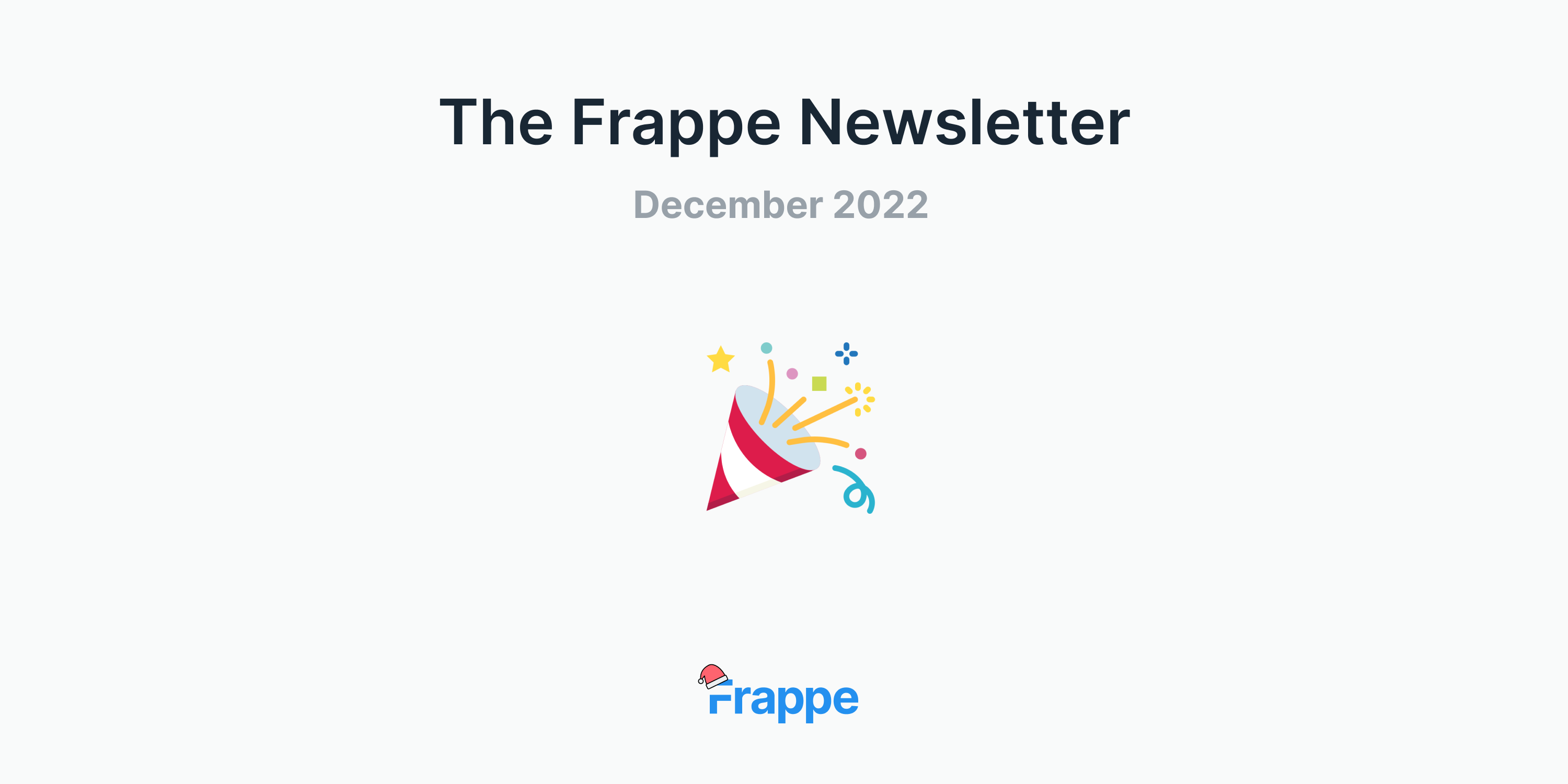 Hey All,
Before we close the chapter on another year, here's where we take a moment and reflect on what Frappe accomplished this December for one last time in 2022.
Year in review 🚀
Everyone at Frappe had a great time working on new and exciting projects this year. We made some major decisions, and significant changes took place. When we asked our team to describe their 2022's experience with Frappe in one word, here's what we got. 👇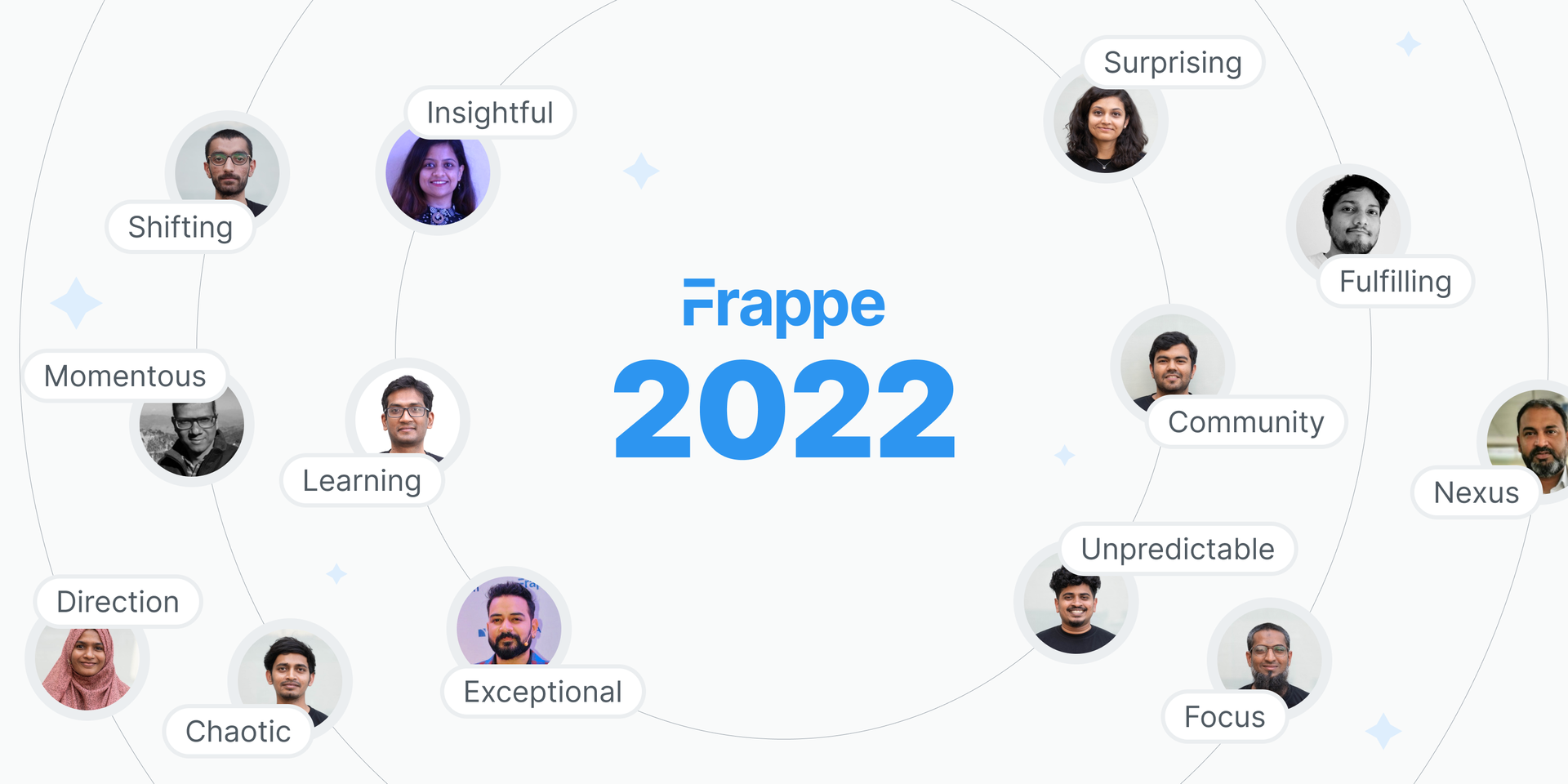 We have put together our milestones in Frappe - Year in Review 2022 to celebrate our journey this past year and invite you to take a look. See all we have achieved, and join us on a nostalgic trip down memory lane.
Full-house at Frappe Insights webinar 🙌
We were elated by the overwhelming response received on the Frappe Insights webinar we conducted earlier this month.
Saqib always had the itch to develop a new product from scratch, and he got this opportunity with our new BI tool - Frappe Insights. A completely free and open-source software (FOSS) built on Frappe Framework. It lets you easily create reports and charts, which will help you track important metrics for your organization.
In the webinar, Saqib walked us through the live demo and discussed the key features, the steps of setting it up, future plans, and much more. If you missed this webinar the first time, here's a replay on our Youtube channel.
Frappe Insights is still in the beta version. Our team is working hard to make it the best, and we would love to hear your feedback.
Check out Frappe Insights on GitHub, or try it for yourself here.
Frappe School crossed 10K users 🎉
For people who don't already know - Frappe School makes learning ERPNext and Frappe Framework easy, fun, and effective. It recently crossed 10K users, and we are stoked to watch this number grow with every passing day. It is nothing but pure happiness to see the community of aspiring developers and end-users take their business to the next level with us.

Frappe School has been around since September 2021, and we have already trained 100+ people, including our partners. It now has 18 courses, and we keep adding more to it regularly. You could also learn from these courses and become a Frappe expert too.
Exciting new features on Gameplan 🥁
Gameplan is our async communication tool for having meaningful discussions. It crossed 100 stars on GitHub – a small but significant milestone for the team. This month, we added some new features to improve our user's overall experience on the platform.
We implemented a basic version of the command palette to make it easier for users to jump between projects and team members by pressing ⌘+K on Mac or Ctrl + K on non-Macs. Give it a try, and let us know what you think.

Users can now invite anyone as a guest on a specific project in Gameplan. This way, they will only have access to the project(s) they are invited to, giving you control over what they can see.

Gameplan now has a Settings Dialog with tabs for viewing members and archived teams. Plus, we've made inviting people to join your team much simpler - users can choose from three access levels (Admin, Member, or Guest) to suit your needs.

This one is to add some colors around (quite literally); you can now change the background color of your Gameplan profiles' display pictures.

If you use your mobile to view Gameplan, scrolling back to the latest posts will be effortless. You just have to click "Posts" on the home page, and the tab will scroll to the top.
At Frappe, Gameplan is the single source of truth for all our internal discussions in a transparent + collaborative way. And that's how we see it being adopted by small and big teams alike. Give Gameplan a try here - it's completely free and open-source.
First Chapter of Frappe Local in Bhutan ✈️
The idea behind Frappe Local is to strengthen our ERPNext community and expand our network of Frappe Partners. We hosted our first chapter of Frappe Local this month in Thimphu, Bhutan, in partnership with our official Bronze partner, Netware Solutions. Our VP of Partnerships, Umair, and Account Executive for APAC, Vaibhav, represented us as the OEMs of ERPNext to the community and government agencies in Bhutan.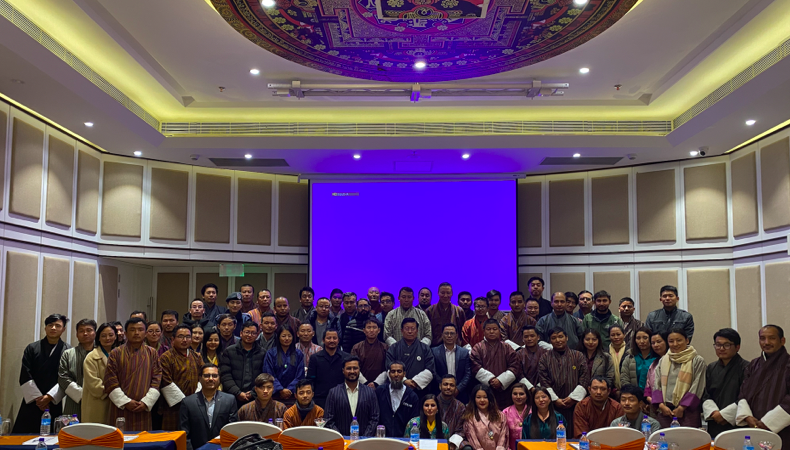 Our first chapter of Frappe Local witnessed success, with 65+ folks attending the event, which was great given the overall community size there. Here's an account of Bhutan's visit penned down by Umair.
Say hi 👋 to our new Customer Success team
We are excited to announce that we have officially started a customer success team at Frappe to help our customers find more value in our products they are using. A team of five consultants who were previously part of the delivery team had come together to focus on our key accounts. As we grow, we plan to expand these success activities to Frappe Cloud as well.
We are dedicated to making sure our customers are happy and successful, and can't wait to see the positive impact of our customer success team.
Some more quick updates for December:
---
That's it from us this month. If you liked this newsletter, don't forget to share it with a friend and subscribe if you haven't already. If you would like to join our team, explore our open positions here and say hi to us.
Sending you all our warm wishes and hope you have a blast welcoming 2023.
Cheers 🥂
Anupama